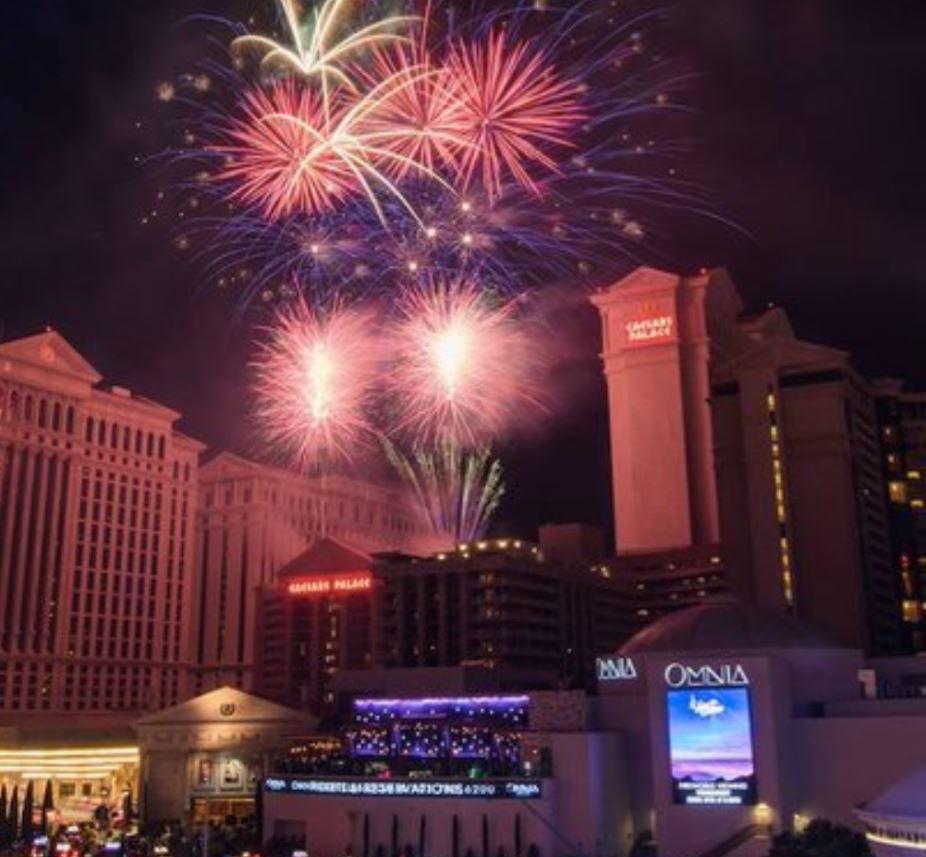 lebua No. 3 has caviar and views. Photo courtesy of lebua No.3
Once a delicacy of Russian aristocracy and the hors d'oeuvre of choice at exclusive parties, caviar is synonymous with the upper crust and up market noshing. If you're a fan but have no royal title to claim, don't worry. The lightly salted sturgeon eggs are moving more mainstream, finding their way onto restaurant and bar menus around the globe. Whether you're flying, planning a sophisticated date night, or you just want to party like a Tsar on National Caviar Day (July 18), try a spoonful at these cool caviar locales.
In April, Florida-based retailer and aquafarm Marky's opened on Manhattan's Madison Avenue, with a gourmet store up front and a plush, 12-seat caviar bar in back called HUSO. The farm-to-spoon experience is overseen by executive chef Buddha Lo whose beautifully executed and artistically presented dishes are accented with different types of roe. Book the evening's 7-course tasting menu for a tasty trip around the world of caviar.
lebua No. 3, Bangkok, Thailand
Superlatives are sky high when at the world's tallest gin, caviar and vodka bar, rising 52 stories above the capital city. The chic nightlife perch serves caviar varieties sourced from a Thai aquafarm in Hua Hun that are scooped onto Himalayan-salt spoons. Paired with shots of vodka, alfresco seating and views over glittering Bangkok, this might be the most picturesque place you'll ever go for roe. Bartenders also craft cocktails with unique ingredients, such as caviar air.
Time Out Market Miami, Florida
Since its debut on May 9, this gourmet food hall has locals and visitors stuffing their faces across 17,000 delicious square feet in buzzing South Beach. The first Time Out Market outside of Europe has 18 vendors under one roof, including Miami oyster favorite Salt & Brine. Sure you can opt for oysters the usual way, but those in the know upgrade by topping theirs with Russian caviar and yuzu crème fraîche.
Caviar Kaspia, London, United Kingdom
After it shuttered in London in 2000, Caviar Kaspia has loyalists dashing across the channel to the original in Paris for their caviar-topped baked potato fix. All hail the return of Caviar Kaspia to London's Mayfair neighborhood this summer. No big surprise, the menu will be caviar-heavy with around a dozen different kinds of roe, as well as favorites from the French menu, we hope, such as poached eggs with beluga caviar and, of course, the beloved spud garnished with caviar and sour cream.
The Loft at Dubai Opera, Dubai, UAE
Opened in January, The Loft at Dubai Opera, like much of the desert oasis, is all about pleasing the senses. At the raw bar, caviar is served with mini blinis, chopped egg, onions, and crème fraiche. Book a table for Dubai's biggest caviar brunch, appropriately called The Lofty Caviar Brunch, held every Friday. There is also live music on the outdoor terrace where, if you're lucky, you can snag a table with a view of Burj Khalifa, the world's tallest building.
Petrossian Caviar and Champagne Bar, Los Angeles, California
If you're flying from LAX's Tom Bradley International Terminal, spend some pre-flight time at this cozy bar for a taste the brand's top sellers while sipping from more than 20 types of vodka or French champagne. The Petrossian Martini is garnished with a cube of pressed caviar, and a caviar-stuffed olive. Prefer your caviar a mile high? Order the picnic pack, which includes a caviar selection of your choice, blinis and crème fraiche presented in an insulated Petrossian pouch.
Over the last two years, this caviar brasserie has earned a reputation as one of Moscow's best restaurants. The glamorous eatery bears the name of the largest and most valuable sturgeon (Beluga), and serves more than 36 of varieties of caviar. First-timers fear not---the friendly staff will show you how to taste it, while aficionados can line up flights of their favorites. The room's crystal chandeliers and eye-catching views over the Kremlin and Red Square, make this restaurant a prized jewel in the Russian capital's caviar crown.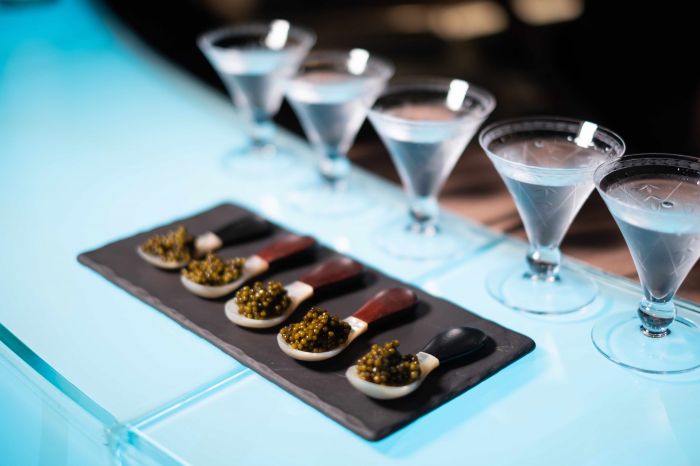 Caviar and vodka pairing. Photo courtesy of lebua No. 3
Indulge at Dubai's biggest caviar brunch. Photo courtesy of The Loft at Dubai Opera.