A Room at the Beach
The Hamptons are a beloved summer escape for the swankiest of New Yorkers. With a combination of glorious beaches, glammed up farmlands and a cluster of charming towns, this east end colony continues to evolve each year with hip restaurants, chic shops and enchanting boutique inns. The newest among these properties is the boho-chic A Room at the Beach, a 10-room stylish stay just 2 miles from the beach in the town of Bridgehampton.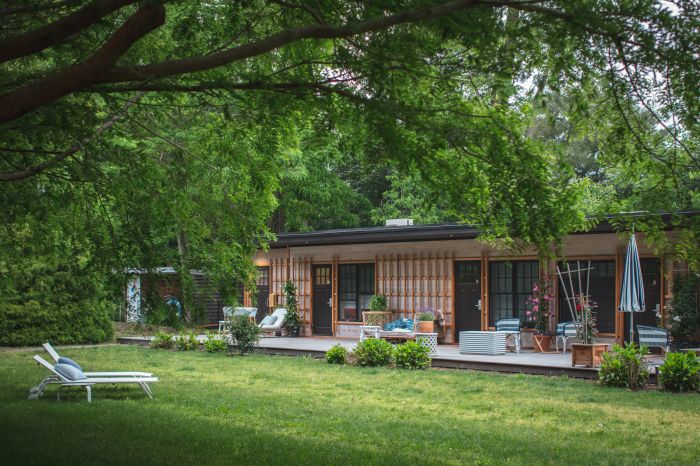 A Room at the Beach
Throughout the 1990s, this 1.5-acre Bridgehampton property belonged to superstar chef Martha Stewart and her daughter Alexis Stewart before changing hands to another famous mother-daughter duo, Donna and Gabby Karan. The motel (as it previously stood) was purchased back in 2017 and received a complete overhaul by its new owners Lucy Swift Weber, a NYC art collector, and her partner Charles Lemonides (whose brother owns the famed Almond restaurant, which is within walking distance from the property).
If you Google "A Room at the Beach, Bridgehampton", don't be fooled by its previous 2-star rating. Under the supervision and fortitude of Swift Weber and Lemonides, the property received a complete renovation, taking over two-years, and resulting in a beautiful upgrade to this boutique hotel. A Room at the Beach offers thoughtful amenities (including plush Frette bathrobes, full-sized Malin + Goetz bath products… and best of all, unlimited bottles of rosé out by the pool), and is combined with a casual hominess, which is a rare breed in this neck of the woods – making it feel like you're staying at someone's vacation home rather than a pricey Hamptons hot spot.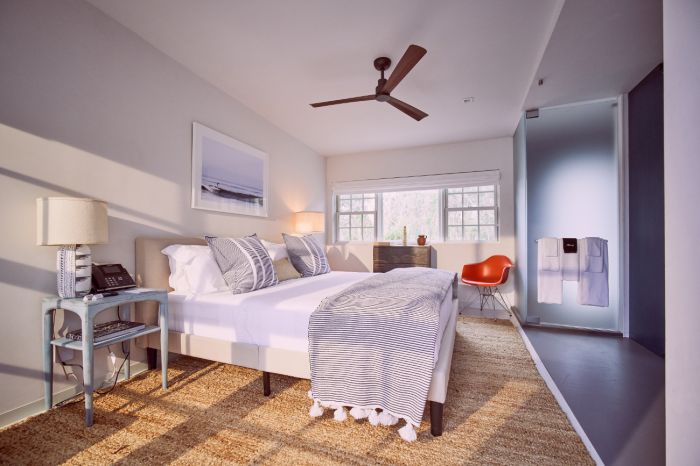 A Room at the Beach
The property offers a lovely outdoor pool (which seemed to be rarely used even when the hotel was at full capacity and all 10 rooms were occupied) and is within walking distance to town. If the beach is more your speed, you can secure parking passes through the hotel's front desk for Sagg Main Beach, which is a lifeguard-protected town beach. Another impressive standout on the property is the lush greenery, herb and vegetable gardens and the magical alley of towering redwood trees (all highlighted by the wonderfully curated lawn and outdoor patio furniture). The common area, which is lined by this row of trees, is complete with long-wooden communal tables, fire pits, Weber grills and floor lanterns, making it a cozy spot to congregate after a long day spent shopping or in the sun.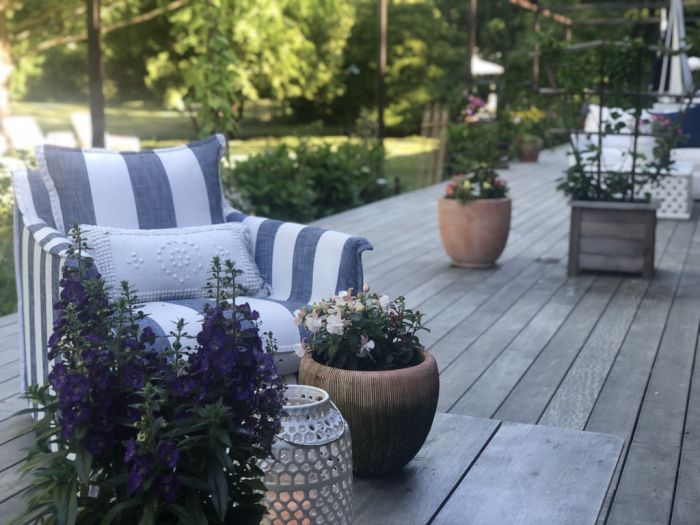 Whitney Spielfogel
Some summer standouts in the town of Bridgehampton include the aforementioned Almond restaurant, where snagging a seat at the lively bar is a must, eating seasonal pie at Candy Kitchen, enjoying a meal at Bobby Van's Steakhouse (notable regulars include Howard Stern, Bruce Springsteen and Jimmy Fallon) and a securing a coveted dinner reservation at the upscale Topping Rose restaurant, which is backed by the acclaimed chef Jean Georges. Other mouth-watering meals include a stop at Estia's Little Kitchen for a standout breakfast in the neighboring town of Sag Harbor and a visit to the French bistro Pierre's, which is also a perfect after-dinner drinks spot. No trip out east would be complete without a stop at the nearby Wolffer Estate, where one can enough tasting flights and delectable cheese and charcuterie plates in their Tasting Room and live music is played on Saturdays at their Wine Stand right off of the highway in Sagaponack.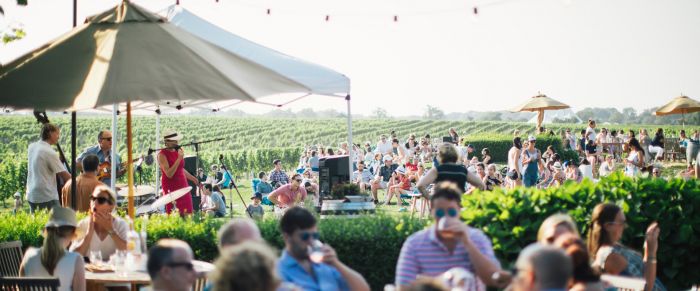 W�lffer Estate Vineyard
With limited summer weekends left on the calendar, be sure to check out A Room at the Beach before the season's end. Room rates start at $350 and can be booked directly online.