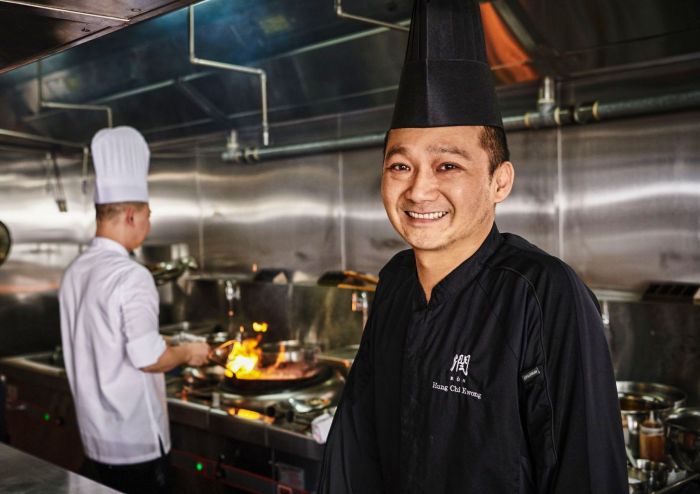 St Regis Hotel Hong Kong
Hong Kong offers so much for visitors and locals alike. From the duty-free shopping scene that provides every luxury brand one might ever desire to the vast list of top-notch restaurants with flavors from all over the globe, Hong Kong is by far one of my most favorite places to visit.
As one might imagine, there are many great Chinese restaurants to choose from when visiting Hong Kong. My must-visit list has always included Sping Moon (located within the Peninsula Hotel in Kowloon), Tai Cheong Bakery in Central is famous for their fresh and hot from the over egg tarts, Bo Innovation offers a very modern take on east meets west cuisine and has been awarded 2 Michelin Stars, and for authentic Dim-Sum you must visit The Grand Stage.
On this trip, I wanted to try a new list of "hot-spots" and during my quest, I discovered Chef Hung Chi-Kwong's Run Restaurant located within the St Regis Hong Kong and I am glad I did. Chef Chi-Kwong brings a creative flair and twist to his take on classic Cantonese food at Run and should arguably be in the running for a new Michelin star.
My guests and I tried several dishes. Here some highlights and recommendations to consider when you go (because you must go);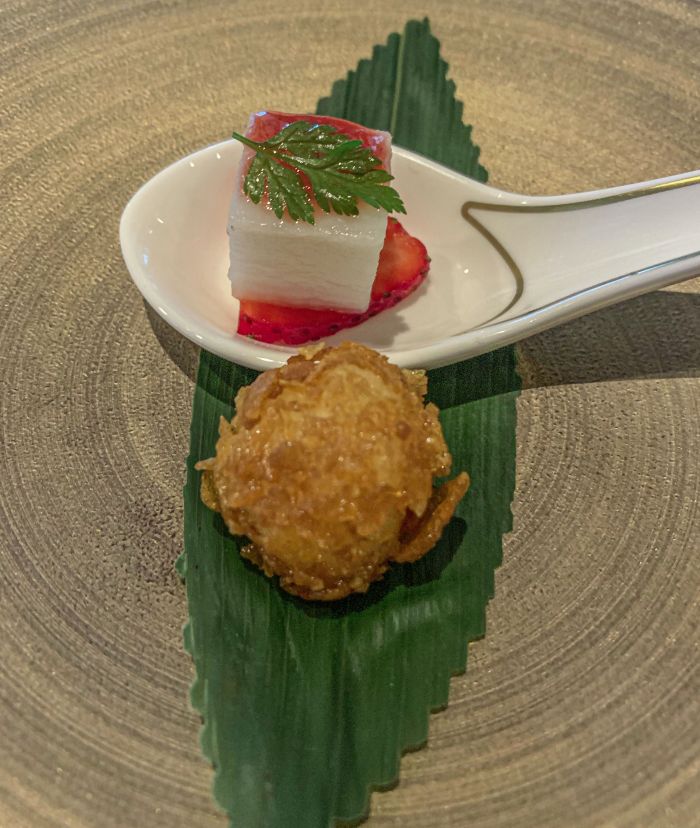 Amuse-Buche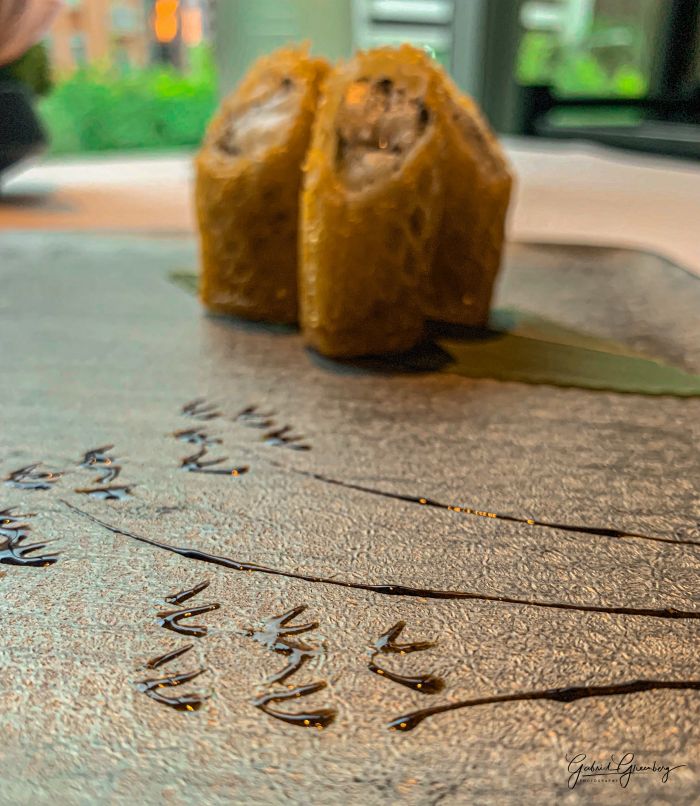 Gabe Greenberg
1. Lobster spring roll with truffles. Chef Chi-Kwong made some very modern twists to the dish that you will love. The earthy base of the black truffle mixes with the perfectly poached lobster which is presented inside a very non-traditional waffle crust giving this classic Chinese appetizer a very modern and luxurious welcome taste and flair.
2. Crispy Suckling Pig! The perfectly balanced flavors of the salty crisp skin were tender and delicious. Hoison sauce and paper-thin pancakes to wrap the pig accompany the dish. There were perhaps the best I've ever had!
3. Sweet and Sour Pork - yes, I know that this is not a fancy or exciting dish, but Chef Chi-Kwong brings a unique approach to the recipe, and it was of my favorite executions of this recipe ever. The fresh sweet pineapple balances the sauce and perfectly tender, yet crispy pork!4. Peking Duck - there are many local restaurants as well as SPing Moon that have sat on the top of my list for the best Peking Duck in Hong Kong, this one is now at the very top. It's superb. They will generally serve this in two courses, the first being crispy and beautifully carved pieces of duck served with pancakes, onion, cucumber and hoisin sauce. The second that they suggest are chunks of the remaining duck in lobster wraps. While I enjoy this presentation and you will not go wrong with it, ask them to make you a Peking Duck fried rice instead. It was perfect. I liked their signature Honey Iberico Pork but preferred the Suckling pig if I could only order one. The egg tarts rivaled those of Tai-Cheong in flavor, but the bite-sized gems arrive at the table piping hot and delicious. The restaurant is happy to provide half-orders of dishes if you are dining with a smaller party and want to explore the vast and sumptuous menu (I recommend doing this). Service at the restaurant is excellent. The staff is attentive, and in classic St Regis style, they will know your name and address you accordingly. If you are planning to visit Hong Kong, be sure to add this restaurant to your list! I wish you a safe and enjoyable journey through Hong Kong.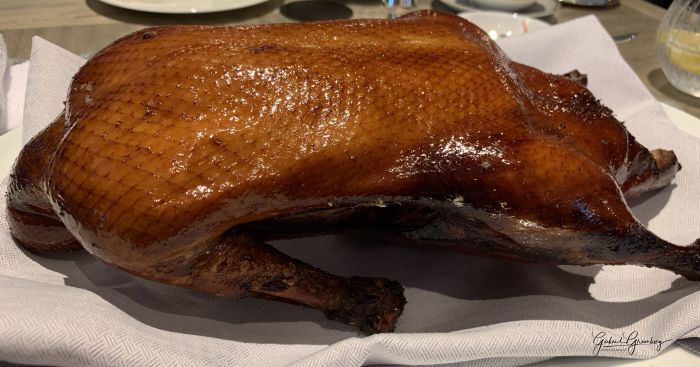 Gabe Greenberg
Peking Duck, 1st Course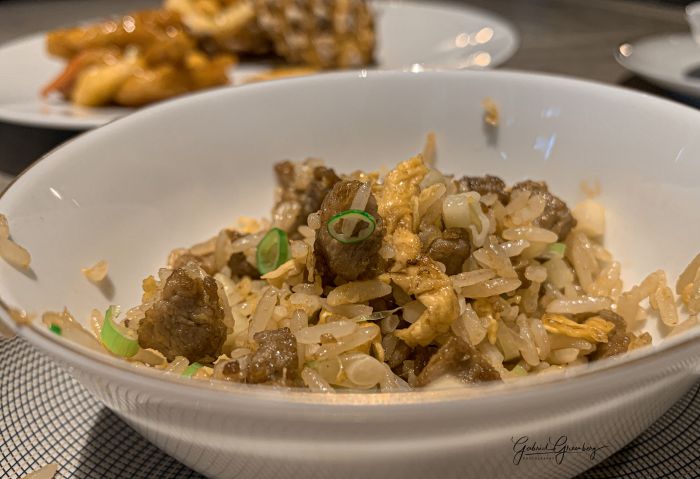 Gabe Greenberg
Peking Duck Fried Rice
Gabe Greenberg
Pan-Fried Pork Dumpling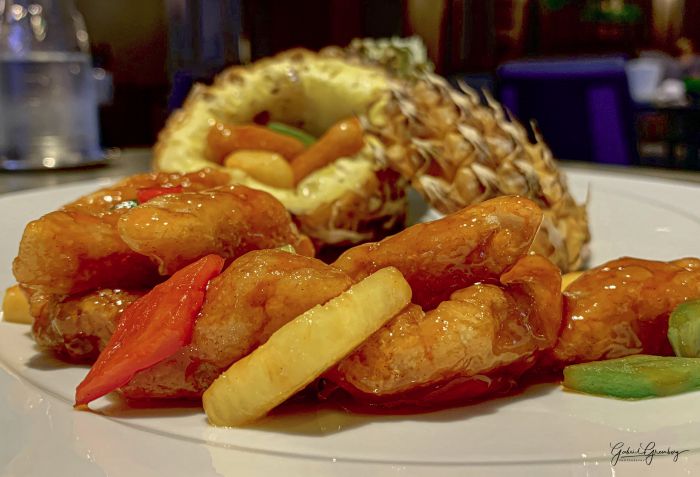 Gabe Greenberg
Sweet and Sour Pork
Gabe Greenberg
Crispy Pig