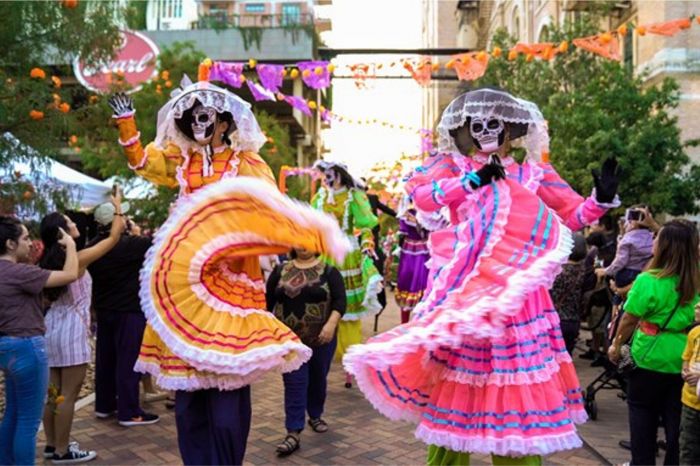 Photo Credit: Visit San Antonio
It's #SpookySZN and if you're looking for a way to add some flavor (spice, even?) to your usual pumpkin carving and scary movie marathon, may we suggest flipping your focus from Halloween to Día de los Muertos? And then may we suggest booking a trip to San Antonio to fully and properly immerse yourself in one of the largest Day of the Dead celebrations in the country?
San Antonio's Día de los Muertos festivals include more than 20 unique events throughout the city during October and November. From intimate gatherings to live music, and a boat parade to whimsical mojigangas (giant dancing puppets)—plus delicious food and colorful altars—there's something for everyone.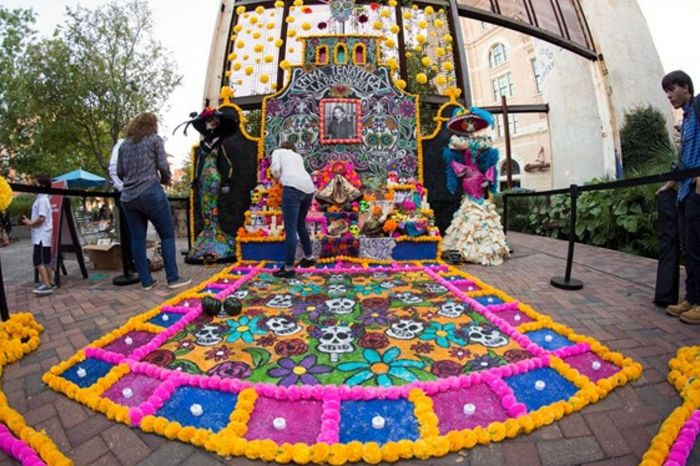 Photo Credit: Visit San Antonio
Día de los Muertos is a tradition-filled day during which families honor their departed loved ones. It's a day (or in this case, several weeks) of celebration and memories. Festivities in San Antonio kick off on October 26, with the 7th annual "Muertos Fest" at Hemisfair. The family-friendly festival will feature artist and community-made altars, a line-up of local bands, workshops, a children's area, and an art market with more than 40 vendors selling handcrafted goods.
The fiestas continue. You don't want to miss Catrineras on the River—a river parade filled with dancers, mariachis, and even more mojigangas, that is truly unique to San Antonio—the following weekend. Other events around the city include Día de los Muertos Pearl, Day of the Dead San Antonio in La Villita Historic Arts Village, and Día De Los Muertos at The Historic Market Square.
Of course, as Texas' second largest city, San Antonio has much more to offer than Day of the Dead festivities. As a junction of many cultures, rich history, a burgeoning restaurant scene, and a myriad of entertainment options, you'll see how spirited the city can be. Here's how to make the most of your trip to San Antonio, whether you plan to celebrate the dead or just make the most out of life.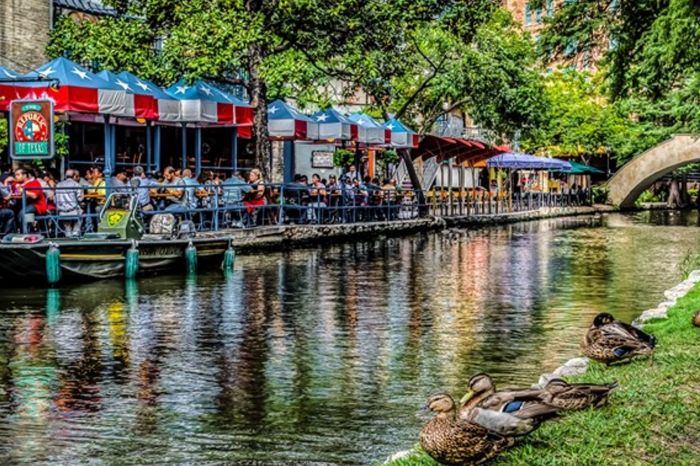 Photo Credit: Bob Howen for Visit San Antonio
In some cities, the downtown district is overrated; it's on all the "must-do" lists, but no local would ever truly recommend spending a day there. San Antonio is different. Its tourist area, the River Walk, is the heart of the city. There's a hustle and bustle about it, but the 2.5 miles of walkway never seems to feel too crowded.
The San Antonio River Walk is one story below the city's street level, and lined with a diverse mixture of bars, shops, and restaurants. Boudro's Texas Bistro is a classic Lone Star-state experience serving steaks that are wood-fired, guacamole made tableside, and ice-cold prickly pear margaritas. Esquire Tavern boasts the longest wooden bar top in Texas and multiple James Beard Award nominations for Outstanding Bar Program. Restaurant Gwendolyn is another James Beard Award semifinalist with an exceptional seasonal menu and strict adherence to using local ingredients and "pre-industrial" cooking methods.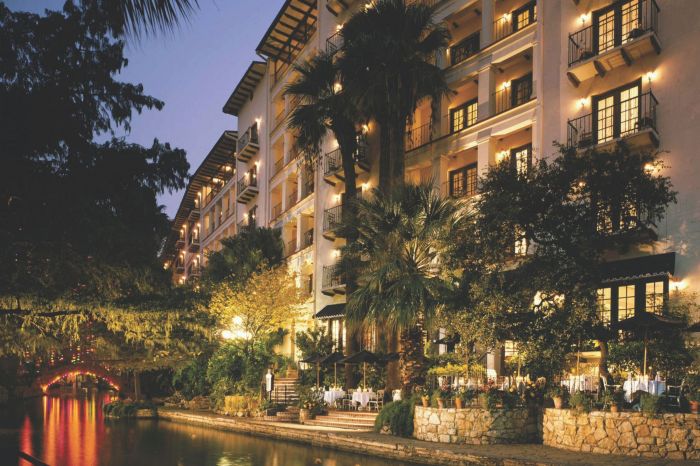 Photo Credit: Omni La Mansion del Rio
Also along the River Walk is Omni La Mansión del Rio. The property is a delightful part of San Antonio's storied history. Built 16 years after the fall of the Alamo, construction a new school, St. Mary's Institute, began along the San Antonio River. The bells of the school rang for the first time in March 1853, and construction slowly continued; by 1875 the limestone building was the largest in the complex along the river. As the need for education grew, St. Mary's evolved to become a junior college, then senior college, and the institution acquired new property and finally fully relocated in 1966. That's when a former St. Mary's law student purchased the property and started work to turn it into a luxury hotel.
La Mansión del Rio opened in April 1968. Today, the 338-room hotel is located just steps from the River Walk.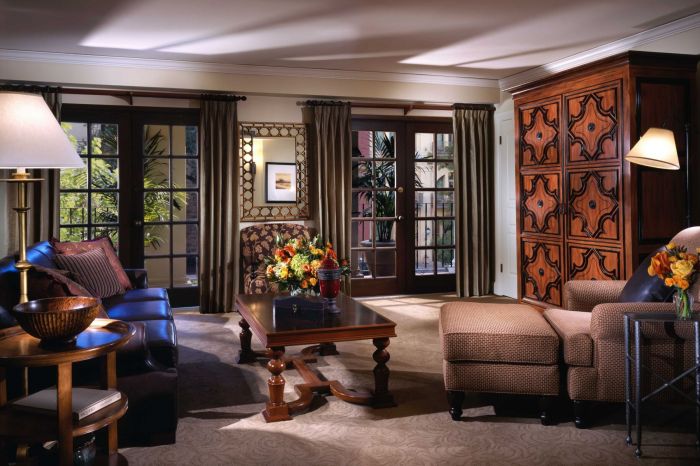 Photo Credit: Omni La Mansion del Rio
Families will find the space inviting as well; the Hospitality Parlor suites offer ample room to spread out after a long day of exploring the city. These 800-square-foot accommodations are adjoined by a king River View guest room, and include a dining table for six, living room with pullout, sofa bed, and its own bathroom and wet bar. There's also an option to add a connecting double bed River View guest room to expand the space even more.
The Omni Kids Crew program is another amenity especially suited for families. Upon check-in, kids are gifted with a backpack filled with fun items like an activity book, crayons, binoculars, and tabletop games. They also receive milk and cookies on their first night and can embark on a hotel-wide scavenger hunt during their stay.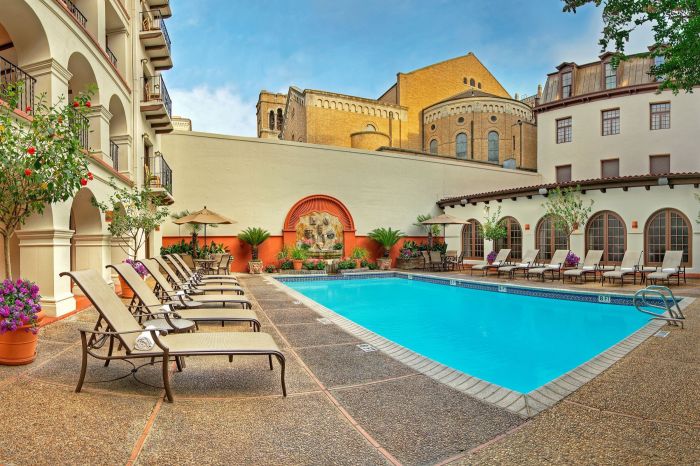 Photo Credit: Omni La Mansion del Rio
Omni La Mansión del Rio can be the perfect luxury retreat for couples as well. Mornings can be spent on the balcony, sipping coffee while watching boats float along the river. Afternoons are for relaxing; the hotel's courtyard pool is a tranquil escape that transports you to a Spanish oasis. Mariachis play live poolside every Friday evening throughout the summer and the pool bar is open seasonally, serving up refreshing elixirs to help you beat the summer heat.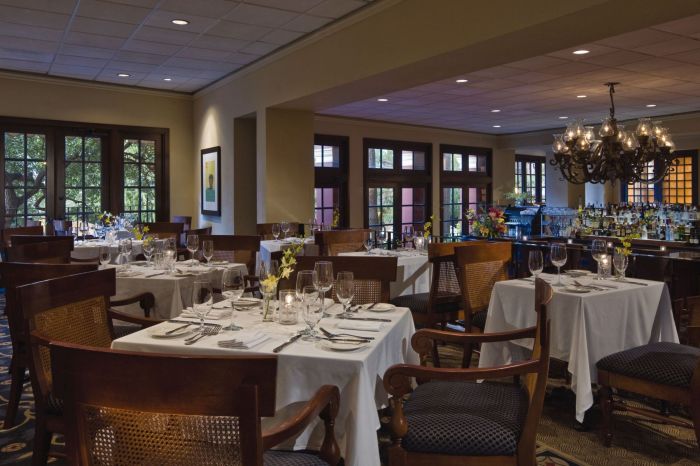 Photo Credit: Omni La Mansion del Rio
Las Canarias, Omni's AAA Four Diamond restaurant, can make any night a special occasion. It's built on three levels—all overlooking the River Walk—and is popular with locals and visitors. Dishes such as Texas Quail, Veal Tenderloin, and Gulf Prawns emphasize the chefs' culinary craftsmanship and commitment to fresh, sustainable, farm-to-table ingredients. Those looking to splurge a bit can opt for the chef's tasting menu and take advantage of Las Canarias' extensive wine list.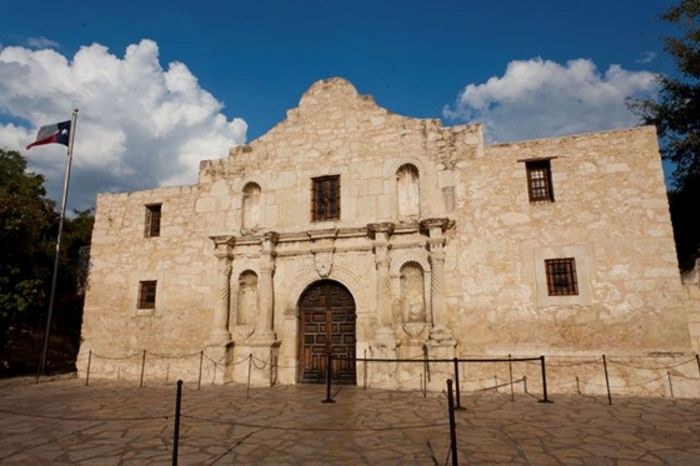 Photo Credit: Visit San Antonio
Whether you're traveling with kids or on an adults-only adventure, San Antonio has activities and excursions to fill any itinerary.
History buffs will, of course, remember the Alamo. The historic site is an 18th-century church and arguable one of the main reasons people visit San Antonio. It's become a symbol of the state because of its significance to Texan culture and the storied history behind it.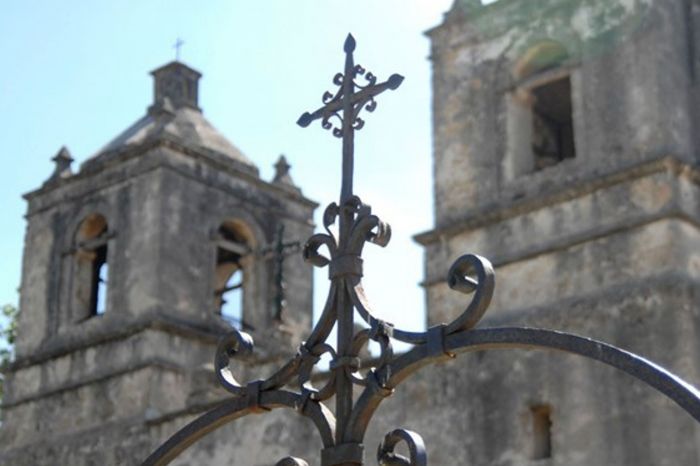 Photo Credit: Visit San Antonio
San Antonio's rich heritage can also be explored through the Missions National Historical Park (a UNESCO World Heritage Site). The park consists of the city's four most southern Spanish colonial missions—Concepción, Espada, San José, and San Juan.
Once the sun goes down, head to San Antonio's main plaza for a light show unlike any other. Every Tuesday, Friday, Saturday, and Sunday night, a spectacular light show is emblazoned on San Fernando Cathedral.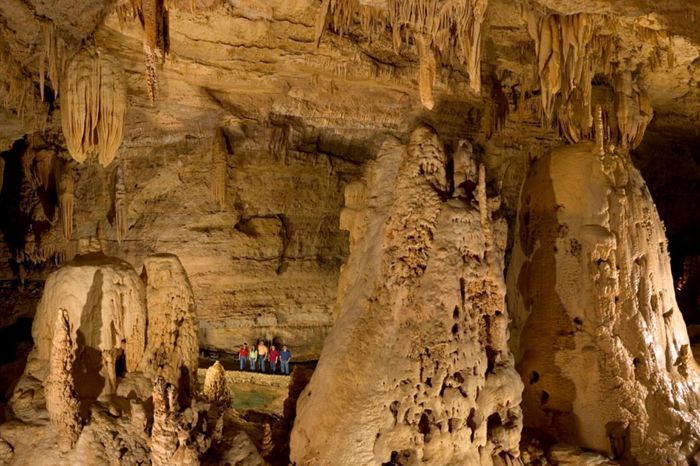 Photo Credit: Natural Bridge Caverns
Adventurers will want to snag a ticket to the Natural Bridge Caverns—a hidden treasure just 30 minutes outside of the city's center. Those who are serious about their adventure can opt for the Adventure Tour. You'll get to explore either cave system in their natural state—no commercial lighting, handrails, or walkways. It's a chance to hike, crawl, rappel, and climb through the caves, just like the original group that discovered the caves did in 1960.
The Discovery Tour and Hidden Passages Tour are great for families. Each takes you through a one of the site's cave systems where you'll see ancient formations like stalagmites, stalactites, flowstones, chandeliers, and soda straws. Families can explore and adventure outside the caves too; Natural Bridge Caverns has zip lining and rope courses that challenge your agility, balance, strength, and mind.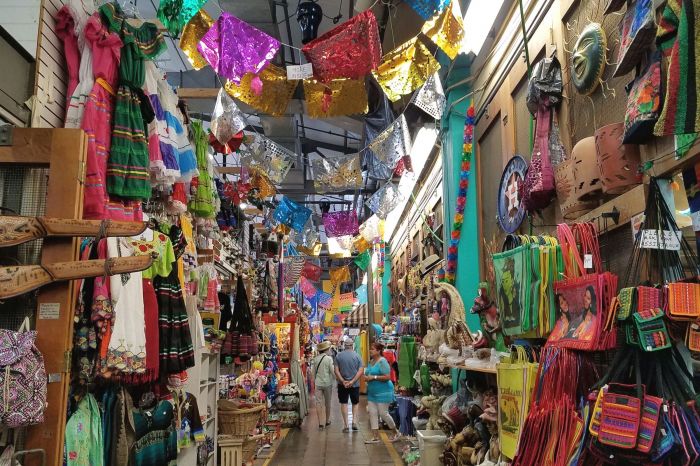 Photo Credit: Djani Schafer
While the caverns hold a piece of San Antonio's natural history, Market Square shares a glimpse of its cultural past. The city's marketplaces have always been a bustling meeting ground where you can find unique wares, delicious food, and family-friendly entertainment. You can easily spend a day popping in and out of the more than 100 colorful shops and stalls. Or take advantage of happy hour and hop from restaurant to restaurant looking for the best margarita while listening to a live band play in the market center. The Square will be especially lively during its Día De Los Muertos revelry, which you don't want to miss.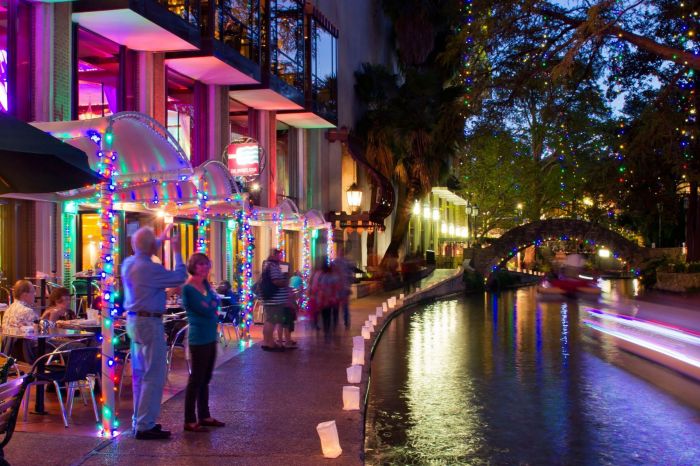 Photo Credit: Visit San Antonio
If you can't make it to the San Antonio this fall, don't worry, the city has a festival, event, or holiday worthy of a trip at nearly any time of year. From Thanksgiving to January, the River Walk gets decked out with thousands of holiday lights, and during Fiesta de Los Luminarias (which takes place over weekends in December), the banks are lined with a modern version of traditional Mexican Christmas lanterns.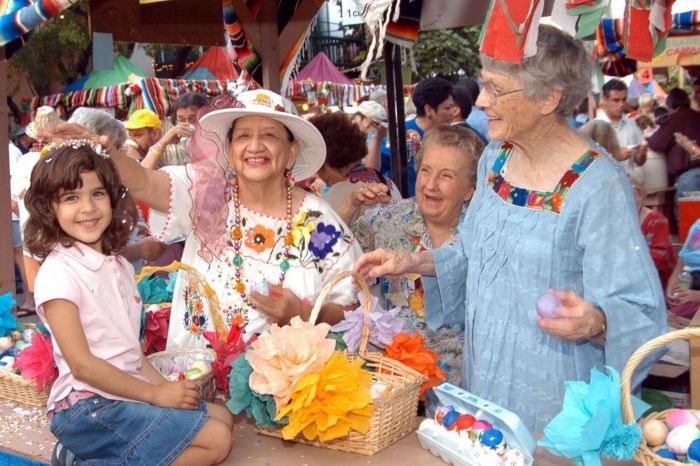 Photo Credit: Visit San Antonio
Then in the spring, Fiesta Week is a local favorite. What started as a parade in 1891, as a way to honor the heroes of the Alamo and the Battle of San Jacinto is now a celebration of San Antonio's rich and diverse cultures. The big party includes a week of parades, concerts, food-centric events, and a charreada (which is similar to a rodeo), plus colorful accessories like flower crowns (coronas), cascarones (confetti-filled eggs), and the famed Fiesta medals. In fact, the medals are one of the things that makes Fiesta Week truly unique; companies and organizations create their own exclusive emblems ("medals," or pins, have ranged in design from boots, to lotería cards, to portraits of Spurs' head coach Gregg Popovich) which San Antonians are able to buy or trade throughout the city. What's more, this week is about partying with a purpose—every official Fiesta event is sponsored by a local nonprofit or military organization that gives back to the community.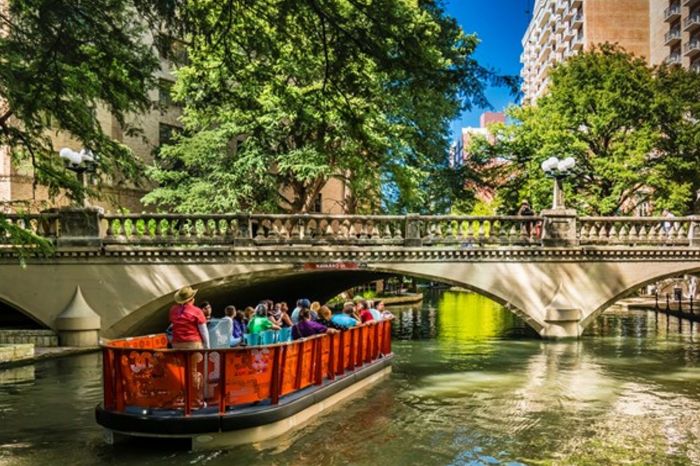 Photo Credit: Visit San Antonio
No matter when or why you visit—#SpookySZN, #HolidaySZN, #FiestaSZN, or #NoReasonSZN—San Antonio will welcome you with a spirited embrace. Join the mojigangas, mariachi, and the muertos and come experience everything the city has to offer.