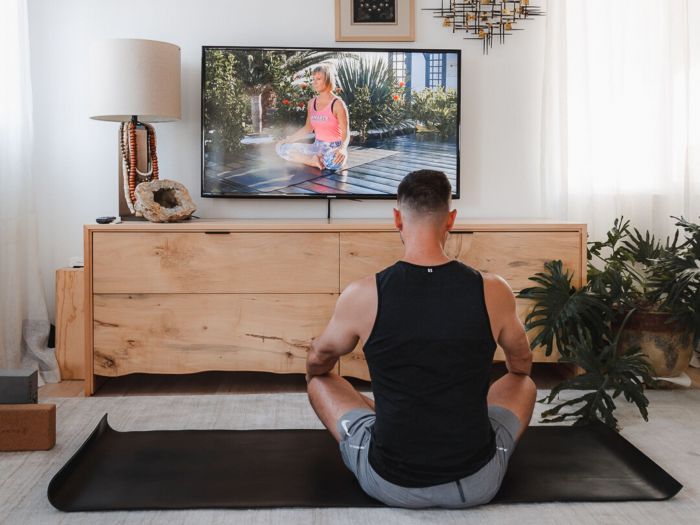 Photo Credit: Azulfit
We've all become well-acquainted with life in quarantine and now that we're entering our fourth(-ish) month of lockdown, baking banana bread, binging Netflix, and online retail therapy are no longer cutting it as self-care. Even with sporadic efforts to eat healthier, practice meditation, and digitally connect with friends, there's something lacking. Maybe we're speaking for ourselves here, but first-time downloads of the top 20 mental wellness apps in the U.S. rose 29 percent from January to April this year (hitting 4 million downloads in a single month)—so it's safe to say we're not alone in the need for something more.
While we can't yet jet-set away to an all-inclusive spa for some rest and relaxation, Azulfit—a luxury yoga and Pilates retreat—is helping you create an immersive wellness retreat in the comfort (and safety) of your own home.
Photo Credit: Azulfit
Founded more than a decade ago by husband-and-wife duo, Jamie and Karissa Isaac, Azulfit is the original yoga and Pilates retreat. "It's a space for connection, growth, and reflection, and people really need that with the pace that we have in our lives," Karissa explains. "So, we really try to create a safe space for people to grow."
Azulfit typically offers week-long sessions to guests year-round at its flagship location in Fuerteventura, the second largest of Spain's Canary Islands, as well as in Santorini, Goa, Bali, and Southern California. But in looking for ways to continue to support guests on their journey even after they've left Azulfit's private property, Karissa and Jamie decided to create a virtual experience, making their retreats more accessible and available. And when the pandemic hit, they were even more inspired and ready to share the movement, connection, nutritious food, and laughter so many of their guests return for year after year—in a way that could be enjoyed at home, no matter the location or time-zone.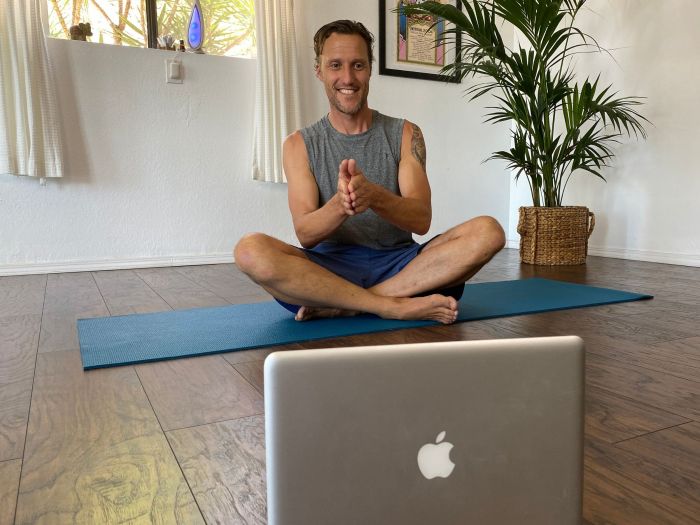 Photo Credit: Azulfit
Azulfit's Retreat at Home is a three-day digital retreat with co-founder Jamie taking the helm as lead teacher for the weekend's events. Karissa joins him at the start and end of the weekend to guide participants through workbooks and additional support material which help them reflect, set intentions, and implement the tools and strategies learned through each session so that they may be able to continue to grow beyond the retreat.
Retreat at Home also includes:
Six live retreat-style Zoom classes guided by world-class Azulfit teachers
Lifetime access to six on-demand yoga and Pilates sessions, two full-length practices, and three bonus sessions?
Instant access to an e-cookbook and lifetime access to how-to-prep videos led by Jo Dombernowsky, Azulfit's nutrition advisor, international cookbook author, and celebrated Pilates teacher
Exclusive access to an online support community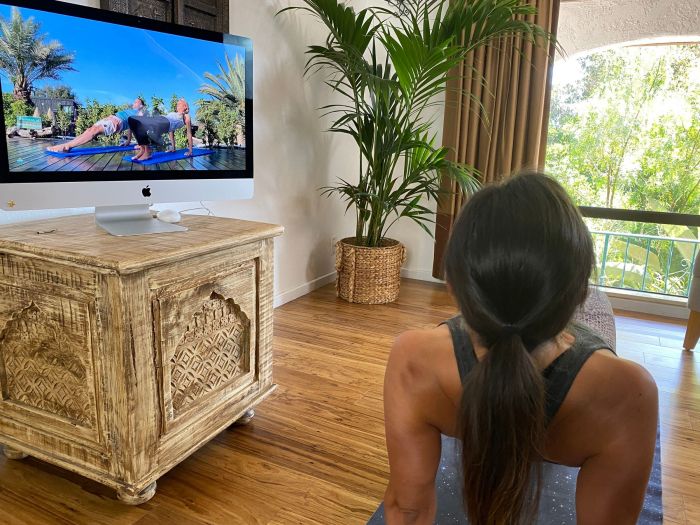 Photo Credit: Azulfit
Once you join Retreat at Home, your weekend schedule will be sent to you via email, you'll also get a bundle of thoughtful resources and links to each live session, so you can start your access to Azulfit's retreat sessions with ease.
Throughout the weekend Jamie and Karissa are joined and supported by other instructors, depending on the time zones of the participants and the group's goals, learning styles, and desire more bespoke courses.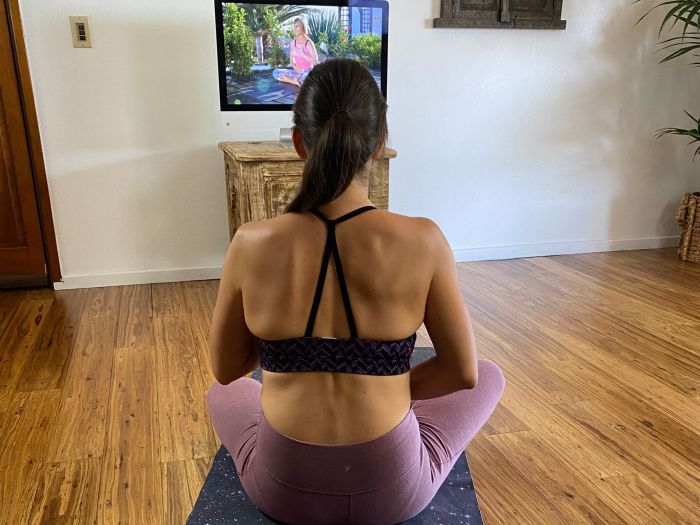 Photo Credit: Azulfit
As far as live classes go, Retreat at Home begins with a Friday afternoon welcome and review of course materials, to set you up for a successful weekend and empower you on your ongoing journey of wellbeing. You'll then be led into a movement class and then an optional Yin or Restorative Yoga class, and time for journaling and workbook reflection. Saturday starts with an awakening Flow Yoga class and more time to explore the support materials and personal self-care; the day wraps up with an evening Pilates session with Jamie, followed by some time to ask questions about anything related to the weekend's sessions or retreat. Sunday begins with another rejuvenating Flow Yoga class and ends with a 'celebration' Pilates session with Jamie followed by another workbook review and time for questions.
Throughout the weekend's classes and sessions, you'll have a chance to talk with instructors about where you're at, and set intentions and goals for the retreat.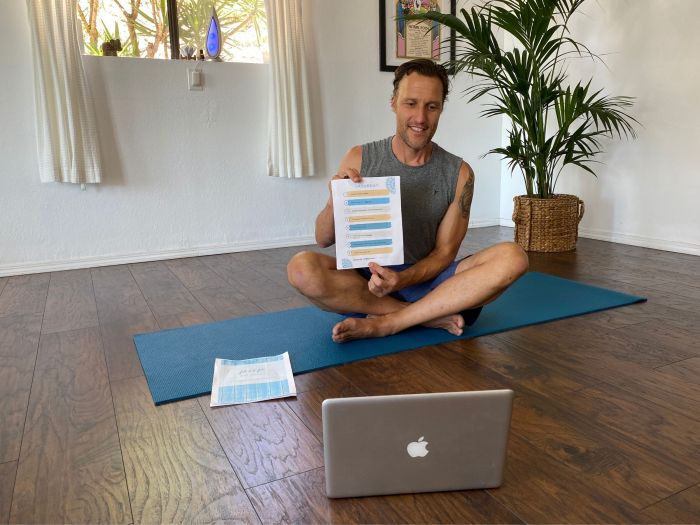 Photo Credit: Azulfit
It's that kind of individual attention that makes Retreat at Home an experience you won't find in most other virtual self-care programs. Hosting the retreat over several time zones means online groups are generally smaller and Azulfit's instructors can break off into more specialized sessions. They also offer add-on, bespoke programs to address whatever needs or concerns you may have coming into the retreat. "We can offer a pampering experience, with natural skincare products, and we can do a facial over the weekend together," Karissa says. "So there's some really nice opportunities to actually plug into these experiences that you expect to get in person."
An exceptional amount of care, detail, and attention went into the creation of Retreat at Home's resources, all of which you can revisit at your own convenience, whenever you want, as you continue your journey. There's a hundred-recipe cookbook along with on-demand cooking tutorials and even a shopping list to help you maintain a healthy, balanced lifestyle throughout your weekend and beyond; you can review these materials monthly, quarterly, or even annually to check in and reevaluate your wellness goals.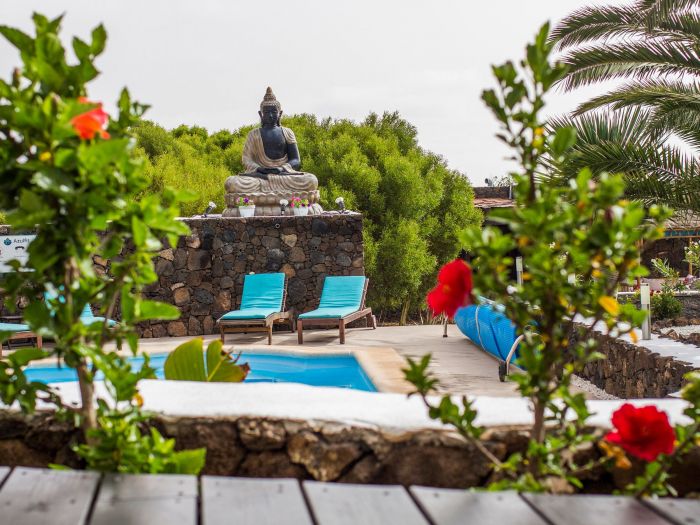 Photo Credit: Azulfit
Perhaps the best part about Retreat at Home is that it's a delightful introduction to Azulfit's programs. In-person retreats are set to open this summer, with a soft reopening on July 18 in Spain, as well as a retreat in Santorini on August 1. The reopening comes with extensive safety protocols in place: temperature and symptom checks upon arrival, smaller group sizes, personal (non-shared) equipment, and distancing practices during all classes and meals. You can also expect thorough, deep cleaning of rooms, common areas, and frequently touched surfaces.
And with its flagship retreat located on a secluded island, COVID-19 cases were limited from the beginning and there is a ton of space to spread out in between classes—be it for for meditation, journaling, a personal movement practice, or just to soak up the island's beauty. "It's a small, quiet island anyway, and there's lots and lots of space. You can go to a beach and there's no one there, and that's all within access of the retreat," Jamie says. "It opens up all these new areas where the retreat experience will be even better."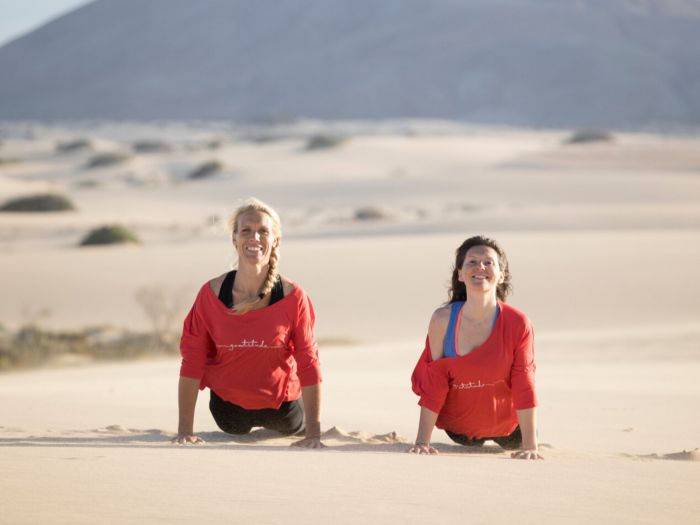 Photo Credit: Azulfit
Whether you choose Retreat at Home or a destination retreat (or both), you'll become a part of the Azulfit wellbeing community. Which is, in part, a Facebook group that offers valuable resources, and a space to ask questions and get tips from Azulfit's instructors—including Jamie and Karissa. More than that though, it's support from a growing circle of motivated, uplifting, enthusiastic people.
"I had a group I taught, who had retreated with us virtually three or four weeks ago. They're in different places, across oceans in some cases [Ireland, California, Amsterdam], but they're still getting together as a group to come and share some movement with me," Jamie says. "So it's super inspiring to see how people still come together. They still want to connect."