Radinn, the Swedish jetboard manufacturer, adds two new board shapes to their product range that are lighter and highly agile.
The free-ride and the carve models complement Radinn's current jetboard and come in two unique designs. While the previous 'Explorer' board was more focused on durability and easy- learning, the new shapes target advanced and pro-riders seeking greater maneuverability. The free-ride model comes with a weight of 27lbs, three kilos lighter than the G2X. The perfect choice for riders who are ready to trade some stability with greater control. While the length and width are similar to its predecessor, the board has enhanced hydrodynamics and allows easier turns.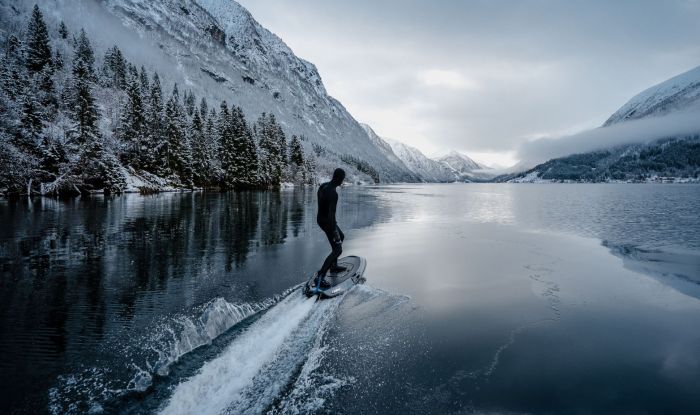 Advanced riders will be thrilled about the new carve model. At just 20lbs, it weighs less than the G2X and is significantly smaller in size (5´10"x2´x0,5'). Sharp turns and carving are now possible and advanced jet boarders will be able to fine-tune their skills.
"From day one, it was my vision to offer a range of different board shapes. Our product modularity allows swapping the jetpack and battery within minutes. Now, our customers can have several board types at home and decide on the spot which board fits best to the given riding conditions." - Founder Alexander Lind
The sleek board design is inspired by the fusion of watersports and tech. Customers can choose between two colors per model: The freeride board comes in a clean, minimalist space grey and the carve model in a vibrant, dark cyan and grey. Both models also come in a full black version with a high-end carbon finish.
Radinn recently launched the G3, their third generation jetpack making higher speeds and faster acceleration possible. All board shapes can be purchased at Radinn.com and the entry price for a complete package is $6.490.00. Customers can tailor their own jetboards with the product configurator on Radinn's website and have it shipped directly to their home.