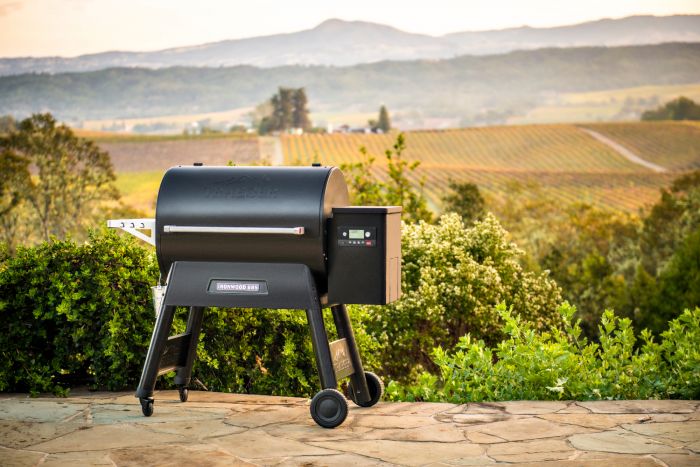 (credit: Traeger)
There is only one thing on people's minds when the summer heat is on the horizon, barbecue season. Basking in the sun, grilling up your signature BBQ staple with family and friends – both of course safely and adhering to social distancing due to COVID. Due to the pandemic afflicting so many people across the United States, people are staying safer at home and Traeger Grills Ironwood 885 gives you a reason to want to stay home.
Similar to the Timberline series launched in 2017 which added WiFi connectivity to its line of wood pellet grills, the all new Ironwood 885 is WiFi enabled making your backyard cookout easier than ever. Thanks to the Ironwood D2® Direct Drive Controller, the grill is as easy to use as an oven. All a user needs to do is turn the dial to a desired temperature, hit ignite, wait to heat and grill up some grub.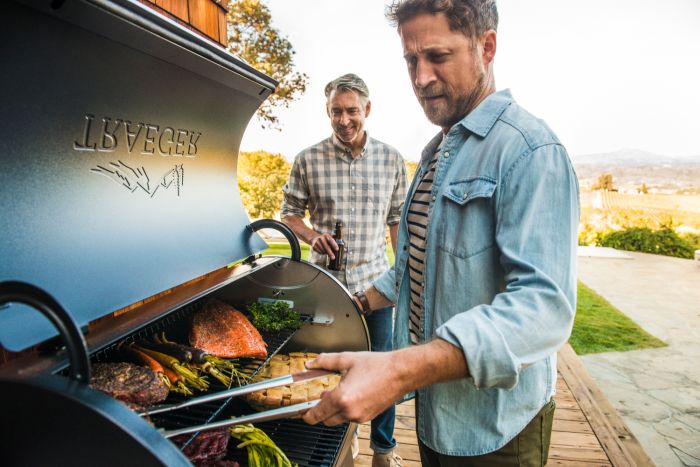 (credit: Traeger)
"The Pro, Ironwood and Timberline series all come equipped with WiFIRE® technology giving you the ability to control your grill from literally anywhere using the Traeger App or your smart home device," says Michael Colston, vice president of product for Traeger Grills. "Whether it's ribs, pizza, cocktails, pie or a 12-hour brisket, the technology ensures you get precise, dependable temperatures throughout your cook creating consistent results every single time."
Its tech even allows users to connect the grill to an app on your smartphone so you can be playing cornhole or horseshoes while grilling to perfection. The combination of the brand's WiFire technology, Turbotemp® – speedy start-up and quicker recovery – and D2® Direct Drive – which improves searing and varies cooling temperature and time – provides a true titan of a grill that can feed the whole crew with ease.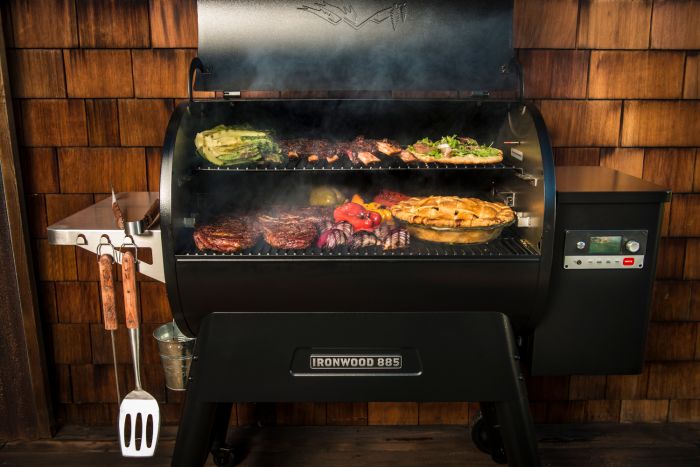 (credit: Traeger)
With a max cooking temperature of 500ºF and 885 square inches of grill space to work with, the Ironwood 885 has more power, with fine-tuned precision, than its predecessors and is the smartest grill out there. Its D2 Direct Drive system monitors the temperature of the grill and even smartly moves wooden pellets from its hopper – whose maximum capacity is 20-lb – to the fire pot for a necessary jolt.
"Our team aims to provide the necessary resources, such as recipes and cooking tips from our grillmasters, inside the app to help users hone in on their culinary skills and create the most efficient—and pleasant—cooking experience in their backyard," says Colston. "Whether it's one of the 1,600 recipes on our mobile app, a Traeger Kitchen Live series on Instagram, or an online Private Kitchen shop class with a pitmaster, we want our customers to fully immerse themselves into the Traegerhood community."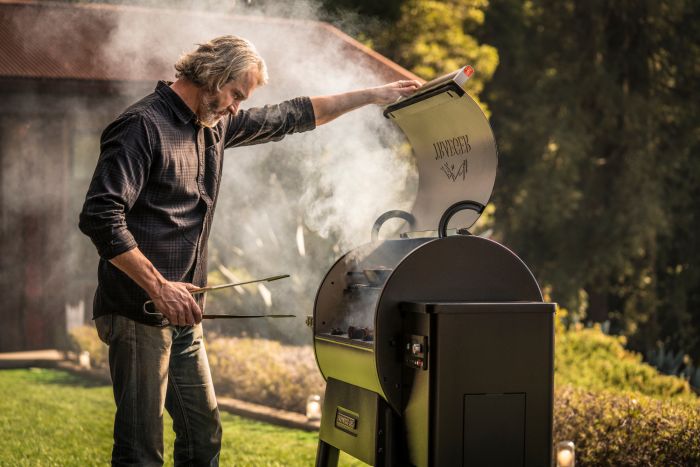 (credit: Traeger)
Inspiration for any grillers' next smokey masterpiece is just a tap a way as Traeger recently launched its GrillGuide® which is available on the app. Simply choose your recipe, download it to the controller, and let the grill do the heavy lifting as step-by-step cooking instructions and alerts for over 1,500 recipes are just a click away. Traeger's GrillGuide® even locks in the exact cooking time and changes temperature for any of the delicious recipes available, ensuring the future of outdoor cooking has arrived.
Available in black and equipped with a stainless steel side shelf and exterior storage hooks for an extra grill rack, the Ironwood 885 Pellet Grill retails for $1,499.99 and is available for purchase here.