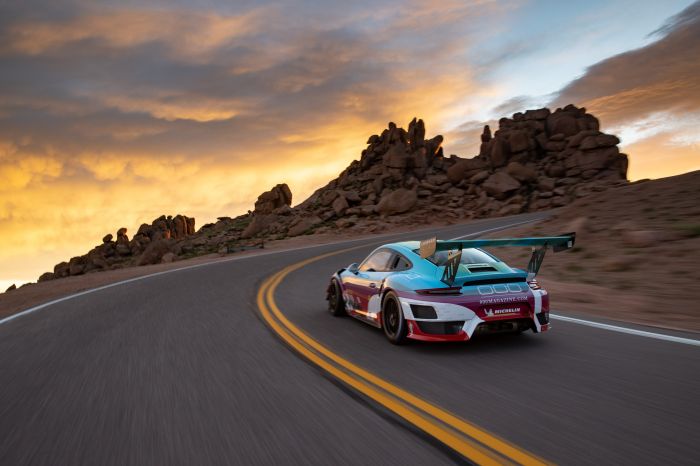 000 magazine
The Broadmoor Pikes Peak International Hill Climb, also known as The Race to the Clouds, is an invitational automobile hill climb to the summit of Pikes Peak in Colorado held on the last Sunday of August: in 2020, it is August 30th.
Founded in 1916 by Spencer Penrose (also the founder of The Broadmoor Hotel, Pikes Peak Highway and El Pomar Foundation), The Broadmoor Pikes Peak International Hill Climb or the PPIHC, takes place on a 12.42 mile public toll-road, and has 156 turns. Competitors climb 4,720 feet from the 9,390 foot start line at the Mile 7 marker on Pikes Peak Highway, to the 14,115 foot finish line at the mountain's summit.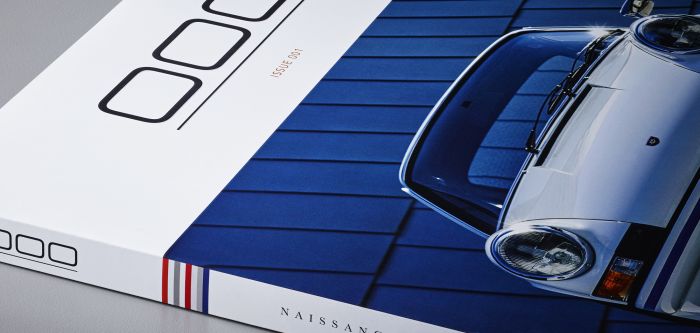 000 Magazine
As drivers move toward the summit, the thin air often slows competitor's mental and muscle strength in addition to robbing internal combustion engines of up to 30% of the power they have at the start line. Competitors and their vehicles must be in excellent shape to simply to finish, let alone win. The race is self-sanctioned, and is, arguably, one of the most diverse one-day motorsports event in the world.
As teams prepare for the 2020 Broadmoor Pikes Peak International Hill Climb this year, the Colorado race has welcomed an unexpected entry: an Art Car—a Porsche 911 GT2 RS Clubsport -- that will be driven by David Donner.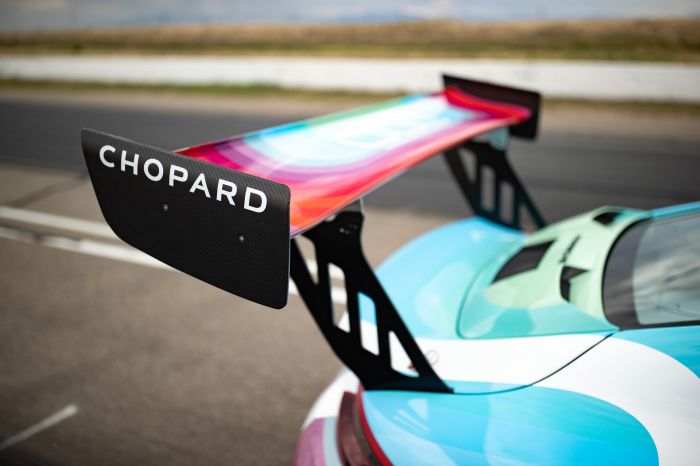 000 Magazine
An Art Car is highly unusual to be an entrant for a race of this kind. It is a vehicle that has its appearance modified by unique artistic expressions. There is an Art Car Museum in Houston, Texas, and also, an Art Car Parade in the same city. Art Cars are usually wildly colored, unique, and often quirky.
But this Porsche 911 Art Car, combines the best of art and the best of racing abilities. And there is a story behind this unique combination.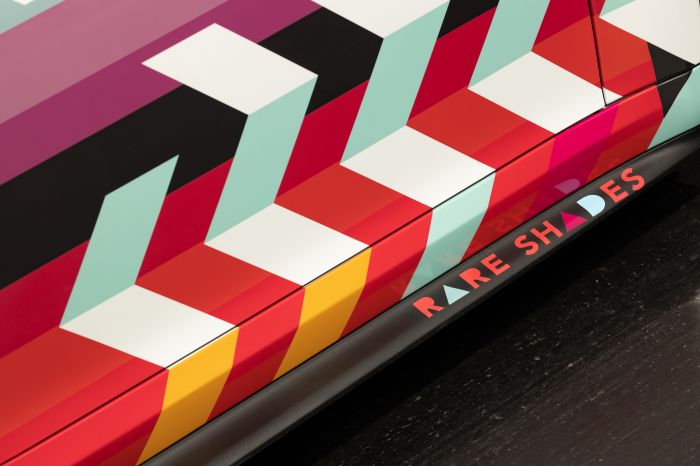 000 Magazine
"Funny enough, the art car's entry was completely serendipitous," comments Pete Stout, co-founder of 000 Magazine (pronounced "Triple Zero") It is THE Porsche magazine, and its unusual name is a reference to Porsche's three-digit model type numerology
"The Porsche Art Car began as an editorial project for our magazine photo shoot on Pikes Peak. While Larry Chen, a great photographer, was shooting this Art Car at a track test, I asked David Donner, (who was also at the track) if he were racing at Pikes Peak this year. He said no—but that he might be if the Art Car GT2 was available! I asked what it would take and we moved quickly to develop a program to support him with brand partners who also supported the creation of the Porsche Art Car—Michelin, Champion, Chopard, and Meguiar's. Now, we're thrilled to see Donner Motorsports and David Donner enter the car in one of the world's most storied races."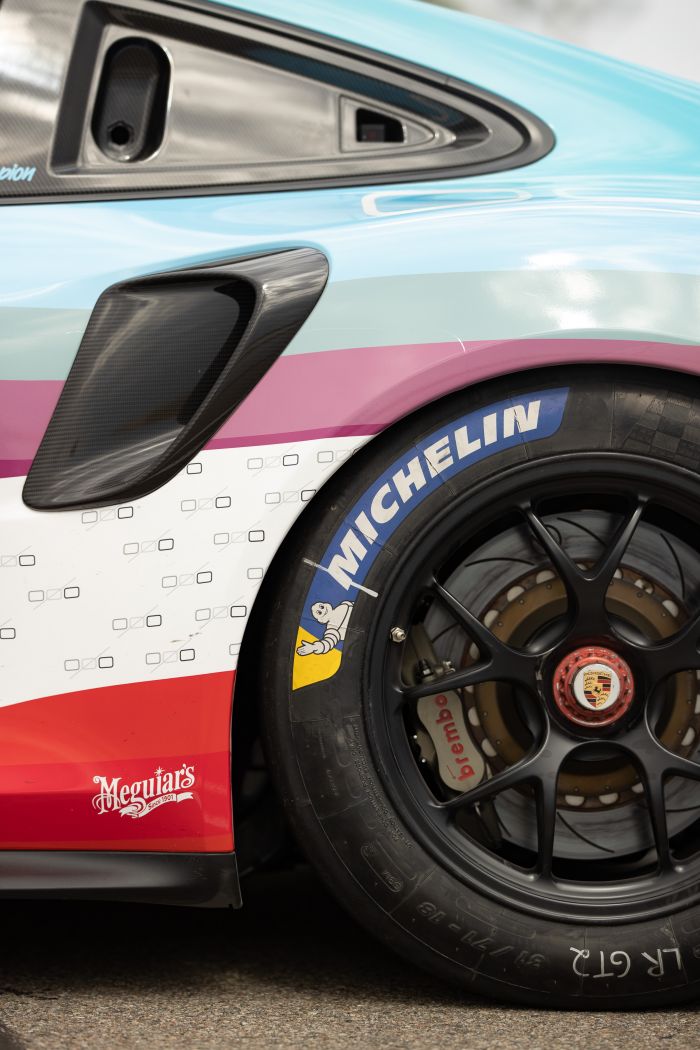 000 Magazine
"I was never interested in returning to Pikes Peak unless I could drive something with a racing pedigree, plenty of horsepower, traction control, and ABS," says the three-time winner David Donner. He continues, ""Porsche's GT2 RS Clubsport checks all those boxes, and then you place it on Michelin race tires and we have the car. And the 000 Porsche art car looks spectacular."
There is Donner DNA to his connection to the Pikes Peak race, as his grandfather helped restart the race after World War II. In addition, his father drove a Porsche RS-61 to three wins in the 1960s.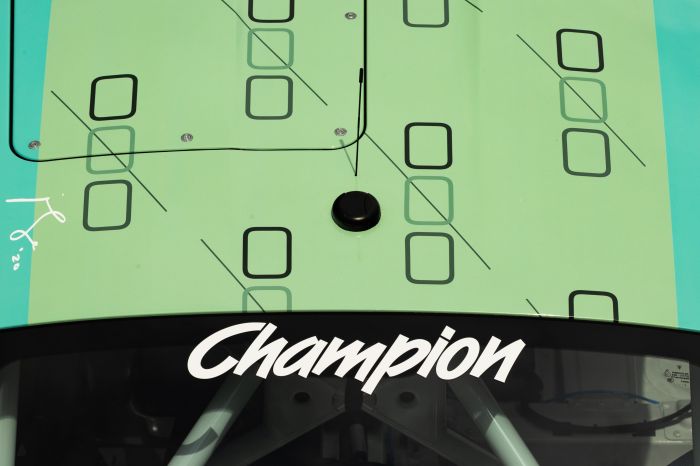 000 Magazine
Designed by 000 creative director Justin Page and wrapped by Pro Graphics Install of Denver, the colorful art car will certainly stand out in the Time Attack 1 class. Its design takes a cue from Rare Shades™, an event series launched by 000 in collaboration with PTSRS, a Facebook/Instagram Porsche website, to highlight Porsches in unusual colors or Paint to Sample. Page's design includes many "Easter eggs," with the zeroes in the magazine's logo appearing throughout the car.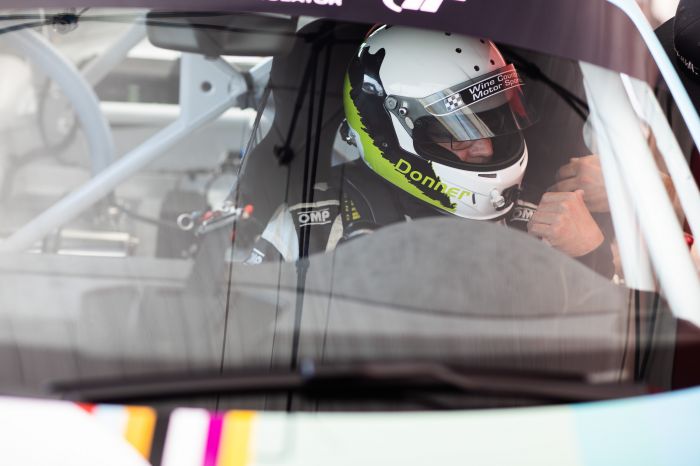 000 Magazine
"It will be exciting to watch David Donner return to competition on Pikes Peak this summer in the Porsche," said Megan Leatham, Executive Director for the PPIHC. "The Donner family has been part of the history of this world-class event for more than 60 years. We were pleased to induct the Donner family, including David, to the Pikes Peak Hill Climb Museum Hall of Fame in 2016. David and fellow competitor Jeff Zwart, who was inducted in 2018, are the first Hall of Fame recipients to return to competition on Pikes Peak. We are pleased to offer a bespoke white windshield banner from our partner, Gran Turismo, to exclusively honor current Pikes Peak Hill Climb Hall of Famers who return to competition on America's Mountain."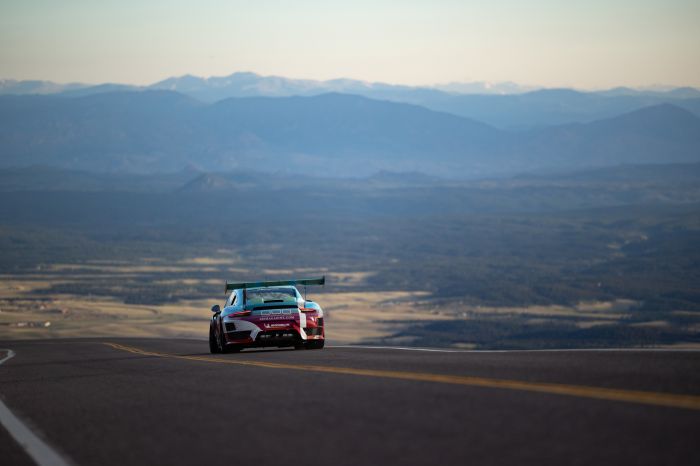 000 Magazine
Back of Car, Full Speed Ahead