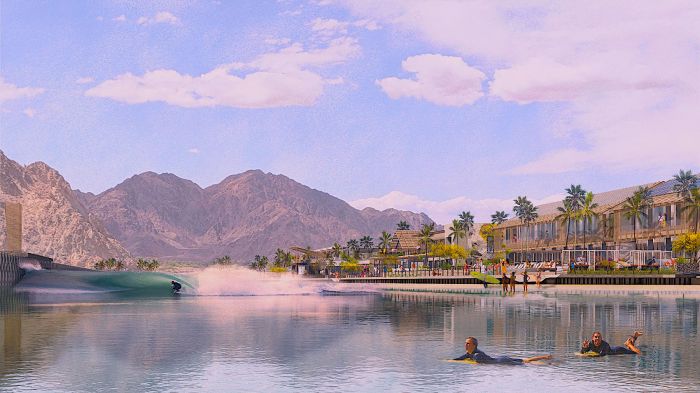 Meriwether Company
For the many who have spent time in a desert experiencing dust storms, high winds, blowing tumbleweed, there are grateful moments of peaceful, soul appreciation when rains come, when water in the desert is seen and heard. When the opposites of earth and water, one from the heavens, one from the ground meld, especially in the desert, poetry occurs. It has been said that water in the desert is wisdom to the soul.
Especially in Coachella Valley, where there is much desert and little water, it takes a grand, even a soulful, vision to create this grand idea: the experience of actually surfing the desert, and within sight of ancient fossil beds nearby.

Meriwether Company
Coral Mountain is a Meriwether master-planned sports/wellness resort community in California's Coachella Valley. This 400-acre site in La Quinta, California is set at the base of Coral Mountain, surrounded by expansive views of the peaceful desert landscape. It will be the first sports/wellness development of its kind that includes wave technology from Big Sky Wave Developments, associated with Kelly Slater Wave Company (KSWC,)a division of the World Surf League.
Plans for Coral Mountain include a full-service resort, residential homes, a private club, multiple dining venues, adventure sport offerings, and progression-based training for mind and body, anchored by KSWC wave technology.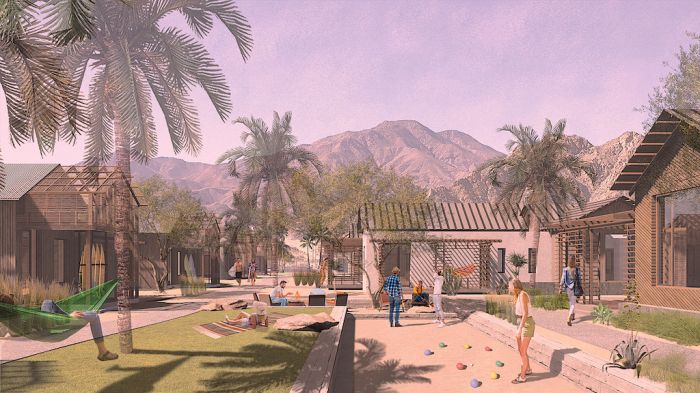 Meriwether Company
The vision of the Coral Mountain development lies in the attraction of those inspired by two contrasting yet inspirational landscapes: the sanctuaried desert and an innovative water and wave facility. The land, previously approved for 750 homes and an 18-hole golf course, is now owned by Meriwether Companies and Big Sky Wave Developments. The developers removed the golf course space and is in process of adding the 20-acre wave basin, which will require significantly less water. Also, unlike golfing in the desert, a surfing development can be a year 'round destination, that will include the hot summer months when the low desert temperatures range from 107-112F.
The KSWC Wave system was created by Kelly Slater, regarded as the greatest professional surfer of all time. KSWC combines cutting edge wave technology with fluid dynamics science, to design to create the largest, rideable open-barrel, human-made waves in the world. KSWC technology produces waveforms for all levels of ability and preferences. The wave system allows surfers to dial up the height of the waves they want to surf also.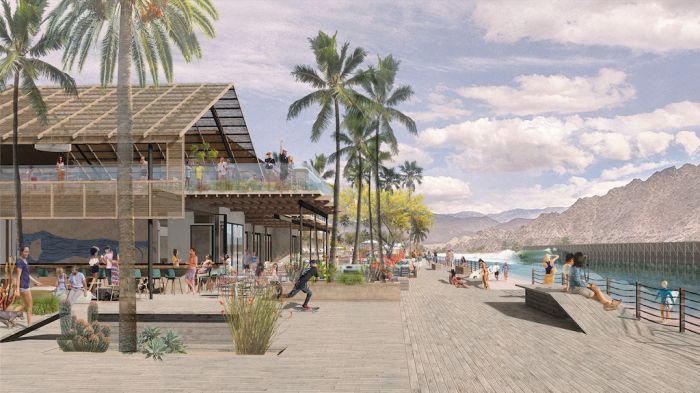 Meriwether Company
The wave technology has been tested at the Kelly Slater Surf Ranch in Lemmore, California, near Fresno. It was there that his first wave machine was tested, and proved successful. There have been surf contests held there, and Kelly Slater himself has surfed these waves. His mission is to take this soul experience to other places in the United States and the world.
"I originally invested with Kelly in 2013 for my own personal surfing progression," said Michael B. Schwab, Managing Director, Big Sky Wave Developments. "I had no idea the impact it would have on my life, and I realized immediately that I had to share this opportunity. I've had everyone from my 4-year-old niece to my 82-year-old father at Surf Ranch in Central California, watching them grow as people through this indescribable surfing experience."
The pool, or wave basin, is 2,297 feet long by 492 feet wide. A huge metal hydrofoil creates each wave. It is partially submerged in the water and attached to train-like cars that get pulled down a track by a cable at speeds of 19 mph. The hydrofoil creates lift and moves up the pool to create a wave that breaks from right to left. Then the hydrofoil travels back down the pool and forms a wave that breaks in the opposite direction. The surf ride can last from 50-58 seconds.
Coral Mountain is set to open early in 2022. Information will be updated as it becomes available.