All Images Credit Gilberton Outback Retreat
The Gilberton Outback Retreat: Australia's Quintessential Bush-Luxe Adventure
The embers from a fire drift into the night's pitch-black sky. The sound of the fire crackling is joined by conversation and laughter as well as the aroma of grilling steaks. Here, in one of the most remote areas of Australia, six hours drive away from the nearest town, a couple joins a family of cow ranchers for a barbeque and a once-in-a-lifetime vacation experience they will never forget. This is what you can expect during your outback adventure at the Gilberton Outback Retreat.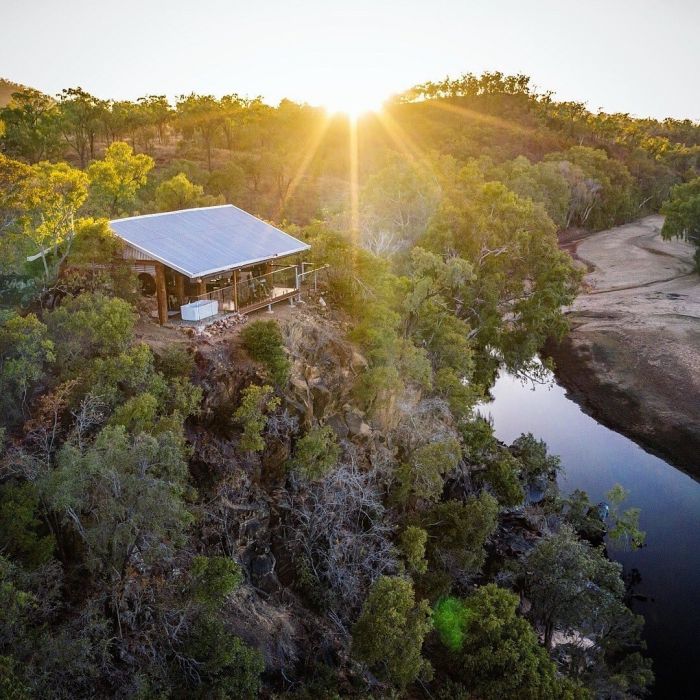 For the city slicker looking to indulge in an Australian outback adventure, it doesn't get much better than this. The Gilberton Outback Retreat is curated by custodians of the cattle station, or as we'd say in the west, a ranch, the French family. Their ancestors came to Australia in 1869 and for seven generations have owned a cattle farming business. 150 years later, your hosts Lyn and Rob invite guests to their five-star holiday and a glimpse into their rustic way of life.
This is the Australian outback, it is wild and mostly untamed with miles and miles of rugged landscape, rocky gorges, and forest that covers the open savannah. This is a utopia for bird watchers and animal conservationists with a remarkable diversity of wildlife from exotic birds, reptiles, kangaroos, koalas, and the occasional dingo as well.
The station is the size of a state. It is 88,000 acres and home to their 2500 head of Brahmin cattle, a breed suited for the harsh climate of the region. The station is spread out beyond the horizon and filled with endless history, natural beauty, and thrilling activities. The Gilbertown Outback Retreat offers a holiday your way, where guests can simply chill out, lazing about while surrounded by nature and magical sunsets, or can have an unforgettable outback adventure with hiking, nature walks, fishing, and swimming. The most authentic excursions here include fossicking or searching for gold or the guided walks to where Aboriginals once lived, understanding more about them, and seeing their primitive Aboriginal rock art.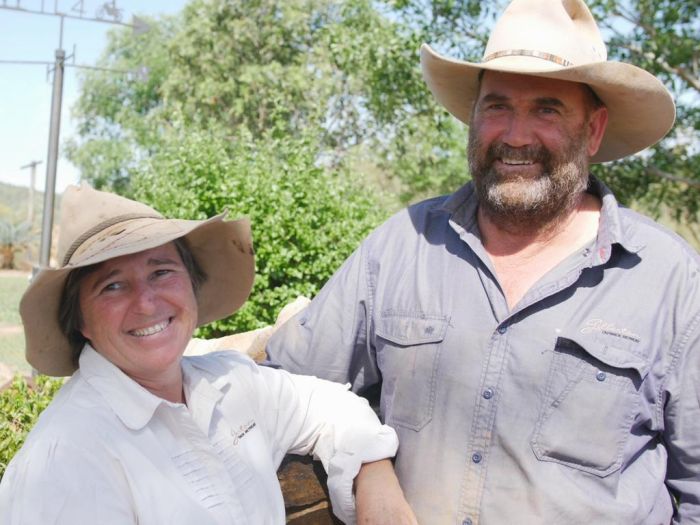 Beyond the natural beauty and the one-of-a-kind accommodation, the main thing that you'll take away is the time with your hosts, Lyn and Rob, or as they would say, a true blue 'dinky di' bush family. During your stay, they are there to offer a wide range of experiences as well as an up-close and personal insight into their way of life. Lyn will find out what the guest's interests are and then tailor their itinerary accordingly as some just want to chill out while others want to do it all. Whether it's the barbeque with the family or going for a dip in the river, guests instantly feel their warm welcome and after the first night, you begin to feel more like friends than guests. You definitely won't get this treatment- or have this feeling- at your everyday city hotel.
Lyn typically takes her guests on the tours. She is quite the character-warm but with a quiet strength made tough by her surroundings-as she busies about in her cowboy hat and colorful handkerchief scarf. She, as is Rob, is fierce about protecting the land for the next generations. With that sustainability is a way of life and not just something they do. Water is gathered during the rainy season and kept in massive cisterns while solar panels power the electronics. Here recycling and reusing is key here as nothing can go to waste here. After all, the nearest town is six hours drive away. They are also proud of their family history having lived here through generations. This area was initially a gold rush town where Chinese and Europeans came to dig for gold and their family was part of it from the beginning. There's still gold here and many come from far away to search for and still do find, those valuable gilded nuggets.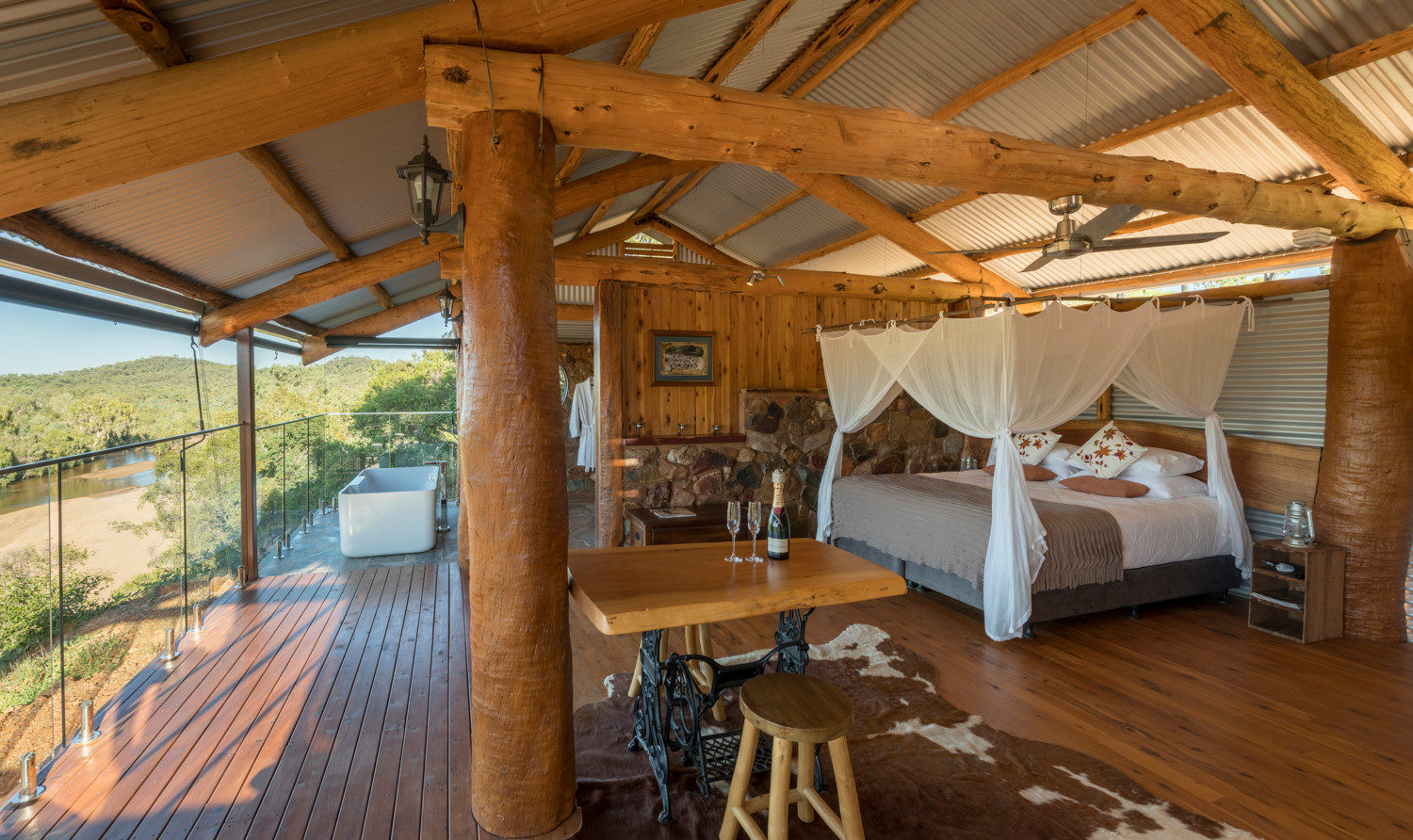 The retreat is home to only one cabin which the French's whimsically refer to as "the Hut". It is the ultimate exclusivity as the entire experience caters to only one couple. The cabin is exactly what one could only wish for in a self-contained cabin that is rustic yet exudes luxury with all the amenities one would require for a comfortable stay. This is not the place to check up on your latest stock trades or to have a zoom call with the office during your vacation. There is delightfully no wifi, tv, or phone which most will relish as a chance to digitally detox and to be present in nature, the stunning setting and experiences that await.
The cabin is beautiful and simple yet sophisticated. The fine craftsmanship is showcased within the corrugated iron roof structure supported by exposed ironwood rafters with stone walls and timber surfaces, all sourced from nearby. There is a full kitchen with a small gas stove and oven as well as a refrigerator stocked with all of the rations you'll need during your stay including a gourmet breakfast hamper along with wine, beer, snack, and Lyn's homemade biscuits are all included in the rate.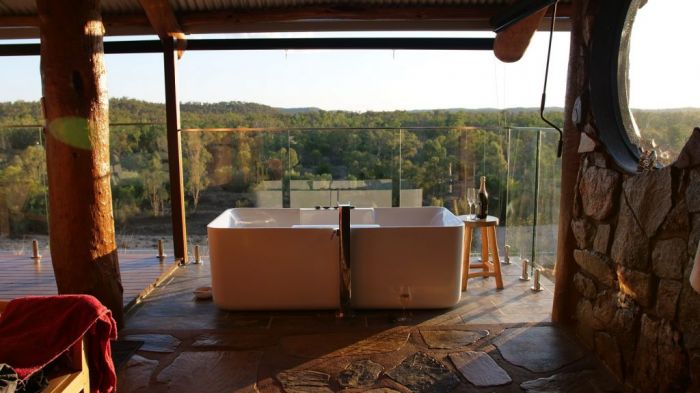 The bed is made for romance covered in netting with an uber-comfortable mattress and soft bedding. The open plan continues into the bathroom with a sleek slate floor, stone walls made from quartz, and riverbed rocks. and a decadent rainwater shower. The feature that guests will love most about the cabin is that it has been designed to take in the views of the outdoors and to let the fresh air in. The cabin is situated high on a bluff overlooking landscapes and riverbed below. As far as the eyes can see, there is nothing but nature. trees, scrub, the river, and the occasional kangaroo heading to the river for a drink of water.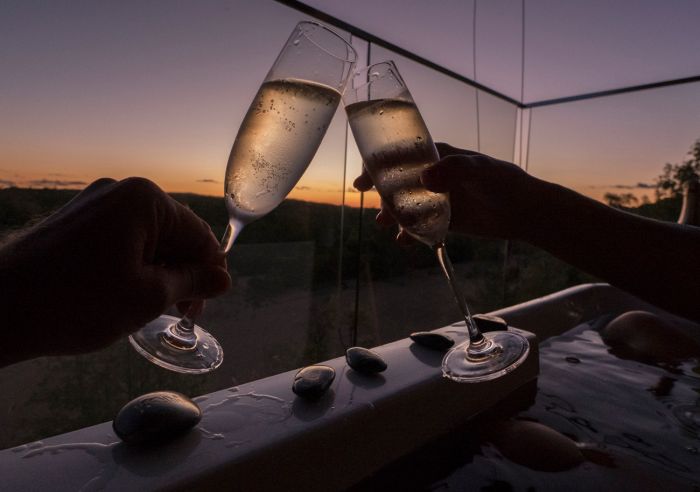 The entire side facing the horizon is open with only a glass balustrade and open area for the views. In front are two Adirondack chairs situation perfectly for taking in the gorgeous sunrises and sunsets. The most special amenity is the oversized bath, made for two, that sits just at the edge of the room created for a night of romance with your loved one as you sip champagne while taking in the night views, sounds of nature, and the sea of stars.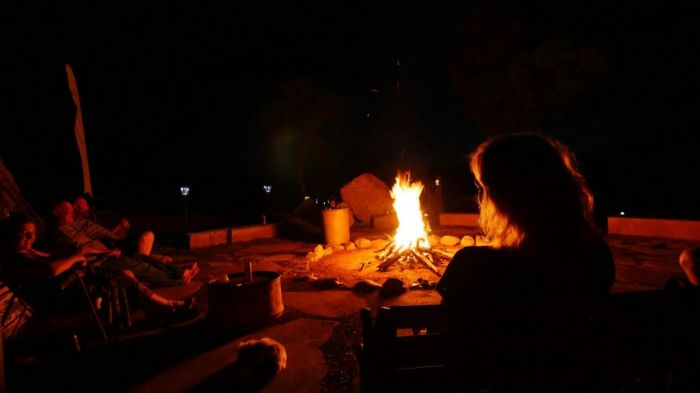 After a comfortable night's sleep, a gourmet breakfast hamper awaits with all the fixing from meats, eggs, cheese, and fruits where guests cook as they wish and have when they're ready. Meals are customized based on the guest's dietary preferences throughout the stay. Lunch can be arranged in the cabin or during the tours.
Dinner can be with the family for a wholesome country meal or on your own; it up to the guests. Those who do share these precious moments with the French family leave with a new understanding of what life is like here in the bush. Seven generations in the Australian Outback comes with a rich library of fascinating stories and conversations about floods, droughts, mining stories, and or about what it takes to run a cattle station and that new stud bull that costs a small fortune. All the meals are based on the paddock-to-plate philosophy with ingredients locally sourced or from regional suppliers.
One memorable meal is the barbeque around an open fire dining on scrumptious beef sausage and steaks, plenty of homemade side dishes, along with exquisite Australian wines and beer. The night is full of good food, stories, and friendship.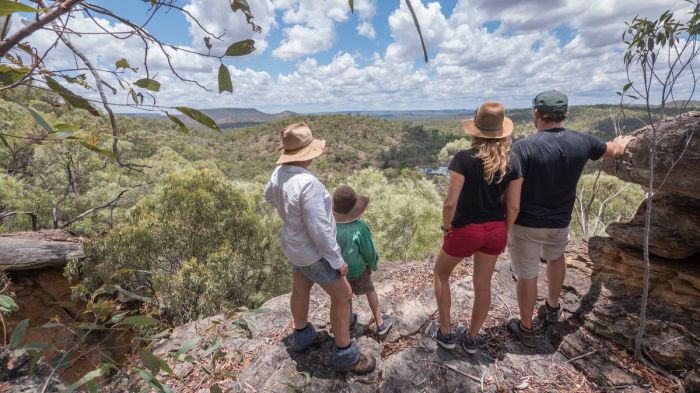 You will be hard-pressed to find elsewhere the authentic activities and unforgettable experiences offered at the Gilberton Outback Retreat. The 88,000-acre estate is a natural playground that the French's are happy to share with their guests with activities from hikes, paddleboarding, kayaking, or a swim in their lake-sized reservoir, or equally as inviting, just doing nothing at all
Lyn loves to share her affection for this little part of the world. A must-do experience is the Aboriginal Art tour which begins with a four-wheel drive on a rugged path across the cattle station through the spectacular wilderness, rich with flora and fauna, shallow creeks, and several paddocks as the curious cows take notice as you bounce and buzz along. Once at the entrance, we say a prayer to give respect to the Aboriginal ancestors and to ask for permission to cross their land. From there the hike goes through the stunning landscapes and unusual rock formations to a group of massive boulders at the top of a hill. This is where the Aboriginal Indigenous people lived for a thousand years and you'll see their artifacts left behind in ancient primitive stone tools and carved out grinding pits for making flour.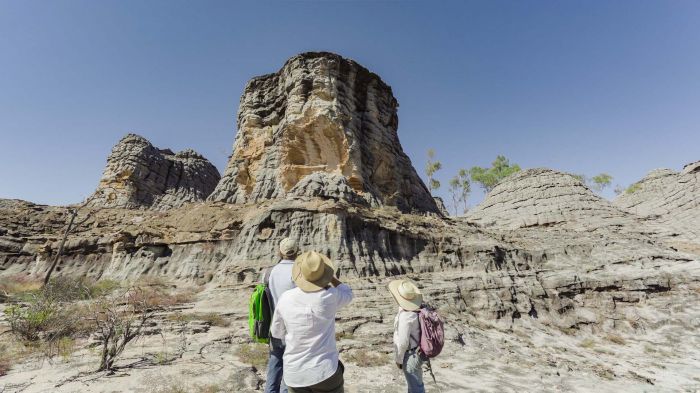 Elsewhere around the boulders are the unique petroglyphs that have been there for eons. It's quite fascinating as Lyn with, at times, her cultural history expert, archeologist, and friend Jacinta Warland, share the history and backstory of the lives of the people who once lived here. Lyn whips up a fire and serves a camp-style tea and coffee, the way the miners once did, with fruit and homemade biscuits before the journey continues.
Other tours include a hike through an area filled with otherworldly rock formations created eons ago when these lands were covered by the sea. It looks like a set from the Flintstones or a science fiction movie as guests walk through while Lyn gives the story of how these formations came to be.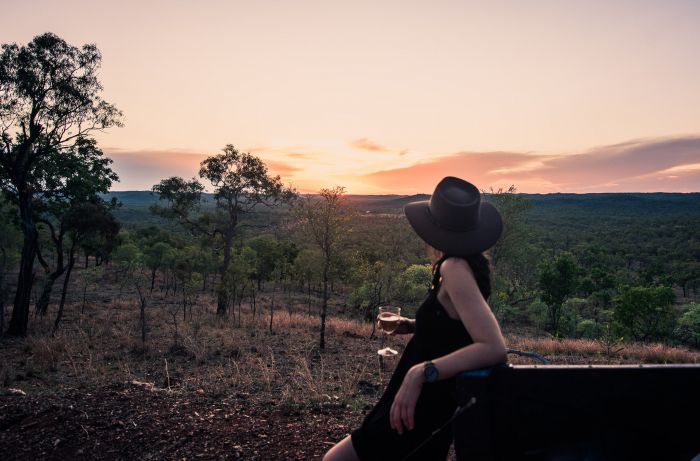 The Gilberton Station was of course part of the Australian gold rush and began as a gold mining town where over 3000 immigrants extracted millions of dollars of gold. Today, this is still an active goldfield where guests can join in, fossicking with metal detectors in search of, and usually finding these valuable nuggets. Throughout the visit, Lyn shares their family's intertwined history with the search for gold in this area since they first arrived 150 years ago.
Another experience guests will cherish is taking in the mesmerizing sunset. Rob, joined by his three herding dogs, takes guests up to the Mount Nation mountainside to take in the stunning sunset over the endless land and horizon. The sun goes down and the sky is painted a kaleidoscope of vibrant reds, yellows, and purple colors. Guests take in all of the glory of the view while nibbling on cheeses, nuts, and fruit along with a glass of champagne while toasting to this magnificent moment.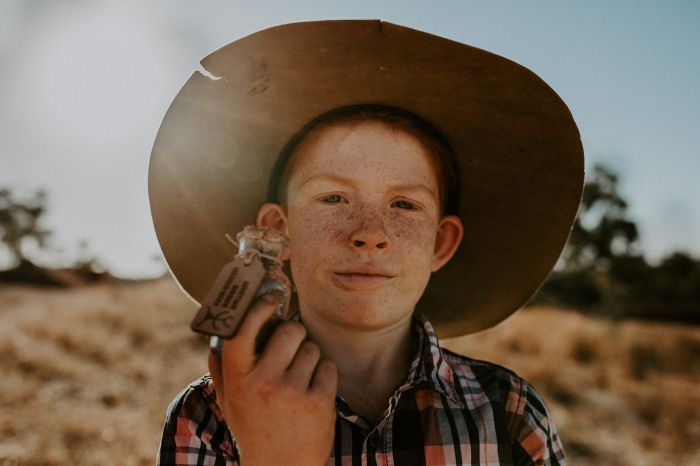 Beyond your adventures, you'll leave the Gilberton Retreat with an appreciation for not only the Aussie way of life in the outback but also of the French family. They are true conservators of the land and live sustainably, relying on solar energy, rainwater collected in cisterns, and practice a whole host of environmental focused practices as a way of life. The Gilberton Station is now recognized as a Nature Refuge by the Queensland Government as being an area of high conservation significance.
The French's have now added tourism through their estate as a way to let others have a taste of their way of life. And it looks like they will continue with their 11-year-old grandson, Rob junior, who lives nearby and often joins along as well. He's quite the precocious lad and a young entrepreneur as well, having created a lovely cow dung keepsake in a bottle, Fair Dinkum Aussie Bull Shit is made from…well you get it. It's taking off as a popular novelty and ideal present for those who frequently partake in the fine art of malarky.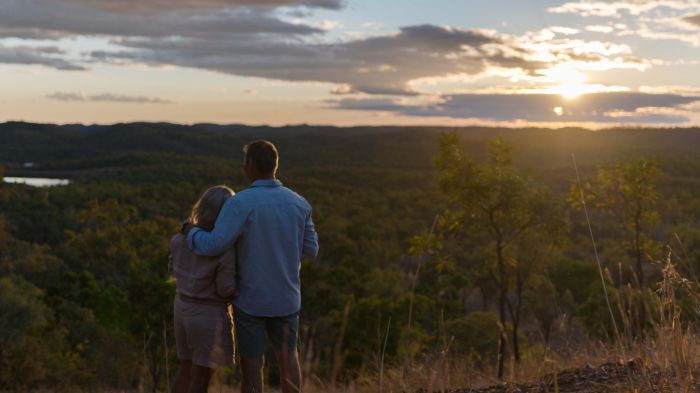 The Gilberton Outback Retreat is literally off the beaten path but getting there is part of the adventure. There's a red-dirt landing strip not far from the homestead. Located in northwest Queensland, chartered flights can be easily arranged which take about 90 minutes to get there from Cairns and give a bird's eye view of the beauty of the Outback.
Especially these days, we are looking for a holiday that is meaningful that will provide memories that we will cherish for a lifetime. The experience offered by the Gilberton Outback Retreat is such a place. Much like the Rob and Lyn French, it is a place of substance; real, authentic, wonderful and most of all, unforgettable.