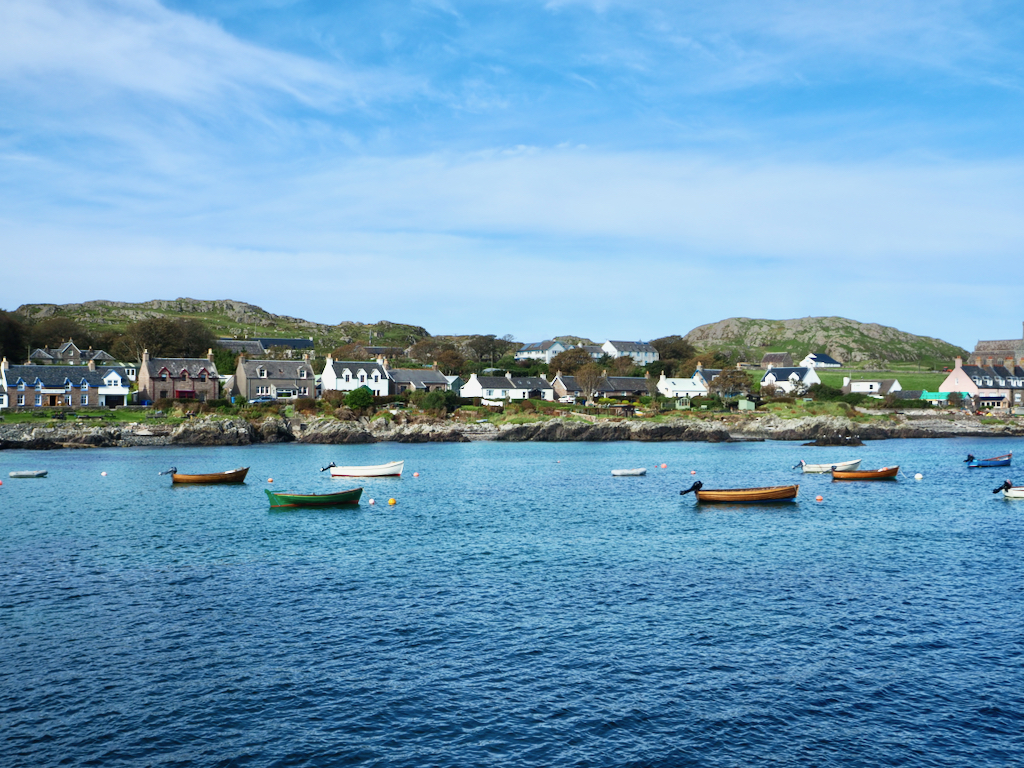 Columbia Hillen
One of most iconic and sacred places in Scotland, Iona Island attracts thousands of visitors every year, intrigued by the secret legacy of 6th century mystic Irish monk, Columba, who founded a spiritual community here.
As Scotland is now opening for tourism again, now may be a good time to visit when the weather is better.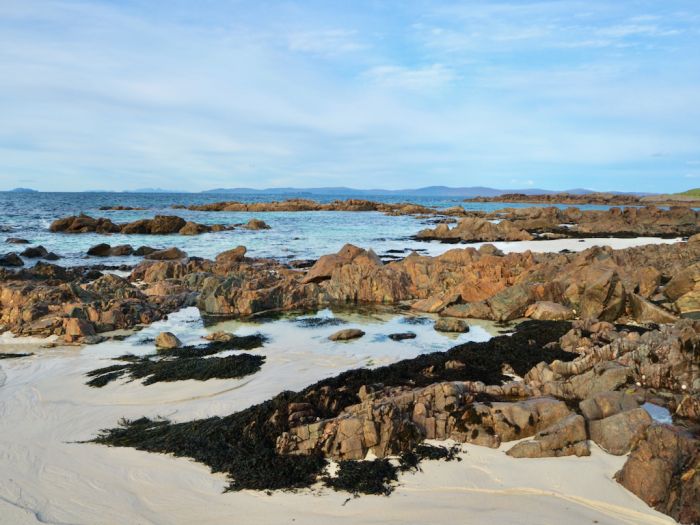 Columbia Hillen
Located in the Inner Hebrides, off the Ross of Mull on Scotland's western coast, this little island, no more than 6 km (4 miles) long and about 2 km (1 mile) wide, with a population of less than 200, offers a surprisingly impressive array of scenery. It comprises soft sands beaches with rocky fringes, rolling hills, rocky pathways and flat grazing ground called 'machair' where sea shells have been washed on to the peaty soil. One particular beach is renowned for its multi-colored pebbles, especially green serpentine, thought to be a natural energy-giving stone.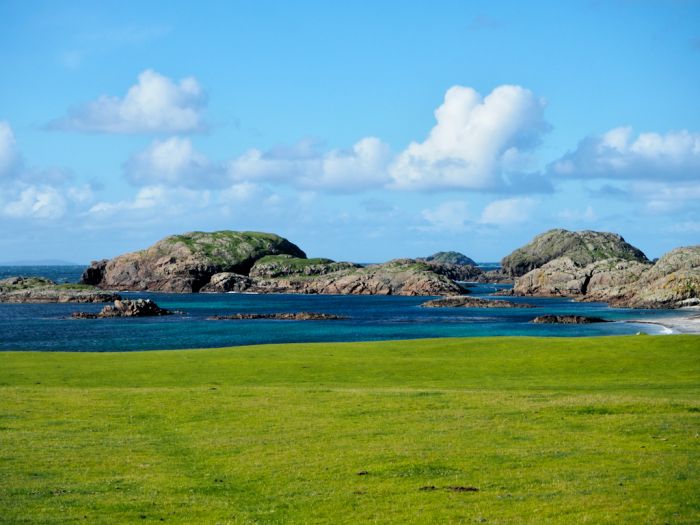 Columbia Hillen
The island even has its own 18-hole golf course near what's known as Columba's Bay (or Port a Churaich).
So famous did the island become as an early international learning center under Columba, it is believed one of the most famous illuminated manuscripts was produced here, the richly illustrated Book of Kells, now preserved in Trinity College Dublin. Iona has also featured in animated films, poetry, songs and novels, including Jules Verne's, The Green Ray.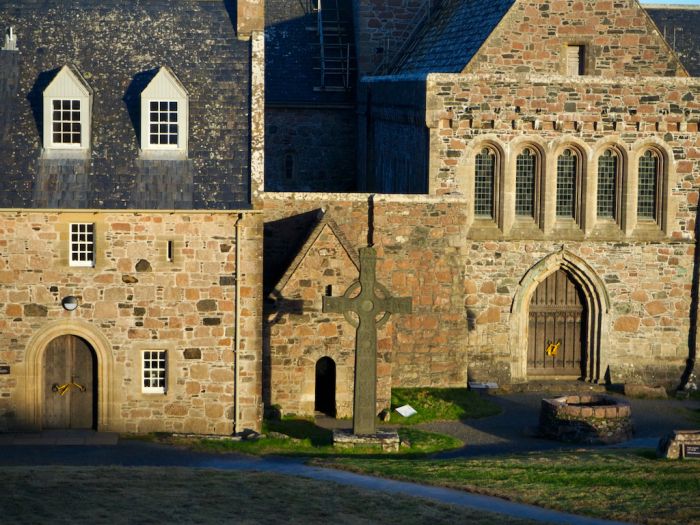 Columbia Hillen
Rich in spiritual and religious history, the island features both an abbey and a nunnery, within a few hundred meters of each other. The abbey, originally made from wattle, timber and thatch, has been renovated many times over the years, becoming a Benedictine monastery in the 13th century. Around the same time an Augustinian nunnery was established. Extensive restoration of the abbey took place under the Iona Cathedral Trust in the late 19th century and in the 1930s onwards by Reverend George MacLeod and the Iona Community.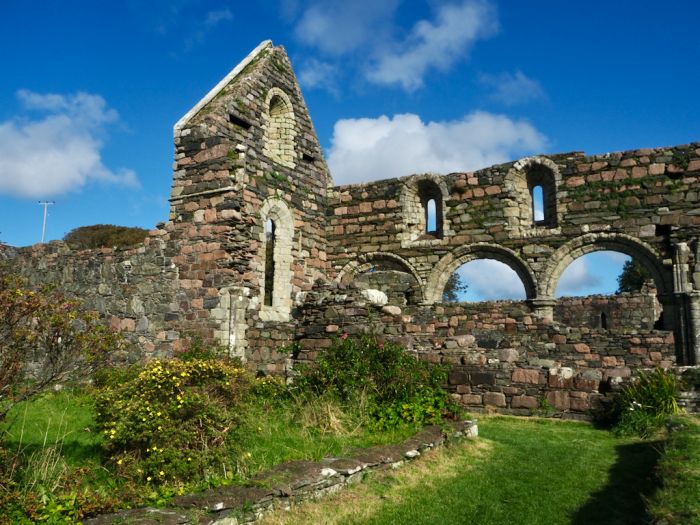 Columbia Hillen
Numerous leading Hebrideans such as various 'Lords of the Isles' and other prominent members of West Highland clans were buried in the quaint little graveyard beside the abbey, including several MacLeod chiefs. A richly sculpted medieval stone cross stands outside the abbey and the ruins of the nunnery embrace a small garden and on its wall an ancient stone carving known as a sheela na gig, a figurative carving of naked women displaying an exaggerated vulva, probably signifying fertility. Look out for the image of the green man under a stone lintel, an age-old symbol of rebirth and renewal.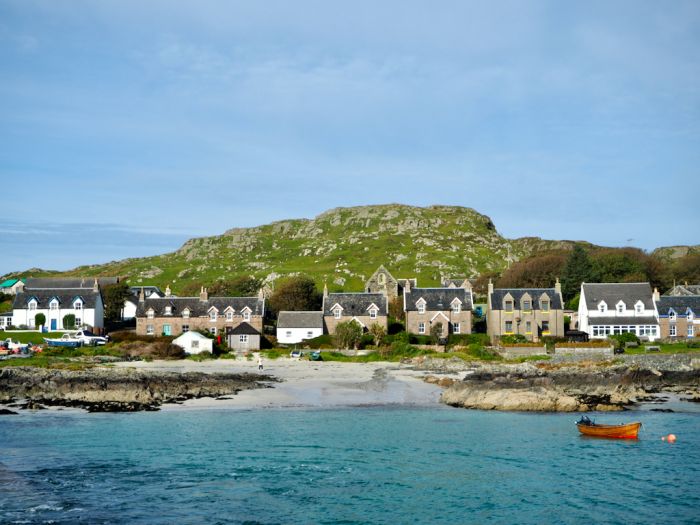 Columbia Hillen
Near the machair is the Hill of Angels or the Hill of Fairies. According to legend, the music of the fairy folk entices unwary mortals inside the hill, while others say it was where Columba met with angels.
Bird-watchers flock to Iona, enthusiastic to catch a glimpse of some of its many winged inhabitants including endangered corncrakes, buzzard eagles, ringed plovers, oystercatchers, sandpipers, redshanks, curlews and the small flocks of whimbrel passing through on migration. Others include golden eagles, hen harriers, peregrines, merlins, short-eared owls and wild greylag geese.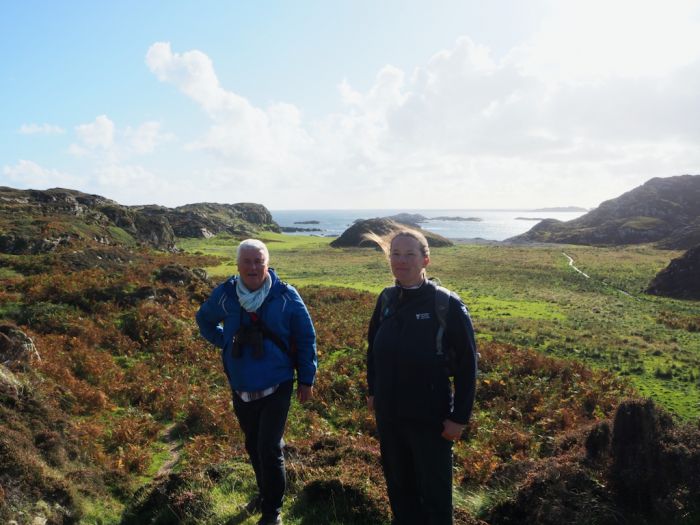 Enjoying a hike with ranger Emily Wilkins. Photo by Columbia Hillen
We enjoyed comprehensive walking tours with two separate, well-informed guides. One, Emily Wilkins is a member of the Mull and Iona Ranger Service, part of a community-owned development trust initiative to enhance quality of life. Starting our journey from her office beside the pier, Emily described the geological origins of the island, including gneiss dating back three billion years, pink granite and basalt, as well as ongoing traditional island activities such as crofting (small scale farming).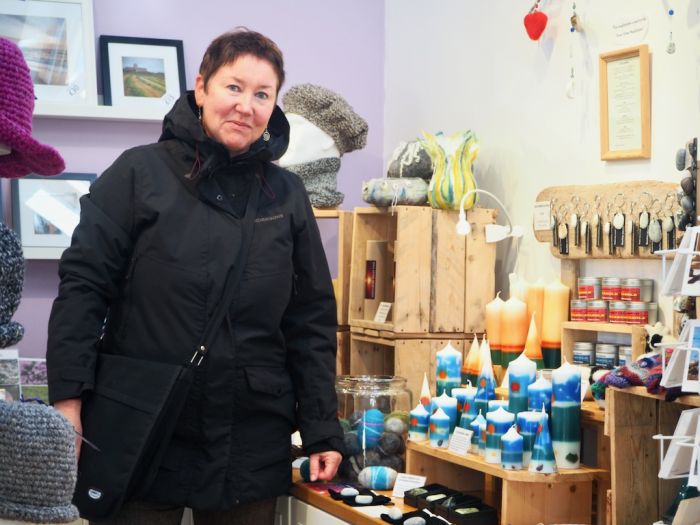 Artist and guide, Jana McLellan, with some of her crafts. Photo by Columbia Hillen
Jana McLellan, originally from Germany but who lives on the island with her family, focused her tour with us on a broad expanse of social history, from the characteristics of the original Columban community to contemporary day-to-day island life. Jana is a member of the island Craft Cooperative founded 15 years ago, with its own shop, Oran Crafts, located near the abbey in what is known as the St. Columba Steadings, a renovated collection of farm buildings. Jana also makes candles, felted soap pebbles, greenstone key rings, driftwood mobiles, felted sheep and Iona greenstone jewelry.