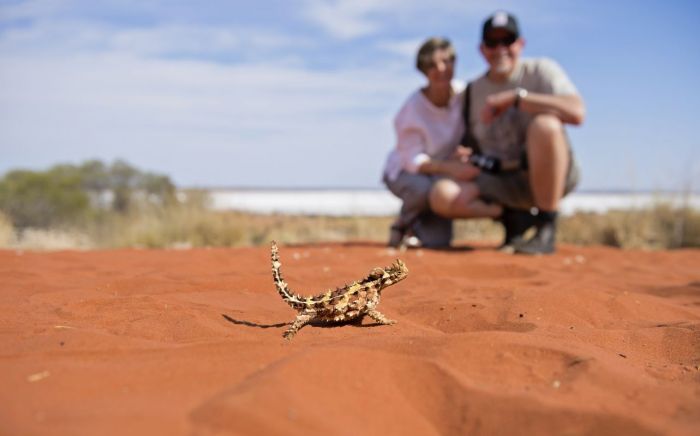 Images Credit Tourism Central Australia
The Outback is the term created to define Australia's most rugged areas, far away from the coast and in the country's most arid and unpopulated areas. At the turn of the last century, this terrain was deemed unsuitable for farming and of little perceived value. This landscape endlessly rambles with a monotony of red dirt and scrawny bushes, devoid of the skyscrapers found light-years away in Sydney and Melbourne.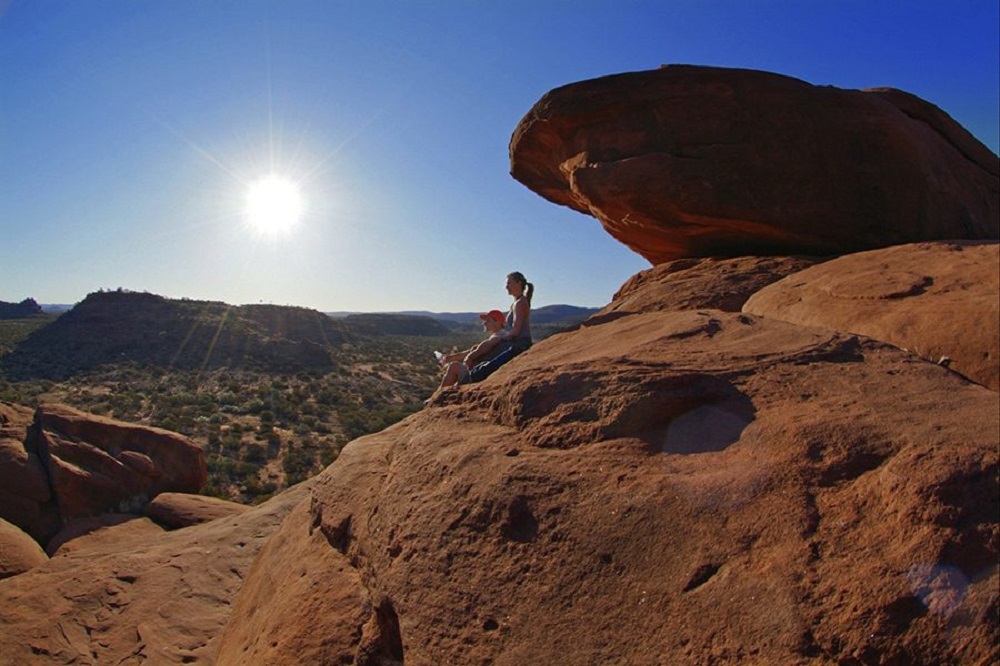 But for many, this is exactly what they are after, a beautiful, rugged country where the bounty of pristine natural environments is its most alluring feature. The Red Centre offers Australia's path less traveled with a wealth of Aboriginal culture and natural wonders to be found in Alice Springs and the prestigious mountains of the MacDonnell Ranges.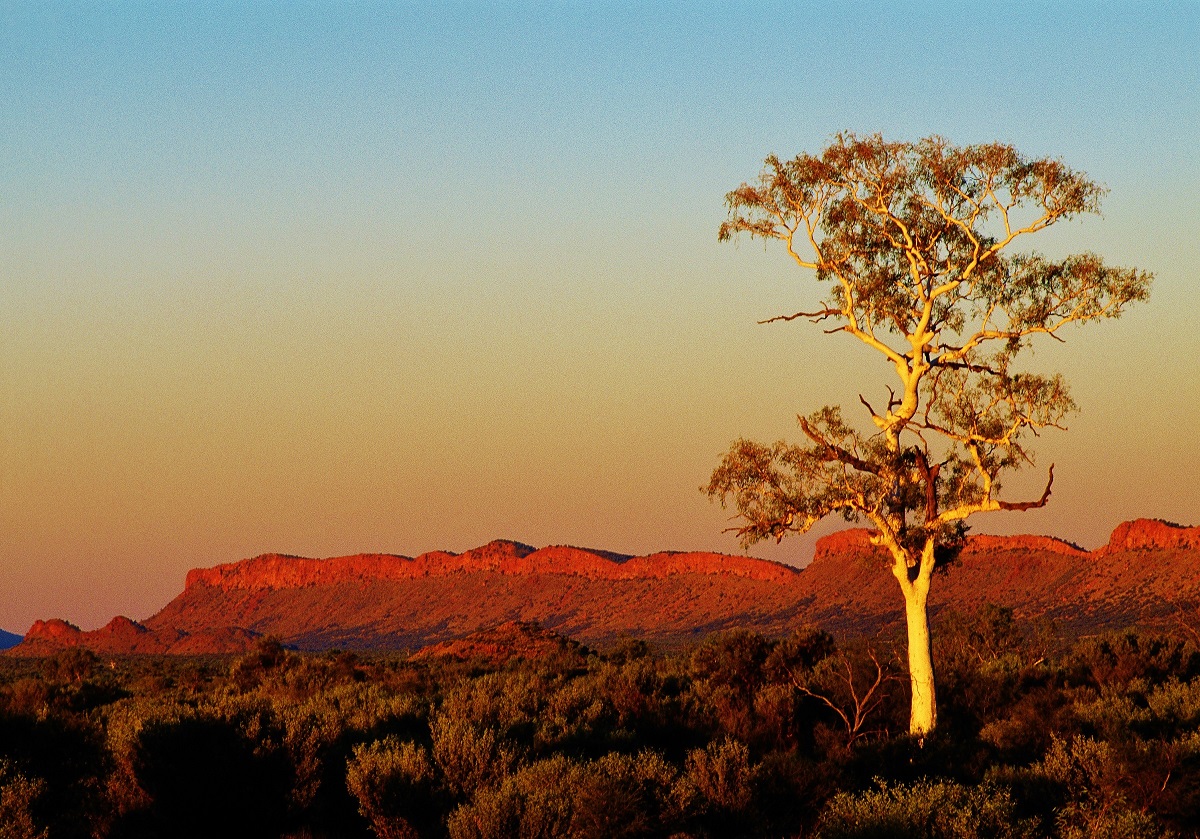 This region is known as Australia's Red Centre, a most fitting name due to the rich ochre earth and sand made red by its makeup of iron and rust. The rich-hued dirt is ominous, blanketing the region in mountains, valleys, and plains and the sand you will invariably empty from your shoes each day. The saying goes that once the red sand gets under your skin you'll never want to leave. As most will find, there is clearly some truth in that, even if it means that before long you will want to return.
ALICE SPRINGS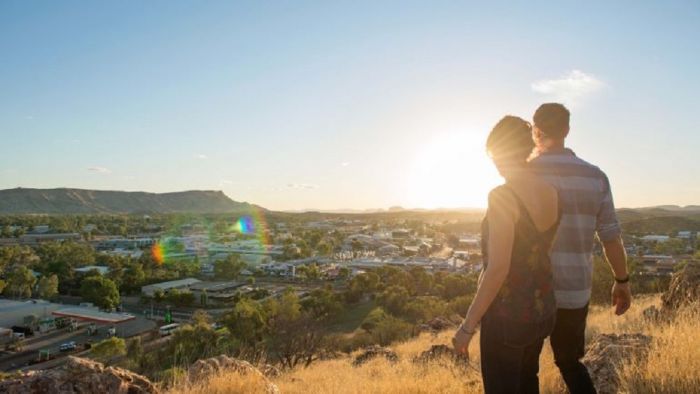 Alice Springs is in the heart of Central Australia. One could categorize it as is a cross between a large town and a small city with a downtown area offering a walking street of shops, galleries, and the odd café and watering hole. There are several historical and cultural sites to see including the art centers, museums, and Anzac Hill which is a lookout ideal for watching the sunset over the city and natural landscapes beyond. Alice Springs is not fancy but it does make the ideal base to visit Central Australia and is also well worth time to explore in its own right.
Indigenous Art and Culture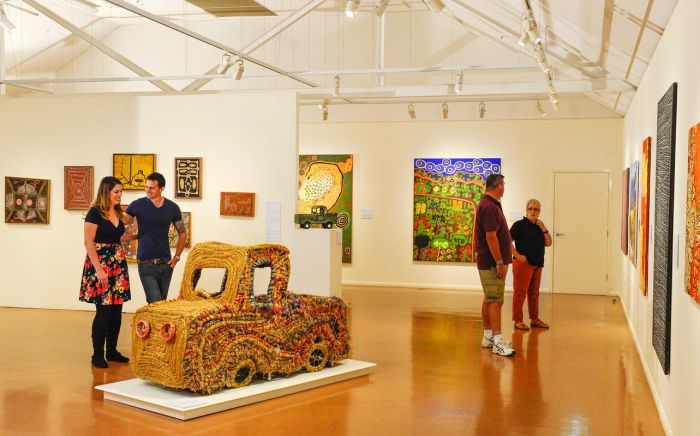 Beyond the natural beauty of the area, Central Australia offers a wealth of indigenous culture and experiences. Nowhere is this more evident in the unique and exotic Aboriginal art.
There are many galleries selling Aboriginal art in Alice Springs with posh interiors and blingy storefronts, but know that many are not indigenous-owned. For those who want to feel their purchase is better supporting local communities, go across the tracks to the industrial area where several indigenous-owned galleries, a bit grittier and off the beaten path, can be found.
The Aboriginal Art of the Northern Territory ranges from Aboriginal dot painting, offering a stunning use of color and texture to create captivating works, to watercolor landscapes made famous by the region's most heralded native son, Albert Namatjira.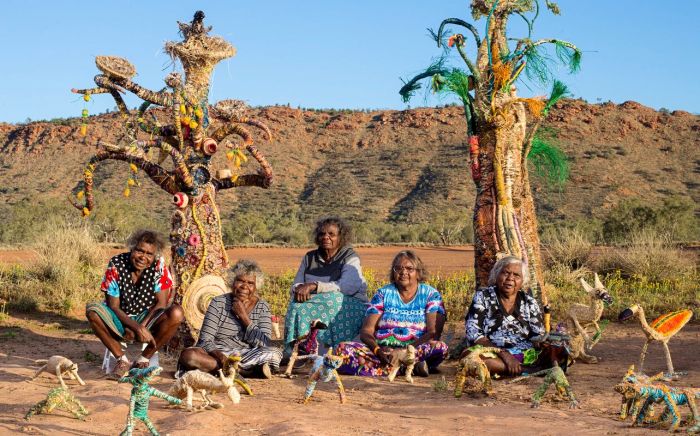 The Tjanpi Desert Weavers
Beyond the canvas, original sculptures using various types of material must also be appreciated. One such sculptural art medium uses native grass. The Tjanpi Desert Weavers is a nonprofit organization that works with 400 Aboriginal female artists from 26 remote communities who create their wonderful artworks with native grasses. The baskets and sculptures are then sold generating income for these talented women while allowing them to stay at their homes in the remote regions of the area.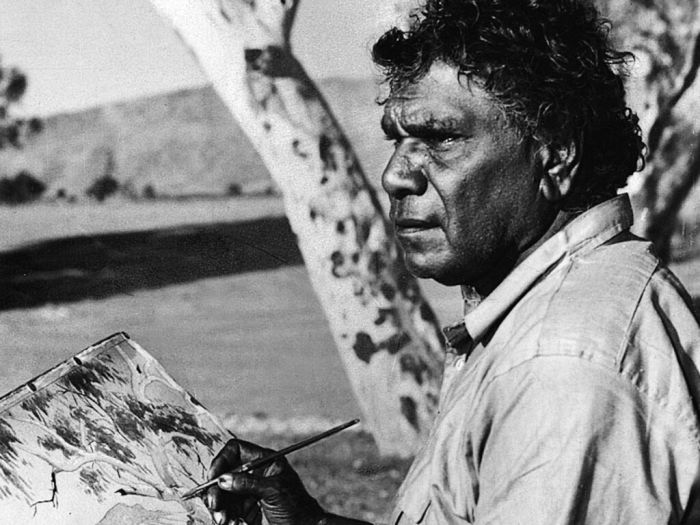 Albert Namatjira
Without question, Central Australia's most famous artist and native son is Albert Namatjira. In the 1940s and 50s, he came to prominence as the pioneer of contemporary Indigenous Australian art which he captured through his sublime watercolor landscapes of the mountains, gum trees, riverbeds, and the wildlife of the outback. He was born in the nearby settlement of Hermannsburg and went on to achieve international fame, meeting heads of states including Queen Elizabeth II who was a fan of his work.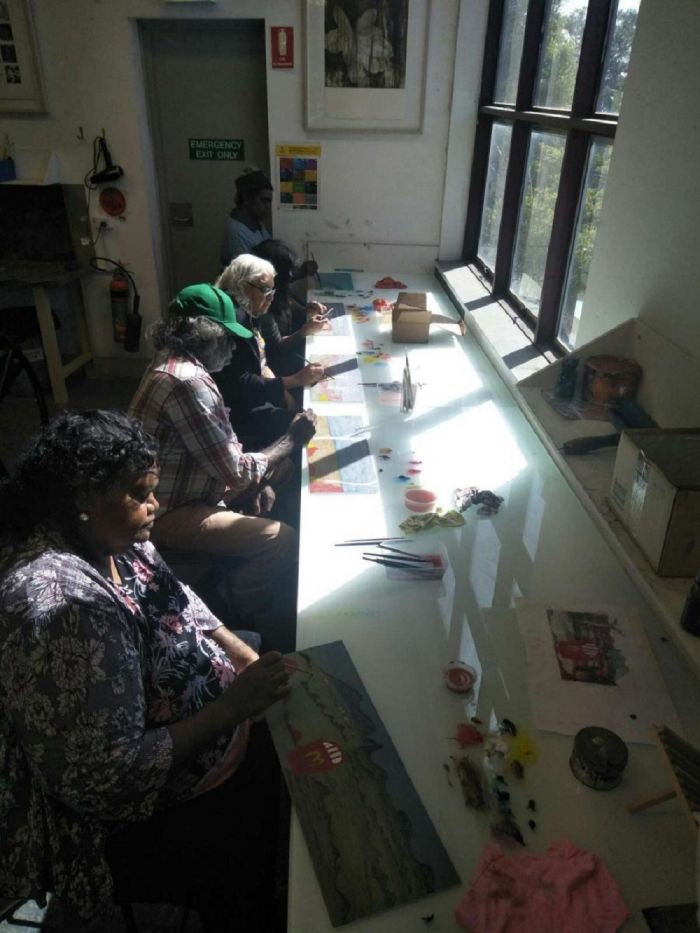 His artwork lives on through his grandchildren and relatives who continue to create beautiful works of art in the Iltja Ntjarra (Many Hands) art gallery and studio. In addition to the gallery, it is a workshop as well where you can drop in and see the artist as they create in the Namatjira style of watercolor paintings.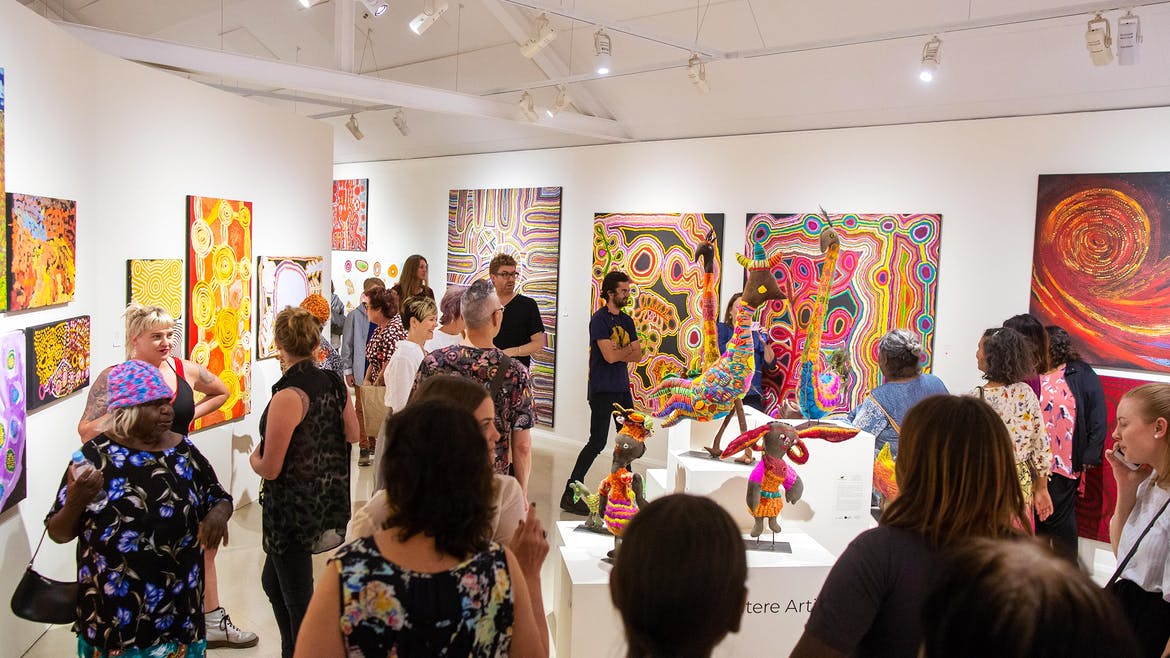 To learn more and see Albert Namatjira's works visit the Araluen Arts Centre in town which hosts visuals art presentations and performances. This is the town's cultural hub with local and traveling exhibitions as well as a gallery dedicated to the works of Albert Namatjira.
Flying Doctors and School of the Air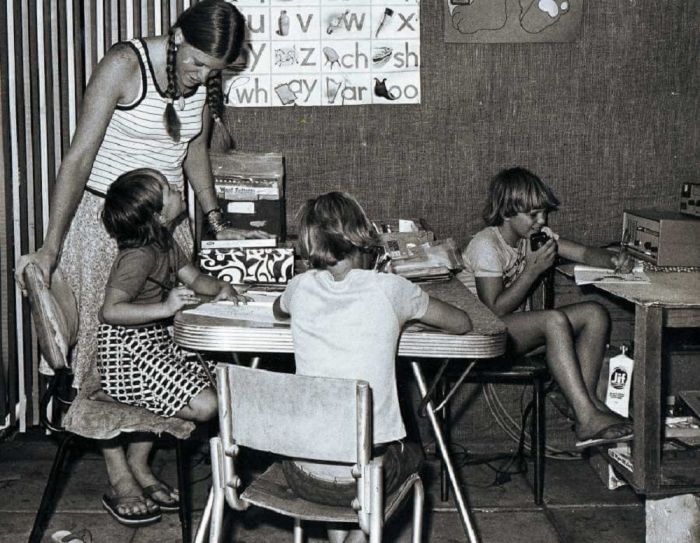 Beyond the wealth of culture, Alice Springs is also renowned for its innovation and ways of dealing with the harsh living conditions of the Outback. Throughout the remote territory, there are countless small communities, cattle stations, and then vast lands of scrub brush and rocky terrain. Those distances and sparse populations came with issues of educating children and what to do in a medical emergency.
The Aussies are as innovative as they are stubborn and developed an interesting remedy for both which were based in Alice Springs. The Alice Springs School of the Air was created to educate children by providing schooling materials, teaching lessons, and direct communication with parents and children in the most remote area. The program began in 1951 with three half-hour lessons per week and today has gone online providing lessons via the web and continues to teach children in the most remote areas. In town, guests are welcomed at the visitors' center to see the history and learn about the work of the "world's largest classroom" just as Prince Charles and Lady Diana did during their visit in 1983.

The idea for the School of the Air came from another innovation, the Flying Doctors. A nurse was giving a rural family instruction over a two-way radio on how to deal with an emergency and the idea that came this "teaching moment" in a crisis could apply in a school setting. By car over land, some places in the outback are ten hours from a major medical facility, however, flying cuts that time down immensely. The Royal Flying Doctors Service (RFDS) was founded in 1928 and over the years the pilots, doctors, and nurses have saved countless lives. The RFDS Alice Springs Tourist Facility & Museum is an ideal place to visit to learn about the heroic services and tales from those early days and through today.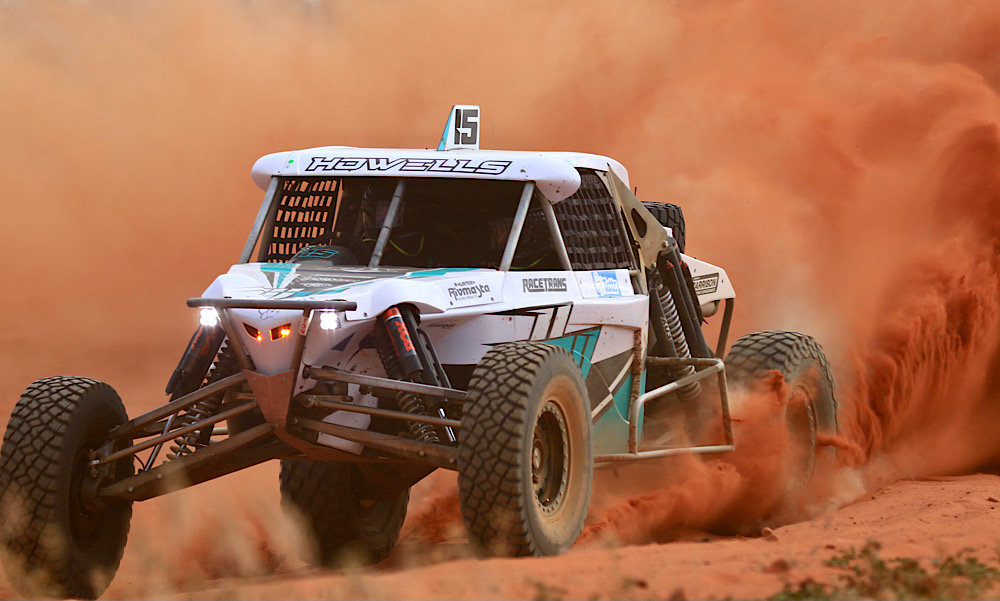 Alice Springs is a small city that packs a punch when it comes to the high-energy events that take place on their social calendar. From desert off-road rallies to marathons to camel races, there always seems to be something going on there.
PARRTJIMA
Parrtjima is an exotic, stunning, and extensive event that celebrates Aboriginal culture each April. The festival offers an expression of the rich indigenous culture through a program of light shows, performances, interactive workshops, music, films, and talks. The setting is just outside of Alice Springs with a backdrop of a mile-long stretch of grand mountains courtesy of the MacDonnell Ranges.
The festival offers a series of mesmerizing and interactive light installations to walk through, step on, or be washed over by. Probably the most popular takes place at the Grounded Kultcha where a rainbow-bright light in the form of animated Aboriginal dot paintings casts upon the sandy ground below. Children, the young and the old cannot resist playing in the light as it colors and enchants all the comes beneath it.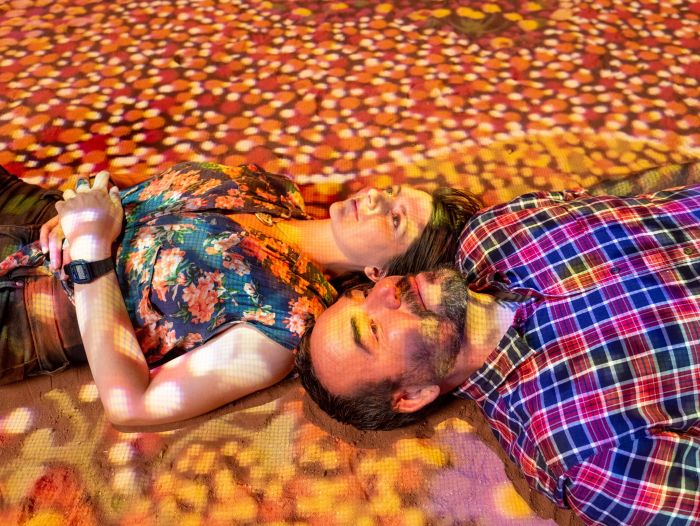 Elsewhere, at the Spirit of Arrernte Kultcha, Australia's most talented indigenous performers share their gifts with the audience through songs and performances while the artistic light display illuminates the mountains as the backdrop. Later in that same venue, modern indigenous music by Electric Fields' plays to the spoken word telling the stories of the founders of these lands in their performance "Walking in the Footsteps of our Ancestors".
Wide Open Space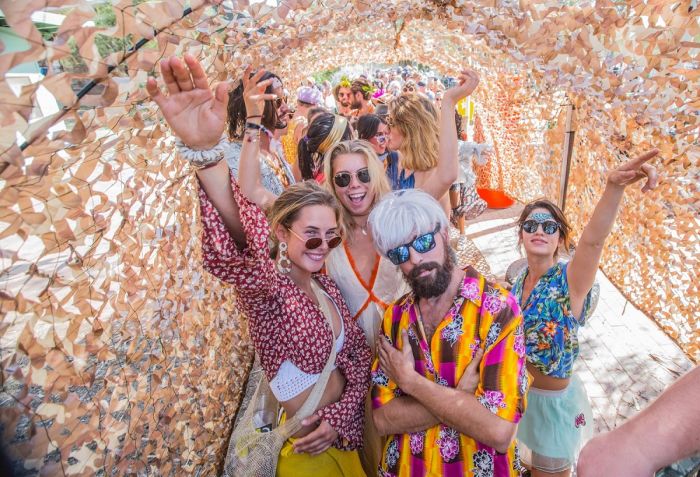 Imagine Woodstock, Coachella, with a touch of Burning Man thrown in for good measure and then you'll understand Wide Open Space. About an hour drive from Alice Spring and deep in the MacDonnell Ranges a three-day eclectic mosh pit of culture takes place to celebrate sound, fringe lifestyle, and desert culture.
The weekend offers a chock-a-block program of concerts on two stages from Australia top-notch artists with a range of music from bass to techno, reggae, hip-hop, and chilled out folk acoustics and goes late into the night with their high energy disco. To call it bizarre would be an understatement. To call it anything less than wonderful, brilliant, and unforgettable, would be to miss the mark as well.
MACDONNELL RANGES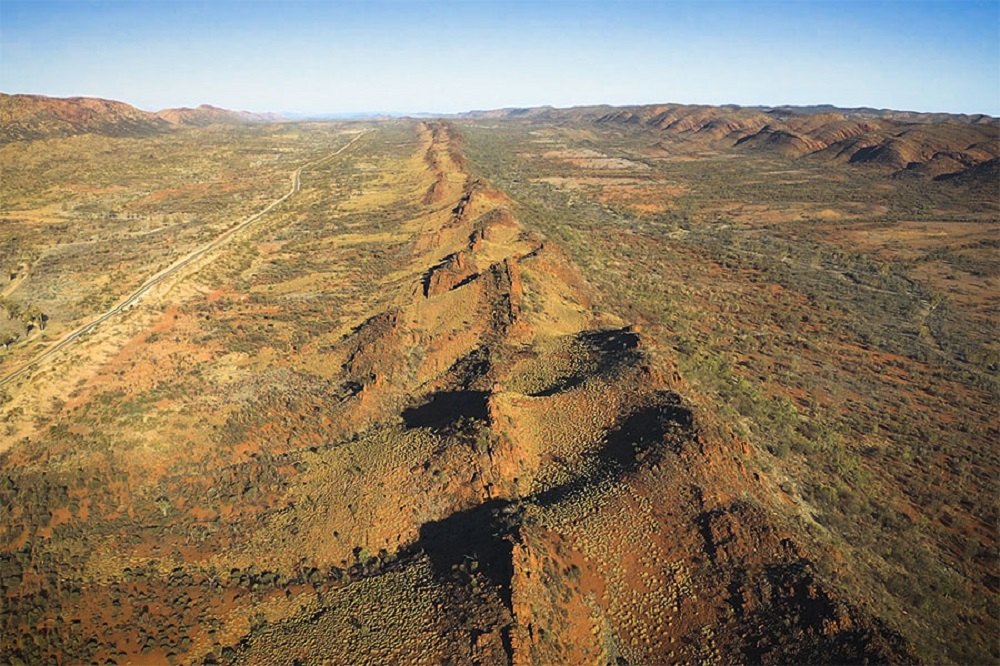 Alice Springs and its surrounding areas are best known for their stunning landscapes. The number of incredible formations and scenery boggles the mind and there is a wide range of ways to dig in from easy 20 minute walks from the car park to the holy grail of Australia's walks, trekking the 115-mile Larapinta Trail.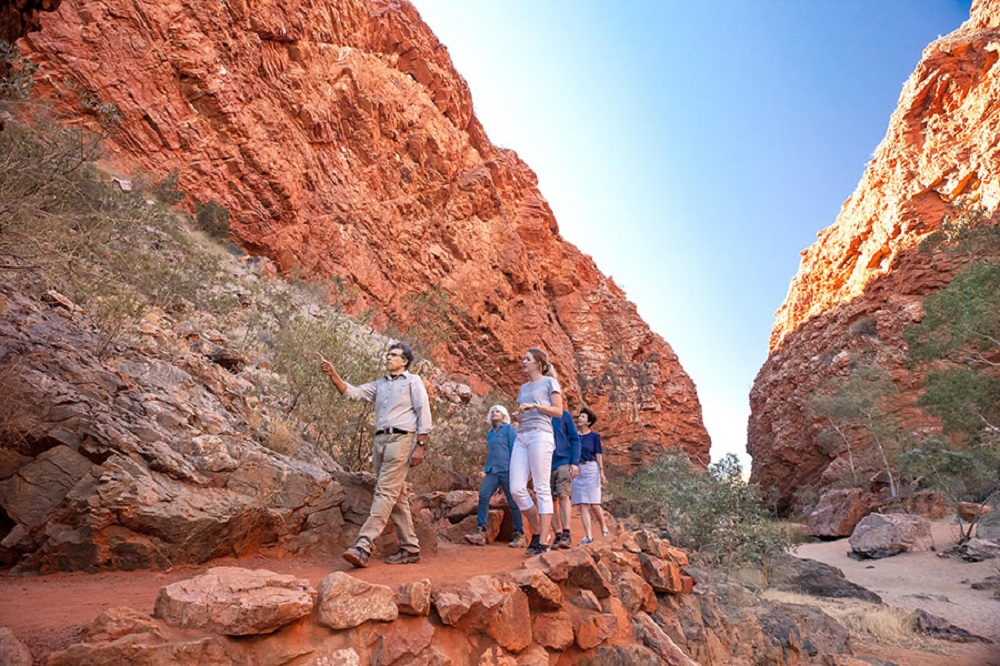 Alice Springs is the central point of the MacDonnell Ranges with either side being referred to as the Eastern or Western Macs. Although the Western is more popular, both sides offer stunning scenery and gorges. The prehistoric mountain range features gorges and rock formations created over three million years with the earth's shifting plates as well as erosion by rivers that ran through these areas.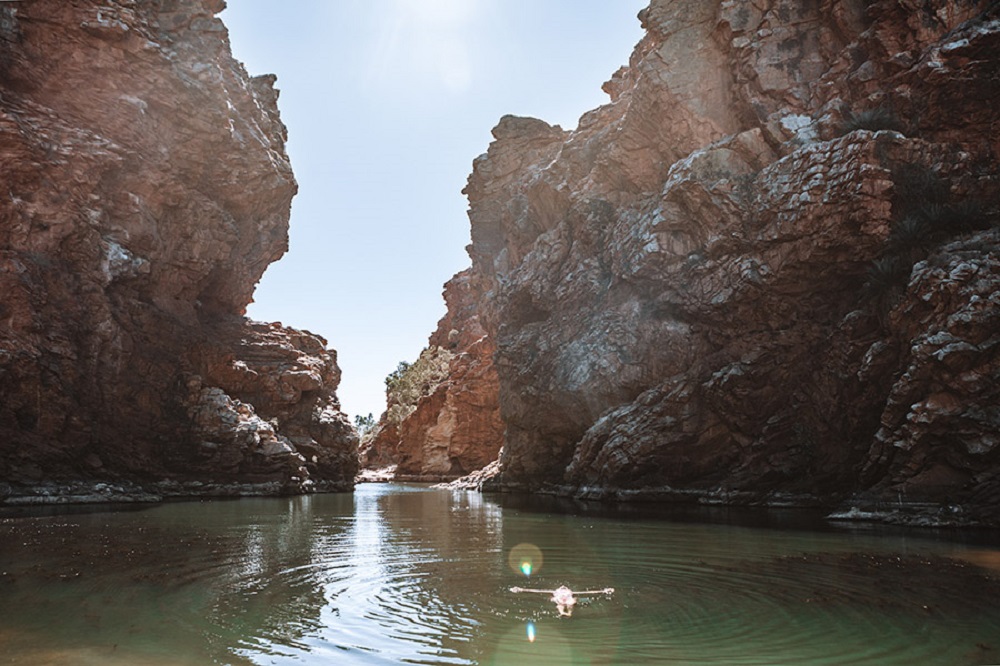 In the wet season, there are many places to jump in for a swim, and other times of the year the river beds are dry and sandy where you'll often find a variety of beautiful eucalyptus trees species of River Red Gums and the spooky Ghost Gums. Wildlife is there to be spotted as well with many types of lizards, abundant birdlife, and the occasional Black Foot Rock wallabies that blend in so well you'll only see them when they move.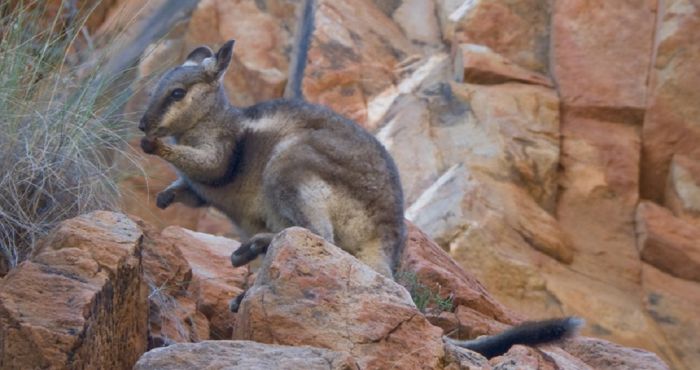 Each place that you'll visit is special in its own right; some have dramatic rock formations while others offer aboriginal paintings, and yet others are all about hiking. The not-to-miss parks can at times be crowded but you'll also want to check out some of the less popular ones that rarely see a tour bus. The Emily and Jessie Gaps are both protected sacred Aboriginal sites with rock art to investigate.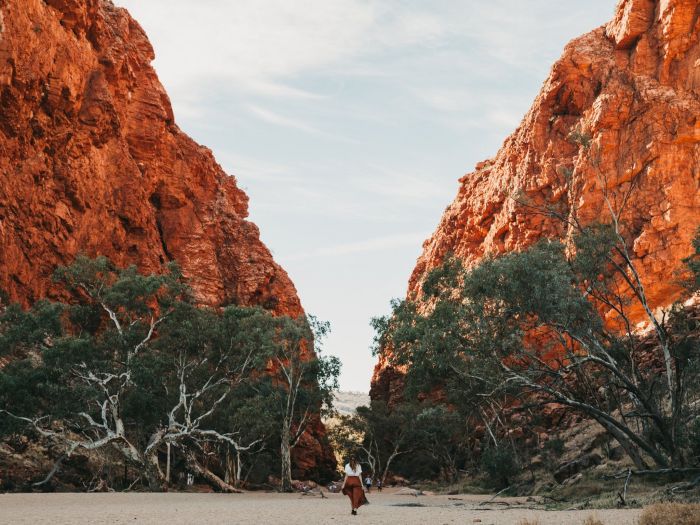 Ormiston Gorge and Glen Helen Gorge are well worth the several hours of hiking surrounded by amazing scenery. One of the easiest hikes is the Simpsons Gap with striking rock formations, a standing water pool, and towering rocks walks on either side.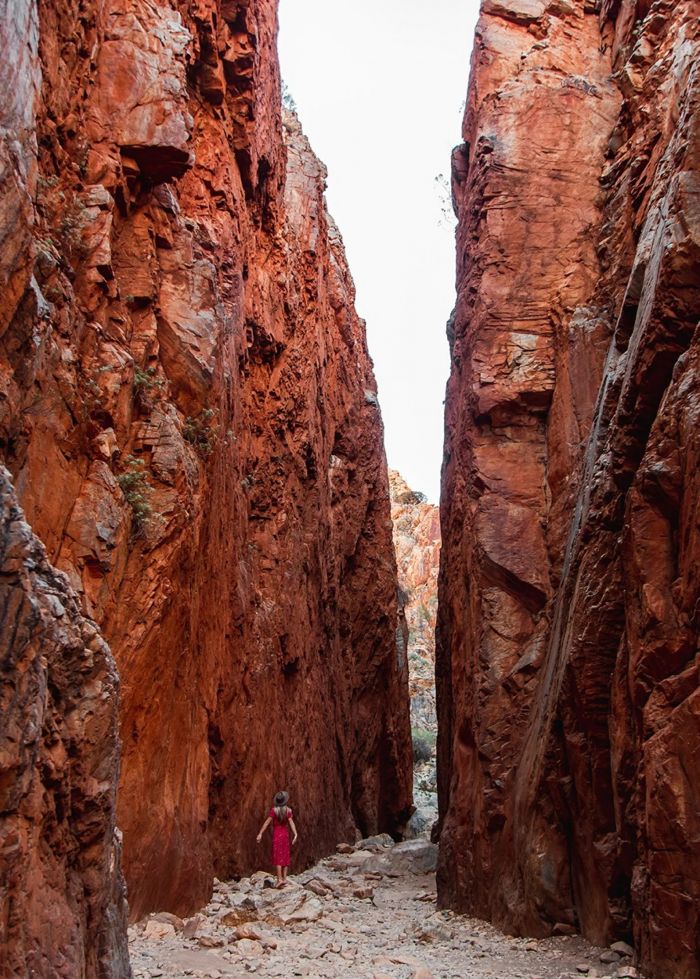 Standley Chasm is more touristy with a welcoming center and entry fee for access. After a short walk through an oasis of cycads trees and a pine tree forest, you'll find yourself at the entrance of a chasm with a dry sandy floor and soaring terracotta-colored quartzite walls that rise 200 ft and seem to reach the clouds. It's truly unbelievable especially nearing noon when the sun is directly overhead and plays with light, color, and shadows that cast over the chasm.
4WD ADVENTURE PALM VALLEY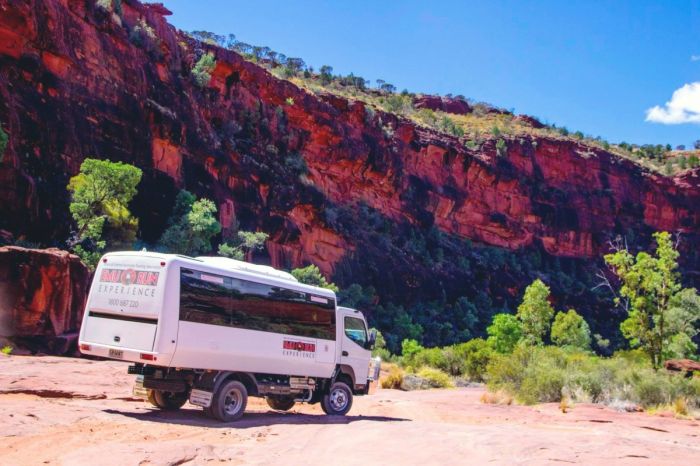 Where Central Australia shows off its riches in its wealth of natural beauty. One of the region's most amazing sites is the Palm Valley. Emu Tours offers a day trip out of Alice Springs that explores deep into the eastern MacDonnell Ranges with some incredible sites to see along the way. The trip begins with an hour-long ride in their 4 wheel drive all terrane high suspension vehicles. The vehicle looks like a cross between a hummer, Sherman tank, and moon landing transport. And once you're on the way, you understand why.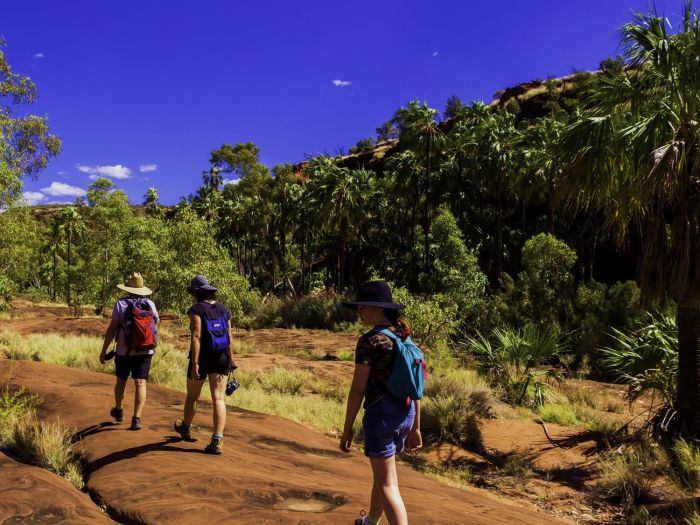 Once along the way, the road goes deep into the Finke Gorge National Park where the road evolves from bumpy to roller coaster but the treasure at the end makes it all worthwhile. The rock formations are breathtaking, brown, yellow with odd formations, left behind from millions of years of erosion and from when Australia was under the sea. The journey takes guests along the Finke River, which dates back 350 million years and is believed to be the oldest in the world. The ultimate destination is Palm Valley, an oasis of a verdant forest of leafy palm trees and riverbeds that seems a bit out of place in this desert-like surrounding. The nature walks are fantastic with trails that lead to a magnificent lookout over red rock amphitheaters, dramatic landscapes, sandstone formations, and sculptured mountainsides as well as tall palm trees, cycads, and the rare red cabbage palms.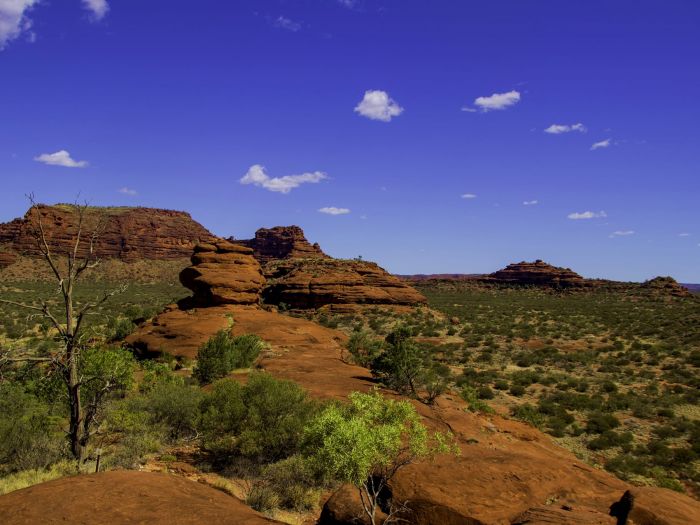 The day concludes with a stop in Hermannsburg which is a historical landmark and Lutheran Aboriginal mission settlement. There are historic buildings to explore as well as the Art Gallery. As shared, Hermannsburg is the birthplace of renowned Aboriginal artist Albert Namatjira in 1902, and in the Art Gallery, you can learn more about him and his paintings.
GLAMPING AT THE SQUEAKY WINDMILL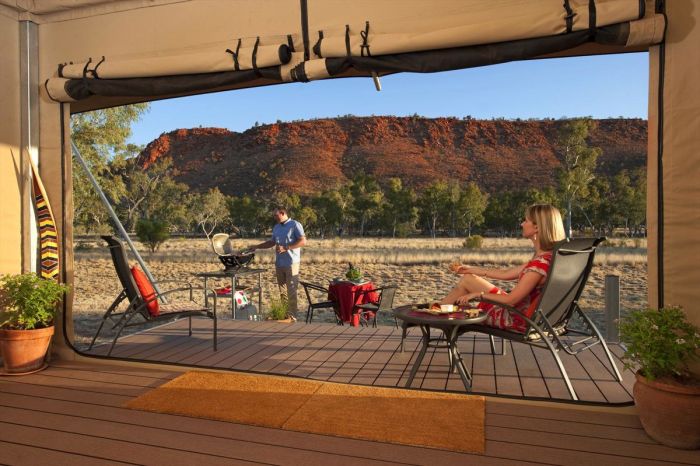 An ideal place to stay and take in all of the beauty of the region is with a glamping stay just outside of Alice Springs. The Squeaky Windmill offers just three well-fitted glamping tents at the foot of the MacDonnell Ranges. The views are gorgeous, and each day and night the light dances with the mountain creating a range of mesmerizing colors. The beauty does not end with the mountains, this is a twitchers fantasy land with a cornucopia of birdlife from technicolor lorikeets, red-tailed black cockatoo, grey honeyeaters, the green, yellow, and black Australian ringneck parrot, grey falcons, and nature's alarm clock, the laughing kookaburra.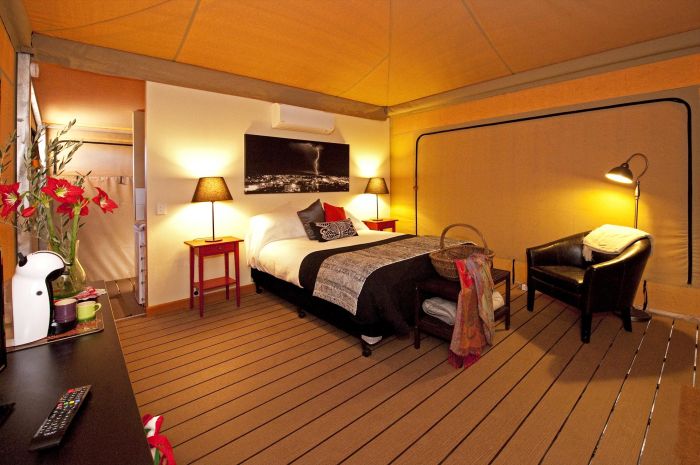 Beyond the gorgeous views, the wonderful accommodations are and made for a night or comfortable week's stay. They are tents so canvas walls and ceilings with zippered windows and doors to let in light and fresh air as well as stunning views. Inside there is a uber-comfy queen-sized bed, aircon, sitting area, and a kitchenette with all the amenities that one would require. The ensuite bathroom offers a deluxe shower and facilities.
Outdoors offers a living space with bbq grill and a terrace with chairs and views that you'll never want to leave. All this is made more appealing by the warm and wonderful hosts who act more like long-time friends. At night a bonfire is set for you and the other guests to enjoy a glass of wine while looking into the clear starry lit skies.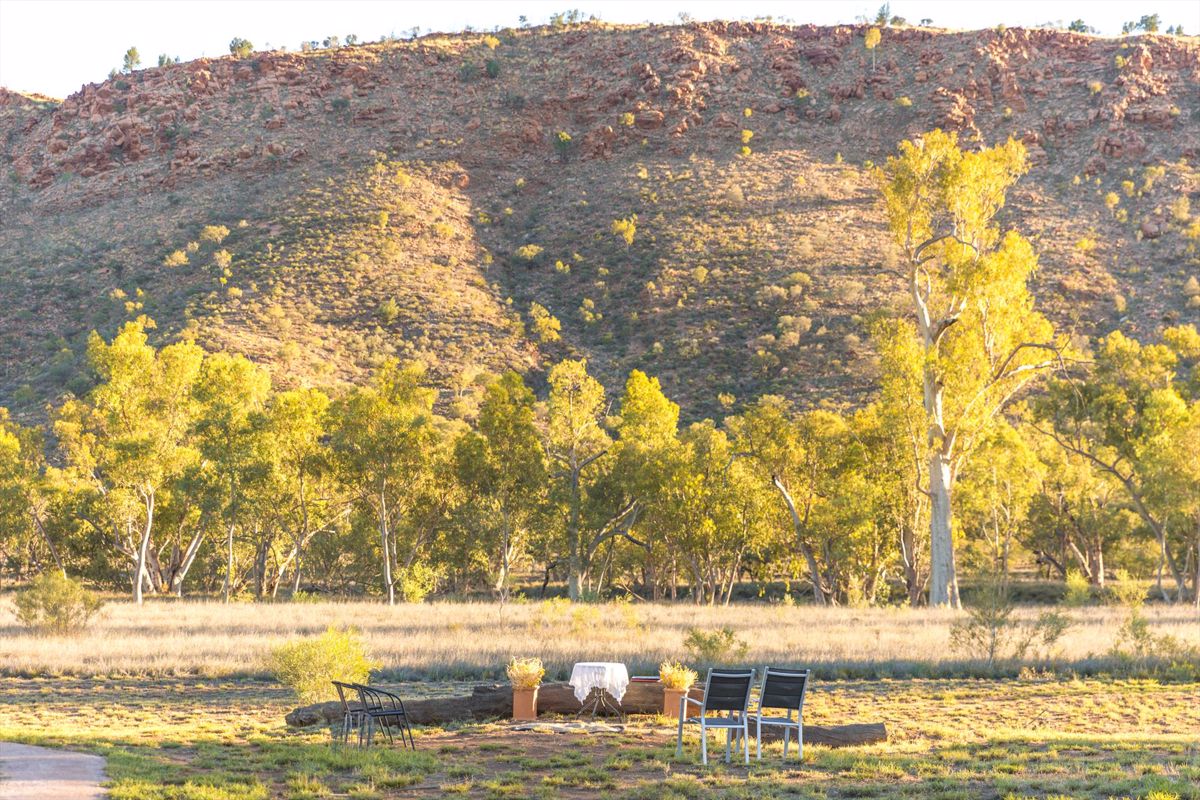 There's plenty to do in the area although you'll probably use the tents as your base to explore the ranges. There are wonderful walks nearby to smaller mountains and lookouts as well as through the dry riverbeds with a forest of majestic river gum trees. The scenery and wildlife never cease to amaze no matter what time of day or where you look. From horned lizards and other reptiles to wallabies and kangaroos, there's always something slithering, crawling, or hopping around.
EXPLORING ON THE SHIP OF THE DESERT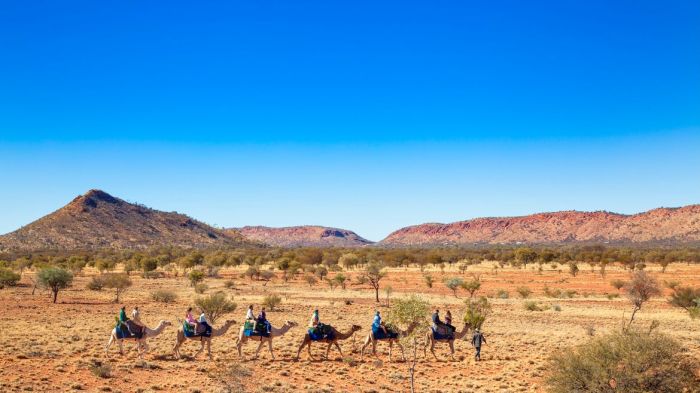 One unique way to see the sites that are nearby is an adventure from ten feet above the ground on a camel trek. Pyndan Camel Tracks provides an hour-long came to ride deep into the reaches of the White Gum Station through the rough brush and to gorgeous lookouts along the way. You, your cameleer, other guests, and your trusty camel saunter along taking in the stunning views. Along the way on these 'ships of the desert,' you'll stop for some envy-worthy photos as well as see the wildlife from birdlife to kangaroos, especially evening during their popular sunset tour.
These majestic camels are an introduced species brought over 170 years ago for expeditions through the outback. Left to their own devices by the early explorers, they adapted, bred, and now can be found throughout the outback.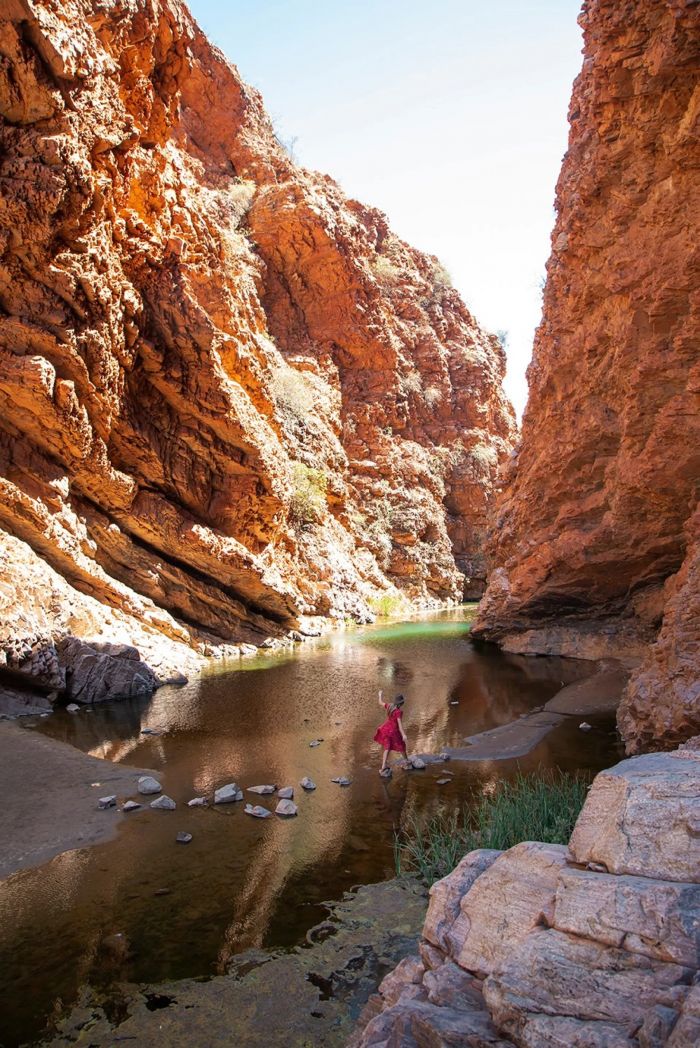 Most first-time travelers to Australia will automatically flock to the cosmopolitan centers of Melbourne and Sydney or perhaps a visit to the Great Barrier Reef. Yes, those are all wonderful but the Australia's Red Centre offers a range of experiences unlike anywhere else on Earth and is definitely a must-do when visiting the land down under.