Rancho La Puerta
In Perfect Balance: Rancho La Puerta, Elite Alliance and Grupo Espiritu Create the First Wellness Residence Club.
Once again, from the darkness of the pandemic, a new real estate idea has emerged: the first wellness residence club. To be sure, there have been other residence clubs, and branded residences with wellness components, but this is the first co-ownership residence club whose past history and immediate present deal with the promulgation of healing and wellness.
JustLuxe recently spoke with the two gentlemen who are at the helm of this new, hybrid idea: Roberto Arjona, CEO of Rancho La Puerta, and Rob Goodyear, President of Elite Alliance, a leader in high end fractional real estate, consulting, marketing, and sales.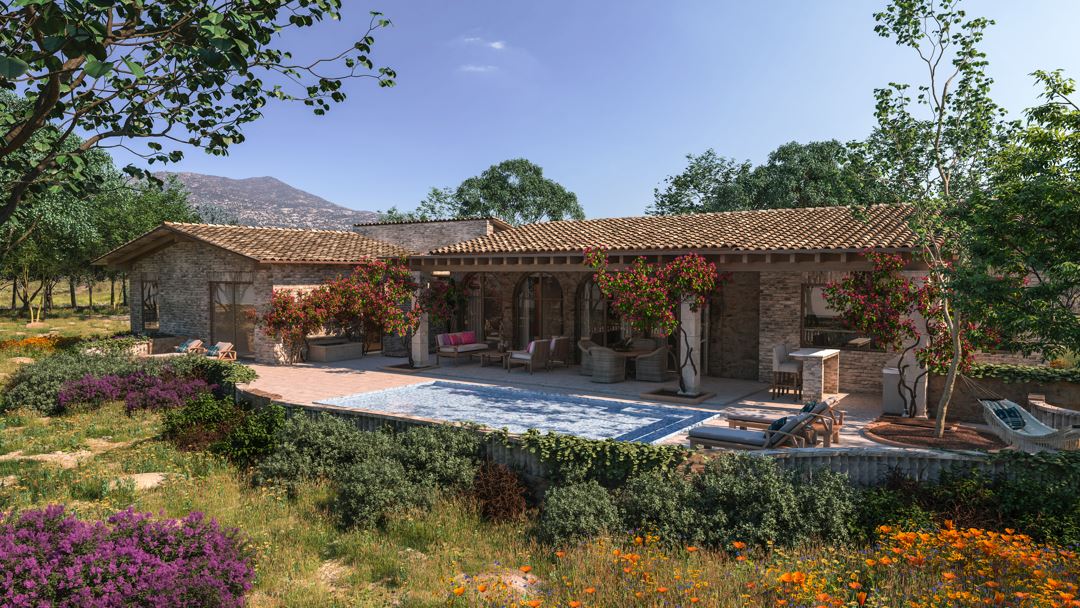 JustLuxe: The idea of using the wellness fractional dimension with the whole residence dimension, especially now, is a unique idea. Whose idea was it, and what is the mission/vision for this concept of fractionalizing?
Mr. Goodyear: We knew of Rancho La Puerta for many years, and they knew about us, so we came together almost at the same time.
Mr. Arjona: Elite Alliance knew of our history, as Rancho La Puerta was founded in 1940. It is considered by many as the first true wellness resort and spa in North America. We welcome guests to 4,000 private acres of gardens, mountains, and meadows with a mind/body/spirit wellness approach. We also knew of Elite Alliance, because of the traditional fractional flex model used, and that can expand our traditional wellness usage, which is what we wanted going forward.
We offer fitness, meditation, organic gardening classes, hikes, gourmet vegetarian meals, spa treatments, personal training sessions and cooking classes at The Ranch's La Cocina Que Canta (The Singing Kitchen) cooking school. We also are working on a multi-acre, biodynamic vineyard, using pre-treated water from our own new water treatment plant, and where, in a year or so, we will have both red and white wines for our guests.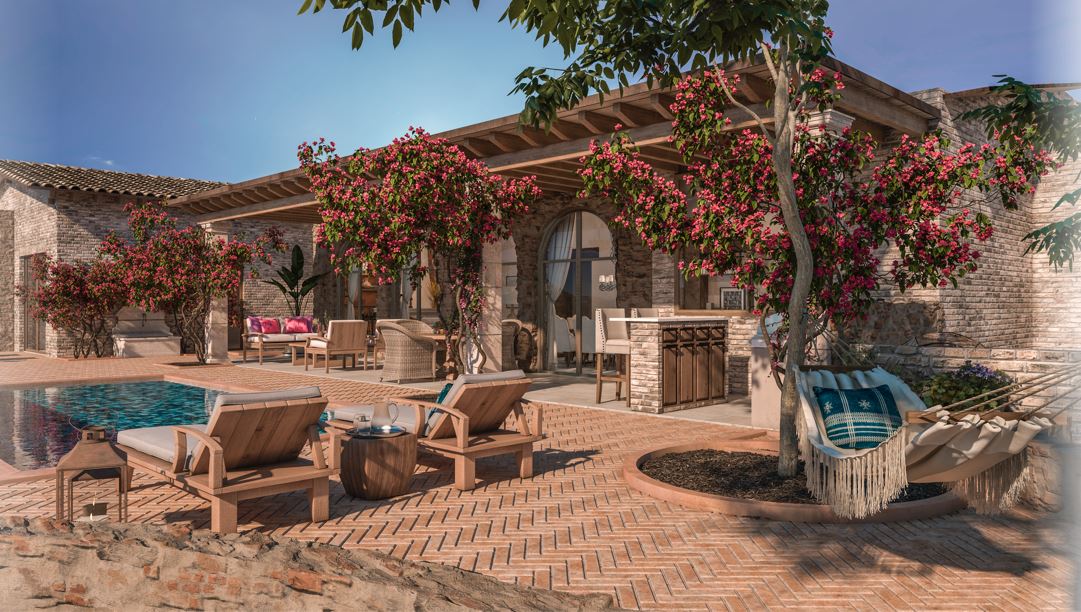 We're situated at the juncture of the Laguna and Sierra Juarez Mountain ranges, located three miles from the Tecate, Baja California/ US-Mexico border. It is a one-hour drive from downtown San Diego.
JustLuxe: Please talk about the fractional part of Rancho La Puerta and Grupo Espiritu's significance.
Mr. Goodyear: Elite Alliance partnered with Rancho La Puerta and Grupo Espiritu. This group is working to create projects that have allowed greater legacy, stewardship, and worth to the residences and the land.
For all of us, this new residence club is founded on wellness and personal healing, where club owners can host family members and friends, rent their residence to guests through our rental program, and explore more than 120 other prestigious destinations through our Elite Alliance Exchange program. The Residence Club at Rancho La Puerta offers a 1/8th ownership in three residence categories. The Club homes are located in The Residences community and placed on The Ranch's 4,000-acre grounds.
Residence Club homes will be fully furnished and appointed by Elite Alliance Hospitality. Homeowners that participate in the Elite Alliance rental program receive rental marketing, housekeeping, and concierge services, as well as screening and monitoring of rental guests for security and peace of mind.
JustLuxe: Who designed the residences?
Mr. Arjona: The Residences were designed and developed by Grupo Espiritu to integrate exceptional levels of quality, experience, and value.
The Wellness Residences are all made, except for the wood, from local material, nothing chemically treated. In addition, we have partnered with Delos, making air, water filtrations perfectly pure, and of course using circadian processes for our lighting systems, also.
Residence Club ownership is priced from $179,000 to $439,000. The Casitas are 2,003 square feet and feature two bedrooms with two and a half baths and a private plunge pool. The Casas are 3,100 square feet and feature three bedrooms with three and a half baths and a private plunge pool. The Villas are 5,180 square feet, with four bedrooms, four and a half baths, along with a private swimming pool. All residences have spacious, tranquil outdoor living areas.
JustLuxe: In working with the fractional bandwidth, the purchase is often seen as a lifestyle investment in addition to a financial one. Is this idea still true?
Mr. Goodyear: We have thought for years that this type of investment was a lifestyle investment, and now especially post-Covid. There is a great desire now to be with family, to have a partial ownership property where all of the housekeeping and landscape work is done for you. You can also return to a familiar environment over the years. It is a win/win for families who have suffered from not being able to travel and enjoy life.
Mr. Arjona: It is also a good financial investment, but again, there is a sense of legacy to this idea – you can provide a legacy to your family, not only in terms of land value but of memory value also.
JustLuxe: The whole idea of wellness fractional real estate is a substantial one — Do you see this new idea as a scalable one, post-Covid?
Mr. Arjona: We do, as does Grupo Espiritu They have created and are in process of creating residences and hotels with well-being and wellness in mind and body. Like Grupo Espiritu, we are committed to the wellness of our present and future guests, and co-owners, so they and we can create more sustainable living, of worth, on our fragile planet.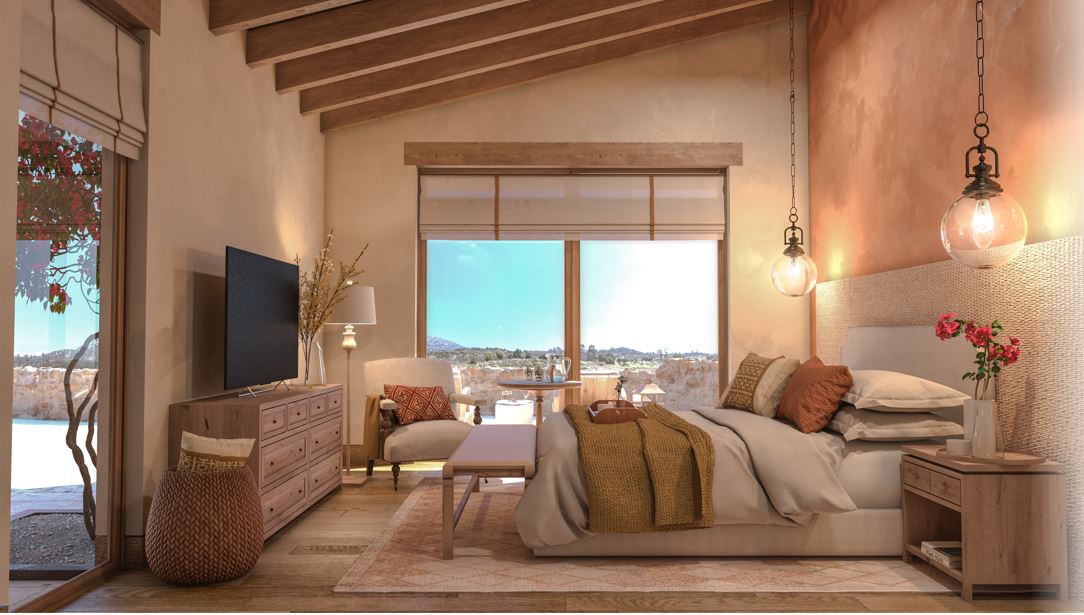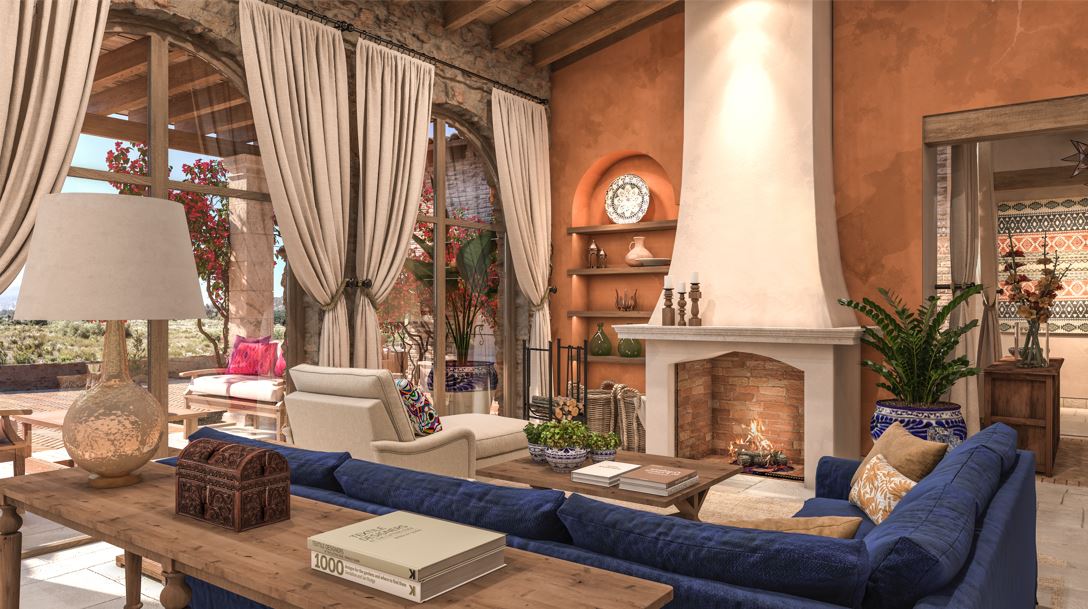 Rancho La Puerta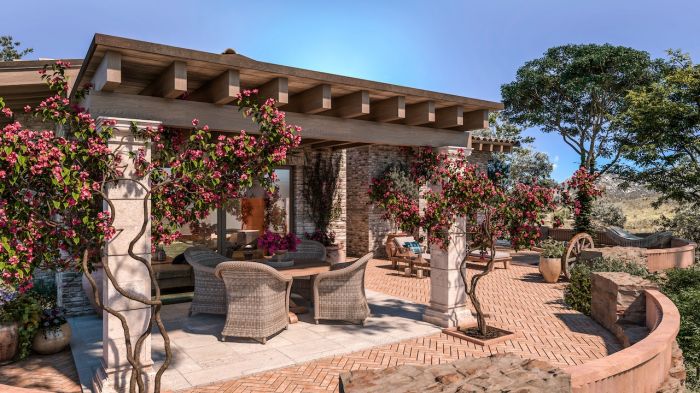 Rancho La Puerta - Casita Terrace