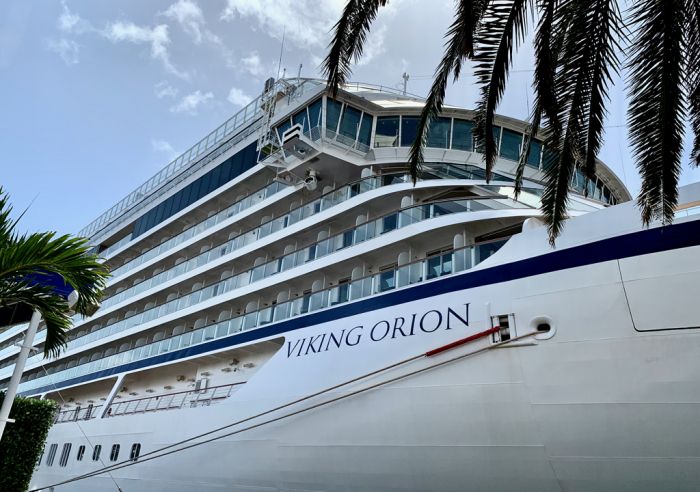 Linda Fasteson
When it comes to the ultimate carefree getaway, one with fine dining, well appointed accommodations, enticing adventures, engaging enrichment, and attentive service, the luxury cruise lines have it all.
Viking Cruises not only tops Travel & Leisure's World's Best Cruise Line list year after year but also leads in the best researched and most comprehensive COVID-19 prevention and mitigation program in the industry. They have created a controlled environment that protects its passengers and crew with the safest possible experience. Read more about that here.
Everything is taken care of
Viking Cruises' all-inclusive pricing adds to the carefree nature of this kind of vacation. Cruises include a shore excursion in every port, WiFi, access to the thermal spa, wine and beer with lunch and dinner, reservations at the two alternative dining restaurants, specialty coffees and teas, 24 hour room service, use of laundry machines and detergent and port taxes and fees. Ground transfers are included when airfare is purchased through the cruise line. Snacks and beverages in the stateroom easy-access pull-out minibars are complimentary.
Should you want more, a premium beverage package and an array of specialized shore excursions like jungle walks or a shipwreck snorkel are available at added cost. Once you have made your selections there is nothing to think about but enjoying it all.
Less is more
Although so much is included, many choose this cruise line for what it is not. The emphasis is on quality, not opulence, on natural elements, not glitz. There are no flashing lights or cacophonous sounds from a casino, no blaring announcements or hype for things like for art auctions or raffles. No smoking. No photographers interrupting dinner. No butlers or fancy formal nights. And no waterslides, rock-climbing walls or children under 18. It is uncrowded, without the lines or waiting found elsewhere.
The experience
Viking's elegant ships typically attract affluent, well-educated and over age 55 passengers who seek a more refined, serene and uncluttered environment. The decor is sleek and streamlined Scandinavian in a palette of soft soothing colors.
Viking Cruises are designed to be a thinking person's cruise, with an abundance of enrichment activities. Presentations in Bermuda, for example, might range from "The Fortifications of Bermuda, 1612-1995" to "How Sugar Changed the World" by the Resident Historian. Some ships, like the Viking Orion and Viking Jupiter, have planetariums and a Resident Astronomer who runs shows, gives lectures and sets up a telescope while at sea.
Their ships also have the largest collection of Norwegian art at sea, over 700 pieces, and there's an app for a self-guided tour. Attention is paid to details onboard, like the abundance and variety of cozy nooks and carefully curated books throughout the ship and the dominant sounds being that of chirping birds in the public bathrooms.
Tranquility and mindfulness are found in places like the infinity pool, where the water blends visually into the sea. At the spa, experience the soothing warmth and exhilarating chill of the Nordic bathing ritual, a tradition that goes back to the Viking Age.
And there's plenty of action. Dance the night away with the guitar selections at Torshavn or in the Explorer's Lounge. And don't miss the energetic Broadway-style theater performances.
The cuisine
There are dining options galore in addition to The Restaurant, the main dining room, where an array of artfully presented regional, classic or international cuisines are prepared with locally sourced ingredients. Try the various tasting menus at The Chef's Table, each course paired with a carefully selected wine.
Viking's Founder and Chairman Torstein Hagen's traditional Norwegian favorites are available at the gourmet deli, Mamsen's. Steak sandwiches and burgers are favorites at the Pool Grill, part of the al fresco dining, more than on any other ship at sea. A pianist adds to the ambience at Teatime in the Wintergarden, where options like the delicate young leaves of Mango White, little hand-rolled green tea pellets of Gunpowder, and rich exotic Bombay Chai are among the choices to accompany the scones, tea sandwiches and sweets..
There's an ever-changing array of international fare at the World Café. Manfredi's Italian Restaurant, one of the two specialty dining options, is said to be one of the best restaurants at sea.
Manfredi's is named for Hagen's friend, Silversea's chairman Manfredi Lefebvre D'Ovidio, who collaborated with Hagen in its plans. Meals at this intimate traditional trattoria with rich dark wood and warm color begins with a bread basket that could be a meal in itself. But be sure to leave room for more, like the signature Bistecca Fiorentina, marinated for 72 hours and rubbed with herbs.
Viking Orion: continuing a tradition of exploration
The Viking Orion's name refers to the constellation and NASA's Orion spacecraft, which, like the ship, is designed to take people farther than they had gone before. Dr. Anna Fisher, retired NASA astronaut who worked on that project before retiring, is the ship's godmother.
Viking's ships also continue the long Norwegian tradition of exploration and discovery. The onboard experience is an introduction to Norway's beauty, history, culture and love for the sea through features like its extensive Norwegian art collection, special musical performances, and the Nordic-style thermal spa. Details like the use of historic Viking longships' clinker-built style of overlapping planks in the Living Room bar set these ships apart from the rest.
The LivNordic spa: Nirvana and Nordic wellness
For sheer relaxation and Nordic wellness, head for the thermal suite of the LivNordic Spa for a unique experience, from the toasty sauna to the frosty snow grotto.
There is a fee for spa treatments, but no pressure to purchase products. Try the soothing and invigorating Viking Restart's cranberry body scrub, Swedish deep massage and Nordic scalp ritual.
Bermuda: turquoise waters and pink sand beaches
Though you may be tempted to simply stay onboard, you'll also want to take some time to explore ashore.
Frequent visitor Mark Twain was right in his oft-cited quote"You go to heaven if you want to. I'd rather stay in Bermuda."
Just a mile wide and about 24 mile long, Bermuda is conveniently located about 600 miles east of North Carolina. With its mild, sub-tropical climate, it continues to attract the rich and famous, many of whom have built magnificent homes here. This archipelago is awash with color, a palette of turquoise waters, crescent-shaped pink sand beaches and secluded coves.
Its bright and pastel houses are topped with white painted limestone roofs designed to conserve rainwater that is stored in tanks below. A kaleidoscopic array of flowers like bougainvillea, oleander, and hibiscus abound.
More than half a million tourists normally visit each year, mostly from the United States. International financial services and other businesses are also drawn to this politically stabile and financially secure tax haven. As a result, Bermudians enjoy one of the highest per capita incomes in the world.
Bermuda is known for some of the most prestigious sporting events in the world, like the Newport Bermuda Race and the 2017 America's Cup. And with more golf courses per capita here than anywhere else, including championship golf courses like the lush Port Royal Golf Course, Bermuda is the site of the PGA Bermuda Championship. It has been named among the world's best public golf courses by Golf Digest.
Hamilton, the capital
Unlike larger ships, the Viking Orion is able to dock in Hamilton, Bermuda's capital, right along the lively main thoroughfare, Front Street. There's a commanding view from the ship of both the harbor to one side and Hamilton's colorful colonial buildings, many now shops, nightclubs, bars and restaurants, on the other. The National Library, National Gallery and limestone gothic revival Anglican Cathedral of the Most Holy Trinity stand out here.
Just outside the ship, Bermuda's flag, with its Union Jack and coat of arms, flaps in the gentle breeze, and like the red telephone booths are symbolic of the decidedly British influences. The coat of arms depicts a founding that goes back to the Sea Venture, a British ship headed for Jamestown that was blown off course and shipwrecked here in 1609.
Although Spanish explorers like Juan de Bermúdez were here first, they were in search of New World gold and silver and put their attention elsewhere. The British saw Bermuda as a strategic location for its expanding empire. Bermuda is now a self-governing British overseas territory.
Bermuda: How did it get this way?
Bermuda's islands were formed by a now-extinct underwater volcanic mountain range that last erupted millions of years ago. Worn down by the sea, it is now covered by a thick layer of limestone and thin layer of clay-rich soil known as "terra rossa" that was blown here over the ages by westerly winds and storms from northern Africa.
Mark Twain was among the first to visit Crystal Caves, which was formed during Bermuda's Ice Age and discovered accidentally in the early 1900s by two teenagers during a game of cricket. It is now one of Bermuda's top attractions.
Bermuda's sand is pink thanks to the protected parrotfish that scrape off bits of limestone and tiny skeletons of red foraminifera when they munch on the reefs' algae. What they pass as sand gives the beaches their distinctive coloration. Horseshoe Beach, a stop on the Pink Sands and Scenic South Shore Drive tour is a good example.
The reefs: the good, the bad and the beautiful
The world's northernmost coral reefs flourish here thanks to the warmth of the Gulf Stream. Sea fans, sea rods, brain and star coral, flowery anemones, red or blue sponges, spiky rock scallops, and the colorful parrotfish, named for their beaklike mouths make this a fascinating underwater world for snorkelers, divers or taking a glass bottomed boat ride.
Although these reefs form a protective barrier from surging waves, they were a hazard for early mariners. With more wrecks per square mile than anywhere else, Bermuda is known as"Shipwreck Island" and "The Shipwreck Capital of the World."
St. George: a UNESCO World Heritage Site
Lovers of history will want to learn about 17th century life on the St. George's Discovery tour to Bermuda's first capital. Established in 1612, it is now a UNESCO World Heritage Site.
Explore the passageways of the restored Fort St. Catherine, built in 1614, climb stairs to St. Peter's Church, the oldest Anglican Church in the Western Hemisphere, and explore its slave cemetery there. The Tucker House Museum, in an 18th century home, has exhibits of period furnishings.The Rogues and Runners Museum reveals the role Bermuda played in the American Civil War.
King's Wharf: once the largest British naval base outside the UK
After a relaxing day at sea, the Viking Orion arrives at the King's Wharf, a hub of shipping, sailing, and boat building. Browse the galleries in the historic buildings. King's Wharf is now home to artists and artisans.
The Royal Navy Dockyard at King's Wharf and defenses were built over a forty year period by convicts from England for the Royal Navy. Gravestones at the Royal Naval Cemetery reveal that many died of yellow fever.
Once the largest British naval base outside the UK, it became a symbol of British military power. Bermuda's location between English Canada and British West Indies led to it being known as the"Gibraltar of the West."
During the War of 1812, Francis Scott Key was inspired to write a poem about seeing the American flag flying after the bombardment of Fort McHenry by a British ship that sailed from the Dockyard. That poem became America's national anthem, "The Star Spangled Banner."
The ship docks across from the fortifications and the buildings of the National Museum of Bermuda, which house over 80,000 objects documenting the island's 500 year history, including its 90 forts. Take a tour, ride the free trolley from the nearby Visitor Information Center or walk along the boardwalk from the ship.
Allow plenty of time to explore the displays in the Commissioner's House, built in 1820. It is the western hemisphere's first prefabricated cast-iron residential building and a symbol of British imperial power. The Keep, Bermuda's largest fort, holds treasures found from shipwrecks by scuba diving archaeologists.
One of the best ways of getting out into the calm turquoise waters is with the Great Sound Catamaran Rally to a large ocean inlet protected on three sides by land and at the entrance by a coral reef. It's a carefree opportunity to swim, sunbathe and sip the national drink, a rum swizzle. Catamaran trips to secluded waters are included in both ports.
By night, take one of the sunset sailings. Wear your most fashionable white attire for a lively evening of music, Rum Swizzles, champagne, legends and history on the White Night Sail.
King's Wharf is now a cultural destination with its historic buildings now housing restaurants and shops like the Bermuda Craft Market, an arts center, glassworks, galleries, a rum cake shop, and Crisson Jewellers. Enjoy a tasting tour at the local breweries. Shop at the Clocktower Shopping Mall, easily identified by its 100' towers. With cobblestone floors and wrought iron pillars, it was built as a warehouse and for administrative offices for the Royal Navy.
Shopping, like the pace, is easy in Bermuda. The official currency is the Bermuda dollar, which is on par with U. S. Dollars. Credit cards and U.S. currency are accepted.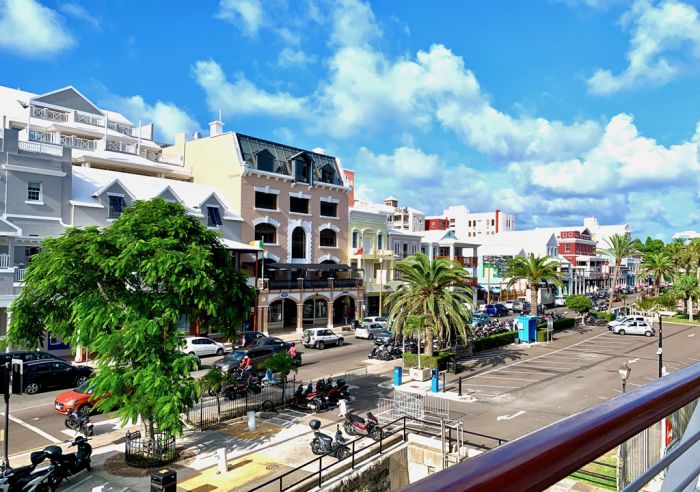 Linda Fasteson
The Viking Orion docks along Front Street, the main street, in Hamilton, Bermuda.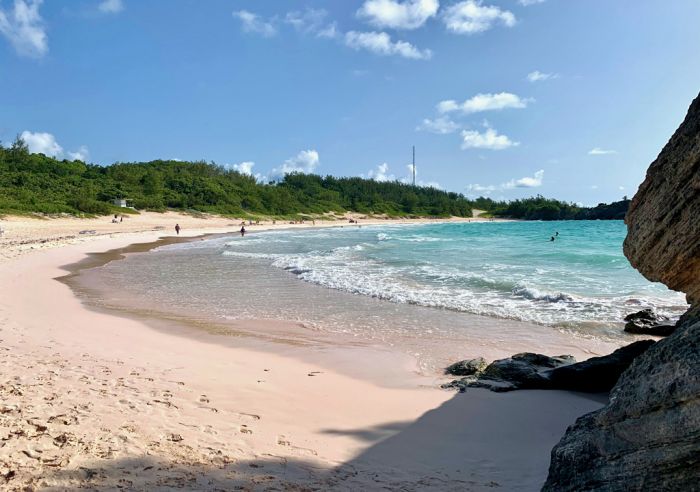 Linda Fasteson
Horseshoe Bay Beach, renowned for its pink sand, is in Southampton, Bermuda.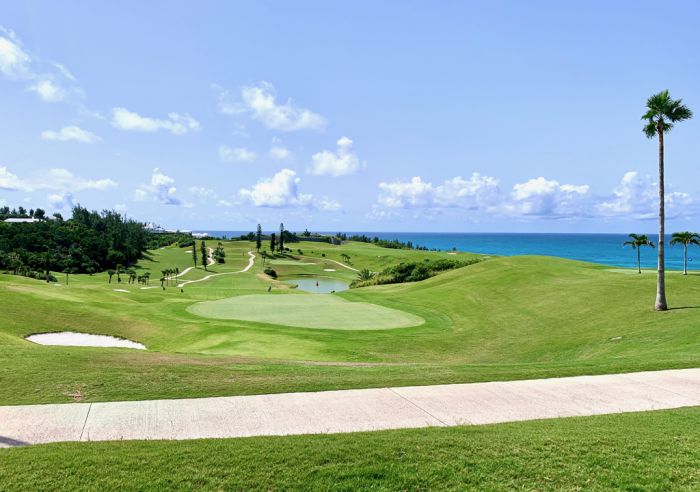 Linda Fasteson
Port Royal Golf Course in Southampton_Bermuda, host prestigious tournaments and has been named one of the best public golf courses in the world.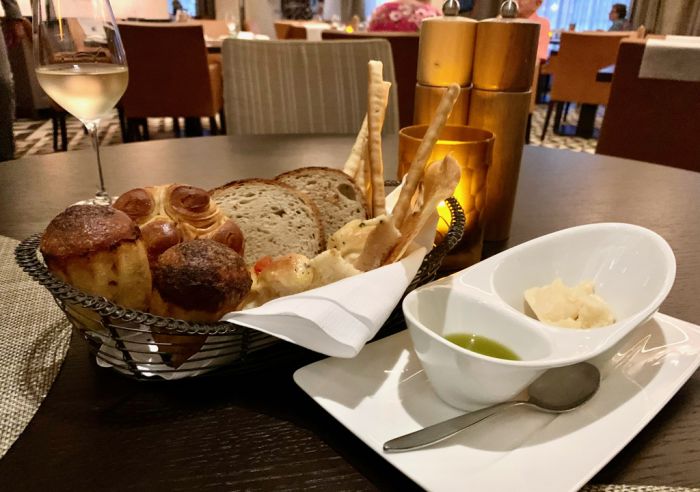 Linda Fasteson
The bread basket at the Viking Orion's Manfredi's Italian Restaurant could be a meal in itself.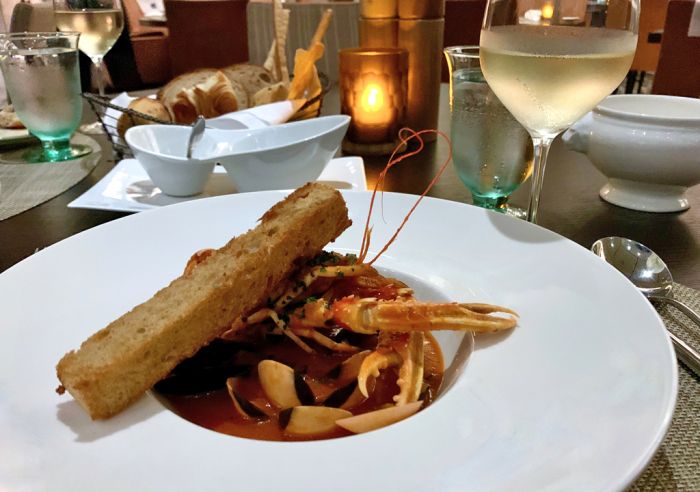 Linda Fasteson
Brodetto ai Frutti di Mare is one of the popular appetizers known as a qualcosina, or 'a little someting,' at the Viking Orion's Manfredi's Italian Restaurant.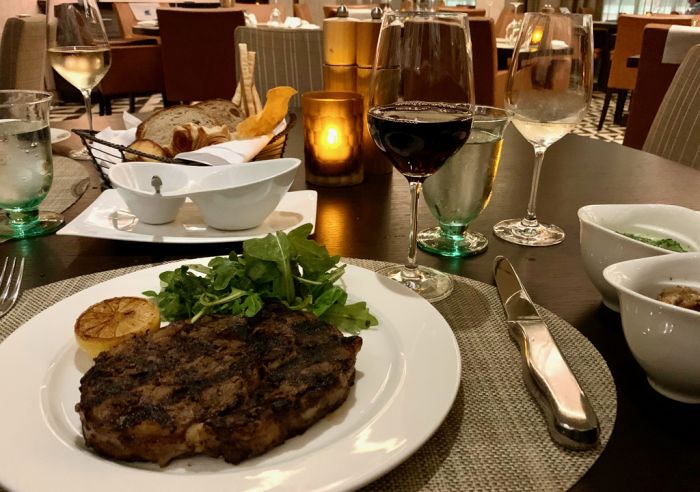 Linda Faseson
Bistecca Fiorentina is the house specialty at the Viking Orion's Manfredi's Italian Restaurant.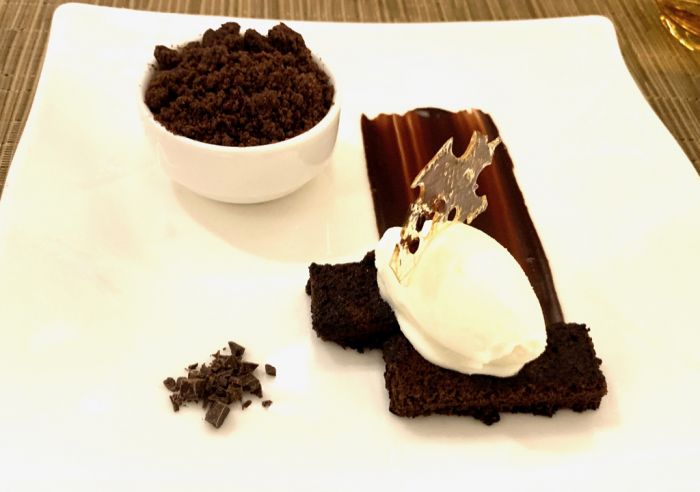 Linda Fasteson
Chocolate en Texturas was seved as one of the dessert selections on Mexico night at the Viking Orion's specialty restaurant, The Chef's Table.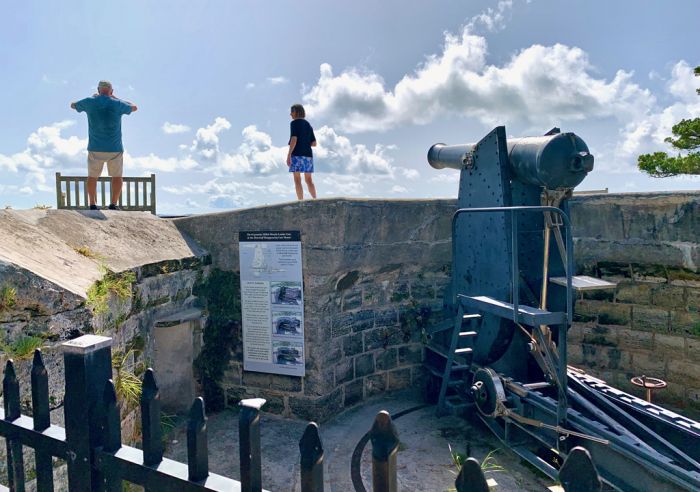 Linda Fasteson
Fort Scaur, in Somerset Village, is one of 90 forts in Bermuda.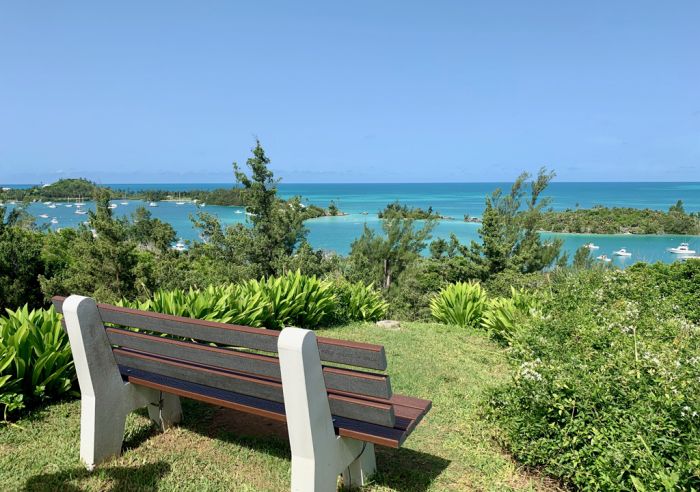 Linda Fasteson
This scenic overlook is in Fort Scaur Park in Somerset Village, Bermuda.
Linda Fasteson
Bermuda is the site of many homes of the rich and famouss.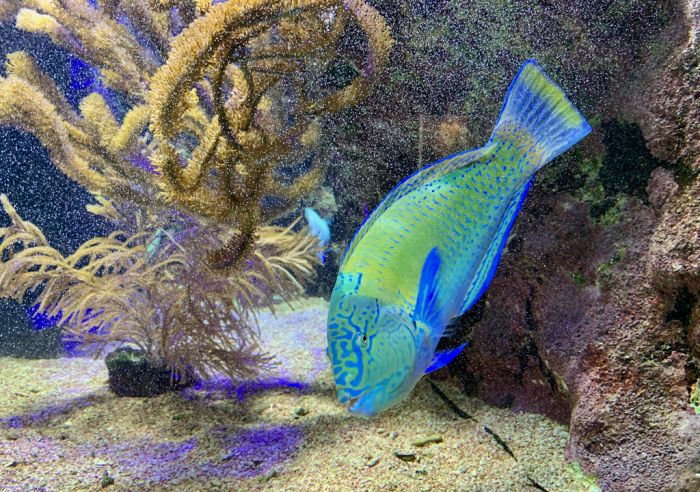 Linda Fasteson
The colorful parrotfish helps to maintain the health of the reefs by dining on its algae.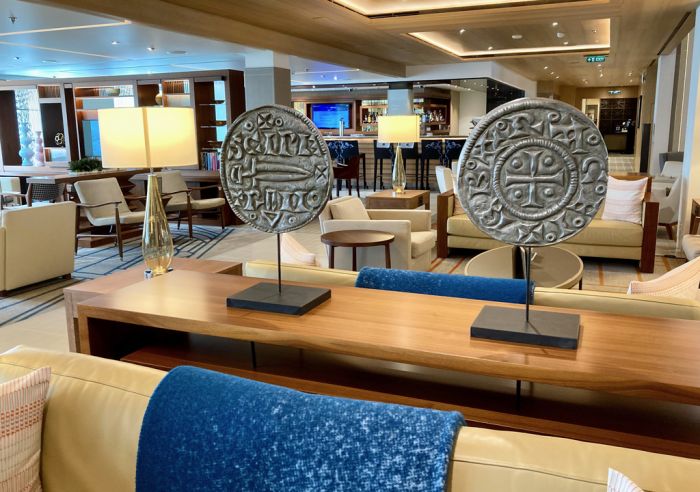 Linda Fasteson
The Living Room of the Viking Orion features a clinker-built bar of overlapping planks that was inspired by historic Viking longships.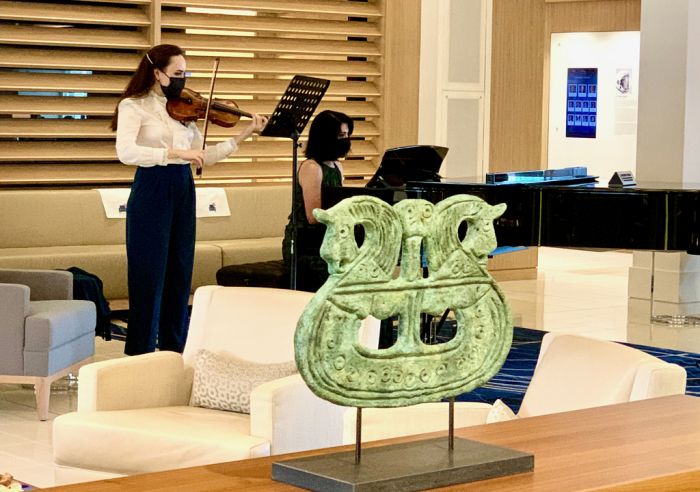 Linda Fasteson
Classical music draws passengers to the Atrium of the Viking Orion.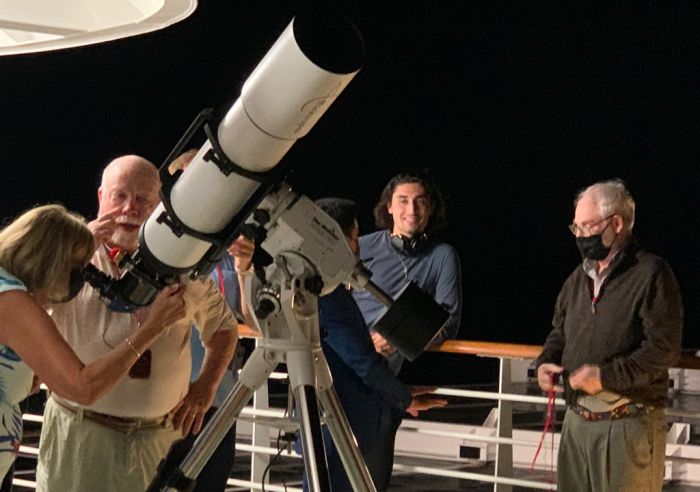 Linda Fasteson
Search for planets and constellations while at sea aboard the Viking Orion.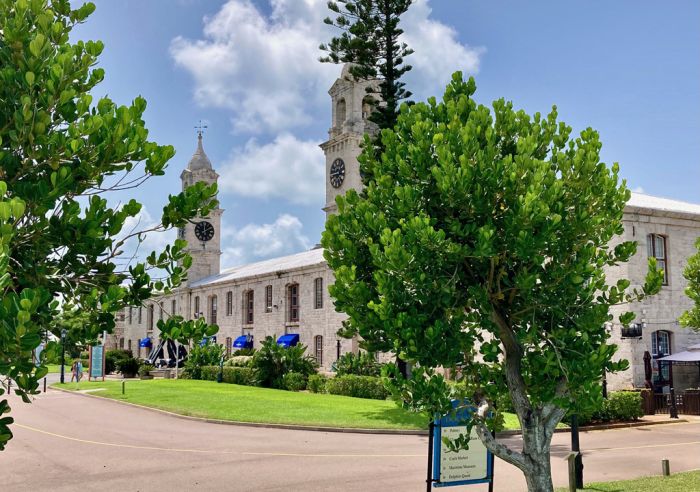 Linda FastesonThe
The Clock Tower Shopping Mall at King's Wharf once seved as a warehouse and offices for the Royal Navy.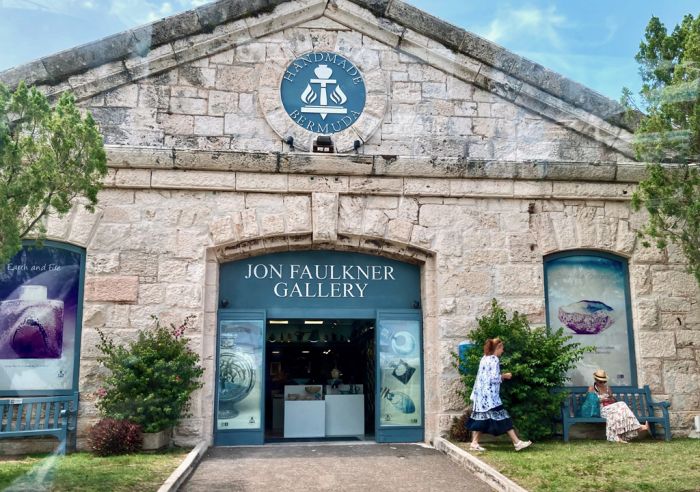 Linda Fasteson
King's Wharf is now home to artists and artisans. Jon Faulkner Gallery is in one of the historic buidings at Bermuda's Royal Navy Dockyard.