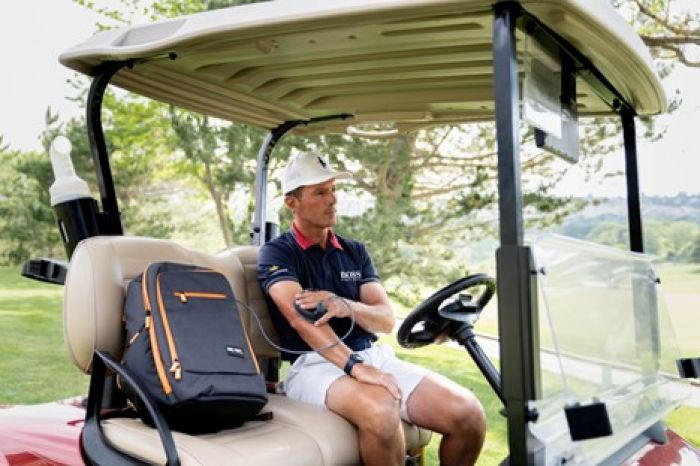 Photo Credit: BEMER
New innovations are constantly being developed in the health and fitness technology space, especially when it comes to recovery. In the past, wellness technology has been more focused on making the athlete work harder and tracking productivity, rather than honing in on muscle recovery and longevity. The fitness industry as a whole is expected to grow approximately 172 percent to be worth 434.74 billion U.S. dollars by 2028, according to RunRepeat.
With recovery and injury prevention more popular than ever before, companies like BEMER are transforming this ever-changing industry. BEMER is a patented FDA Class II cleared consumer medical device and health and wellness company. With roots in Liechtenstein,, BEMER has now spread throughout the world with its easy-to-use, non-invasive product-line designed to stimulate muscles and enhance blood and oxygen flow in just two eight-minute sessions per day.
The product offering that BEMER has developed is considered to be the most innovative selection of wireless recovery technology products by athletes, physical therapists and sports physicians. The best-seller is the Deluxe-Set, which includes everything a customer would need to use BEMER therapy at home or on the go. The Deluxe Set comes with the popular B.Box professional control unit, which utilizes German engineering and Swiss craftsmanship to adapt to different lifestyles.
Although sports recovery tech products are seemingly newer innovations, BEMER has been a pioneer in the industry for more than 20 years now. However, now is the ideal time for the brand to establish its perfect market fit. Led by a team of medical and scientific experts, BEMER products help clients increase their physical endurance and shorten recovery periods. The importance of muscle stimulation and circulation has long been overlooked by physical therapists, but it is vital in both recovery and injury prevention. BEMER Ambassador, professional golfer, and Masters Champion Mike Weir can attest, "BEMER has been a game-changer in my recovery and performance program, allowing me to start and end each day at my best."
BEMER is an FDA Class II cleared medical device that wirelessly stimulates muscles and sends a low intensity pulsed electromagnetic field (PEMF) through the body to enhance performance through increased local circulation. The technology is ideal for athletes, but can be beneficial for anyone. Whether you're extremely physically active or an older individual looking to maximize your healthy years, BEMER technology can help you recover and enhance stress reduction and relaxation.
In addition to the best-selling Deluxe-Set, there's also a Starter-Set that's perfect for anyone looking to get started and explore the technologies. The Starter-Set includes the B.Box, the B.Body applicator for full-body application, and the B.Spot applicator for a more targeted approach. BEMER products can only be purchased from BEMER distributors, so visit their website to connect to a local distributor.
BEMER does not provide any medical advice or services. This device is not intended to diagnose, treat, cure or prevent any disease. It should not be used for any purpose other than as described in the user manual. Please consult your own healthcare provider if you have any medical issues. This spokesperson may have been compensated for his testimony. Individual results may vary and you may not achieve the same results.
BEMER USA, LLC a subsidiary of BEMER Int. AG, is a leading global medical device company specializing in the research & development, manufacture and distribution of health products. Founded in 1998, BEMER now operates in 29 countries, with hundreds of employees and thousands of independent distributors. BEMER is a leading innovator in powered muscle stimulators and holds an FDA Class II clearance in the United States and Health Canada registrations along with numerous international patents. BEMER products have been shown to safely stimulate healthy muscles, resulting in a temporary increase in local blood circulation, which can optimize physical performance, strengthen muscles, enhance muscle recovery, reduced stress, improved relaxation, and a better overall feeling of wellbeing. BEMER products are currently used globally by over hundreds of thousands of consumers, hospitals and clinics, and professional athletes.