Kirvin DoakPR//MGM Resorts
The first ever Formula One race, takes place on the Las Vegas Strip Circuit from Thursday, Nov. 16 to Saturday, Nov. 18. Called the FORMULA 1 HEINEKEN SILVER LAS VEGAS GRAND PRIX, it may attract over ½ million people, and for those who have seen it, the Las Vegas Strip has been repurposed into a Formula I racetrack.
The start line is at the new Pit building, located on the corner of Harmon Avenue and Koval Lane. The track then stretches 3.8 miles through Koval Lane and Sands Avenue, to Las Vegas Boulevard and onto Harmon Avenue. It also will take place at night, so the Las Vegas neon-studded backdrop will be seen also, as the drivers will reach speeds of over 210mph (340kph) as they race around the Las Vegas Strip.
This event will mark the first time Formula One races in Las Vegas since the 1982 Caesars Palace Grand Prix. It will be the third Grand Prix in the United States to take place on the 2023 calendar after the Miami and the United States Grands Prix, and will mark the first time since 1982 that there will be three races held in the United States in a Formula One season.
The 3.853 mi (6.201 km) street circuit features 17 corners and a 1.181 mi (1.900 km) straight.[5][6] The circuit runs counterclockwise, the first corner being a hairpin, and after that the course bends slightly left and then into a fast right, transitioning from the permanent circuit to city streets. The cars go 0.50 mi (800 m) down Koval Lane, before entering a slow 90 degree right, and then entering a long, sweeping left which encircles the new Sphere arena, before going through a left-right twisty section (a change from the original design) and then a slightly faster left that transitions onto Sands Avenue. The track then goes through two very fast bends on Sands Avenue before entering a slow left onto Las Vegas Boulevard, otherwise known as the Las Vegas Strip. This is a 1.181 mi (1.900 km) flat-out section with two straights and a slight sweeping left that goes past some of Las Vegas' most famous hotels and casinos. The circuit then goes through a tight series of slow corners onto Harmon Avenue, down an 0.50 mi (800 m) straight before going through a very fast left to complete the lap and transition back to the permanent track past the pits.
The grand opening ceremony will take place on Wednesday, November 15, unveiling the new multi-use Paddock Building and signaling the start of the Las Vegas Grand Prix week - with practice on Thursday, November 16 and qualifying on Friday, November 17, ahead of the Saturday night race.
MGM Resorts International (NYSE: MGM) is also adding grandeur creating exclusive events, one-of-a-kind activations, artist engagements and more that will be part of The Strip throughout race week.
Andrew Lanziano, MGM Resort's Vice President of Citywide Events recently said, "People have been to big races, people have enjoyed Las Vegas - but the way the two will come together in November will make for an unprecedented weekend. With so many MGM Resorts destinations within a short walk of the track, we have an unmatched opportunity to create a neighborhood experience where there is something for everyone -- and the party never ends." He is especially gratified with the new Bellagio Fountain Club, a temporary edifice that allows guests to watch the race and eat gourmet dinners from celebrity chefs.
Mr. Lanziano also added some extra details about the new Bellagio Fountain Club, in a recent QA with JustLuxe.
JustLuxe: according to press images, the Bellagio Fountain Club space looks like an enclosed restaurant/viewing area. Is that right?
Mr. Lanziano: The Bellagio Fountain Club is a structure that features enclosed areas for private suites, as well as outdoor seated areas perched above the track and a rooftop hospitality deck.
JustLuxe: Thus far, which of the celebrity chefs will be doing their work on which day.?
Mr. Lanziano: On Thursday – Mario Carbone / David Chang; Friday – Michael Mina / Michael & Bryan VoltaggioSaturday – Masaharu Morimoto and Jean-Georges Vongerichten, But there will be more star chefs as the event approaches.
JustLuxe: How much all of this will cost the Bellagio Fountain Club members, and what else they might receive?
Mr. Lanziano: Tickets for the Bellagio Fountain Club start at $11,247/person. Bellagio Fountain Club packages include three-day event tickets – and access to book accommodations separately within MGM Resorts' premier portfolio of rooms and suites, which are conveniently walking distance from the circuit. From culinary delights to showstopping entertainment and iconic attractions, the Bellagio Fountain Club will feature the best-of-the-best from Las Vegas concentrated in one VIP space for guests to have at their fingertips throughout the weekend.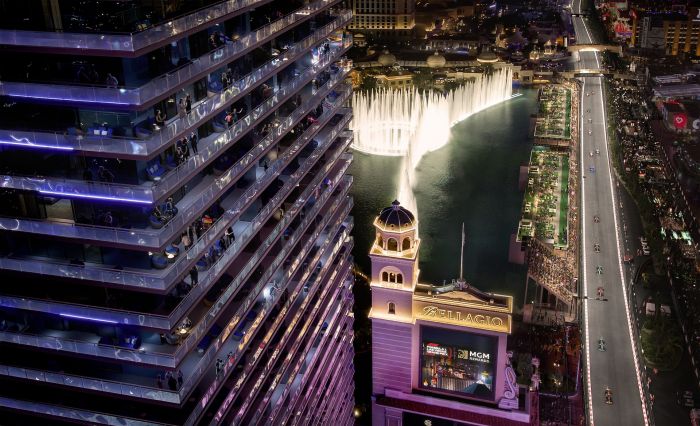 MGM Resorts
Open from 6 p.m. until closing each night, guests at the Bellagio Fountain Club will enjoy a new daily menu that progresses throughout the night crafted by an all-star lineup of legendary chefs Additionally, guests will have MGM Resorts dedicated team of award-winning mixologists and sommeliers on-hand to pour and stir from a top-shelf open bar throughout the race. Chefs will rotate throughout the three days, introducing new menus daily that progress throughout the night. A dedicated team of award-winning mixologists and sommeliers will curate an open bar of signature cocktails and specialty wines throughout the race. The Bellagio Fountain Club will open nightly beginning at 6 p.m. November 16-18.
JustLuxe: Will the fountains, during the race days, have music associated with them?
Mr. Lanziano: Yes, the Fountains will perform its beloved shows throughout the weekend and during the race making for a spectacular setting as guests will be bookended by Fountain shows on one side and the racetrack on the other.
Further, Mr. Lanziano explained that throughout the weekend, the Las Vegas Grand Prix Winner's Stage, also part of the Bellagio Fountain Club, will be home to performances by entertainers from MGM Resorts' entertainment portfolio before welcoming the race's top drivers for post-race commentary on Saturday night. As a premier destination for enjoying the race, the Bellagio Fountain Club will bring fans even closer to the track through an unprecedented Dolby Vision viewing experience powered by LG OLED evo TVs.
The Bellagio Fountain Club will offer proximity to the racetrack from an elevated, centralized location on Bellagio's signature lake. From the Bellagio Fountain Club's rooftop hospitality deck, guests will have impressive views of Bellagio's Fountains juxtaposed with the electricity of F1® cars zooming up Las Vegas Boulevard.
In addition to the Fountain Club, Bellagio offers the following:
•MGM REWARDS "SHOEY" BAR. Guests can partake in the iconic F1 podium celebration by indulging in a "Shoey" at the MGM Rewards Shoey Bar, exclusively at Bellagio during race weekend. The Shoey Bar invites guests to purchase limited-edition MGM Rewards-branded driving shoes hand-crafted by an iconic motorsport apparel designer, fill them with an exclusive libation (in a water-proof beverage liner) and raise a triumphant toast, just like racing heroes do on the podium. The Shoey Bar will be in Bellagio's Fountain Courtyard adjacent to the main valet, just steps from the Bellagio Fountain Club.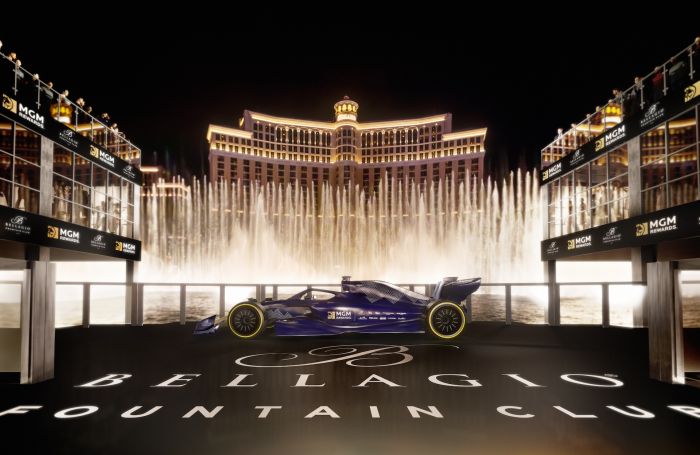 MGM Resorts/ Las Vegas Grand Prix Winners Stage
FERRARI POP-UP BOUTIQUE. Bellagio guests will be able to immerse themselves in the world of the Ferrari fashion collection from November 13-20. A captivating pop-up store will embody the retail concept under the creative direction of Rocco Iannone. "
HUNDRED ACRE WINE DINNER WITH CHEF JEAN-GEORGES VONGERICHTEN. Internationally celebrated Chef Jean-Georges Vongerichten will create a special four-course menu, featuring wine pairings by the renowned Hundred Acre wines, at his Prime restaurant November 16-18
BÉNÉDICTE HARDY EXCLUSIVE COGNAC EXPERIENCE AT LE CIRQUE. Renowned fifth-generation cognac producer Bénédicte Hardy will personally guide guests through exclusive cognac experiences at Le Cirque on Nov. 17-18. Guests will have the opportunity to interact with her as she presides over the restaurant's cognac cart and presents the full range of Hardy cognacs, including the exquisite Hardy's Perfection.
JAMES KENT TAKEOVER AT LE CIRQUE. James Kent, acclaimed chef, and winner of the Bocuse d'Or USA 2010 is curating an exclusive dining experience at Le Cirque on Friday, Nov. 17. Renowned for his culinary portfolio, which includes Michelin-starred New York restaurants Crown Shy and Saga, Kent will deliver an evening of culinary brilliance and exceptional flavors in celebration of Vegas' premiere race weekend.
At ARIA RESORT & CASINO, the following will be offered:
ALFA ROMEO EXPERIENCE. Alfa Romeo will celebrate its racing DNA during the Las Vegas Grand Prix with a display in ARIA's stunning lobby, featuring the All-New 2024 Alfa Romeo Tonale, the new Giulia and Stelvio, Alfa Romeo F1 Team Stake Show Car, and a selection of racing gear available for purchase. Fans will be able to test their reaction timing with the Alfa Romeo Batak Board Challenge and earn a limited-edition pin designed by LEEN Customs. ARIA's Lobby Bar will pay tribute to Alfa Romeo's racing history, showcasing racing artifacts and offering signature drinks. On Wednesday, Nov. 15, guests will have the chance to get a signature Valtteri Bottas haircut by celebrity stylist Matthew Collins, and the Alfa Romeo F1 Team Stake will unveil a unique vehicle livery to be used during the 2023 Las Vegas Grand Prix with special appearances by Valtteri Bottas and Zhou Guanyu.
JEAN-GEORGES x YAMAZAKI DINNER. Legends of the kitchen and bar are coming together for a one-night-only dinner featuring Chef Jean-Georges Vongerichten and the heralded Yamazaki Japanese whisky. Taking place Friday night at ARIA's Jean Georges Steakhouse, the dinner will feature a menu of specialty meats personally prepared by Chef Vongerichten, paired with an exclusive tasting from a private collection of whiskies unavailable to the public, including the ultra-rare Yamazaki 55, of which only 100 bottles were released outside of Japan.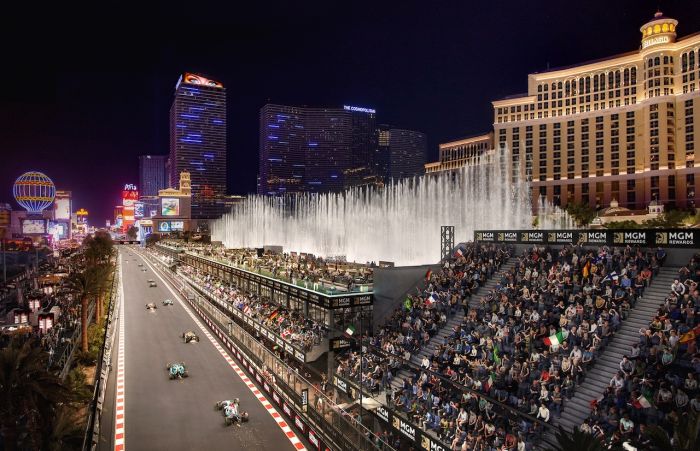 MGM Resorts/Bellagio Race Track
CARBONE AND LOUIS XIII DINNER. Guests can embark on a culinary journey at ARIA's Carbone with an exclusive menu curated by Mario Carbone and complemented by LOUIS XIII Cognac and cocktails by Rémy Martin. The menu showcases Carbone gems including Chicken Parmesan, Wagyu Tomahawk and the exquisite Burrata and Caviar service. Signature cocktails include the Golden Age, a spiced sidecar with Remy Martin 1738, Gifford's Apricot, Madagascar vanilla liqueurs, lemon, and a hint of spice; and the Original Old Fashioned, blending Mt Gay XO with honey syrup, dashes of angostura bitters and burnt orange zest. To conclude the evening, guests will raise a glass of the prestigious Louis XIII Cognac, capping off a night of unparalleled taste and sophistication. The dinner will take place Thursday, Nov. 16 at 7 p.m. and is limited to 40 guests.
THE COSMOPOLITAN will offer:
•STARTING LINE UP - OPENING NIGHT RECEPTION: The Cosmopolitan will kick start race weekend with an exclusive opening night reception on Nov.16 from 5 p.m. – 7:30 p.m. At Blue Ribbon hosted by Chefs Bruce and Eric Bromberg. Guests will indulge in an assortment of unlimited caviar, seafood, and Veuve Clicquot while dancing to the beats of a live DJ performance.
LONGER TABLES LIVE WITH JOSÉ ANDRÉS. Guests can join chef and humanitarian José Andrés while he explores food and how it shapes the world. Over lunch on Friday, Nov.17, guests will have the opportunity to participate in a live recording of José's podcast, Longer Tables, getting a once-in-a-lifetime look behind the scenes – and you never know who might show up to join him. Jaleo's endless feast of signature tapas, including paella Valenciana and a curated selection of small bites, beer and wine will leave guests feeling inspired with the spirit and flavors of Spain.
AIOKA RACE WEEKEND AT BOULEVARD POOL. With over a decade of hosting renowned Grand Prix parties, AIOKA will transform The Cosmopolitan's Boulevard Pool into an electrifying race extravaganza. Guests will have incredible aerial views of the race while enjoying live DJs, signature cocktails, culinary presentations and more. Parties will take place Nov. 16 –18 beginning at 6 p.m. each evening. Guests must become AIOKA members to attend.
COCKTAIL CIRCUIT. The Cosmopolitan's famed mixology program will introduce a Cocktail Circuit throughout the resort during which guests will be guided to four bars for handcrafted cocktails showcasing the artistry of a well-made cocktail. The Cocktail Circuit begins with a twist on classic cocktails at Vesper Bar then heads to Ghost Donkey for signature Mexican snacks and mezcal before experiencing The Chandelier's 'secret drink.' The tour finishes at Beauty & Essex with Chef Chris Santos for the final cocktail paired with a chef selection of small bites. The event will take place Thursday through Saturday from 3 p.m. - 5 p.m.
HELMET ART DISPLAY: The Cosmopolitan invited six local and regional artists to design custom F1 helmets, combining the technology and sleek design of the helmet with the creativity of each artist. With the helmet serving as a blank canvas, each artist was given the opportunity to reimagine this vital element of a driver's kit. Helmets, redesigned by Sharon Louise Barnes, Eric Vozzola, Nancy Good, Robby Martin, Cerissa Lopez and Dan Hernandez, will be on display throughout race weekend on Level 2 near the Harmon Bridge entrance.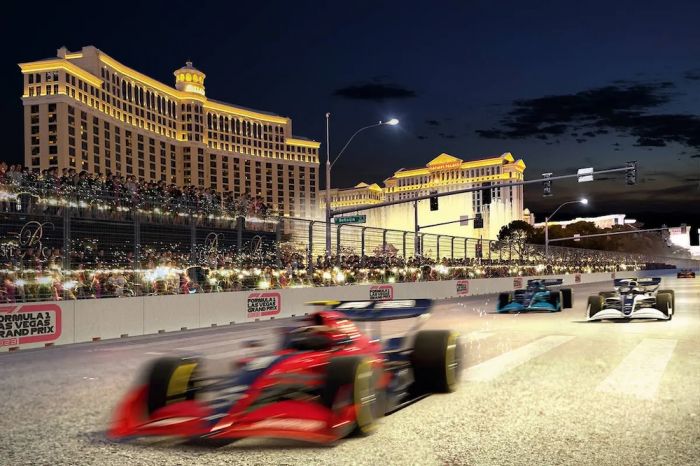 Artistic Impression by Tilke Design and Architects
AUGMENTED REALITY AT THE CHANDELIER. Innovation in technology meets cocktails, brought to life through augmented reality. The Cosmopolitan delivers this unrivaled digital experience, where a phone transforms a drink order into something else. Guests can visit The Chandelier to order a Verbena and see how a picture can transform into a personal AR race-infused story.
MARQUEE NIGHTCLUB & DAYCLUB. The Marquee Dayclub Dome will host multiple race weekend pool events, led by Loud Luxury and the Nelk Boys presented by Happy Dad Seltzer Friday, Nov. 17. The Cosmopolitan pool-goers will enjoy the beats of DJ Martin Garrix at the daytime party Saturday, Nov. 18 while Justin Credible will entertain guests Sunday, Nov. 19. Mustard will close out the three-day festivities Sunday night with a performance at Marquee Nightclub.
PARK MGM Offers
MAMA RABBIT PRESENTED BY SAPPHIRE RESERVE. Sapphire Reserve cardmembers will enjoy exclusive drink discounts and earn 3x points on food and drink purchases at Park MGM's Mama Rabbit during Race Weekend. Mama Rabbit boasts the largest selection of agave-based spirits in Las Vegas with rare mezcals and tequilas from across Mexico in addition to live entertainment on Friday and Saturday. When Sapphire Reserve cardmembers check in at Park MGM for the weekend, they can present their card for access to a dedicated check-in line and to receive a special welcome gift.
MGM GRAND Offers
MORIMOTO OMAKASE DINNER. Internationally acclaimed chef and star of "Iron Chef America," and "Morimoto's Sushi Master" on The Roku Channel, Masaharu Morimoto invites guests to join him at his eponymous restaurant at MGM Grand for an extraordinary Omakase dinner experience Thursday through Saturday. Limited to 35-40 guests each evening, the dinner will feature a five-course menu showcasing the finest seafood, beef and globally sourced ingredients curated by Chef Morimoto himself. Specially selected sake and wine pairings, including offerings from the chef's own vintages, will complement the meal.
HAKKASAN NIGHTCLUB. Hip-hop artist Fat Joe kicks off the venue's race weekend entertainment lineup Thursday, Nov. 16. Fisher will keep the party going for clubgoers Friday, Nov. 17 and popular DJ/music producer Steve Aoki wraps up the activities with a Saturday, Nov. 18 performance.
_______________________________________________________________________________________________________
The week and weekend should be one to remember, for all who can come and enjoy.