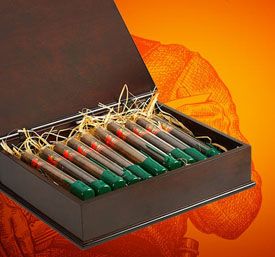 Luxury Cigars:
Is there a cigar smoker in your life that deserves to be treated royally? If so, then present his royal highness with the most kingly of cigars of them all, a His Majesty Reserve cigar from Gurkha. Just one of these 7.5-inch is a $750 investment in what many pundits and enthusiast call the greatest cigar ever.
The premium cigar, a.k.a., HMR, is sold individually or in a box set of 20, which sells for $15,000. This is a yearly limited-edition specialty. Only 75 boxes or 1,500 cigars total were prepared for market this year. The elaborate infusion process to bring a box of HMR to market involves a rare mix of the finest tobaccos and an entire bottle of Louis XIII de Remy Martin cognac, which ranges approximately from $1,500 to $3,800 per bottle.
Cigar.com, a company that is a dealer of Gurkha cigars, has sold its His Majesty Reserve supply. It is assessment is short and sweet, "If you are looking for the absolute best, this is it."

Up in smoke: The filler tobacco in an HMR is a well-kept secret. Getting the grabs on an HMR may be difficult due to demand. It is so high that the president of Gurkha is the ultimate decision-maker in spreading the cigars among the VIPs willing to pay to dollar.