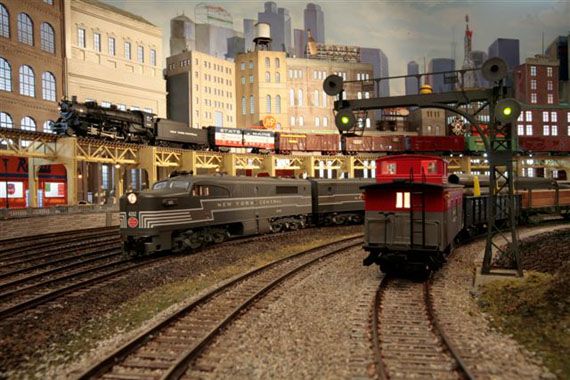 Luxury Leisure:
Would you have guessed that all the photos in the slideshow are models? Look at the extraordinary detail in these amazingly lifelike model-train layouts. This work appears before us courtesy of Scale Models, Arts & Technologies, Inc. (SMARTT). The Miami-based company is legendary in the model-train layout industry.
A typical setup starts at the low six-figure mark and can sometimes run as high as seven figures, according to Michael Hart, founder of
SMARTT
. The work of these artistic craftsmen has been seen in numerous hobby-related magazines as well as having been featured in Billionaire Train Fantasies, a show that ran on the Collector series produced by the Forbes.com Video Network.
Mr. Hart also indicated that there are approximately 5 million model-train hobbyist and collectors worldwide. There are collectors who buy custom-built setups and model-building enthusiasts who make their own layouts.

"If you can dream it, we can build it," said Mr. Hart, while pointing out that they also build lifelike models of boats, aircraft, military dioramas, space equipment, and industrial structures.

Get SMARTT: Model layouts also may be seen at the Museum of Science & Industry in Chicago, the California State Railroad Museum, the Ringling Brothers Museum in Sarasota, Fla., and the Aventura Mall in Aventura, Fla.