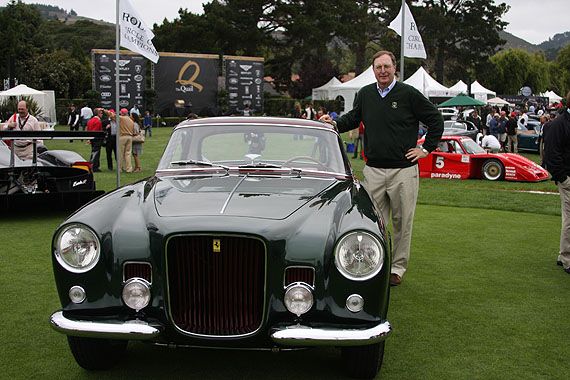 The Pebble Beach Concours d'Elegance has come and gone, and as expected, delivered a spectacular lineup of classic cars, celebrity sightings, and luxury concept debuts throughout the Monterey Peninsula. While yesterday's competition at
The Lodge at Pebble Beach
headlined the festivities, the days leading to the event proved to be just as enjoyable.
On Friday, automobile enthusiasts swarmed Quail Lodge Golf Club, as it welcomed the ninth annual Motorsports Gathering. Recognized as one of the world's premiere motorsports events,
The Quail, a Motorsports Gathering
is a prestigious affair where spectators are encouraged to get up-close-and-personal with some of the rarest sports, racing cars and motorcycles ever built. Due to its intimate size, spectators are not only afforded an opportunity to mingle with owners, but also enjoy a leisurely day of wine tasting, gourmet cuisine, and can place bids in the world-renowned Bonhams 1973 vehicle auction.
This year's event honored Ferrari America and Superamerica Models, a series of top-end models built in extremely limited quantities in the 1950s and 1960s; the 50th Anniversary of the Jaguar E-Type; Sports and Racing Motorcycles; and paid tribute to the 50th Anniversary of Phil Hill's Formula One World Drivers' Championship.
It was a 1955 Ferrari 375 America Coupe Speciale that landed this year's first place prize and made its way into the Rolex Circle of Champions. According to the vehicle's owner Jack Thomas, the one-off Ferrari was originally built for Giani Agnelli, the chairman of Fiat, who according to Thomas was "one of the most industrial and philanthropic bon vivants in Europe during the 1950s."
"This was a collaboration between Ferrari and Pininfarina," says Thomas.
As the first street Ferrari to see production, the 4.9-liter engine coupe is full of unique features.
"It was the first Ferrari to use coil springs instead of leaf springs, has a forward front A-pillar, and is one of only a few Ferrari's to offer a sun roof," says Thomas.
Thomas bought the Ferrari in the late 90s, but it wasn't until 2001, when he decided to have the car — which he describes as "beyond patina" — undergo a complete restoration. From 2002 to 2003, the coupe was in the hands of
Motion Products
, a Wisconsin-based vehicle restoration company, which carefully restored its peeling paint and re-fabricated its faux wood finish.
There is nothing he enjoys more than a long-distance drive behind the wheel of his restored Ferrari, says Thomas, who has driven the vehicle to events such as the Colorado Grand and the Copper State 1,000.
"This car is meant to be driven," says Thomas. "It is not a trailer queen."
Find upcoming
car shows
in your area.