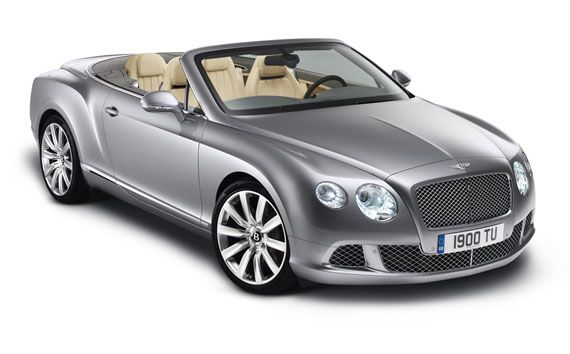 While Bentley's second-generation Continental GTC convertible is set to make its public debut at next month's International Automobile Exhibition (IAA) in Frankfurt, an exclusive preview in Pebble Beach has already generated quite the buzz.
Last week, we had the opportunity to be among the first to preview the all-new GTC, and after sinking into its soft leather seats, it is safe to say that come next month, jaws are likely to hit the floor.
Against a backdrop of crashing waves, all eyes were on the Bentley Continental GTC convertible as it dominated the stage and demanded our attention. As each sharp line glistened in the cool night's sky — and just as the whispers of the intimate crowd began to steady — Wolfgang Durheimer, Chairman and CEO of Bentley Motors stepped onto the scene to present his team's latest achievement.
"The GTC is not just about head-turning style," said Dürheimer. Delivering a more contemporary and muscular presence than its predecessor, the GTC is equipped with new technologies, a superior level of refinement, and overall enhanced performance.
According to Robin Page, Head of Interior Design, one of the first things Bentley's engineers hoped to achieve was a unique "picture frame" effect. Utilizing an aerospace process known as Super Forming, a new razor sharp "eyebrow line" circumferences the vehicle's strikingly-sculpted silhouette.
"As a design team, we set out to create something more sporty. The first thing we did was stretch out the car two inches," said Page. "Because of the extra width we have far more structural form."
With new powerlines, 21-inch wheels, cobra line front graphics, jewelled headlamps with LED daytime-running lights, an upright matrix radiator grille, and a new 'double horseshoe' rear profile — which we first saw on the flagship Bentley Mulsanne — the new GTC takes a bolder stance than expected.
The luxury continues inside with 17 soft touch leather combinations, seven different veneers, seating ventilation, neck warmers, and one of our personal favorite touches — a matching veneer sunglasses case, which stows ever so neatly in its own storage area.
Focusing on everyday practicality was a key goal throughout the entire design process, said Brian Gush, Bentley Director, Chassis and Powertrain.
"This is the first time they were able to get Bentley heritage insignia on the shifter," said Gush.
We also concentrate on refinement, he adds. "Refining the seats, wheel arches, putting in acoustic lining, we also have autistic glass, new door seals — you don't really know you're in a convertible."
The vehicle provides quick shift technology, broken down to 200 milliseconds.
"With the chassis, we were really pleased when the design team wanted a broader car. In re-designing the front suspension, we got a new technology forge-cost," said Gush. "Rear suspension was redesigned and the brakes remain best-in-class," said Gush.
"It's all about the details, looking at each part and asking how we can save weights and improve performance," said Gush.
With new improvements to the powertrain, broad 21-inch wheels, reduced emissions, suspended headlining, and satellite navigation enhanced with Google maps, the all-new Bentley Continental GTC is a force to be reckoned with.
Note: According to Wolfgang Dürheimer, there is talk that a new luxury SUV, with the same level of craftsmanship, might soon be making its way out of the Bentley garage. Stay Tuned...
"We would be the first to introduce that," said Dürheimer.
The New Continental GTC - At A Glance
Sculpted exterior design
Advanced production techniques such as aluminium Super Forming (front wings) allow for a more sculpted body and sharp 'power lines.'
Unique jewelled headlamps with LED daytime-running lights.
More upright matrix radiator grille and new 'double horseshoe' rear profile first shown on the flagship Bentley Mulsanne.
Luxurious, practical hand-crafted cabin with class-leading infotainment
New interior with a bold, sweeping dashboard and instrument panel finished in premium soft-touch leather.
Choice of 17 hide colours, six colour split combinations and seven veneers
Distinctive 'cobra style' seats for added comfort and enhanced rear cabin space.
A new touchscreen, 30GB infotainment system introduces advanced satellite navigation with dynamic route guidance, seven-digit postcode entry and Google Map compatibility (market specific).
Audio systems feature the latest wide-frequency Balance Mode Radiator speakers as standard.
Revolutionary Dirac Dimensions™ DSP for exceptional sound reproduction (Naim for Bentley premium audio).
More powerful 6-litre W12 engine with FlexFuel capability
6-litre W12 engine twin-turbocharged engine produces 575PS (567bhp/423kW) and 700Nm (516lb ft) of torque.
FlexFuel capability – runs on E85 biofuel, petrol or any combination of the two.
0 – 60mph 4.5 secs (0-100 km/h 4.8 secs).
0 – 100mph 10.9 secs (0 – 160km/h 10.9 secs).
Top speed 195 mph (314 km/h).
Overall weight saving of 70kg (154lb) versus predecessor.
Dynamic Bentley driving experience
ZF 6HP28 transmission with 'Quickshift' system that cuts shift times by up to 50% and enables double downshifts.
New 40:60 rear-biased torque split for the all-wheel drive system reduces understeer when powering out of bends and provides for better modulation of line and attitude by 'throttle steering.'
Increased front and rear track improves grip and stability.
Advanced ESC system fully exploits the potential of the more powerful W12 engine and improved chassis.
20" 'Five Spoke' alloy wheels with optional 21" wheels in 'Five Spoke Two-Piece', 'Seven Spoke Elegant' and 'Ten Spoke Propeller' designs.
Find upcoming
car shows
in your area.