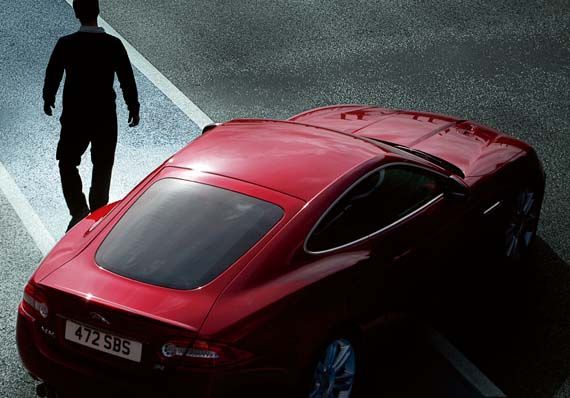 In a growing effort to appeal to the affluent, automobile manufacturers continue to venture into the enticing — yet murky — depths of the luxury market, oftentimes misbranding themselves in the process. Sure, luxury has been said to mean different things to different people, but when it comes down to it, some brands have it, some don't.
Those of us who recognize real luxury, know that
Jaguar
is one brand that definitely has it. When we were first introduced to the Jaguar XK, XJ and XF, we were impressed. Now, as the 2012 lineup makes its way out of the Jaguar garage, we are completely blown away.
"The world has been introduced to an entirely new generation of Jaguars in the past few years. With the new product range, today's Jaguar is at full-strength for the first time. The 2012 XK, XF and XJ are design-led products that break new boundaries. We believe our cars resonate with customers on an emotional level and that's reflected both in the way they drive and the way they look." - Ian Callum, Design Director, Jaguar Cars
Strikingly sensuous and dramatically assertive, the 2012 XK is a contemporary revision of a
Jaguar
favorite. Available in a coupe or convertible, the 2012 XK features a more stately grill, a newly designed front wing, and a revised boot lid with a slimmer chrome finisher, which is now graced with the famous Jaguar 'leaper.' With a range of new design features and custom finishes available, the 2012 XK includes 17 color options — not to mention a Black Pack option — as well as 11 different alloy wheel designs ranging in size from 18 to 20 inches.
Now in its third generation, the 5.0-litre AJ-V8 engine offers increased performance, effortless cruising, providing greater efficiency with its spray-guided direct injection (SGDI) and dual independent variable cam timing (DIVCT).
A pure expression of luxury and performance...
Extreme exhilaration...
Originally introduced as a flagship sedan — and the last car designed by Jaguar flounder Sir William Lyons — the Jaguar XJ is more than evolutionary, so much more, some might consider it revolutionary.
The newest model to wear the XJ nameplate takes innovation to the next level. An uncompromising sedan with the soul of a sports car, the 2012 XJ features bold styling, a contemporary cabin, advanced technology, as well as several new enhancements, including a New Rear Seat Comfort package, a New Executive Package, as well as new interior color combinations.
"An XJ should be the ultimate in comfort, design and refinement. The bespoke interior changes we have incorporated for the 2012 model make it an even more special car to drive or be driven in." - Ian Callum, Design Director, Jaguar Cars
Premium luxury with sporting agility...
Exceptional is the rule...
The only flagship with cat-like reflexes...
Bringing a taste of luxury to the everyday, the all-new Jaguar XF delivers the perfect combination of smooth styling and top-of-the-line performance. With a powerful 385 HP V8 engine under its hood, supple leather and genuine wood trim inside, and state-of-the-art technology throughout, the 2012 Jaguar XF demonstrates just how luxurious an everday car can really be.
"The XF has rightly been recognised as a quintessential Jaguar saloon. It is purposeful yet elegant, with inherent sporting intent in its design. For the latest version we have been able to evolve and enhance that performance character to make the XF the most visually dynamic car in its class." - Ian Callum, Design Director, Jaguar Cars
Your wildest expectations have been exceeded...
Sensuously designed. Enticingly quick...
Escape the everyday. Every day...
So while luxury may in fact be an ever-evolving industry, my word of advice to all the wannabes out there, would be to tread lightly. And to
Jaguar
, a known leader in luxury and performance — and personally, one of my favorite automotive brands —
bravo!
Note: Christina Stewart had the privilege of experiencing each new model first-hand at this year's Pebble Beach Concours d'Elegance.