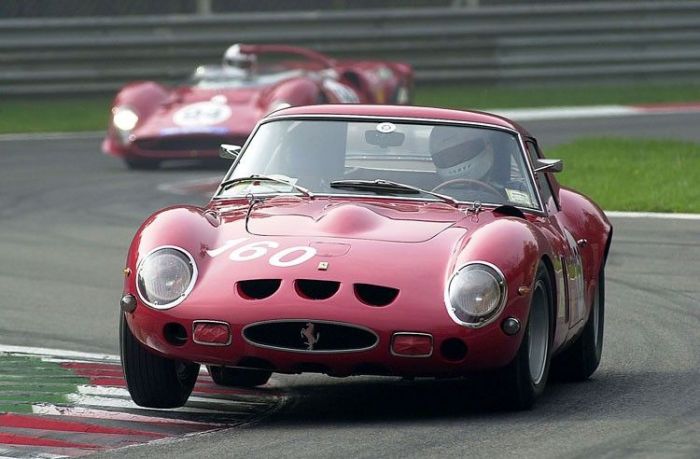 Photos Courtesy of Ferrari
How much is too much to spend on a car? $100k? $500k? A million? Try $52M on for size. That's how much the latest record-breaking car is said to have sold for. Of course, the car in question is not just any car: it's a Ferrari 250 GTO, one of the most highly covered automobiles ever made. Ferrari only made 39 of them to begin with between 1962 and 1964, of which only 33 are thought to be in existence. The model went down in history not only as one of the most successful racing cars ever produced by the famed Italian automaker, but also one of the most beautiful.

Ralph Lauren owns one. So does Pink Floyd drummer Nick Mason. Geneva-based Canadian billionaire Lawrence Stroll — the man who recently bought that rare Ferrari 275 GTB/4 NART Spyder for $27.5M — also has a GTO. As does Walmart heir Rob Walton. In other words, the list of GTO owners reads like a who's who of classic car collectors, and anyone looking to buy their way into the club faces the difficult (and costly) task of trying to get one of the current members to cash out.

Well that's what reportedly happened recently when Paul Pappalardo received an offer he literally could not refuse. The Connecticut-based collector had owned his 250 GTO — a 1964 model bearing serial number 5111 GT and painted Rosso Corsa with a blue leather interior — since 1974, but when he received an incredible offer of $52M, it was time to give it up. Lest you think that $52M is the going rate, let us assure you that it positively eclipses all previous records. Ferrari sold the 250 GTO for $18,500 new from the factory in the mid 1960s, after which prices began to drop until the mid-70s when they began to rise again. In 1984 one sold for half a million, which doubled to a cool million two years later. A few years after that it was worth over $10M. Last year, communications magnate Craig McCaw set a new world record when he bought one for $35M, but even that was eclipsed by the most recent sale.

Although details of this private treaty sale remain unpublished, the car is now said to be residing in the Torrota Collection in Spain alongside untold numbers of other Ferraris, priceless Bugattis and more. Whether these prices will continue to climb in the near future remains to be seen, but it may be some time before another one trades hands.