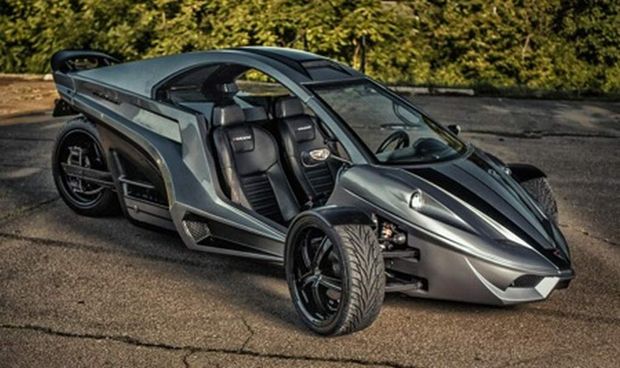 Photo Courtesy of Tanom Motors
Tanom Motors will introduce its newest three-wheeler trike, the Invader Model R, in 2014. The addition adds to the company's cache of high-performance reverse trikes, joining the Invader TC-3 coupe and the TR-3 Roadster. All three models are fusions of a motorcycle and an automobile, according to the marketing crew at Tanom. The "hybrid" vehicles have two-steering front wheels, a rear-drive wheel, and side-by-side two-passenger seating.
"We are really excited to be introducing the Model R in 2014," said Sandy Hall, CEO and president of Tanom Motors. "We designed the Model R for those who want the ultimate in performance. With upgrades to the suspension, brakes and exhaust...we have created a machine that will deliver a driving experience unlike anything else on the track."
Every Invader model is constructed on a lightweight chassis constructed from 1.5-inch tubular steel. The R model will feature a 1,300cc engine that pumps 197 horsepower to its 18-inch wide rear tire. Built for speed, as it is capable of going from zero to 60 mph in less than four seconds. The new Model R has the same chassis, body, and motor as the existing TC-3 coupe. However, it will be upgraded with several performance-enhancing features that include a high-performance braking system and an exhaust system. The auto will also have a fully adjustable front suspension and the cockpit will have side-by-side racing-style seats sized to accommodate two riders over six feet tall. The new trike will feature a six-speed sequential shifter, reverse gear, and four-point harness seatbelts. A rear deck spoiler, special "badging," and black-accent striping will complement its futuristic-style exterior.
The production of the Model R, along with the existing Invader models, will be supported with an extensive marketing campaign with special incentives that the company is hopeful will create a national network of dealers for its line.