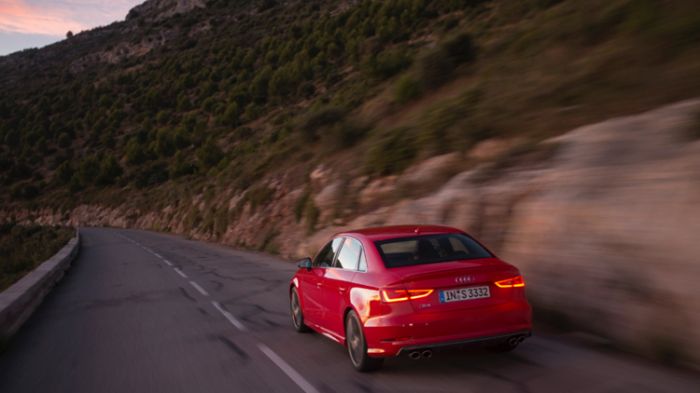 Photos Courtesy of Audi
Audi of America is ramping up its efforts to build long-term customer loyalty with the millennial crowd with the introduction of a new line of technologically advanced, premium compact automobiles for the entry-level luxury market: the A3 and S3 sedans, and the A3 Cabriolet and A3 Sportback.
These new Audi models include three body styles, seven variants, and five new engines. The A3 sedan will be available in the spring 2014, followed by the A3 Cabriolet, the A3 TDI clean diesel sedan, and the high-performance S3 sedan in the fall 2014. The A3 Sportback e-tron gasoline electric plug-in hybrid (PHEV) will be delivered in early 2015.
The A3 comes equipped with numerous cutting-edge safety features previously unavailable in the entry-level luxury market. The standard Audi pre-sense basic system, which can detect when an emergency maneuver is being made and prepare the vehicle for a collision, is included. Additionally, A3 owners can also opt for an advanced technology package with adaptive cruise control and active lane assist.
"We aren't just bringing one new car to market, we're launching an entire new family of cars that will add to our momentum in the U.S. marketplace," said Scott Keogh, president of Audi of America. "This A3 line-up redefines the standards of the entry premium market in terms of technology, craftsmanship and performance."
A3 owners also will enjoy the most advanced version of the Audi connect, which includes read-aloud Facebook and Twitter alerts, access to more than 7,000 Internet broadcast stations, and RSS news feeds. The A3 will be the first A-line model that comes with MMI technology, allowing drivers to access traffic information online, as well as navigation using Google Earth and Google Street View. Drivers will be able to access more than a dozen Audi connect services, including text-to-speech e-mail and the ability to dictate text messages. Further, a mobile app will facilitate communication between the MMI system and the driver's smartphone.