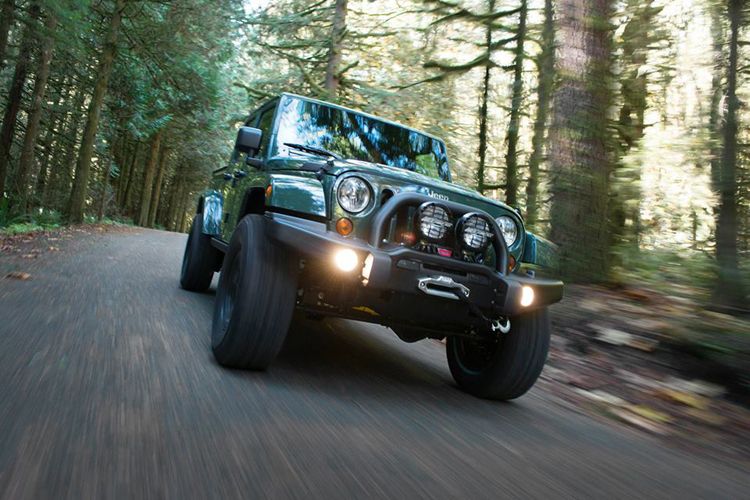 Photos Courtesy of Filson
Seattle-based luxury outdoors outfitter Filson, in conjunction with American Expedition Vehicles (AEV), recently launched a Jeep, which is reminiscent of a Russian nesting doll. This is a car within a vehicle within an automobile. It is only enigmatic until seen, then it is just mind-boggling — but in a good way.
The Filson Edition AEV Brute is a customized version of AEV's own Brute Double Cab, which is itself a custom version of the Jeep Wrangler, made like a pickup truck. The result is a tricked-out Wrangler with a pickup bed that looks like it could plow through the Zombie Apocalypse, complete with a custom forest green paint job that echoes the Wrangler's origins as a military-centric vehicle.
Although the new Jeep marks the first time Filson ever collaborated with an automaker, AEV was already renowned for its off-road vehicles, including its customized Jeep models. The AEV Brute is constructed on a stretched frame that allows the addition of a 61" x 60" pickup bed onto the Wrangler's four-door cab. This Jeep just screams to be taken off-road, really off-road.
The vehicle is fully equipped for extreme outdoor activities with its suspension lift kit, a skid plate, off-road lights, custom rocker guards, a winch, a heat reduction hood, and 17-inch alloy wheels with 35-inch tires. While a standard Brute has a 3.6-liter V6 engine, this Filson edition is available with a 6.4-liter Hemi V8.
Filson also added its own touches to the Jeep's interior, which features seats made with the company's patented leather, dry finish tin cloth, and a pair of Filson's signature Rugged Twill Bags to store gear.
Each Filson AEV Brute is custom built and pricing begins at $130k.