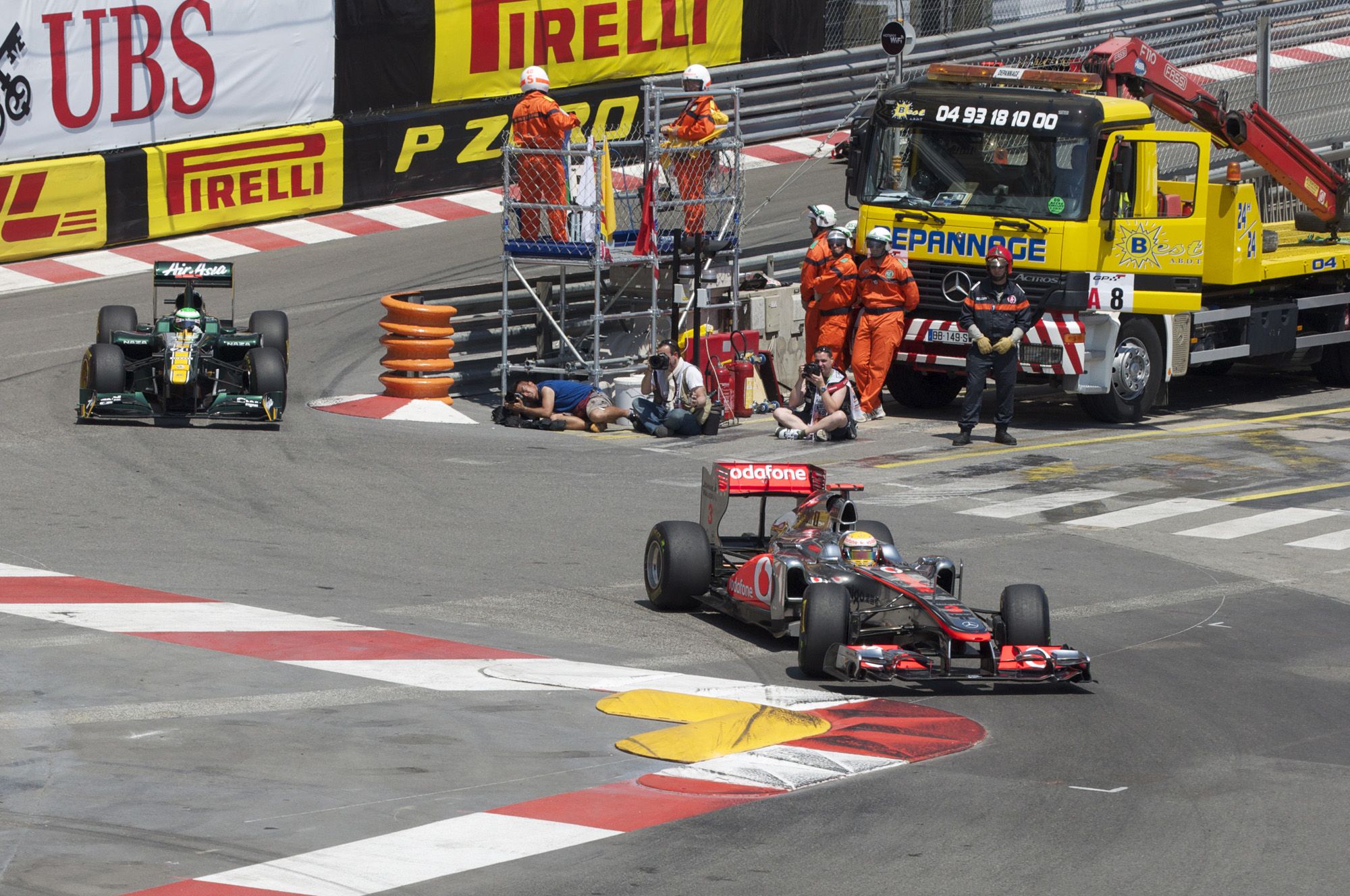 Photo Credit: Nick Webb/Wikimedia Commons
The Monaco Grand Prix (May 21-24) is without a doubt one of the world's most important and beloved car races, forming the Triple Crown of Motorsport with the Indianapolis 500 and the 24 Hours of Le Mans. With its first race way back in 1929, the Formula One course running through Monaco's streets is known for being particularly dangerous and challenging due to the circuit's elevation changes, uber tight corners, and narrow raceways. Actually, many believe that if the track wasn't already the cornerstone for the Grand Prix, it wouldn't be approved for safety reasons. Triple Formula One champion Nelson Piquet used to enjoy telling people that the race was like "trying to cycle round your living room," which only meant that a win there "was worth two anywhere else."
Of course, with so much history, the Monaco Grand Prix has seen plenty of heroic wins, disappointing losses, and crazy crashes (like that time Alberto Ascari drove right into the harbor in 1955). To keep things on the lighter side, we've picked some of the most bizarre collisions that the drivers managed to walk (or swim) away from. Remember while watching the below videos that while it may look like they're moving slow, these cars are actually speeding around at well over 100mph.
The harbor has been known to cause some problems (one time a wave even soaked the track and caused a wreck that eliminated 10 drivers from the race), and in 1955, Italian driver Alberto Ascari drove right into it after missing a chicane. As you can hear in the above video, complete with the perfect old-timey narration, Ascari managed to get out of his car on his own and swam to the closest boat, escaping with a busted nose. It's important to note, that in 1965, the same thing happened to Paul Hawkins.
Though Ascari survived this crash, he died four days later while testing a Ferrari 750 Monza sports car in Italy. He wasn't even supposed to drive that day, but he wanted to give it a spin for a few laps after seeing his friend Eugenio Castellotti drive it.
At a practice run for the 1984 competition, Martin Brundle hit a bit of bad luck at the Tabac corner that left him a non-qualifier for the race. As you can see in the above video, Brundle crashed pretty hard and ended up upside down in the middle of the track while the crew quickly worked to get him out. Though he wanted to hop into a spare car despite a slight concussion, he wasn't allowed because he couldn't actually remember how he got back to the pits.
Speaking of Martin Brundle, in 1986 he was hit by Patrick Tambay at Mirabeau, with Tambay's car soaring six feet in the air right over Brundle. It barrel-rolled into the protective barrier beside spectators. As horrible as the crash looks, no one was seriously injured and Tambay walked away.
Alex Caffi managed to walk away from the above crash in 1991, which is amazing when you see just how badly damaged his car was. After hitting the barriers, the car literally fell to pieces—the entire back end fell off) and had to be carried from the track in chunks.
Sergio Perez found himself a victim of the terrible tunnel in 2011 during a qualifying race when he crashed upon exiting. According to BBC News, he lost control just as the circuit descends a hill and hit the barriers with the car's side. The session was stopped for a half hour so Perez could be safely removed from the scene and taken to the hospital, where it was learned that he escaped with a bruised thigh and a concussion. Not bad at all, all things considered.
In 2003, then 23-year-old Jenson Button was in a 185mph crash during a practice session in which he hit two barriers and a tire wall after emerging from the Monte Carlo tunnel (which is known to be the fastest part of the track). According to The Telegraph, it took 15 minutes for medics to get Button on a stretcher and though people assumed him to be seriously hurt at first, we was soon seen to be interacting coherently with those around him. Despite the car being in ruins, Button managed to get away without any fractures or internal injuries.
With so many wrecks scattering car parts all over the Monaco track, you would think people would keep priceless gems far away from the scene. But that certainly wasn't the case in 2004 when Jaguar decided to celebrate the Ocean's 12 flick by sticking a Steinmetz diamond worth $200,000 to the nose of Christian Klien's car. It seemed like a great idea until the Austrian driver crashed into the barriers at the Loews hairpin. When the auto was pulled from the course, the rock was nowhere to be found. "Somebody here is going to walk away with more than just a normal motor racing keepsake," quipped Nav Sidhu, head of Formula One communications at the time. At least they had a good sense of humor about it all.