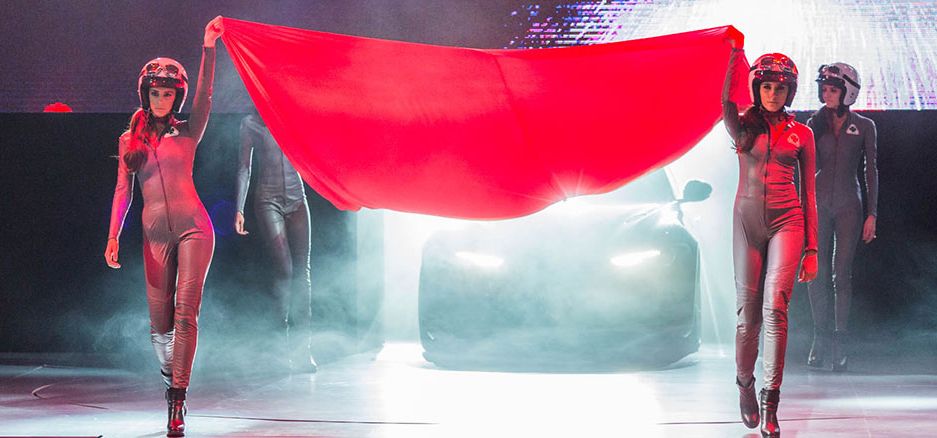 Photo Credit: Los Angeles Auto Show
What's better than that new car smell? How about that heart-pumping sight of a striking automobile as it's unveiled by its manufacturer for the very first time? At this year's Los Angeles Auto Show, 33 vehicles made their North American premieres—some to cheers and some to yawns. After taking some time to really think about it, we finally picked our 10 favorite introductions for your perusal.
Photo Credit: Audi
Audi RS7 Performance 2016
The 2016 S8 Plus joins the 600-horsepower RS7 to become Audi's two most powerful sedans ever. The new RS7 is definitely our favorite of the two though. Boasting an elevated version of the earlier model, this one has more horsepower (605 vs. 560), night vision, carbon-ceramic brakes, carbon fiber lip spoiler, sport exhaust and a $5,500 Black Optic exterior package.
Photo Credit: Fiat
Fiat 124 Spider 2017
At long last, it's time to celebrate the return of Fiat to the sports car field. Next summer the Spider will bring Italian sex appeal back to the brand with this quintessential speed demon that will give the Mazda Miata (approximately $26,000) a run for its money. The base model features the same engine used in the Fiat 500 Abarth: a 1.4-liter four-cylinder MultiAir turbo with 160 horsepower and 184 pound-feet of torque.
Photo Credit: BMW
BMW M4 GTS 2016
BMW introduced four cars to North America at the LA Auto Show—the all-new eDrive BMW 330e, BMW M4 GTS, BMW X1 and the BMW 7 Series—so it's not easy picking a clear favorite. However, we think the all-new BMW M4 GTS edges out the others with its motorsport good looks and a track-ready chassis. Oh, don't forget its high-performance technology that utilizes an M TwinPower turbo engine with an innovative water injection system that boosts power to 493 bHP. Want one? Get ready to move fast, because this special edition is limited to 700 units worldwide, with just 300 exclusive high-performance Special Edition M4s available in the US market next spring.
Photo Credit: Buick
Buick LaCrosse 2017
We know what you're thinking: "Boring Buick? Really?" Yes, really. Though the third-generation LaCrosse isn't the auto world's most alluring full-sized sedan, the 2017 model has seriously stepped up its game with an all-new, beautifully-crafted body design. With sophisticated technology and significant luxury improvements, this car merges high style with a new eight-speed transmission and gains fuel-efficiency from its 3.6L V6 engine. The LaCrosse 2017 marks a new dawn for Buick and American autos.
Photo Credit: Cadillac
Cadillac XT5 2017
Designed to replace the Cadillac SRX, this springtime release goes after the mid-size SUV market with smoother styling, increased cabin space and a lighter weight. It will feature the marque's improved CUE entertainment and navigation system, new "Super Cruise" technology, the new generation 3.6-liter injected V-6 engine and will be one of the first Caddies with a rear camera mirror system.
Photo Credit: Infiniti
Infiniti AQ30 2017
Thanks to its elegant styling and seductive lines that bring to mind European classics with a touch of muscle car swagger, this muscular sports coupé will turn heads like no other Infiniti before it. What's remarkable is that Infiniti executives swear that the 2017 release will be incredibly similar to their Q60 concept car, a feat nearly impossible for most manufacturers to pull off—especially ones who customarily play it safe and avoid significant design shifts.
Photo Credit: Lincoln
Lincoln MKZ 2017
When actor and spokesperson Matthew McConaughey says he likes Lincoln, he might actually mean it now that the veteran US maker has premiered this sleek 400-horsepower, four-door with new curves and a sporty front grill. With available all-wheel-drive and an upgraded Driver's Package that combines Dynamic Torque Vectoring, a sport-tuned suspension and continuously-controlled damping, this one is definitely for the driving fanatics.
Photo Credit: Mazda
Mazda CX-9 2017
What a difference a decade makes. The Mazda CX-9 hasn't changed much since it made its debut in 2006, but the high-end 2017 model represents the new generation of Mazda cars and crossovers. Expected to be priced near $30,000, this 250-horsepower, 310-torque SUV may not be able to speed past the big boys, but its much-needed modernization will rocket Mazda into a new, expanded market.
Photo Credit: Mercedes- Benz
Mercedes- Benz GLS 2017
While the GLS that Mercedes-Benz unveiled at the auto show may not be as exciting as its fellow debutante, the SL roadster, it is Benz's most appealing SUV yet. The design is likely to be a slam-dunk for drivers needing a big ride for up to seven passengers. Under the handsome hood, it's powered by a turbocharged V6 engine and gallops at a speedy pace with 362 horsepower and 369 torque in the basic model.
Photo Credit: Porsche
Porsche Cayman CT4 Clubsport 2016
Motorsports fans stopped dead in their tracks on the convention floor when the 2017 Porsche 99 Targa 4 and the first-ever Cayman CT4 Clubsport were debuted. The 385-horsepower Cayman is now outfitted with a six-speed Porsche PDK transmission, a roll cage, racing seat belts, 18-inch forged-alloy wheels and a price tag nearly double that of the $85,600 Cayman GT4. And no, it is not street legal.