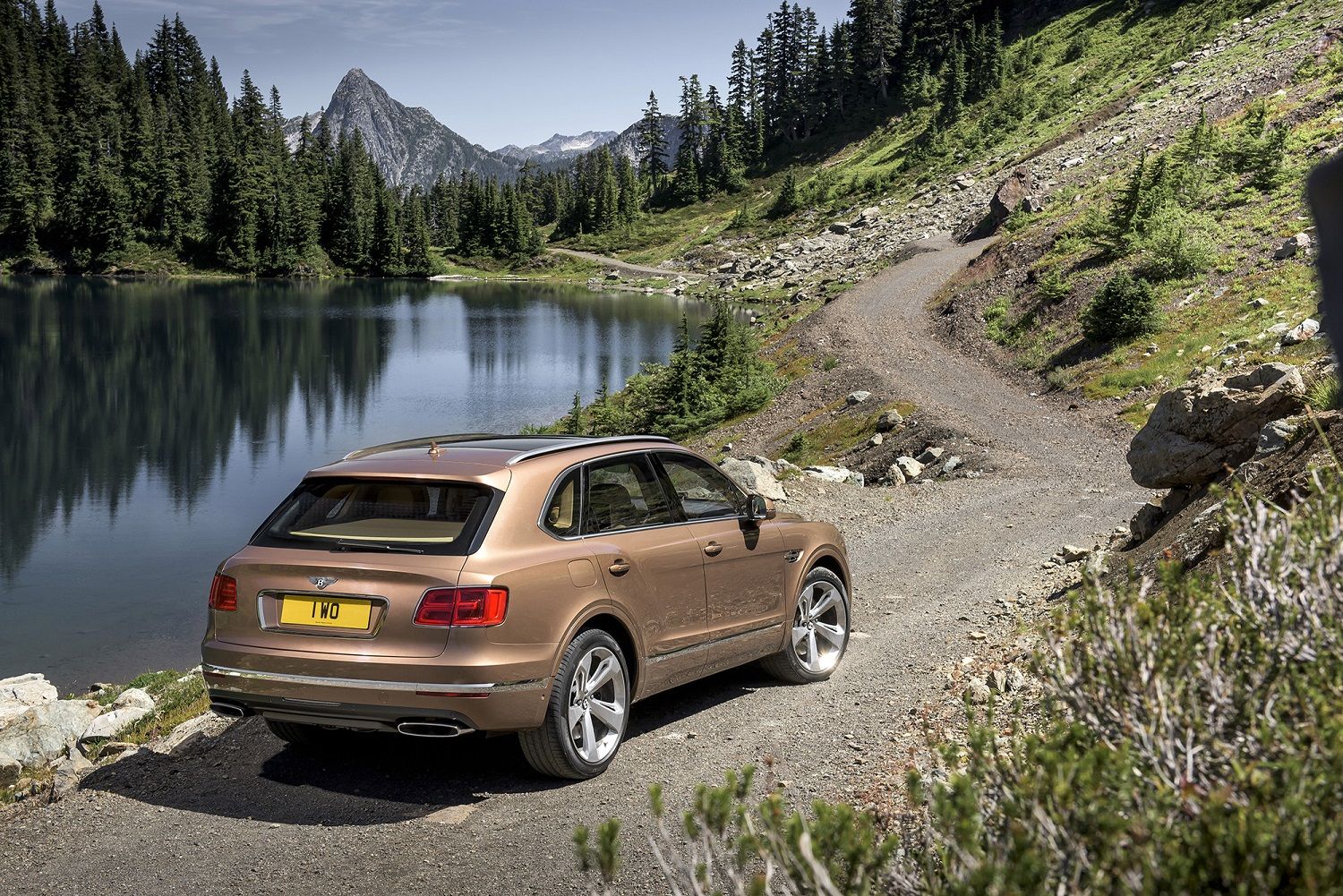 Photos Credit: Bentley
Behind tall hedges at West Hollywood's Sunset Marquis hideaway, a handful of VIPs were recently invited to privately view the fastest and most luxurious—and naturally, the most expensive—SUV in the world: the Bentley Bentayga. It comes as no shock that she is a real beauty.
Bentley's new American CEO, Michael Winkler, smiled confidently as he unveiled the $300k automobile to spectators and showed off its many highlights. For the exterior, you get its efficient 12-cylinder engine, unique Union Jack fascia badging, 22' polished wheels and illuminated thread plates. The interior's metal, wood and leather detailing sets a new standard (even for Bentley), especially the hand-stitched diamond quilted leather that takes 36 hours to complete. Initially, Bentley only made 608 models available globally for pre-order, all of which sold out almost immediately. With a massive waiting list, their entire planned production run of 3,600 ended up selling out, spurring the marque to nearly double its 2016 production numbers.
This is a potent performance vehicle that doesn't sacrifice luxury or size for nimble control. The 600-horsepower 608 First Edition Bentayga has a twin turbo-charged, 6.0-liter W12 engine with a 608 PS metric power output. That means supersonic acceleration from 0-60 mph in just four seconds and a top speed of 187 mph. If you'd rather let the car drive itself, new Driver Assistance systems automatically start, stop and inch forward in slow traffic. It can also detect suitable parking spaces and steer into them safely. The First Edition's most advanced piece of technology is the active roll control, which makes it glide smoothly over road hazards and speed bumps, while roll bars eliminate any leaning while cornering. Bottom line: It looks like an SUV, but certainly doesn't drive like any you're used to.
The upgrade options seem endless and include massaging chairs, a backseat champagne compartment, mother-of-pearl inlay, a ski hatch, a picnic hamper, refrigerator and a cooled glove box, electric blinds and bespoke child seats. You can even get your wedding vows embroidered on the visor if you want. But the icing on the very expensive cake is the optional $160k dashboard clock made by Breitling. The bespoke chronometer has eight diamonds and a dazzling mechanism that periodically spins the timepiece to keep it wound. Of course, there's also a matching $175k Breitling for Bentley Mulliner Tourbillon watch. The first 608 Bentayga owners will be rewarded with their very own, getting to choose between three special-edition chronographs—one of which features a personal locator beacon.
So, who gets the very first Bentayga First Edition? The first lady of England, of course. This is a regal car so it's no surprise that Her Majesty Elizabeth II will soon take the first delivery. She actually test drove the first Bentayga on her Scotland estate where she will use it in her hunting expeditions. Here's hoping she opted for custom diamond-leather dog beds in a color that match her Corgi's collars.