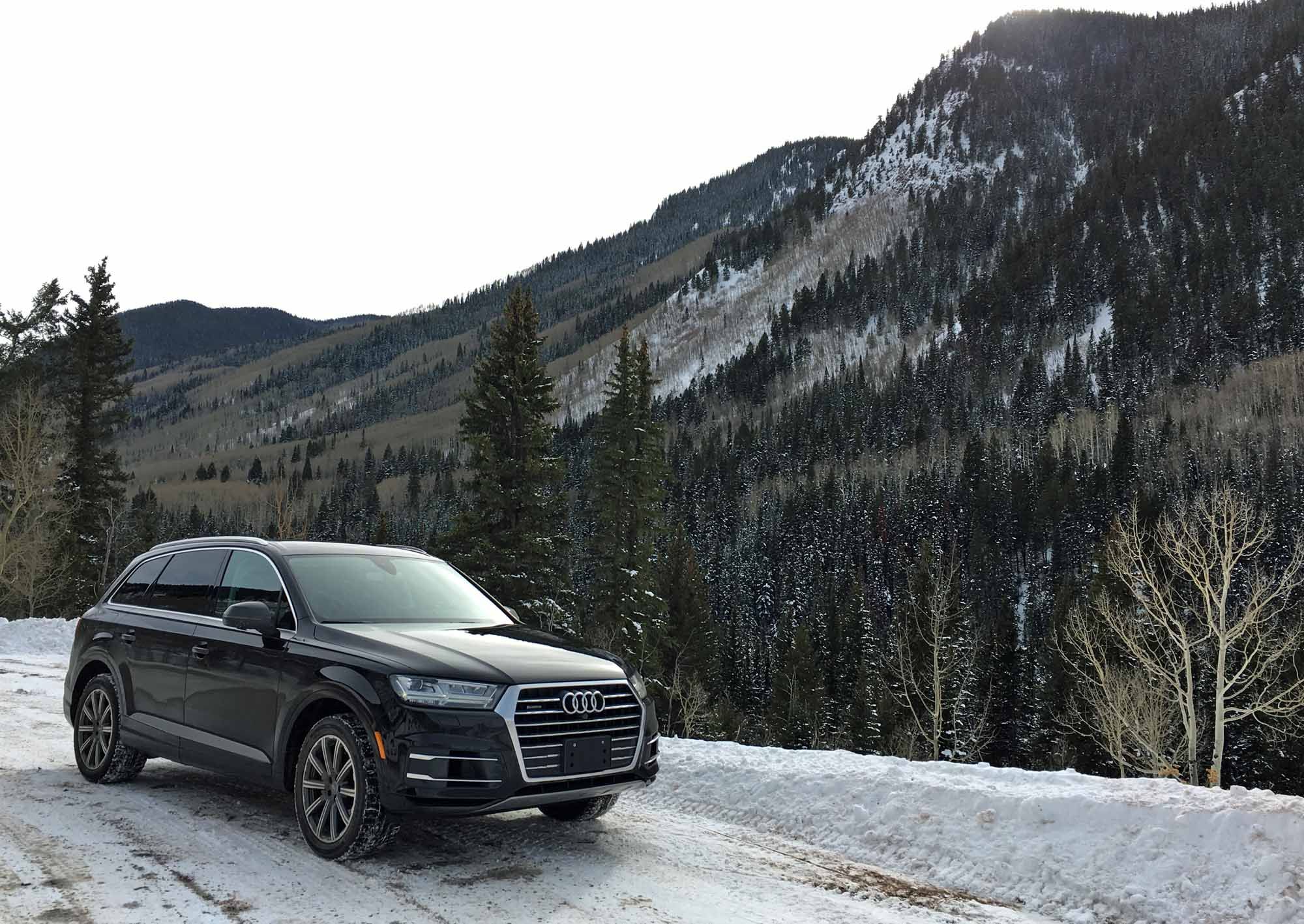 Photo Credit: Mila Pantovich
Every year, Audi holds an epic weekend in Aspen for journalists, celebrities and invited guests, and this year truly outshined the rest. Not only was the brand new 2017 Audi Q7 SUV our main means of transportation, we also checked out the World Snow Polo Championship, schmoozed in The Little Nell's Paepcke Suite, hit the slopes, enjoyed a picture-perfect sleigh ride and partied at the Caribou Club with celebs. Oh yeah, and ate tons of delicious food.
Photo Credit: The Little Nell
Skiing and Chef's Club by FOOD & Wine
Audi is known for delivering the best-of-the-best when it comes to their car events, so it was no surprise that they put us up in The Little Nell, Aspen's only five-star/five-diamond luxury hotel. JustLuxe's editorial teammate Djani Schafer and I were led through the quaint lobby full of naturally-shed deer antlers and holiday foliage into our mountain-side room, which strikes the perfect balance between grand luxury and minimalist boutique. Encompassing only four floors, the hotel doesn't overpower the small town and instead is built into shops.
Photo Credit: Djani Shafer
Naturally, hitting the slopes was our first priority. After getting some ski-appropriate clothes delivered to our room by Suit Yourself, we drove over to Buttermilk Mountain where the slopes are a bit more beginner-friendly. I quickly discovered that as professional as I may have felt in my gear, skiing just isn't for me. (How do people even get up with those things on?!) Luckily, Djani was a bit more experienced with her snowboard and headed to the top of the mountain for the above photo of the snowy skyline.
Photo Credit: Mila Pantovich
The Little Nell's Paepcke Suite was dressed up as a hospitality space for the weekend, giving Audi and the journalists a scenic spot to sip cocktails, nibble on appetizers and enjoy music. Usually the 2,500-square-foot suite goes for around $10k a night and it isn't hard to see why once you step out on the large balcony that overlooks the Aspen Mountain ski lift. When celebrities and former United States presidents head to Aspen, this is the room they book (cough President Clinton).
Photo Credit: The St. Regis Aspen Resort
After getting picked up in the lobby by a gorgeous Q7 (more on that in a bit), we headed to dinner at Chef's Club by FOOD & Wine within The St. Regis Aspen Resort. The restaurant has a small dining room that is currently decorated with images of famous figures in the art world, including Jean-Michel Basquiat, Elvis Presley and Frank Sinatra, while the entire back wall is covered in pencil portraits of famed culinary figures (like Thomas Keller, Daniel Boulud, Naomi Pomeroy and Rick Bayless).
Speaking of chefs, the unique restaurant highlights talented names that were personally chosen by the Food & Wine Editor-in-Chief Dana Cowin from the magazine's Best New Chef awards. The 2015-16 season hands the reigns over to Cara Stadler of Portland's Tao Yuan, Top Chef season nine winner Paul Qui, and Greg and Gabi Denton of Ox Restaurant in Portland. The Dentons were at the helm for our dinner, crafting a special menu starring Warm King Crab Over Baked Ricotta (a huge group favorite), Foie Gras Terrine, Colorado Lamb Duo and a Warm Hazelnut Brown Butter Torte. For those who wanted something else, the restaurant's normal menu was also available to order from, featuring dishes like Diver Scallops, Spaghettini with Shaved Vegetables and Arctic Char.
Photo Credit: Mila Pantovich
Q7 Mountain Drive, Polo & Celebrities
Audi kicked Saturday off with the moment we were all waiting for, a mountain drive in the brand new 2017 Q7. After a brief introduction to the auto's best highlights, from the new Singleframe grille and lighter weight to the assist systems and the spacious interior, Djani and I climbed in and set off to our final destination of the Ashcroft Adventure Lodge at the base of the Elk Mountain Range. Speeding around tight corners and zooming through forests, we did all we could to check out everything the SUV has to offer. Comfortable and intuitive, the Q7 puts everything you need right in front of you, making it easy to navigate through the technology available. Despite the slick roads, the car handled as if it was driving through a dry desert highway, maintaining a comforting stability. If driving on icy roads intimidates you, it won't when you're at the Q7's wheel.
Photo Credit: Mila Pantovich
Once we made it to Ashcroft, we hopped on a two-horse open sleigh, bundled up in blankets and headed up to The Pinecreek Cookhouse for lunch. For those a little more adventurous, you can choose to cross country ski, snowshoe or hike on foot to the restaurant, but we recommend the sleigh. After all, how often do you feel like you're in a Christmas movie?
Literally in the middle of nowhere, Pine Creek Cookhouse is a quaint log cabin with exposed wood beams and antler light fixtures. The winter lunch menu from Chef Chris Keating (formerly of The Little Nell) features more than enough for a variety of diets, from Colorado Elk Bratwurst on a pretzel roll and Emma Farms Wagyu Beef Sherpa Stew to Gluten Free Stuffed Acorn Squash and Pine Creek Smoked Trout. There are also a few surprises, like the deconstructed Chicken Pot Pie, which is a curried soup-like dish. Don't forget to order a round of Hot Toddies upon sitting, because after your blistery arrival, you'll need it.
Photo Credit: Mila Pantovich
Lunch was followed up by the final rounds of the 2015 World Snow Polo Championship in Rio Grande Park, where U.S. Polo Assn. (Grant Ganzi, Juancito Bollini and Nic Roldan) beat the Flexjet team (Melissa Ganzi, Juan Bollini and Jeff Hall) and ChukkerTV (Bernie Uechtritz, Martin Pepa and Mariano Gracida) was victor over St. Regis (Brian Boyd, Carlitos Gracida and Nacho Figueras). Though polo is usually played in the summer on a grassy field, the winter version changes things up with a smaller snowy field, one less player per team, and a lighter, inflatable ball is used. Plus, horses are given leg warmers and snow shoes with traction. Snow polo isn't all that common, only played in Aspen and St. Moritz, Switzerland (where the sport first began in 1985), making the weekend one to remember. The heated VIP tent was full of cocktails, tasty treats and celebrities—most notably, the legendary Mariah Carey, who seemed to float in on a Christmas cloud.
Photo Credit: Chris Council/Getty Images for Audi
After polo, everyone jumped into their own Q7 to the private cocktail reception at the members-only Caribou Club. The annual holiday party, for the first time, featured a formal dinner that included guests Judd Apatow, Dakota Johnson and Armie Hammer. The delicious meal included hearty Tomato Bisque, Sea Bass Viennois, Five Peppercorn Seared Angus Filet and of course, tons of amazing dessert options. Also present at the dinner were representatives of Pathfinders, a Colorado non-profit that provides psychosocial support programs for cancer and chronically-ill patients, families, caregivers and the community. Once the plates were cleared and the after party kicked off, more guests started streaming in, from polo players Nic Roldan and Nacho Figueras to local Aspen socialites decked out in Prada and Gucci.
Photo Credit: Mila Pantovich
Aspen Downtime
While we didn't have too much free time on Sunday before heading to the airport, we made sure to wander the picture-perfect town decked in ear muffs and scarves. With the lightly-falling snow providing a wintery backdrop, we meandered along luxury storefronts, spotting a fluffy dog hanging out on a horse-drawn carriage (because, Apsen) and checked out the adorable Creperie du Village restaurant (which is Aspen's only French Alpine bistro) for lunch. Led by Executive Chef Andreas Neufeld, the intimate eatery is charming and romantic, with rustic wood tables nestled in corners and tons of found objects used as décor.
Photo Credit: Mila Pantovich
We ended the trip in the same way it began, by crawling into the backseat of the 2017 Audi Q7 (which starts at $54,800). With seat warmers keeping us toasty, Adele singing her heart out on the Bang & Olufsen s3D Advanced Sound System (featuring 23 audio channels across 23 speakers) and gorgeous snowy mountains passing by, we can't wait to see what Audi plans for next year.
Photo Credit: Mila Pantovich
Photo Credit: Chris Council/Getty Images for Audi
Photo Credit: Chris Council/Getty Images for Audi
Photo Credit: Mila Pantovich