Photo Credit: Cadillac
There are certain things that are to be expected with a Cadillac SUV: interior detailing and state-of-the-art technology, a quiet cabin and stellar sound system, and of course, ease of drivability. After all, there is a reason why the brand is still synonymous with a certain type of easy luxury. But considering Cadillac has been steadily trying to rebrand its new and upcoming fleets as vehicles not solely for our grandparents, I wanted to know how the 2017 Cadillac XT5 luxury crossover SUV actually fares once you leave that Costco parking lot for somewhere a little more rugged. So naturally, I took it off-roading throughout the deserts of Southern California to find its limit. Turns out, its limit is in the Alabama Hills and Death Valley.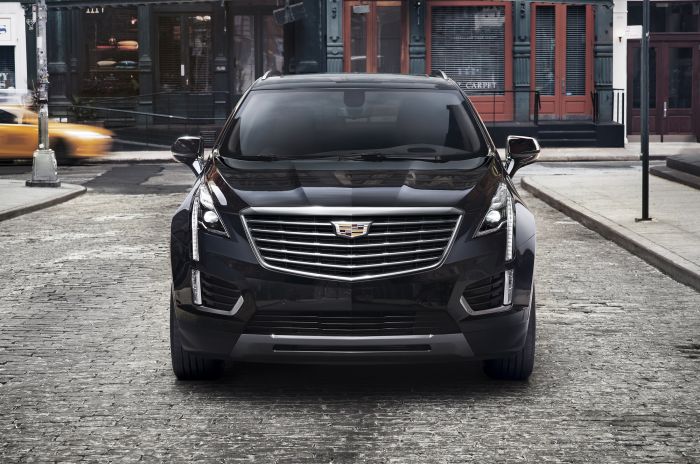 Photo Credit: Cadillac
The crossover SUV packs a lot of promise within its lightweight chassis, including all-wheel drive and sport configurations, and a punchy V6 with a 24-valve and direct-injected powerplant that offers 310 horsepower at 6600 rpm and 271 lb-ft of torque at 5000 rpm. Not to mention the high-tech Cadillac Cue system that includes an integrated wireless smartphone charger and 4G wireless connectivity with 4G LTE Wi-Fi, Apple CarPlay, and Android Auto. In terms of the bells and whistles, it's pretty much the same as the Cadillac 2017 CT6 Sedan. Specifically, I drove the 3.6L Platinum model, which starts at $62,895 and boasts everything the Premium Luxury Plus model has, plus features like a micro suede headliner and semi-aniline full leather seats, a hands-free liftgate, and an advanced Security Package with an interior movement sensor.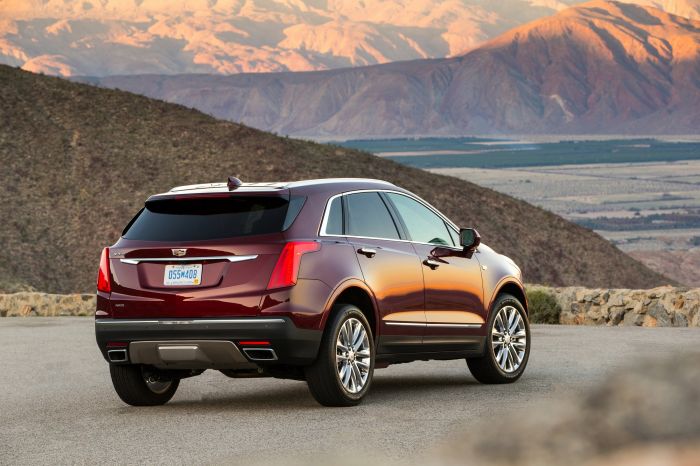 Photo Credit: Cadillac
My first handful of destinations were deliberately tame. I first drove out to Anza-Borrego Desert State Park via the twisty Montezuma Road, looped around Salton Sea to Bombay Beach, stopped off at Salvation Mountain and then took highway 78 back up through the mountains to eat some much-deserved pie in Julian. This route proved successful for the 2017 Cadillac XT5, which is the marque's replacement of its second-generation SRX and is almost 280 pounds lighter than its predecessor. The SUV handled the curvy mountain roads pretty well and it feels effortless to drive when all you need is basic power. The interior is spacious and incredibly comfortable, which makes it a great choice for quick jaunts around town and for long road trips. With incredibly soft leather and an easy-to-navigate infotainment system, the XT5 definitely sits pretty in the luxury segment. There are also a few design elements that I loved, such as the wireless charging slot, which is under the center console compartment lid. The slot allows the phone to be tucked out of the way, while also enabling charging cords to pass through the slot to plug into the dual USB port within the compartment.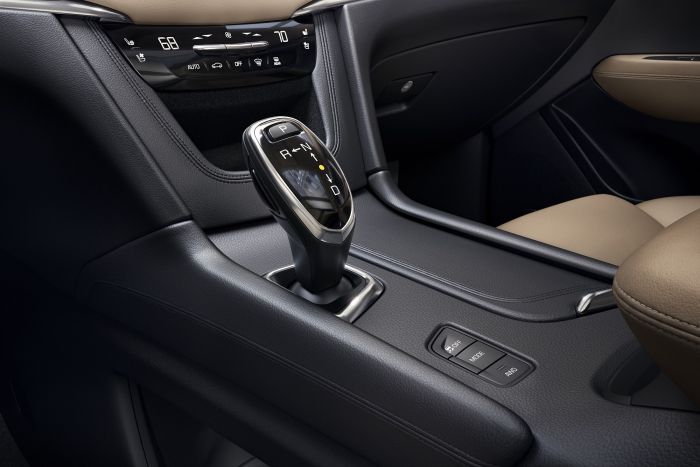 Photo Credit: Cadillac
Despite its comfort level, there are details that began to grate on my nerves at this point and those include its stop/start technology that kicks in whenever you stop at a red light. While it does save on fuel, it also results in the car being a little sluggish from the starting gate. If you had the ability to switch this feature off, that would be ideal. The shifter also began irritating me, as no matter how much time I spent with it, I never seemed to get the hang of it. With the need to push a button as you shift—when moving into reverse, it requires a push forward and then a shift to the left—it's pretty awkward and even after having the car for nearly a month, it still didn't feel natural.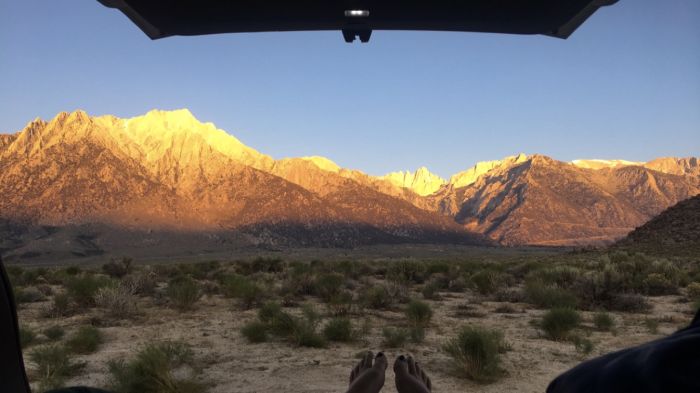 Photo Credit: Mila Pantovich
The next handful of destinations proved to be a little much for the XT5. My first goal was to wake up with dawn in the middle of Alabama Hills. To do that, I chose to fold the rear seats down flat so I could spread out camping pads and sleep in the back of the car. The idea seemed much better than it turned out being, since as roomy as the cargo hold is, turns out that it isn't roomy enough for two people—especially when one of them is a 6-foot Australian. Oh and that interior movement sensor I mentioned? Turns out, it really doesn't like when people are in the car after you lock it. Thankfully we were in the middle of nowhere when the alarm rang out…several times. Of course, Cadillac probably never intended for people to sleep in the back, so that's entirely on me and my romanticized notions of staring up at the stars through the panoramic sunroof.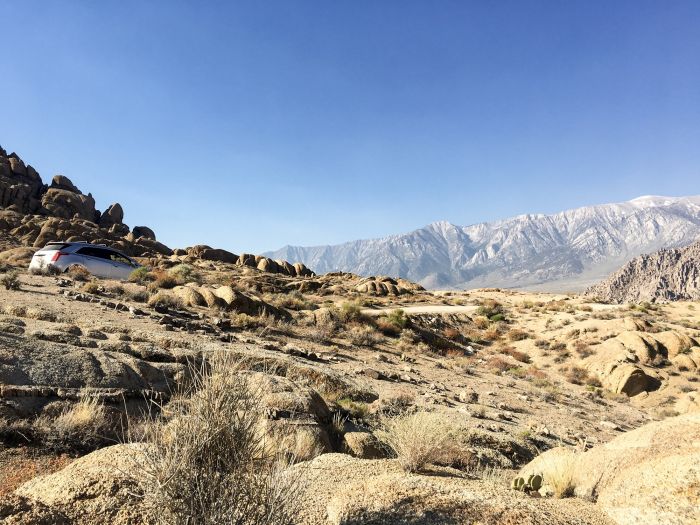 Photo Credit: Mila Pantovich
The endless bumpy dirt roads throughout Alabama Hills certainly posed a challenge to the XT5, since its all-wheel drive offering didn't help it at all and its safety systems had no idea how to handle rocks and bushes. The poor Caddy basically alerted me to every single thing, even auto braking several times when I got too close to a shrub when backing up. And even after disabling traction control, it was as if the car was still being overly cautious and never allowed me full control.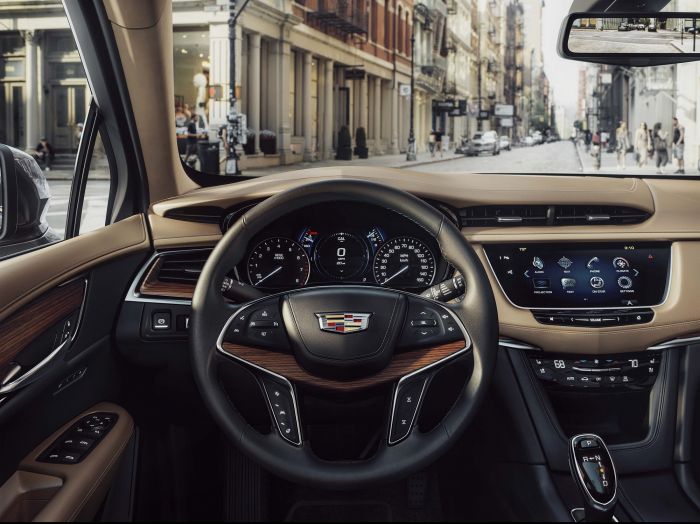 Photo Credit: Cadillac
The XT5's cautious nature also comes into play when you push the engine to its max, resulting in a disconnect between you and the machine. There is noticeable hesitation in the gas pedal when you press down and the shift from low speed to high speed lags before jolting. This was made the most obvious when driving the steep switchbacks up Mount Whitney after Alabama Hills and again when heading into Death Valley straight after.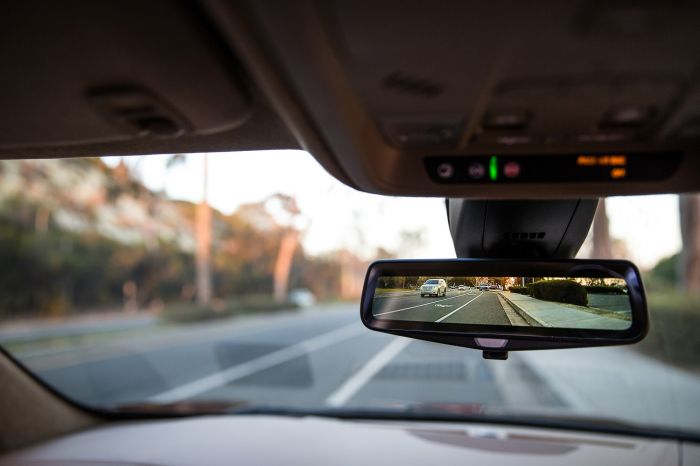 Photo Credit: Cadillac
It did fare far better on the well-maintained roads throughout Death Valley though, where it is prohibited to drive off marked roads. To be honest, the XT5 became my best friend at this point. With the temperature reaching 130°F by the time I reached Badwater Basin, I utilized the car's remote start feature every single time I made it back from whatever short jaunt I endured in the stifling, dry heat. There is nothing better than climbing back into a cool car after huffing along Dante's View. And those seat coolers….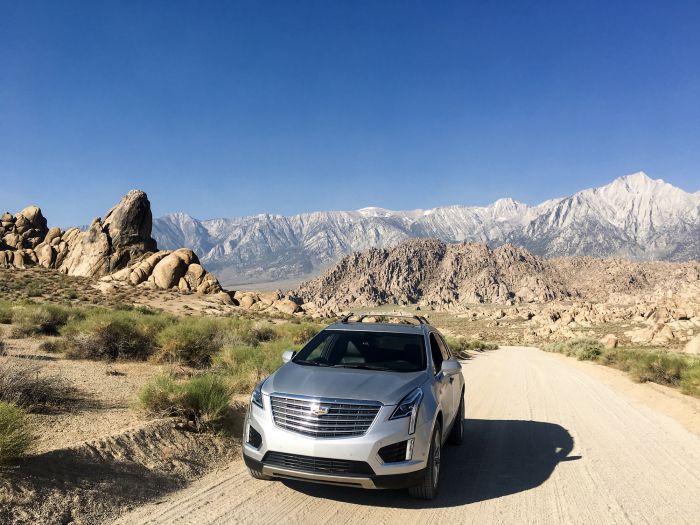 Photo Credit: Mila Pantovich
In the end, I really enjoyed my time with the XT5, but ultimately realized that it wasn't for me. I loved driving it throughout San Diego as I went about my day-to-day life, but it didn't exactly handle desert drifting all that well. If I'm going to go with an SUV, I want it to be able to handle any weekend adventure that I throw its way. Obviously Cadillac has designed the XT5 for people who do most of their driving in an urban environment and are maybe just looking for enough pep to merge onto freeways, but if a brand is trying to appeal to a younger, affluent market nowadays, the car needs to be able to satisfy on several different fronts.