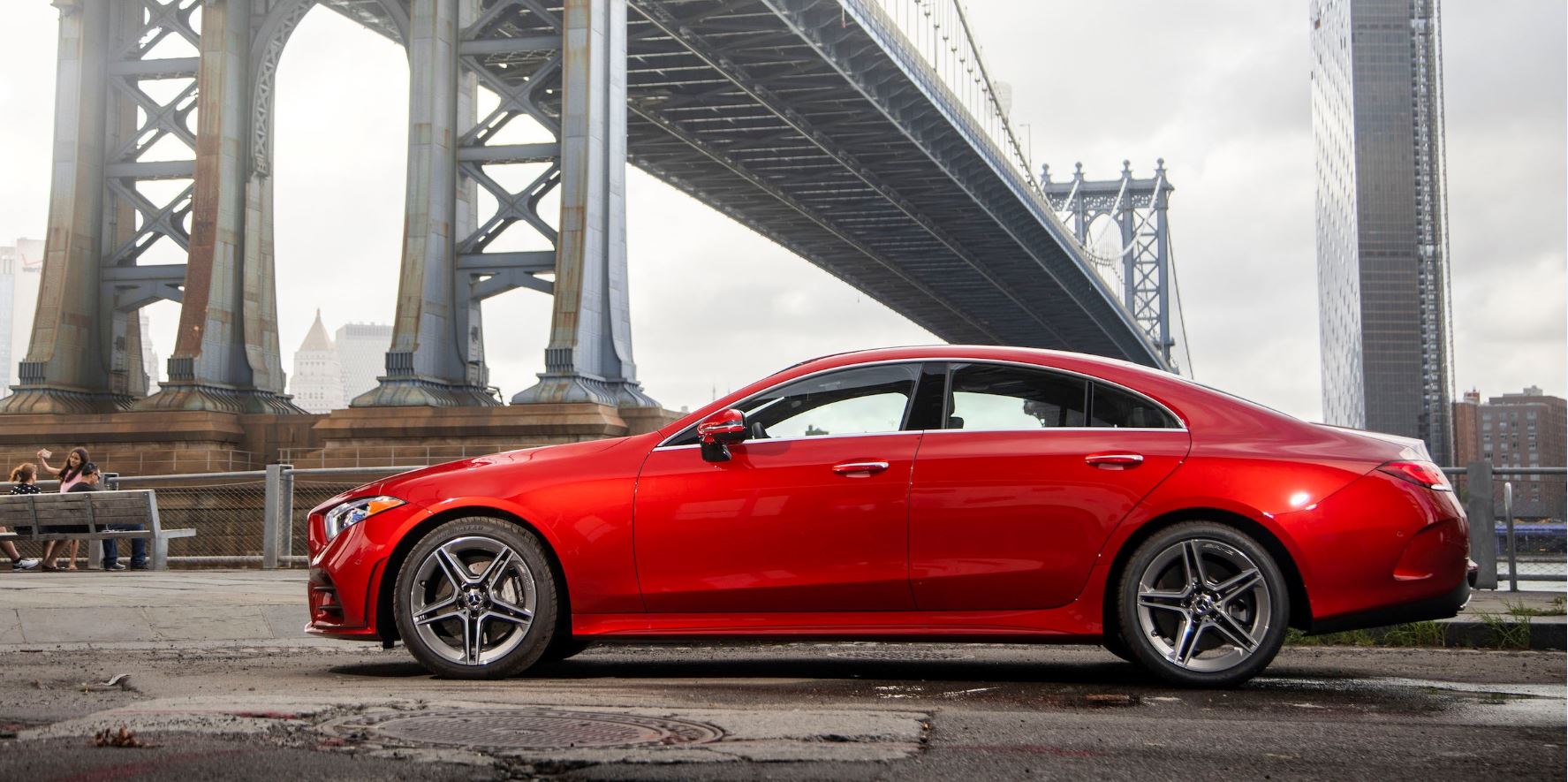 Mercedes-Benz
Ridicule, realization, recognition, respect: Mercedes critics and indeed even a few fans went through all four phases when the iconic brand debuted the world's first " four-door coupe" in 2003. The CLS as it was dubbed went on to become one of their most popular and forward-looking models, a storyline that is now entering a new chapter with the introduction of the 2019 Mercedes-Benz CLS. We recently had the opportunity to test out both initially available versions, the CLS 450 and CLS 450 4MATIC, on a day's drive from Brooklyn to Natirar, a historic estate in New Jersey, the perfect setting for the sleek and stylish sedan.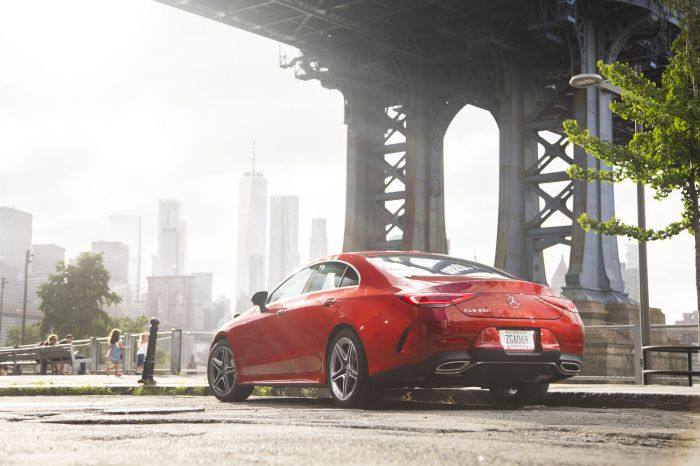 Mercedes-Benz
The CLS' fluid lines have long been its hallmark, and the 2019 version further, the third generation, refines the while maintaining an aesthetic connection to its forebears with an arching waistline, flat side window lines and low greenhouse. "The new CLS is a design icon as the archetype of the four-door coupe," says Gorden Wagener, Chief Design Officer of Mercedes parent Daimler AG. "In line with our hot & cool design philosophy, we have reduced its DNA to an extremely puristic level while emotionally charging its beauty." That also plays into Sensual Purity, Wagener's term for the way all future Benzes will be shaped.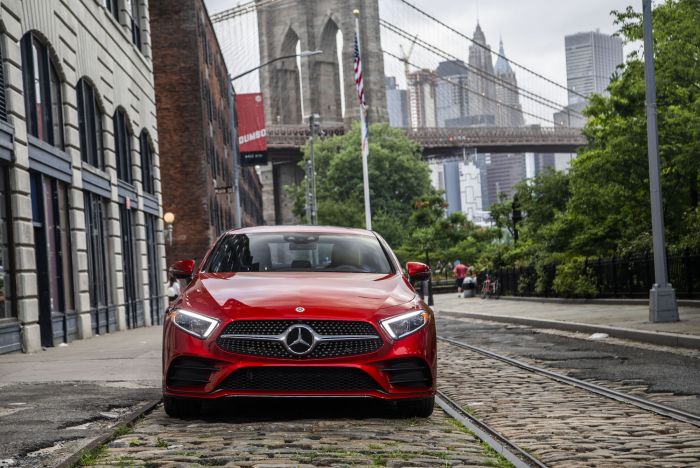 Mercedes-Benz
The AMG body styling is set off by a single louvered diamond grille echoing that on the Mercedes-AMG GT, newly designed LED headlamps and taillamp and 19-inch light-alloy wheels. Under the bonnet the model's all-new in-line six-cylinder engine its good for 362 hp in addition to an integrated starter-generator. This "enables a level of efficiency normally reserved for hybrid vehicles," as Mercedes notes, assisting the combustion engine during acceleration, allowing the car to "sail" to save fuel, and adding 21 hp; a hybrid by any other name. The AMG CLS 63S upgrade will bring in a muscular 577-hp V8.
And of course it wouldn't be a Mercedes without state-of-the-art systems such as Air Body Control suspension, an Energizing Comfort enhanced climate program, 12.3-inch high-resolution COMAND display – a dual display is an option – ambient lighting and more. The seats – there are five of them in the CLS for the first time – were newly designed exclusively for this model series with quilted leather upholstery, high-quality piping and a hand-finished look. Carbon fiber trim is optional. As is especially evident in the CLS, Mercedes has now far out-styled the competition with extremely attractive and ergonomic cockpits that hit the right mix of high-tech and careful craftsmanship.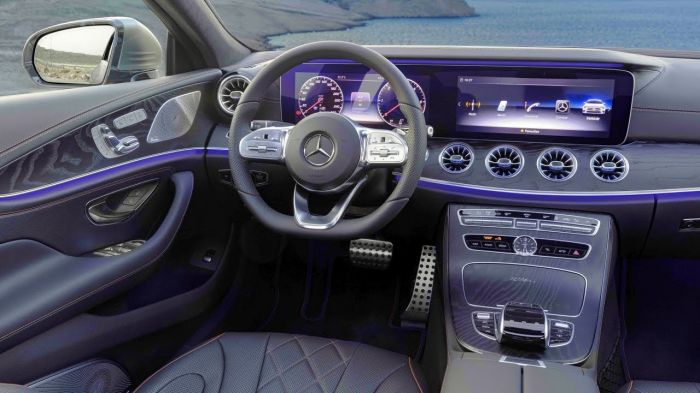 Mercedes-Benz
To highlight the ambient lighting, which is individually adjustable in 64 colors, there are even illuminated air vents reminiscent of jet aircraft turbines. They will even briefly turn red or blue depending on whether you turn the heat up or down. The digital displays are fully configurable according to the driver's need and the driving conditions. Three different styles can be selected depending on preference, mood or to suit the interior appointments: Classic, Sport or Progressive. And with a starting price of $75,150, it's optioned more like a six-figure sedan. It may be based on an E-Class but the CLS is a breed apart.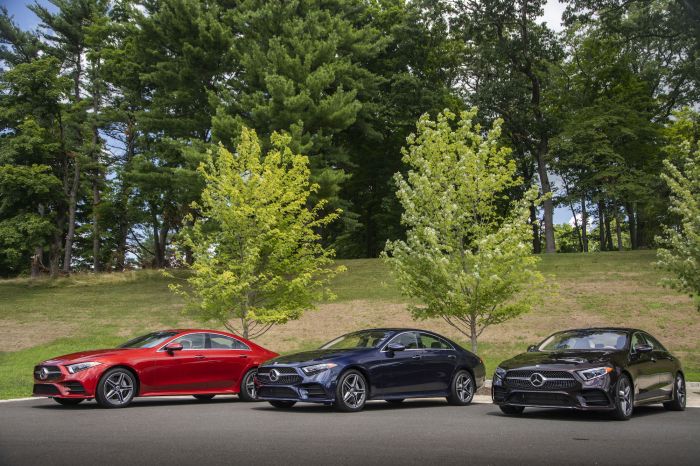 Mercedes-Benz
While Eco driving mode saves the most fuel and makes for a relaxing ride, in Sport and Sport+ modes the CLS really comes alive. On our way to the Mansion at Natirar, a historic 1912 stone and brick estate set on 90 secluded acres that once belonged to the King of Morocco, we tried out all three and enjoyed the more dynamic settings most. You can even select a paint job to suit your preferred driving style; in matte gray, it's a sharklike cruiser, in bright red a sports car in a custom tailored suit.
At the effortlessly cool 1 Hotel Brooklyn Bridge where we set up our headquarters for the CLS event Mercedes also revealed the brand new A-Class, featuring MBUX, aka the Mercedes-Benz User Experience, which sets a new standard for interactive infotainment systems. The compact luxury car is designed to deliver clear, organic forms and reduced lines, and several different trims will be available making it eminently adaptable. The A 220's turbocharged 2.0-liter inline four makes a respectable 188 hp and 221 lb.-ft. of torque. Mercedes hopes to sell quite a lot of them, and we're sure for many first-time Mercedes buyers it will serve as a sort of gateway drug. Because eventually, they're going to want that CLS….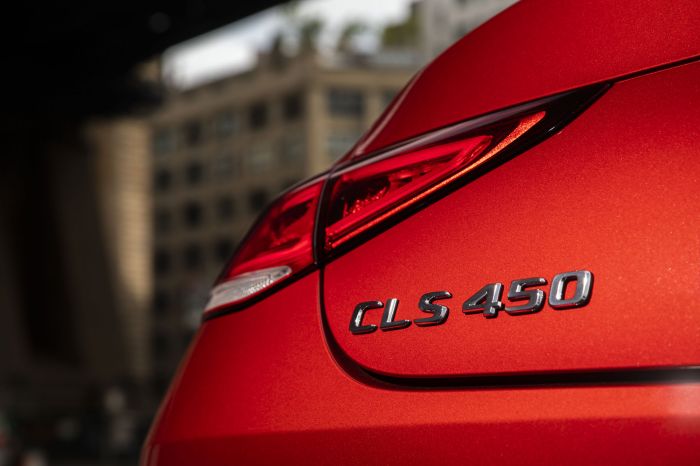 Mercedes-Benz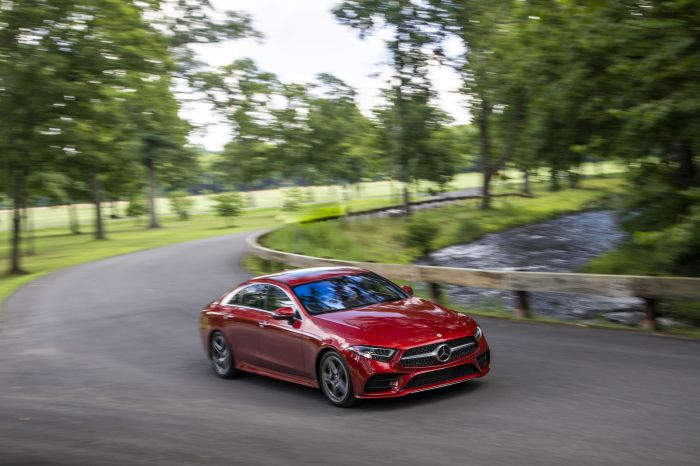 Mercedes-Benz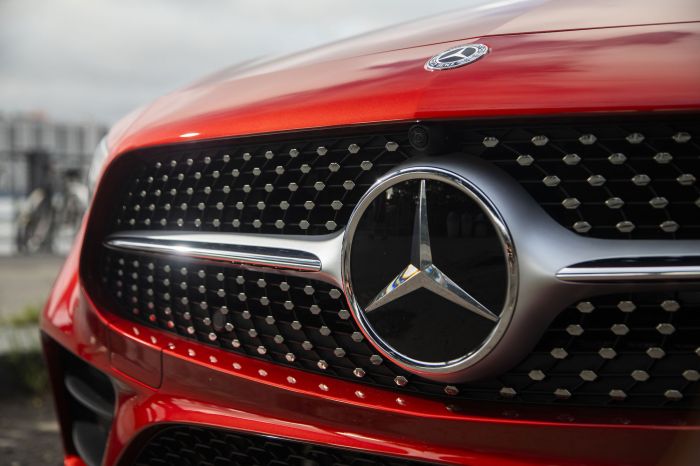 Mercedes-Benz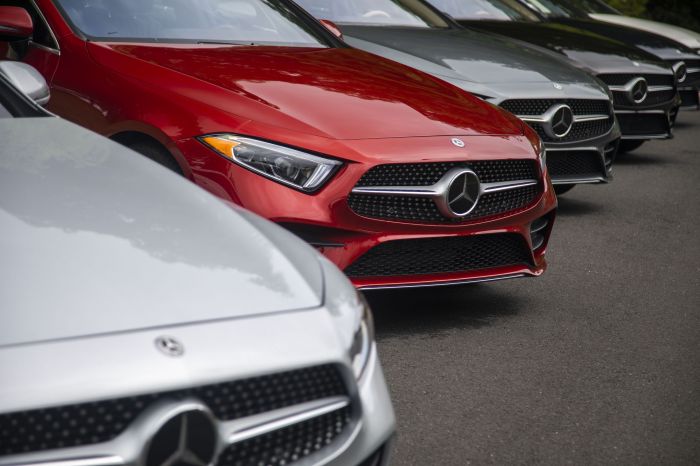 Mercedes-Benz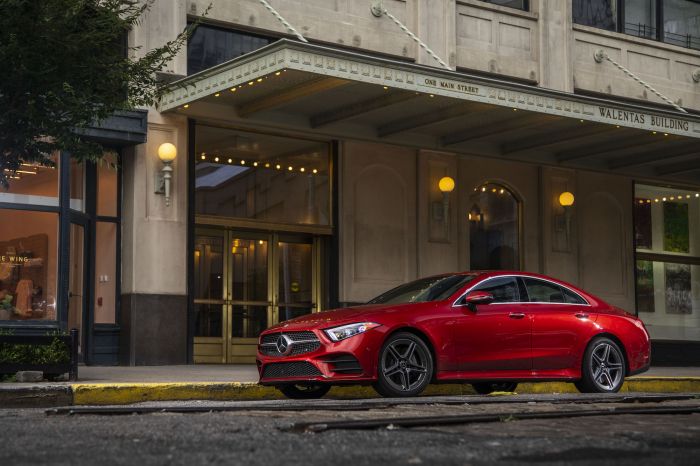 Mercedes-Benz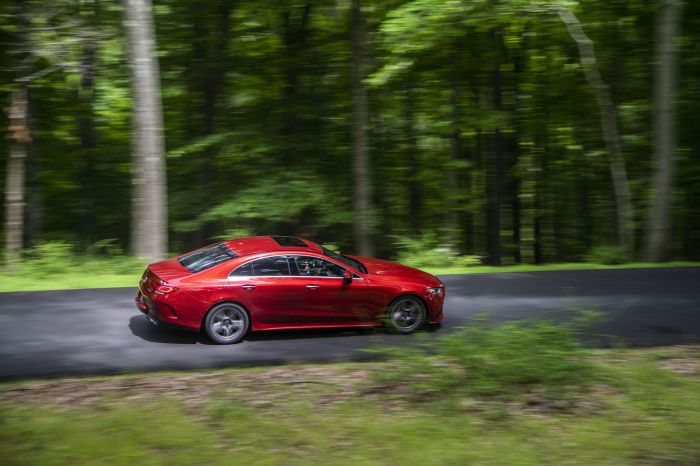 Mercedes-Benz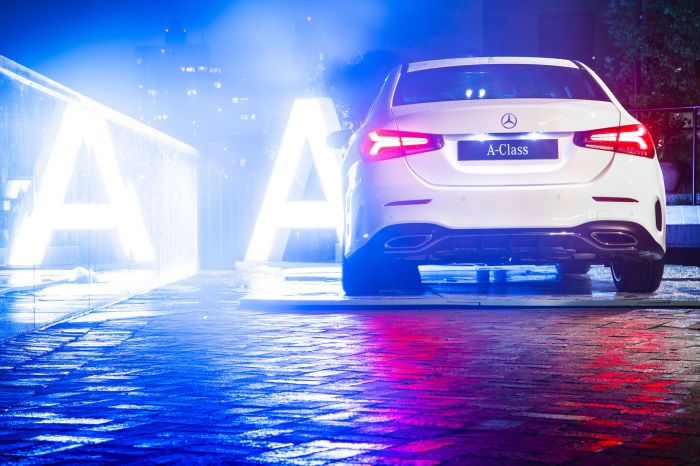 Mercedes-Benz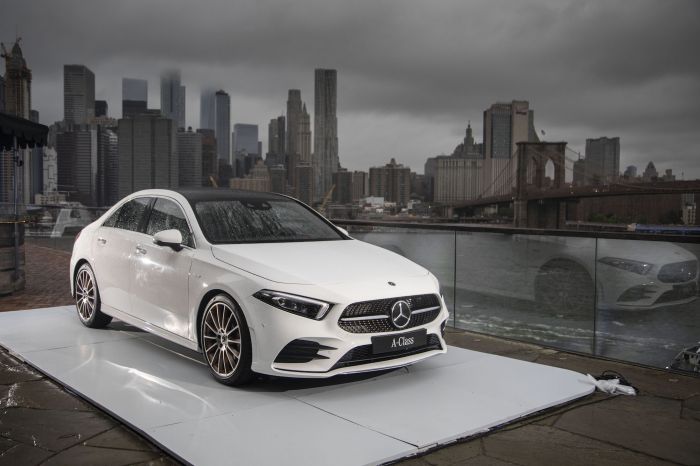 Mercedes-Benz