Vanderhall Motor Works
Stephen Hall: An Interview With The Vanderhall Visionary:
Historically within the automobile industry, there has been a plethora of design visionaries. Henry Ford, Preston Tucker, Friedrich Porsche, Bruce McLaren, and Enzo Ferrari dominated the 20th century automobile industry, but it did not stop there. In the 21st century, there are visionaries also, modifying the meanings of mobility, as they combine design practicality with driving joy. There's Elon Musk with Tesla, Jonathan Ward with his Icon 4x4's; but they and others work with four-wheeled designs. Stephen Hall has a special place in this august group. He is the founder and creator of the Vanderhall three-wheeled motorcycle, also called an auto-cycle.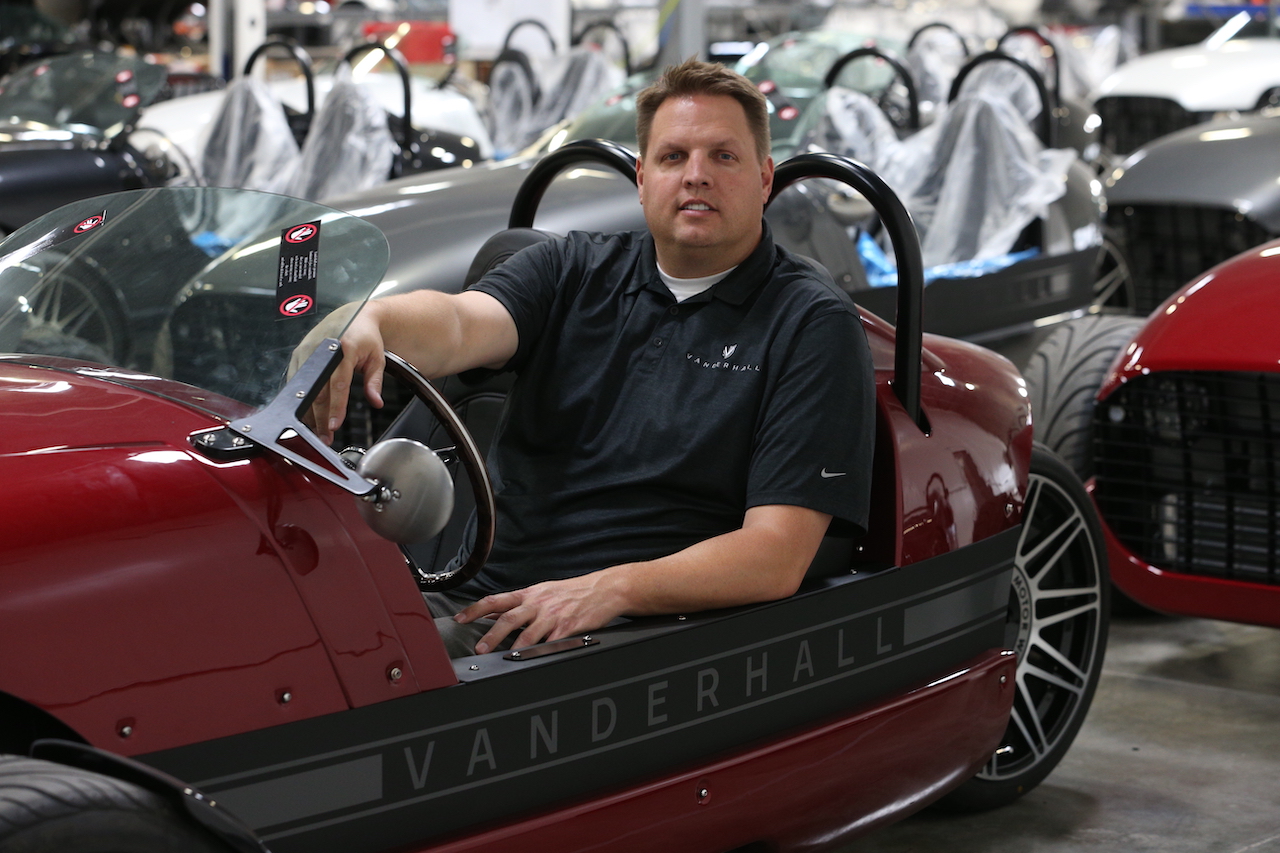 Vanderhall Motor Works
A three-wheeled conveyance is a unique permutation between motorcycle and car. And Stephen Hall has crafted a hybrid vehicle that takes the best of both worlds, arguably unfettered by the problems of either. The driving experience has a subtext similar to those described by Jack Kerouac in his iconic 1950's novel, On The Road. This book defines the joys of iconoclastic, improvisational freedom of road travel. In the same way, the Vanderhall allows driver and passenger to experience of being one with the road, experiencing the joy of having, in Kerouac's words, "nothing behind me, everything in front of me, as is ever so on the road."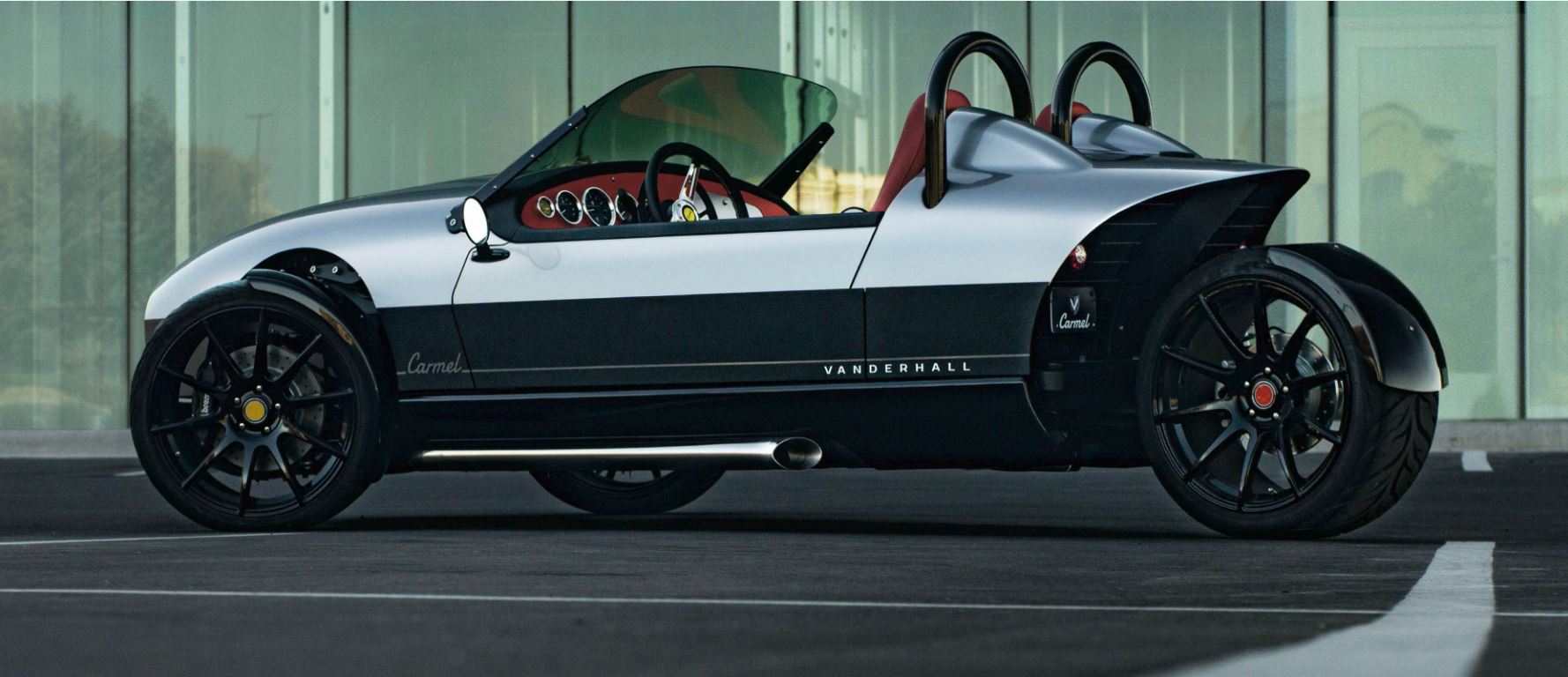 Vanderhall Motor Works
Stephen Hall, from childhood, had a passion for motorsports and as a young man, owned a successful exotic and luxury vehicle dealership. It was there, along with the education garnered from the elite vehicles he sold, he also sensed the subtle diminishment of the classic open air convertible driving experience: that of being one with the wind, and one with the road. And he knew there was a reason: that many convertibles, ground-hugging cars, and three-wheelers already in existence, had reliability, performance, and most troubling, stability issues.
Vanderhall Motor Works
He envisioned he could do better. He founded his company, Vanderhall, in 2010 in Provo, Utah, and set out to make his vision a reality. He worked at creating a three-wheeled hybrid auto-cycle prototype to determine the best stable three-wheel driving experience ever. Multiple engine types were tried but the correct combination of power and torque eluded him, until 2012 – when his three-wheeled prototype switched to front-wheel drive, where with increased traction and 70/30 weight distribution, stability and handling improved.
2012 was also the year where Vanderhall added to a new two-seater model, providing a passenger option. By 2014-2015, traditional motorcycle engines were replaced with the 1.4L Turbo engine that is in use today. In 2017 Vanderhall released the Venice, a simplified model with 180hp and a composite body priced at $29,950. In 2018, a new model, the Carmel, became available at $39,950. And its first EV, electronic vehicle, called the Edison. will be available in 2020 or perhaps sooner.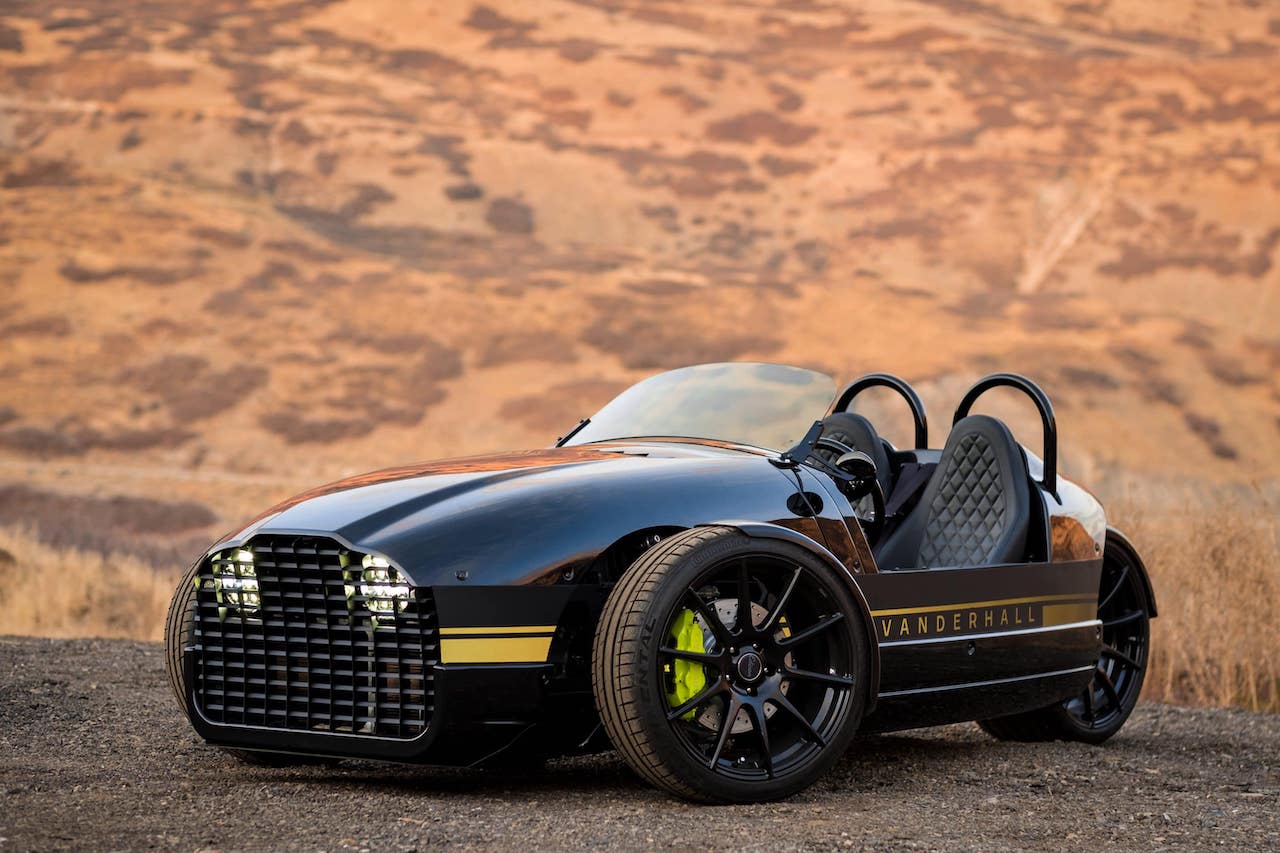 Vanderhall Motor Works
I recently interviewed Steve, whose mission, vision, and passion regarding the present and future focus of this unique hybrid is quite apparent.
JustLuxe: What was your original design motivation to build a three-wheeled vehicle?
Stephen Hall:With Vanderhall, we wanted to bring something unique to the market, and I personally love the creative process of starting with a design and following it through to a finished vehicle. Vanderhall has completed three variants of our three-wheel design to date, in the form of the two seat Venice and Laguna models, and most recently, the one seat Speedster that just debuted. We are going to be launching the Carmel model with doors next, and then our EV Edison2 model. It's been a lot of fun seeing the company grow and expand. With all our vehicles, Vanderhall likes to evoke the feeling that you're driving a vintage car without any of the vintage car headaches. I think that's one of the common threads that runs through all of our designs.
JustLuxe:In the auto-buying public, what need did you see that was not being fulfilled?
Stephen Hall: I saw the need for a beautiful novelty, an escape from the stress of life for every skill level of driver as well as passenger. I now find that Vanderhall has its own unique appeal to both automotive and motorcycle segments. Many times, driving enthusiasts long for the freedom and feel that riding a motorcycle brings. Motorcyclists often want a fun, more relaxed experience without the constant exposure on the road battling traffic. I wanted to create a compelling hybrid, something that everyone could ride in and enjoy.
JustLuxe: Can you discuss some of the challenges you had to overcome in creating this unique vehicle?
Stephen Hall: The process of bringing any vehicle to market is intense. The barriers to entry are as consistent as they are diverse. As Vanderhall continues to add additional dealers in new states and expands internationally, the process becomes more complicated as the company continues to scale. We prototyped about eleven variations of our first vehicle over the course of four to five years. Like any transportation company, our models are constantly evolving. We first came out with the Laguna in 2016 and then the Venice in 2017. In the beginning, Vanderhall started out with rear-wheel drive and a Yamaha engine, but couldn't get the stability right, so we decided to go with automotive parts and front-wheel drive. That paid off in a big way, giving us the characteristics of a four-wheel car.
JustLuxe: Are there some internal components of this vehicle that you had to create basically from scratch, so they could be fit in smaller spaces? Could you talk about those challenges in particular?
Stephen Hall: The chassis, the body, the suspension--really, most of the vehicle was created from scratch. The interior had to be created from scratch as the design dimensions would not accommodate anything that met the quality standard we assigned to the Vanderhall brand. Of course, we do have manufacturing partners that work on our engines, transmissions, and various other standard automotive components. However, we also designed our whole intake system, our intercool system with all the requisite tubing. One unique challenge that we faced in Vanderhall development was the vehicle's suspension. The reason that Vanderhall went with a push-rod suspension is because we needed to get the hood height low enough to achieve the right aesthetic. If we had used a more traditional strut, the hood height would have been too high and our lines wouldn't have been correct to get that sleek front line. The answer was that we had to come up with a way to use an independent, front-drive with double arms and merge that with the push-r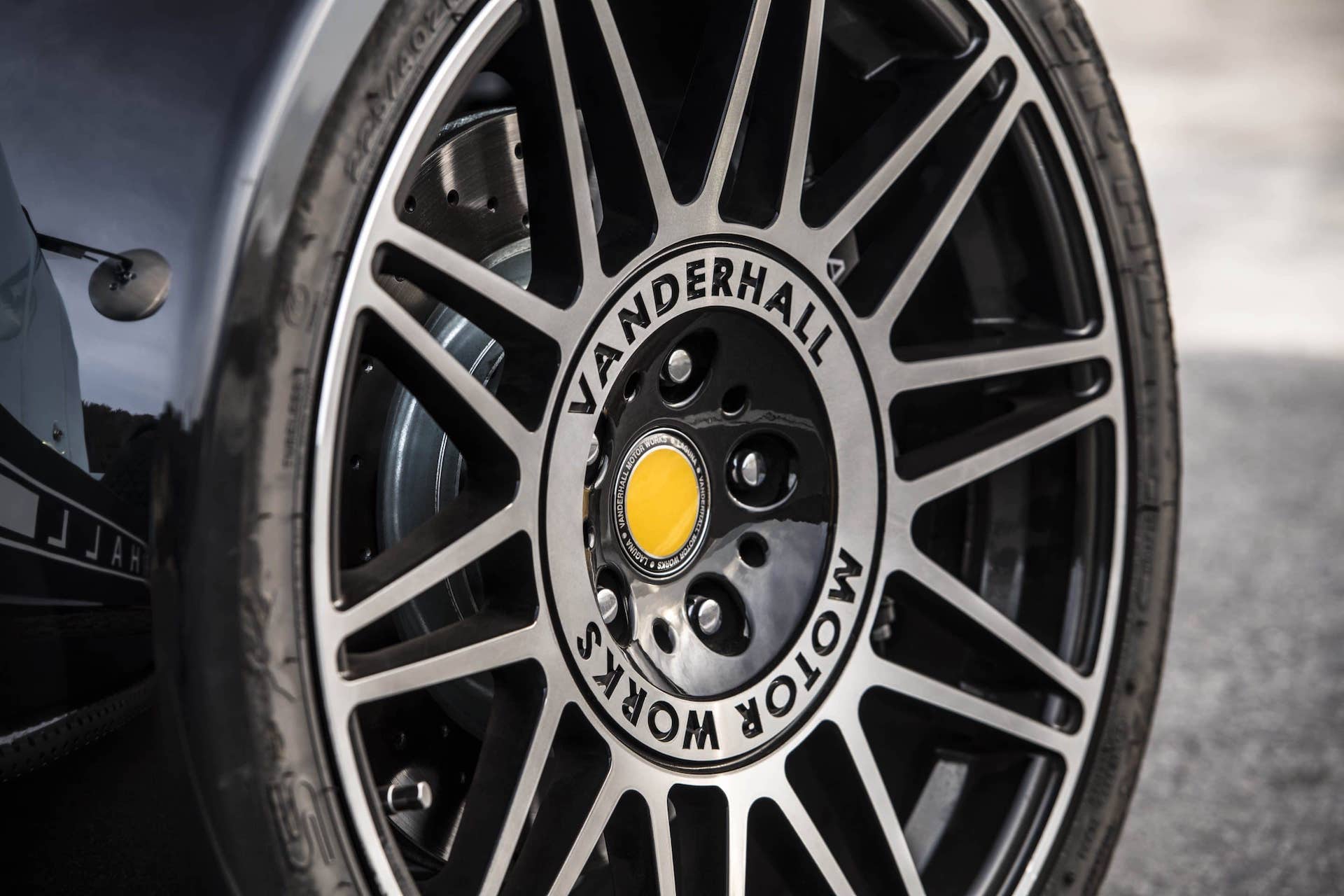 Vanderhall Motor Works
Vanderhall Wheel Design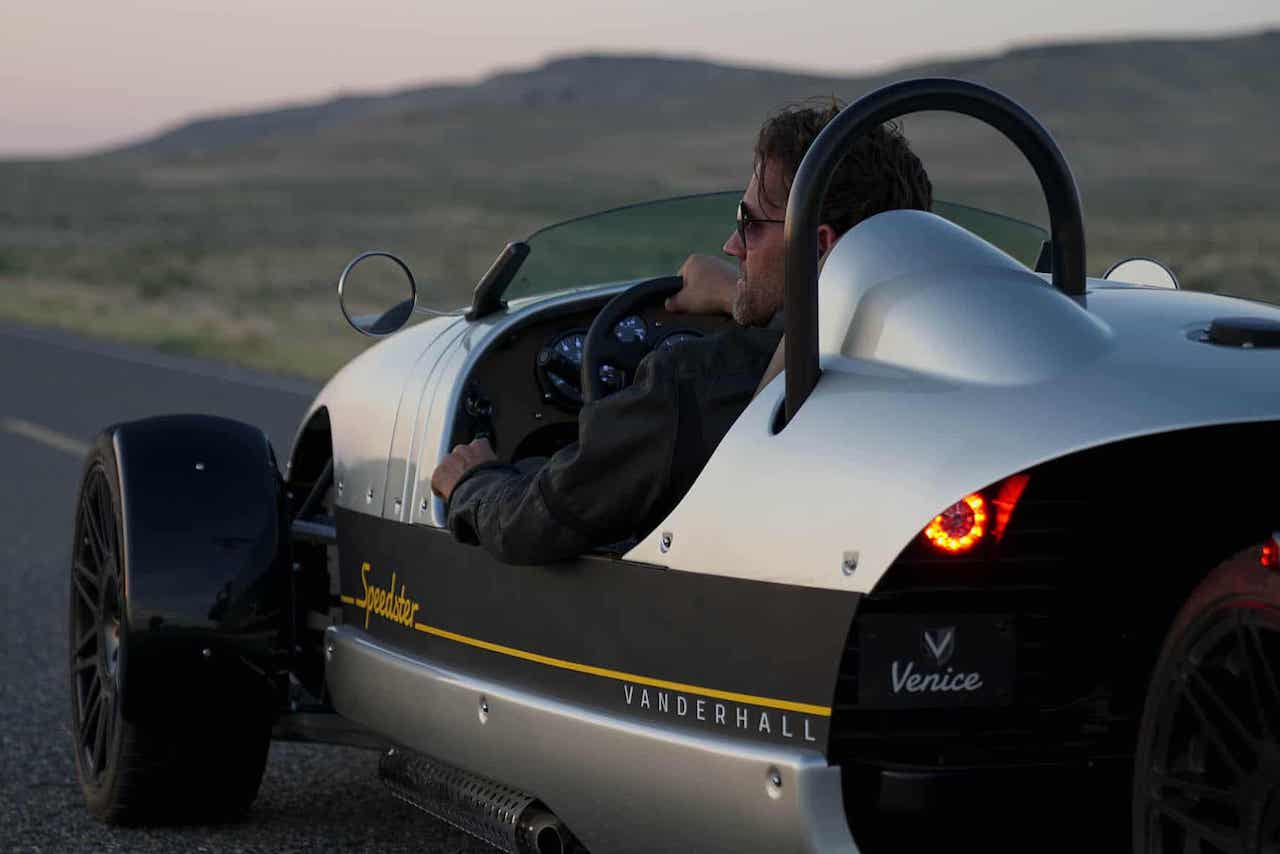 Vanderhall Motor Works
Vanderhall Venice