Following a concept release in 2016, Lexus introduced its first ever compact crossover, the Lexus UX. The 2019 UX is available in two models the UX 200 and UX 250 and in four styles, UX, UX F-Sport, UX Luxury and UX 250h. Launched with the national campaign "The New Frontier" the luxury car company is breaking into a new growing market which they believe their city-centric crossover is a perfect fit. An embodiment of bustling cities, from its smart size to its sculpted, architectural character lines, the car provides a fresh and contemporary take on luxury urban driving. Its compact design allows drivers to maneuver narrow city streets with ease with an in-line 4 engine with its base UX 200 boasting 169-hp and 2.0L displacement. The certified ultra-low emission vehicle (ULEV III) has a 29-city mpg estimate, 37-highway mpg estimate and 33-combined mpg estimate.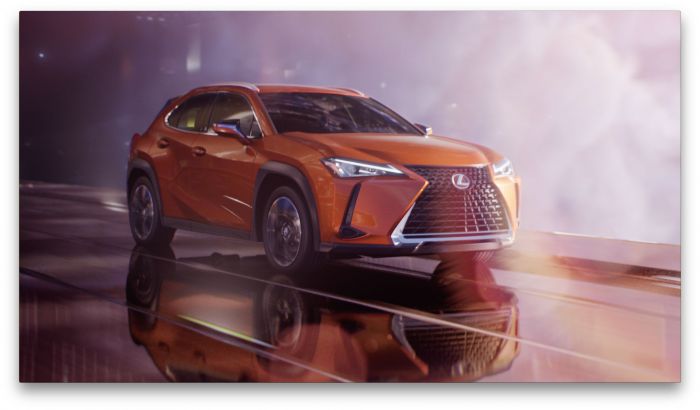 The most luxurious of the styles is the UX 250h Luxury AWD which includes better horsepower at 181-hp along with better gas mileage with 41-city mpg estimate, 38-highway mpg estimate and 39-combined mpg estimate. Its electronically controlled continuously variable transmission with all-wheel drive presents a smooth and comfortable ride for the five-seated passenger crossover. With a fuel tank capacity of 10.6 gallons, the Lexus UX 250h F Sport Luxury has a max range of just over 440 miles, allowing drivers to make use of the 41-city mpg estimate, 38-highway mpg estimate and 39-combined mpg estimate drivers to explore from Los Angeles to Las Vegas or Phoenix on one tank of gas.
With a best in-class turning radius and specially tuned suspension and an electronic brakeforce distribution (EBD) and brake assist breaking system, drivers are in full control. It is packed with the latest technology, such as Amazon Alexa and Apple CarPlay, while also offering wireless charging for your compatible smartphone conveniently located in the center-console box.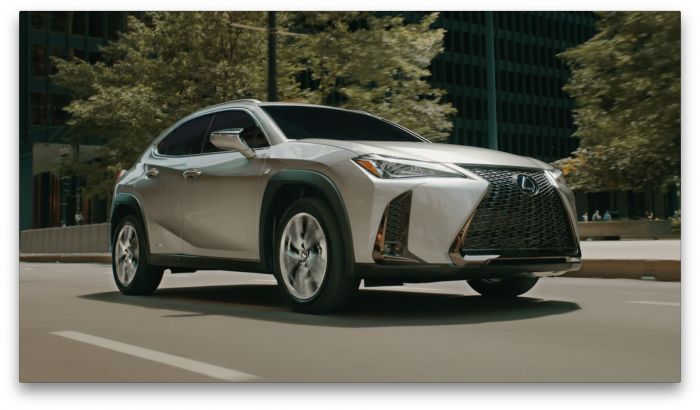 Aimed for buyers with an imaginative lifestyle who explore, experiment and defy, the luxury crossover has a multitude of exterior and interior features meant to break the mold. Its sculpted, architectural character lines are paired with bold triple-beam LED headlamps and new aerodynamic taillamps to surely make heads turn. The driver-inspired interior was crafted to anticipate the driver's every need from the steering wheel, center consul and contemporary craftsmanship.
Upon entry to the heated and ventilated NuLuxe®-trimmed* driver's seat, which scoots into your desired seat alignment upon entry and scoots back to provide room to depart on exit, intuitively positioned controls and an enhanced Remote Touchpad make the drive easy and convenient. Located in the palm rest of the center consul next to the gear shift, ergonomically placed audio switches make it easy to change volume, track and input.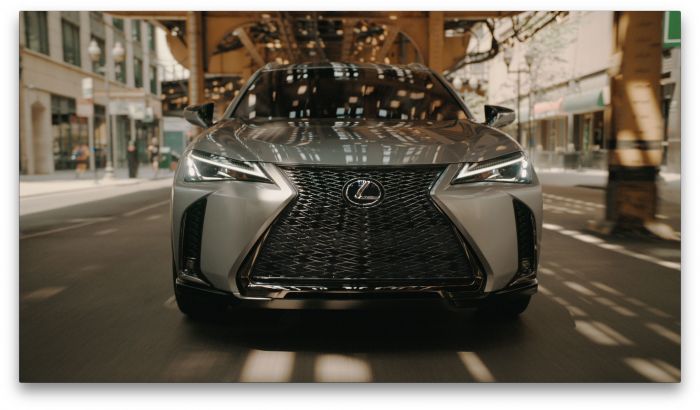 Inspired by the Japanese architectural concept of marrying the inside with the outside, known as engawa, the UX presents the widest field of vision in its class and optimal visibility of the road ahead. A customization option that can be added for a further touch of luxury is the distinctive texture and style to the dash is washi ornamentation is uniquely crafted to mimic the soft grain of Japanese paper. The F-Sport model steps up the exterior and interior design with race-inspired styling upgrades like exclusive F Sport wheels, leather-trimmed shift knob, aluminum pedals and more.
Starting at $32,150, build your own here and explore an urban area in style.