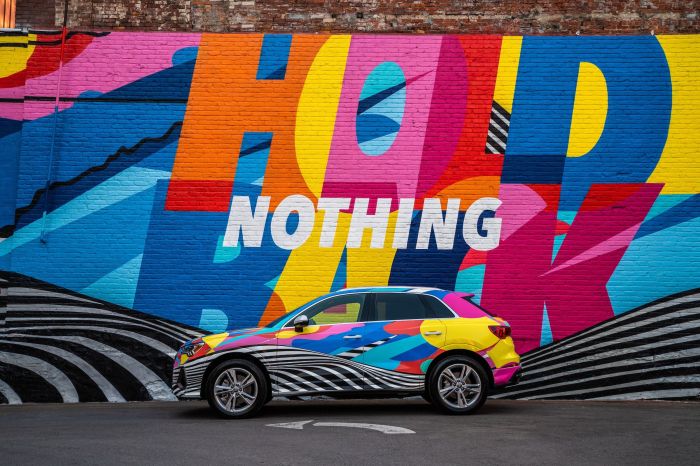 Photo Credit: Jim Fets for Audi
If Rick Ross' "Hustlin'" ("everyday I'm hustlin', hustlin', hustlin'") is your anthem, the new Audi Q3 might just be your car. The 2019 redesign of the Q3 debuted at the New York International Car Show in April, and its bold exterior, thoughtful functionality, seamless tech features, and turbocharged 2.0-liter four-cylinder engine make it the perfect vehicle for entrepreneurs who live for the hustle and hold nothing back.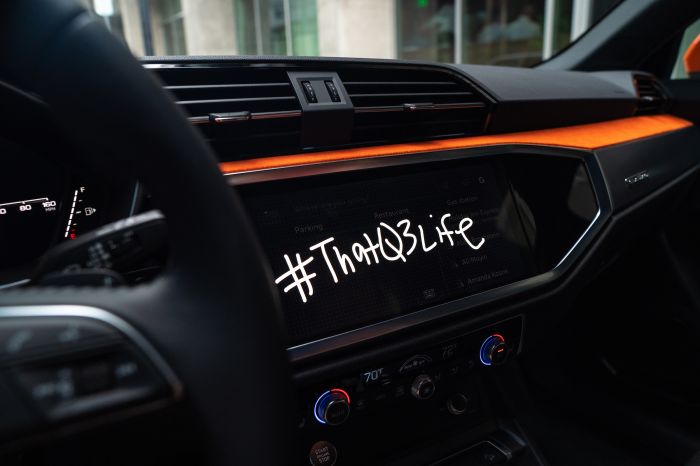 Photo Credit: Jim Fets for Audi
Audi's flagship technology makes the second-generation Q3 a kind of mobile office. Its virtual cockpit is comprised of a digital instrument cluster and touchscreen (8.8 inches or 10.1 inches, depending on your package) with available handwriting recognition. Apple CarPlay® and Google™ Android Auto come standard, making on-the-go smartphone interactions both easier and safer.
Other available options for the Q3 include the Audi phone box, which wirelessly charges your compatible smartphone and tethers it to the vehicle's antenna to boost your signal while you're on the road. Blast your anthem with the Bang & Olufsen® Premium 3D Sound System, which pumps your car with nearly true-to-life surround sound through 15 speakers, powered by the 16-channel amplifier with an output of 680 watts.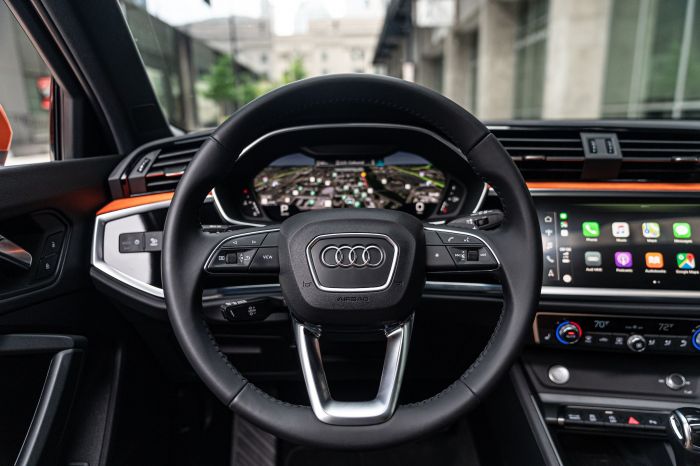 Photo Credit: Jim Fets for Audi
The top-view camera system, available for the first time in the Q3, helps you see "around" the vehicle to maneuver into tight spots with ease. The park-steering assist takes it up a notch by taking control of the steering to parallel (or perpendicular) park the car as you accelerate, brake, and shift gears.
Audi side assist with lane departure warning and rear cross-traffic assist are additional available safety features. Audi pre sense® front with pedestrian detection comes standard; the system uses a front camera to monitor the area and provide visual and acoustic warnings to alert to potentially hazardous situations.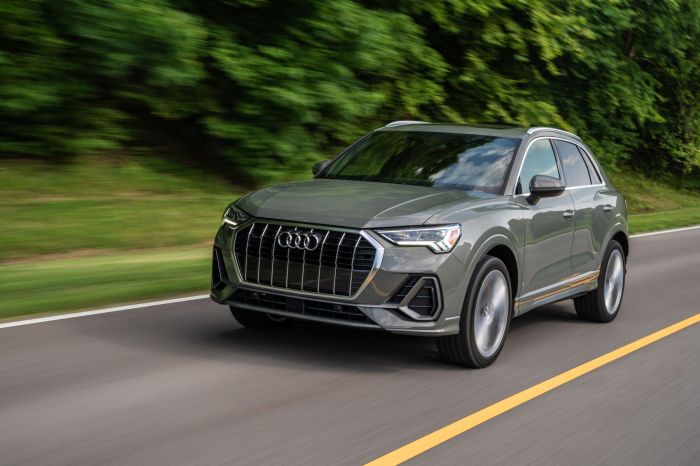 Photo Credit: Jim Fets for Audi
Standing 1.5 inches taller, 3.8 inches longer, and an inch wider than earlier iterations, the new Q3 is more substantial on the outside, meaning it offers more useable passenger and cargo space on the inside. There's more headroom, legroom, and shoulder room in both rows, and more cargo room behind the first and second rows. A standard sliding, reclining, and 40/20/40 folding rear seat makes the Q3 adaptable to nearly any passenger or cargo demand.
The Q3's increased size is emphasized by the all-new octagonal Singleframe® grille with vertical chrome slats. The Q3 offers a standard panoramic sunroof and standard heated leather-seating surfaces.
Photo Credit: Jim Fets for Audi
For those who really want to live boldly, the sport interior package, available in the Q3 S line, offers striking Orange Alcantara® interior elements on the dash and door armrests. Contrast stitching, steering wheel mounted shift paddles, and a brushed-aluminum matte inlay are also options with the package.
Eleven colors are available for the Q3, including the new Chronos Gray metallic and Pulse Orange, and the new Turbo Blue on Q3 S line quattro models.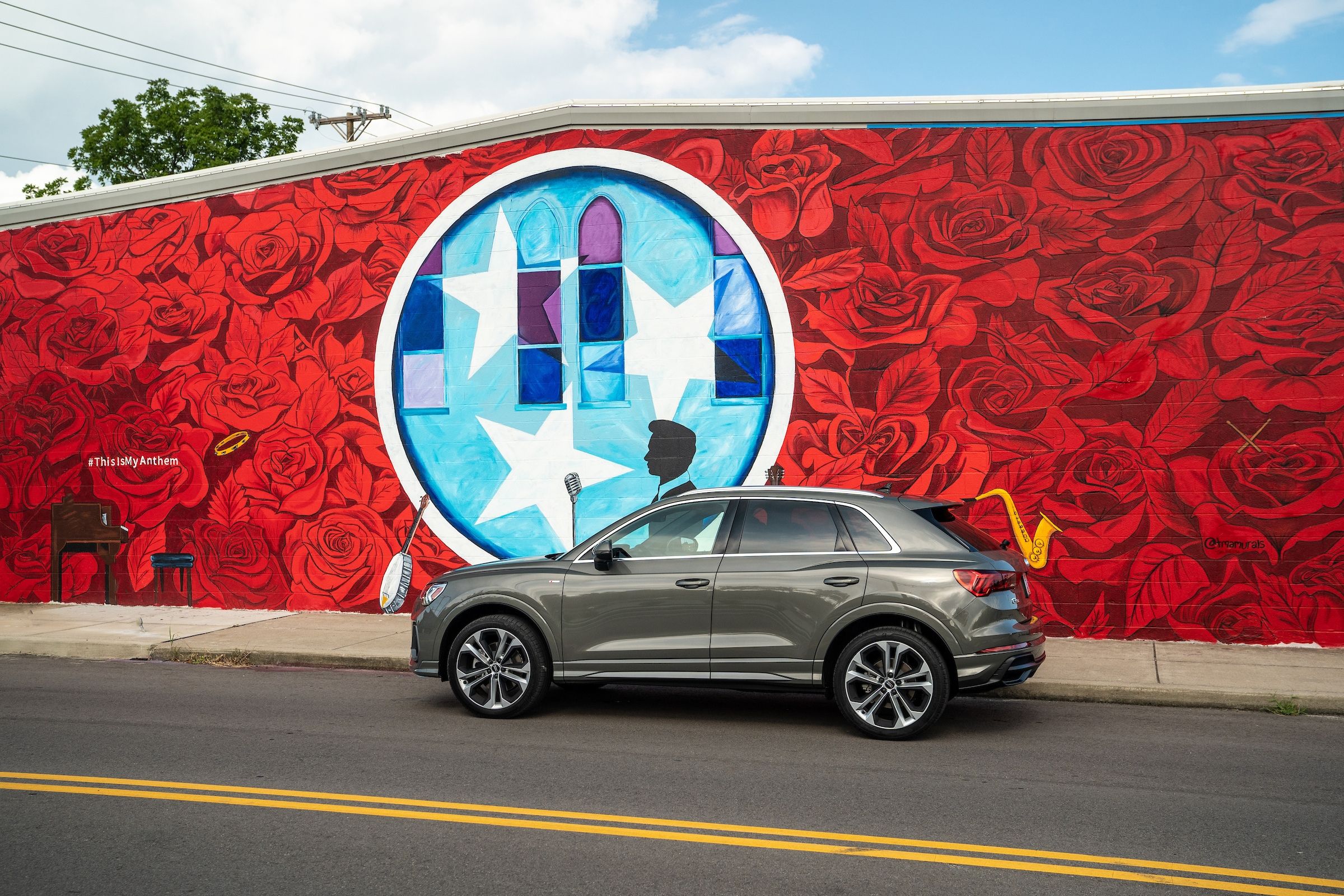 Photo Credit: Jim Fets for Audi
The new Q3 was made for the hustle, and its launch event drive in Nashville in July celebrated the hustlers. We were invited to tour the city (in a souped-up Q3, no less) and meet the local entrepreneurs who are doing things a little differently—and living out #thatQ3Life. Like the Q3, these artists and innovators are pushing boundaries and reshaping expectations within their industries.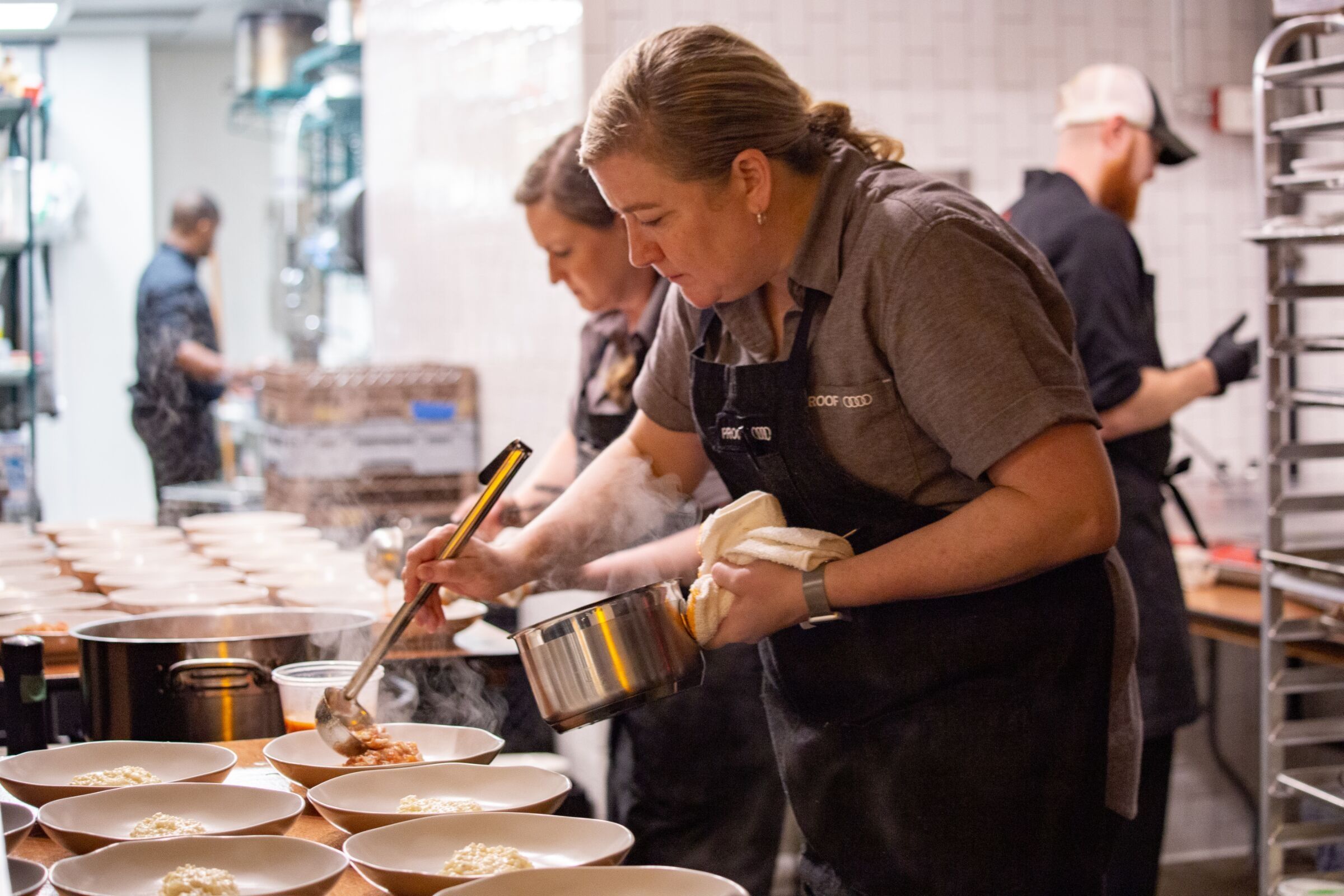 Photo Credit: Jim Fets for Audi
Audi kicked off the media tour with a first-of-its-kind pop-up culinary experience, PROOF. Helmed by the 2019 James Beard Outstanding Chef Award winner, Ashley Christensen, the dinner put female chefs in the spotlight. More than just a four-course, insanely delicious meal (which included a raw summer vegetable salad, North Carolina jumbo lump crab meat tomato sherry and grits, macaroni au gratin, charcoal-roasted ribeye, and a strawberry rhubarb pie), the event invited JBF Women's Leadership Program alumni—Ann Marshall as the beverage director and Joanne Canady-Brown as the pastry chef—to showcase their burgeoning talent as well.
Striving to continue to empower bold, enterprising women, Audi and the James Beard Foundation announced the creation of a new scholarship, "the Audi #DriveProgress Scholarship," to be awarded to aspiring women enrolling or enrolled at a postsecondary institution with plans to pursue a career in the food industry. "The James Beard Foundation is pleased to partner with Audi to inspire and support women to step into more positions of leadership in the culinary community," said Katherine Miller, Vice President of Impact at the James Beard Foundation. "Investing in these women will make it easier for others to become executive chefs, own their own businesses, and inspire generations to come."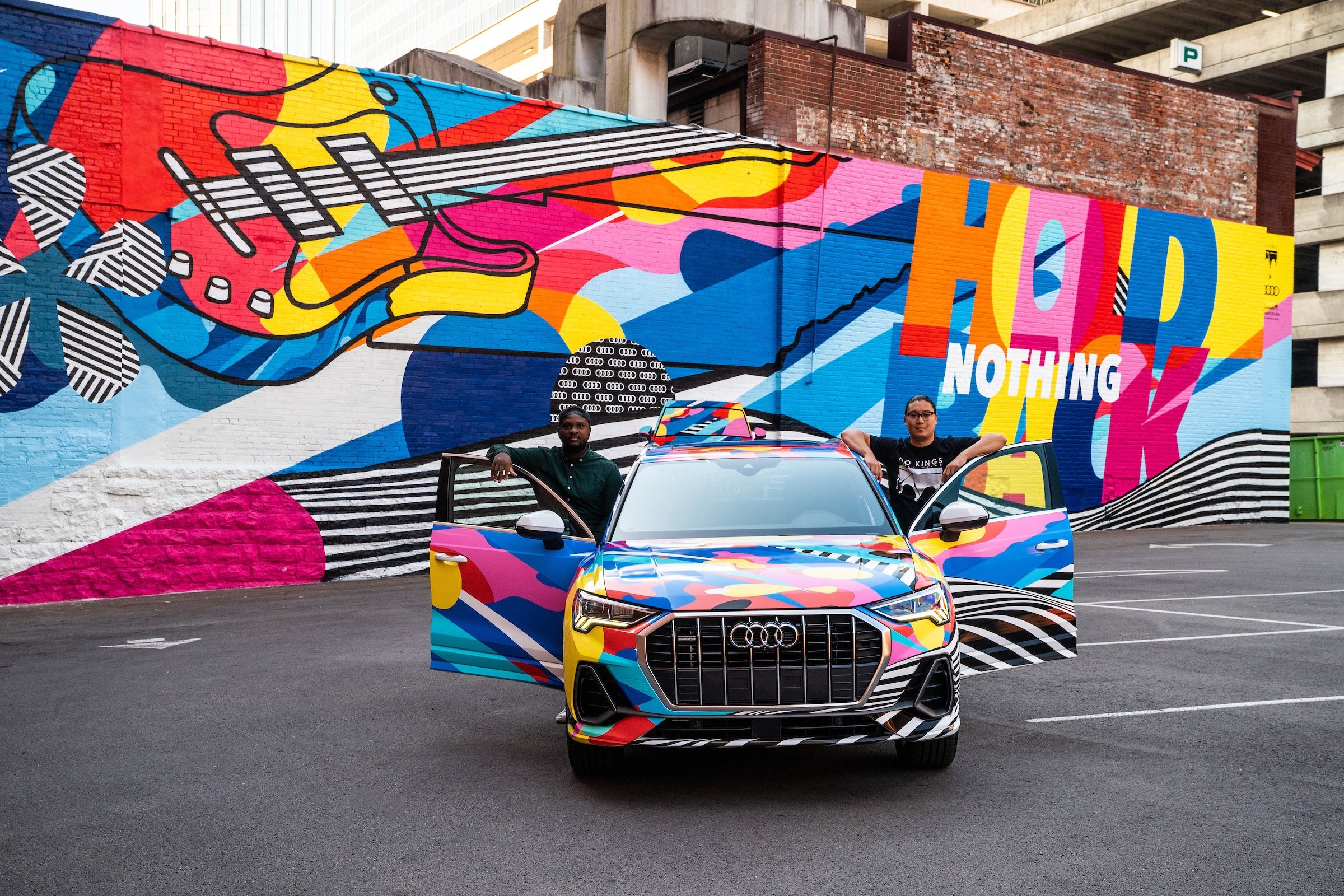 Photo Credit: Jim Fets for Audi
Audi's artistic contribution to Music City is a vibrant mural at the corner of Third Avenue and Church Street. Commissioned and created by the prolific duo, Brandon Hill and Peter Chang of NO KINGS COLLECTIVE, the artwork encapsulates the Q3 spirit of holding nothing back. After so many galleries told them "no," Hill and Chang took their work to empty spaces and public walls.
"If you're not taking a risk, why else put the work out there," Hill said at an Audi panel at Third Man Records (founded by musician Jack White), hosted by Josh Rubin, Editor in Chief of COOL HUNTING. "It can be strange painting a flower that's six feet tall, while in a scissor lift and a baby bjorn, but you come down and you feel really great about it. I'll be the first one to say, 'why make it, why do it, if you're not taking a risk.'"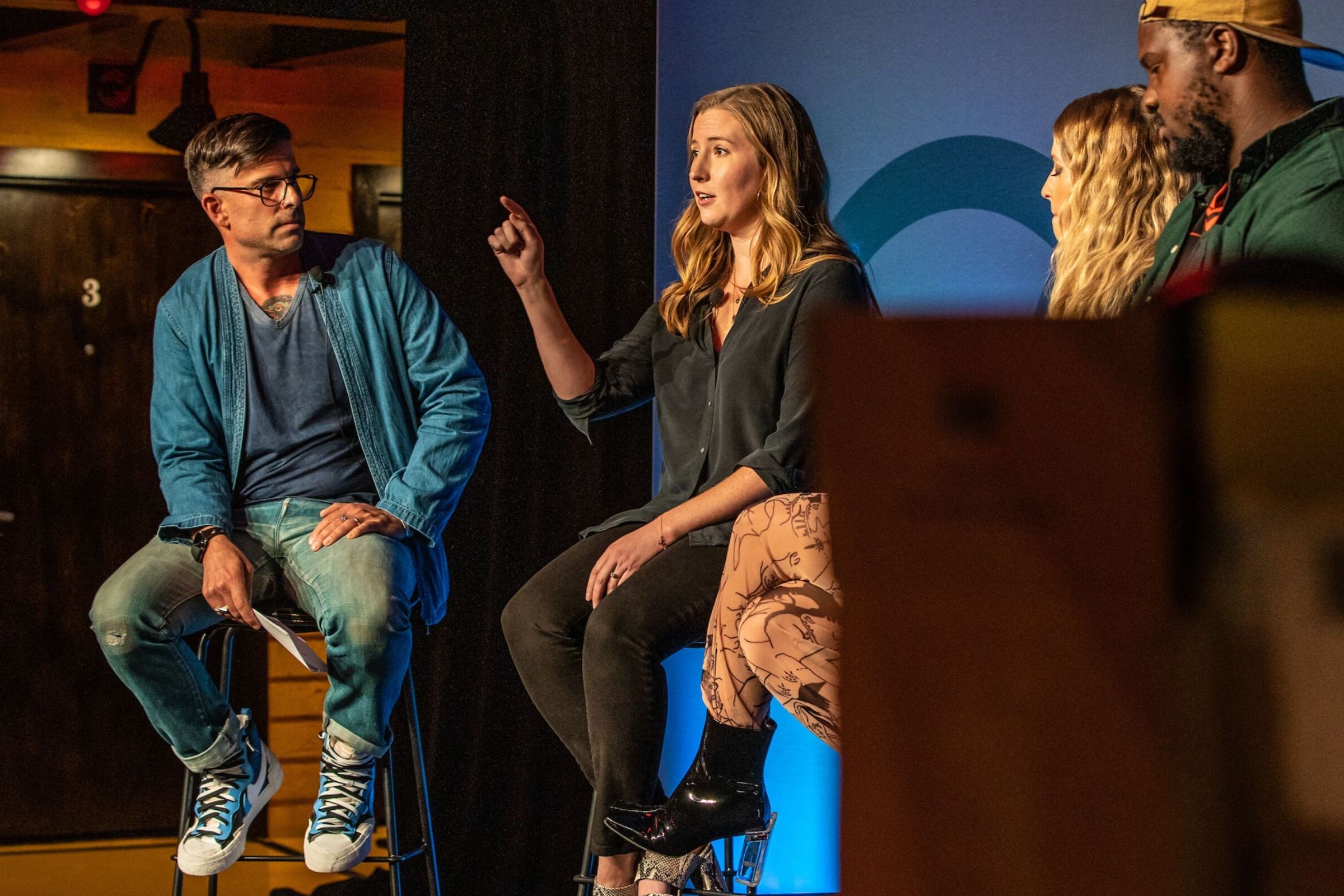 Photo Credit: Jim Fets for Audi
Also at the panel was Jen Milam, Director of Merchandising at ABLE, a fashion and lifestyle brand that creates women's wares with a purpose. ABLE focuses on ending generational poverty by providing sustainable employment to women, as well as advocating for fair wages and working conditions across the retail industry.
"I've watched our model continue to push to be the outsider in the fashion industry," Milam shared at the Audi panel. "At first, five years ago, ethical fashion was a pretty new concept. Once ethical fashion started to be a more mainstream conversation, all of a sudden, we're publishing our lowest wages. We're striving to put pressure on the fashion industry and change it from the inside out."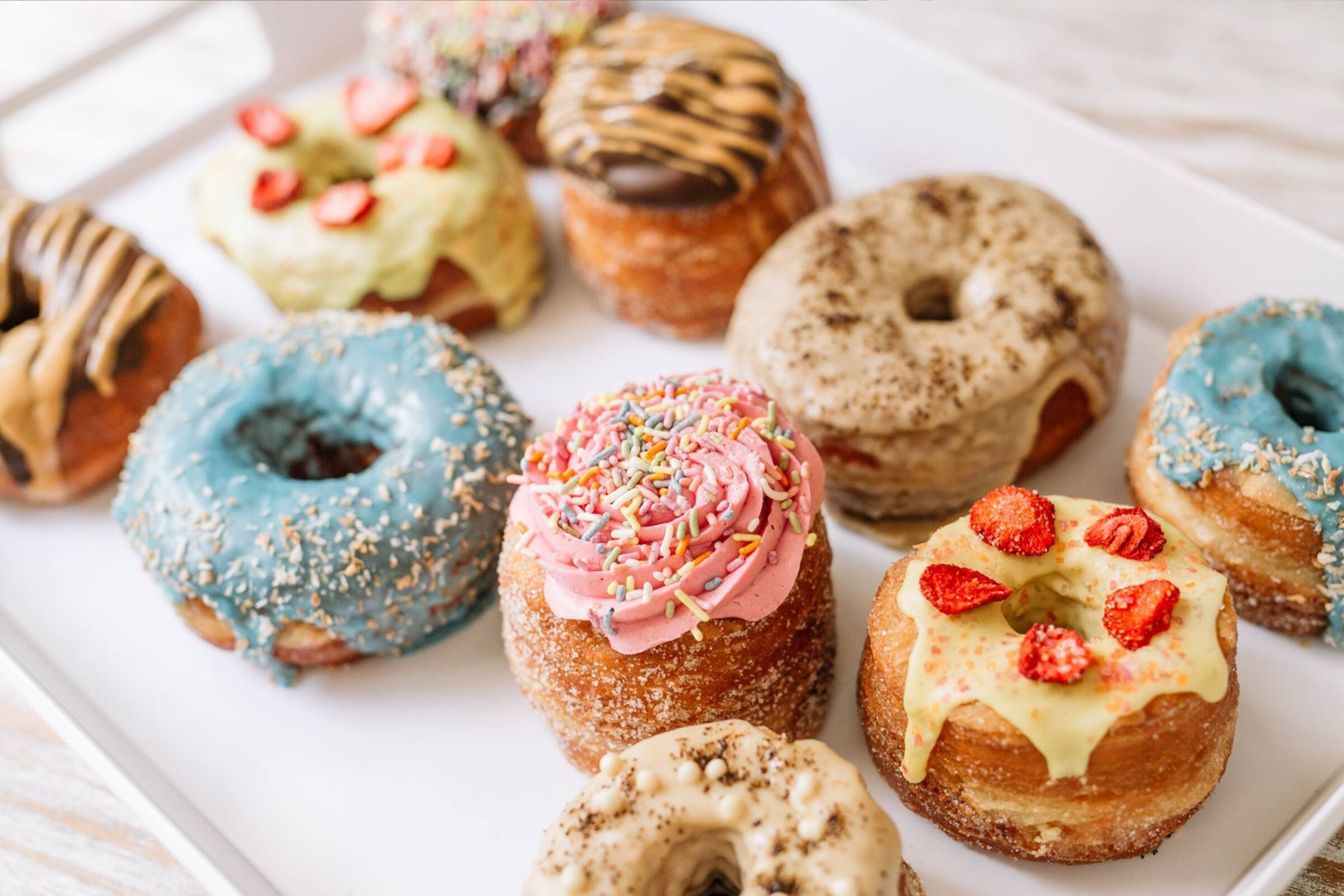 Photo Credit: Amber Ulmer for Five Daughters Baker, via Facebook
Following a passion and turning it into a profession is how Five Daughters Bakery got its start. The owners—Isaac and Stephanie Meek—founded the bakery (an ode to their five daughters) in 2015 as a way to escape corporate life. Neither of the Meeks had a background in baking, but they trusted their guts, held nothing back, and went for it. Today, they have seven locations throughout the South and continue to build their business on innovative products (like the 100-layer donut and "paleo crushers") made with high-quality, locally-sourced ingredients.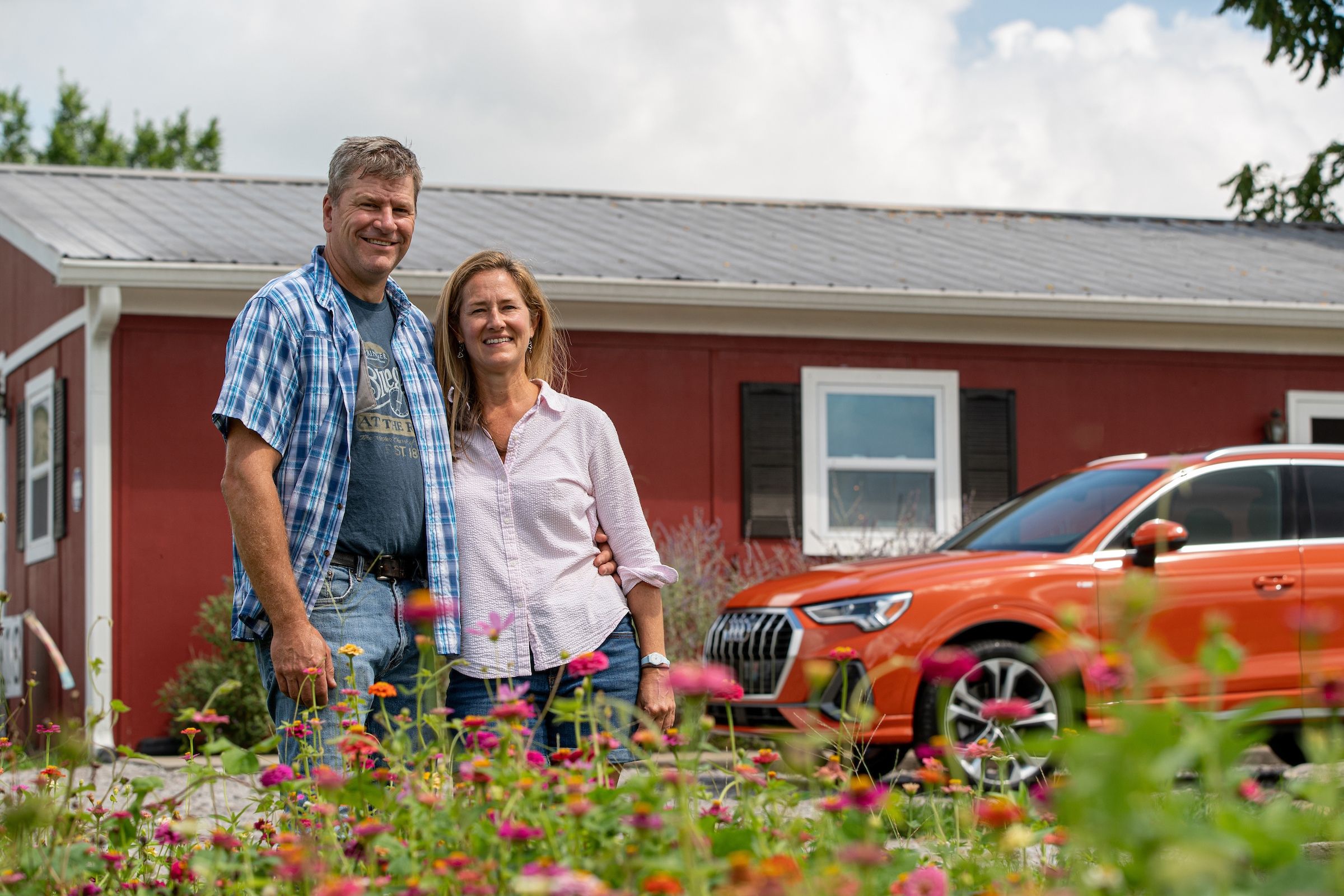 Photo Credit: Jim Fets for Audi
Bee farming might seem a little different to begin with, but Laura Kimball and Jeff Otto of TruBee Honey are pushing boundaries even in the apiary industry. Their bees are "free-range." Instead of confining their bees to a single-source diet, which can be detrimental to hive health, TruBee bees are free to roam, forage, and feast on the wealth of Tennessee's native flowers. Each jar of honey captures the distinctive taste of nature in a particular place and time—shaped by rainfall, sunshine, and bloom time. The unique flavor of each particular honey harvest may never be reproduced again, making it something truly special.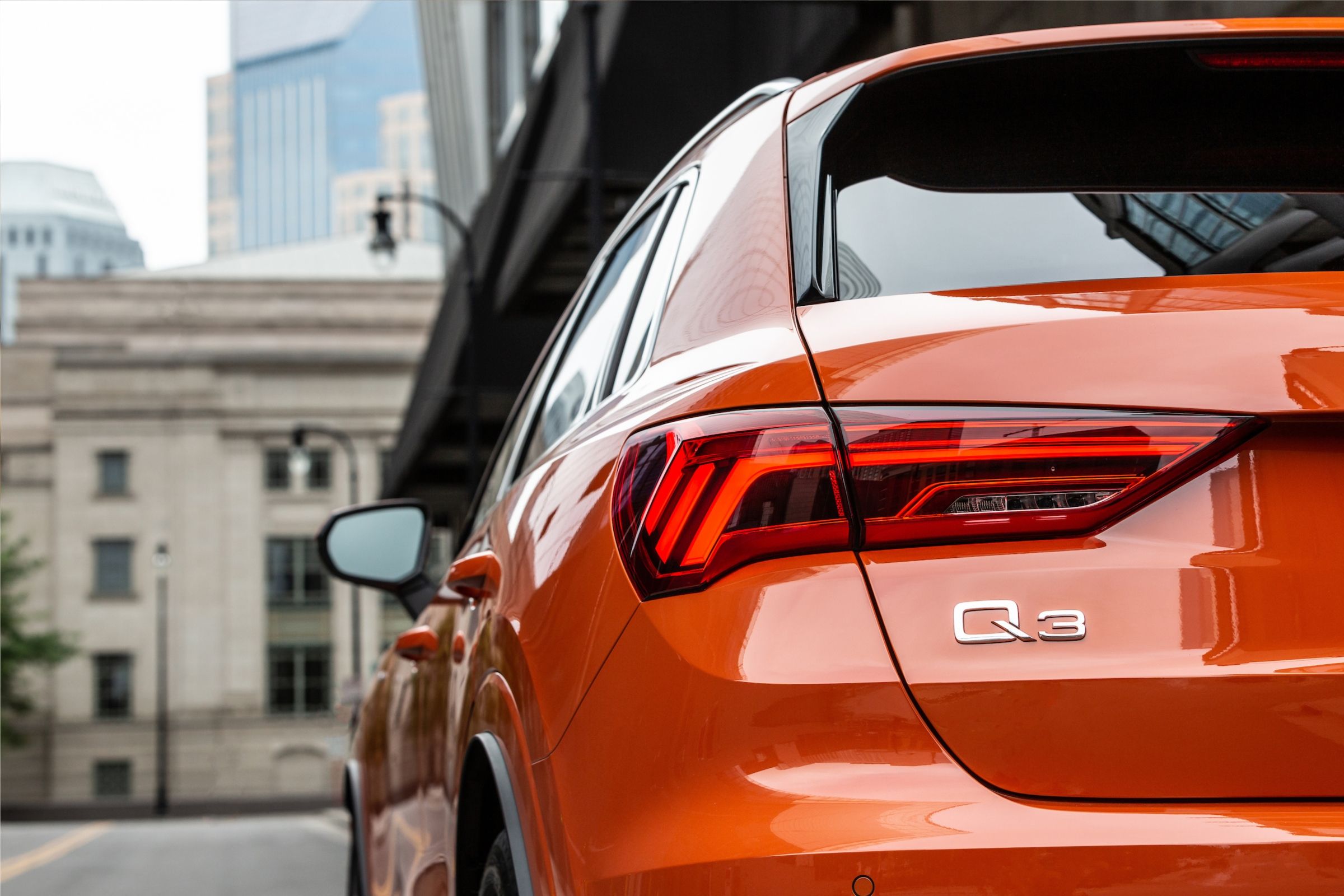 Photo Credit: Jim Fets
The second-generation Audi Q3 is, without a doubt, made for the hustle generation. Its redesign with all-new powertrain, standard quattro® all-wheel drive, and bold new features helps entrepreneurs hold nothing back—on the road and in their industries.