Photos courtesy of The Concours Club
The JustLuxe Interview:Neil Gehani, Founder of The Concours Club, Miami/Opa-locka
As the founder and chief executive officer of $1.7 billion Trilogy Real Estate Group, Neil Gehani was looking for something new, yet still wishing to combine two of his substantial interests: real estate and race driving. He did with his visionary venture, The Concours Club.
This club appeals to the truly UHNW race car owner, and is adjacent to a private airport near Miami. The forty founding memberships, all of which have been sold, cost $350,000 each. Other memberships are for sale now. And the Concours Club will open its doors in May of 2020.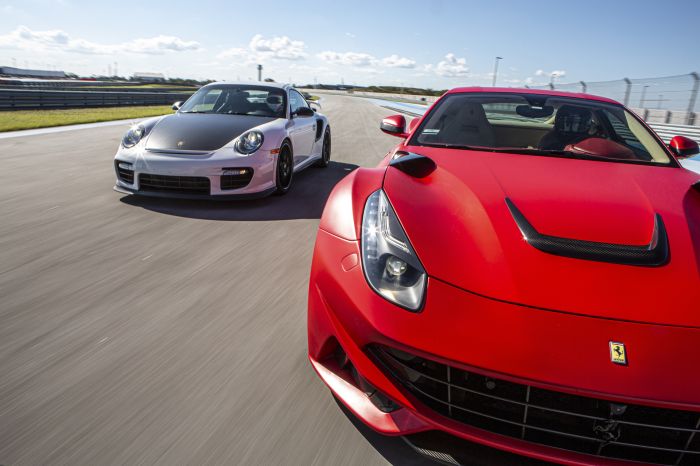 The Concours Club: Porsche and Ferrari on Concours Club Track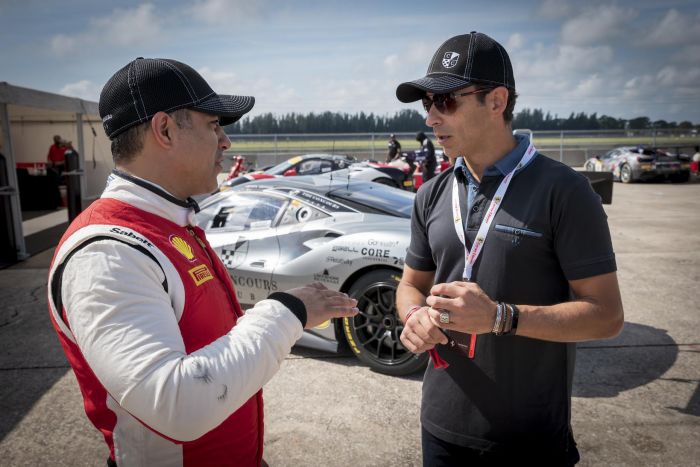 Left, Neil Gehani, and right, Helio Castroneves before Ferrari Race in Italy
JustLuxe is fortunate to have communicated with Neil Gehani, as he discussed the mission, vision, scope, and focus of the new Concours Club.
Just Luxe: At what moment did you begin to visualize/conceptualize The Concours Club?
Mr. Gehani: I joined Autobahn Country Club in 2006 and had such a rewarding time driving there. It's a wonderful private track and country club just outside of Chicago. My enjoyment at Autobahn was what first put the idea of The Concours Club into my head. I started racing in 2007 in a couple of different series, and that's also around the same time that I started spending more time in Miami to escape Chicago winters.
And, after about fifteen seasons in Miami, I began wondering why all my cars were up north in Chicago when they could be down in Florida. I also wondered why no one had created an automotive country club in that Miami. That was about five years ago. At the time, I called my friend who developed Autobahn to get his thoughts, and he told me that many people had tried Miami before, but was unable to pull it off. I knew I wanted to be in Miami, and I also wanted to have a place where I could pursue my passion for driving. Nothing existed, so I decided to build it. This is how The Concours Club was founded.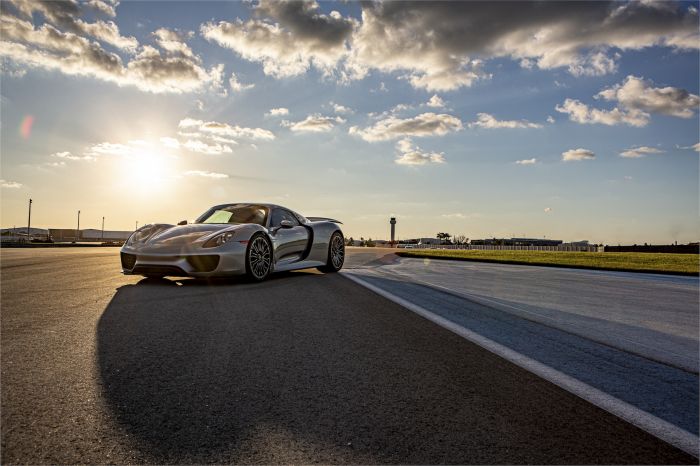 Ferrari On Concours Track At Sunset
JustLuxe: Please explain your evolution of choosing the idea for The Concours Club?
Mr. Gehani: In my professional life, I oversee Trilogy Real Estate Group as the company's founder and CEO. Trilogy's current portfolio spans nine states and thirteen different cities. Successful development is about seizing opportunities at the right time. I very much applied my professional background to building The Concours Club. Growing up in Detroit, cars and driving have always been a huge part of my life. The Concours Club is an evolved intersection of where my professional skills join with my passion for driving. What I love is cars, and specifically, racing them. I wanted to create a place that people like me could enjoy themselves. One key aspect that really sets The Concours Club apart from other possible private courses like ours is that we have worked hard to fold lifestyle aspects that I felt needed to be at the club.
JustLuxe: Why did you choose The Concours Club to be at the Miami Opa-locka airport?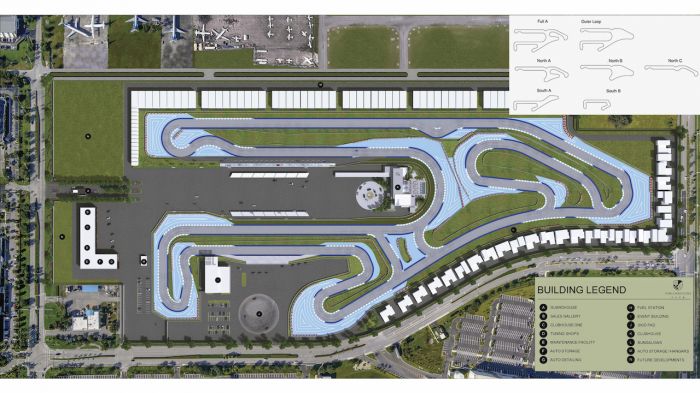 The Site Map of The Concours Club Race Track.
Mr. Gehani: Time is the most luxurious yet the scarcest commodity we have. I knew that our members didn't want to spend half of their day commuting to and from a driving circuit. So, we went to great lengths to figure out how we could make arriving to The Concours Club effortless. The Concours Club is in the heart of urban Miami at a private airport, literally 14 miles from Miami Beach. If you are flying privately into Miami Opa-locka Executive Airport, our facility is literally steps away, so members and guests can walk off their plane and be at the Club in minutes. Miami International Airport is also just nine miles south.
JustLuxe: You recently competed in the Ferrari Challenge — can tell us about how you started driving competitively, and what it felt like to win the championship at Mugello?
Mr. Gehani: I enjoy challenging myself, so driving competitively is just something I really have fun doing. The process of training and studying all of the telemetry and video is just a humbling and awesome experience. It just happened, and I still can't believe that I won a championship in the Ferrari Challenge. For me, just the opportunity to competitively race in such a prestigious series has been a true honor for me. Ferrari puts on a first-class program for the competitors, and I've met some fantastic people while racing in the series.
JustLuxe: How important is family and camaraderie for the club? Especially since race driving is a solitary sport between driver and car?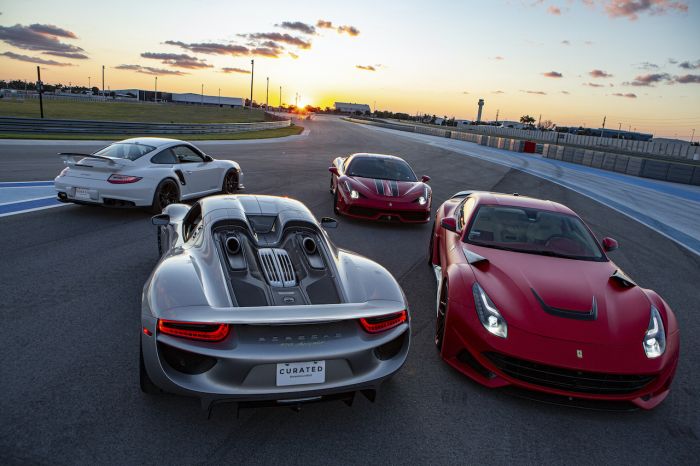 Club Members vehicles on track.
Mr. Gehani: That is an interesting question. Finding fellow auto enthusiasts and kindred spirits in the UNHW world of car collecting, driving, and restoring cars is rather hard to do. Car enthusiasts can be, and often are, very private people. The Concours Club is a place where car enthusiasts can meet and share their passions. For people off-track who aren't driving, they'll share car stories, have lunch, and be able to enjoy the company of other like-minded members.
JustLuxe: What are the most important lessons that you have learned from being out on the track as a driver? What has the track taught you about yourself?
Mr. Gehani: For me, I learned it requires complete attention. You have to study the driving, look at the data, and be disciplined with personal exercise. You can always get better, as you put in the time in order to see results. It challenges, and I love that aspect of racing.
JustLuxe: Helio Castroneves is a founding member of The Concours Club. Describe how that came about.
Mr. Gehani: I met Helio through a mutual friend. Knowing I was creating The Concours Club, my friend introduced us and Helio was on board immediately. He has been kind enough to make time to help make The Concours Club even better. At the very early stages of design, Helio drove our digitized version of the circuit before it was built and recommended a number of changes to our track designer, Alan Wolfson, and his engineering team. Later on, he came in when the course was being built and recommended even more changes both for safety and driver enjoyment. I feel fortunate to call Helio a friend.
JustLuxe: Building a world class circuit is a profoundly challenging endeavor — what were some of the most important parts of the process of designing The Concours Club's course?
Mr. Gehani When we first designed The Concours Club digitally, Helio came in and made some suggestions. Alan Wolfson, our circuit designer, heard the suggestions and completely agreed with him. We quickly made those changes and had Helio come out when it was being built to get his valued opinion. The Concours Club draws its inspiration from the world's best circuits. Laguna-Seca, Road America, and Road Atlanta are some of my favorites that come to mind. They are technical, challenging tracks that I immensely enjoyed.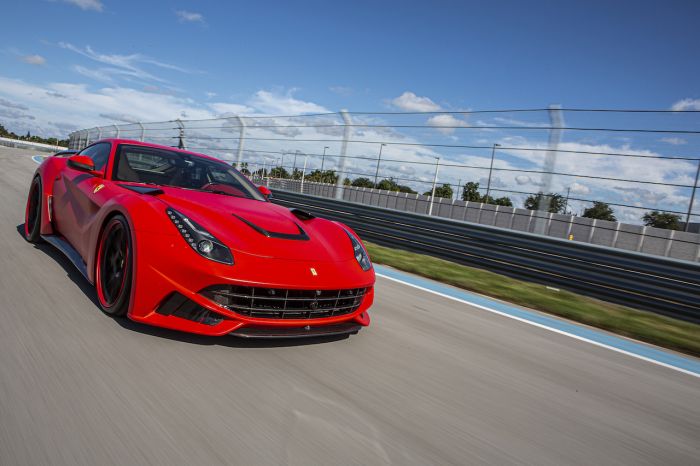 Red Ferrari at The Concours Club.
JustLuxe: What is The Concours Club planning in regards to the lifestyle milieu? Will there be villas or other places of residence for members to enjoy? How about car storage?
Mr. Gehani: The Concours Club will have something for all. If you want a membership, you can have that. And, if you want to leave the car at the club, members can rent car storage and The Concours Club will take care of member cars for them while they are away with support services such as car detailing to security to management.
The Concours Club garages come in multiple sizes allowing for smaller space rental or circuit garages that offer premium space for multiple cars. Rentals allow members the flexibility to have The Concours Club experience without the investment and commitment. A member can also build their dream homes, called Viilas, on our grounds. We have a limited run of 12 available, but we are very excited about designing and building more in the near future. The whole concept at The Concours Club is about delivering what members need both now and in the future.
JustLuxe: What kind of training is available at The Concours Club for members, should they wish to receive it?
Mr. Gehani: The Concours Club strives to foster a culture of ongoing education and driver improvement considering that most of our members are students of the sport. To this end, we collect an unprecedented amount of data and video, both in and out of the car. Data are only as useful as those interpreting it. So, we have assembled a staff of talented professional coaches led by Miami native Jonathan Branam.
We select coaches with extensive experience as both competitors and teachers who are comfortable with the use of modern coaching tools. Additionally, we will have multilingual coaches allowing international members to communicate in their native languages whenever possible.
JustLuxe: What unique technical aspects are folded into The Concours Club circuit? How is The Concours Club different from other track clubs in the country?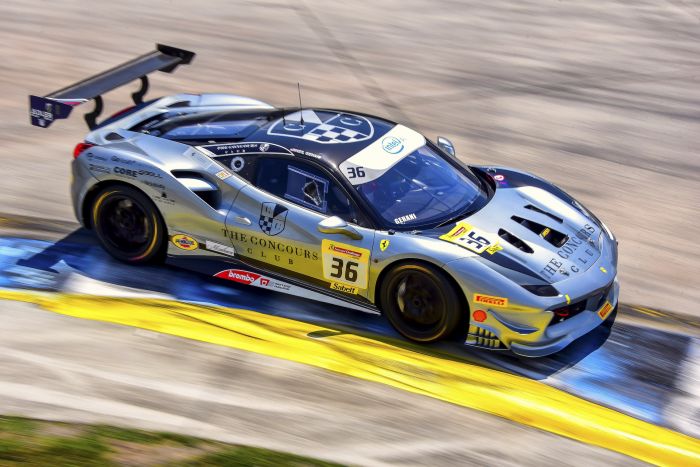 Mr. Gehani: The Concours Club was designed from the onset as a members' club, and this sharp focus is our biggest differentiator. While most motorsport facilities balance the needs of mass ingress and egress, grandstand sightlines, and viewing angles for television cameras, our course is designed exclusively to entertain and challenge a small group of members. The course itself is exciting, but forgiving.
For example, The Concours Club circuit has corner complexes that could take years for members to master, but our focus on safety has made the most challenging aspects of the course ideal for coaching. The central paddock and non-infield garage layout also provide members tremendous flexibly accommodating mid-event arrivals and departures. Members can attend for a full day, or just a short visit. The Concours Club efficiencies allow us to offer our members very long hours of operation. Furthermore, our team has done everything possible to enhance the safety of the course through adherence to applicable FIA guidelines and utilization of FIA certified safety systems.
JustLuxe: What unique amenities are planned for The Concours Club in the future?
Mr. Gehani: Everything about The Concours Club is unique, including the unprecedented range of permanent facilities available to members upon opening. On day one, members will have access to a clubhouse with locker rooms, and a full-service restaurant and bar operated by a renowned culinary director.
The Concours Club will offer two-plus miles of road course, a fuel station, and an industry-first benchmark raising trackside comfort station. We have already started working on garages to store our members' collections, and these will come online shortly after opening.
Since no one has ever constructed a motorsport country club in a major city, The Concours Club is excited to see how the usage patterns evolve. We anticipate this usage will be different in comparison to other clubs whose facilities are hours from city centers. Once we determine usage patterns and understand course availability, The Concours Club will add an events campus featuring its own entry, parking, pit lane and a building designed to host automotive events -- new car launches, media events, and boutique manufacturer test drives. Once the event campus is complete, we will turn our attention to building a larger clubhouse to host our fully subscribed member base and their guests. Our commitment is to build the best of everything at The Concours Club for our members, and this year is just the beginning.