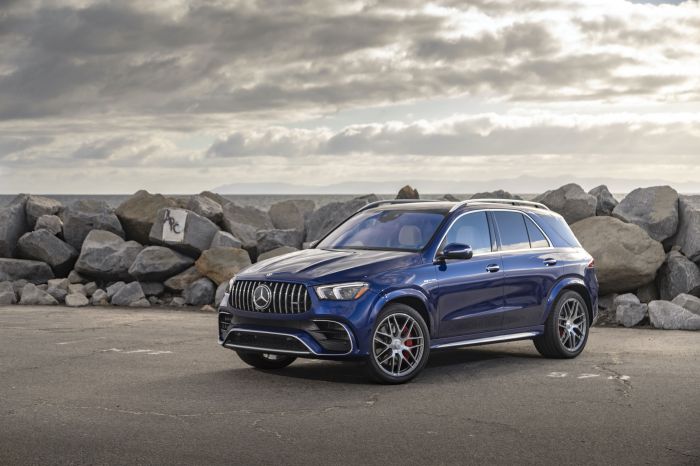 Mercedes-Benz
In the effort to produce ever-more-powerful performance SUVs that also set new standards for efficiency—all while looking as sexy as sports cars—Mercedes-Benz has already emerged a clear winner thanks to the award-winning design of its all-new GLE. And its even newer top-of-the-line version, the 2021 Mercedes-AMG GLE 63 S, so far outclasses the competition that they might as well call themselves "sport futility vehicles" instead.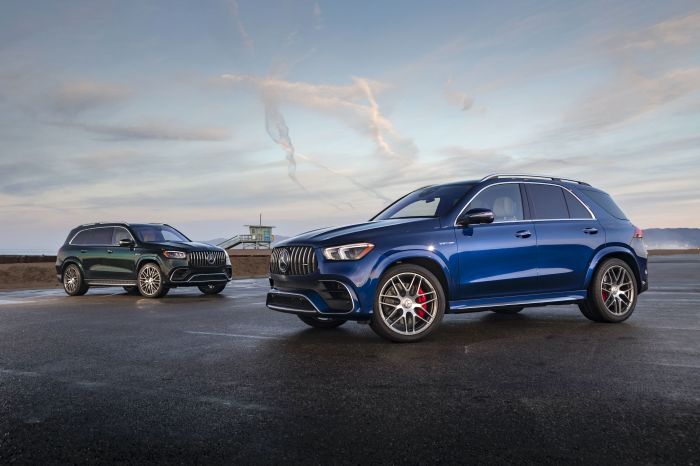 Mercedes-Benz
That's because the GLE 63 S has a secret weapon in the form of an EQ Boost starter-generator enhancing its already formidable AMG-built 4.0-liter V8 Biturbo engine, giving its mind-bending 603 horsepower a 21 hp shot in the arm. It also powers the 48-volt on-board electrical system and helps optimize efficiency for good measure. A serious upgrade for an SUV that already leads it class in terms of design, visibility, road presence, passenger and luggage space, high-end finishes and state-of-the-art driving assistance, infotainment and connectivity features.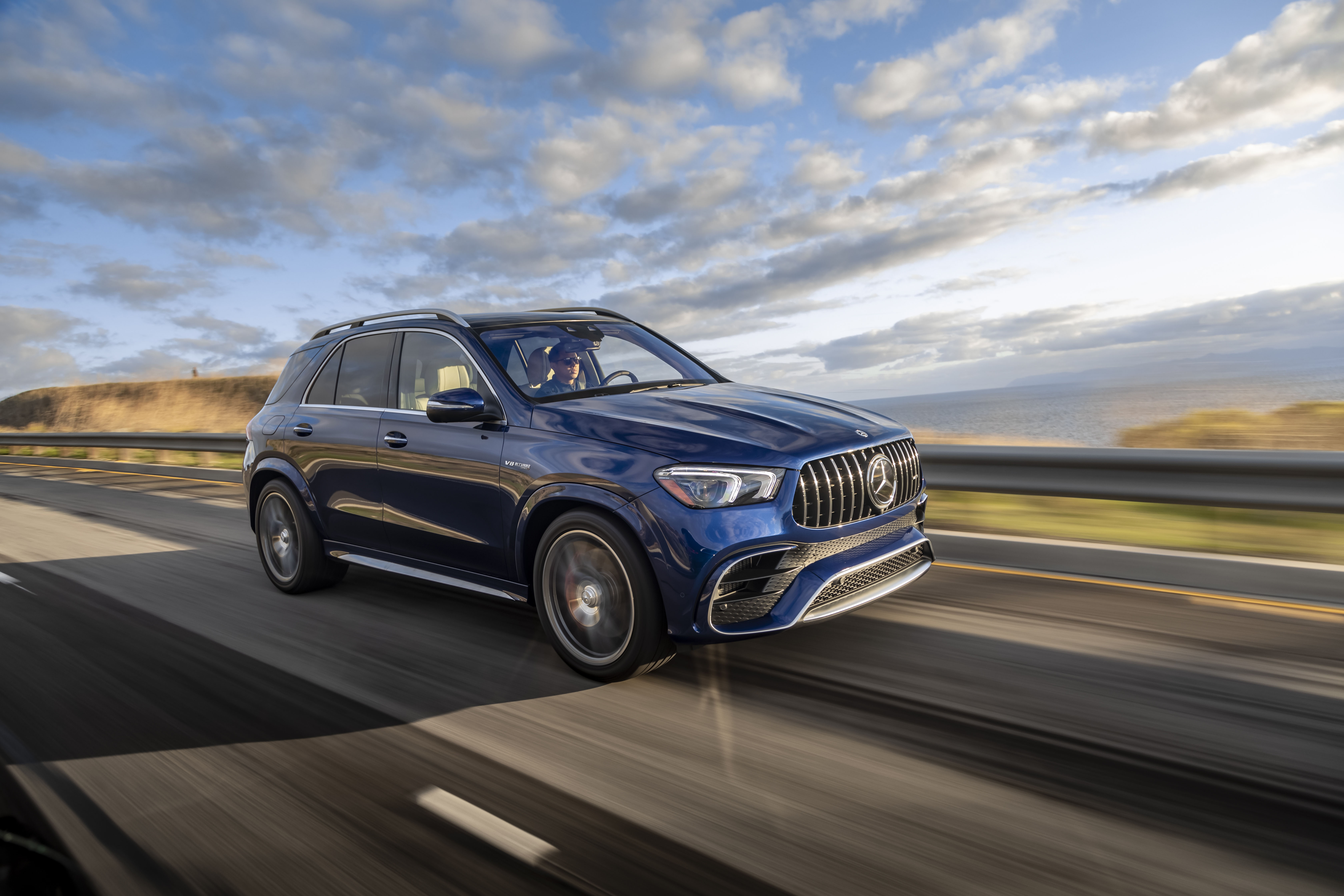 Mercedes-Benz
"With our new GLE Performance models we are transforming a 20-year tradition into the future," notes Tobias Moers, Chairman of the Board of Management of Mercedes- AMG GmbH. "For the first time we are electrifying our well-proven 4.0-liter V8 Biturbo engine with an EQ Boost starter-alternator and a 48-volt on-board electrical system. As such we are embarking on another new chapter of our drive technology, which we are also successively extending further as we move towards electrification and hybridization. With our new premium SUVs, our customers can look forward to an unrivaled package of driving performance, high day-to-day suitability, optimum traction on practically all surfaces, and also comfort on long journeys with high levels of efficiency,"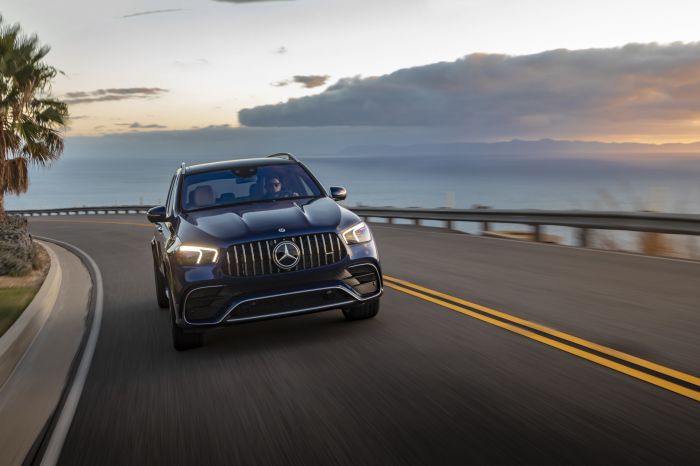 Mercedes-Benz
No other manufacturer matches Mercedes' relentless pursuit of perfection across all its product lines. Of course having the advantage of AMG, its performance division founded in 1967, which has undeniably emerged as the most capable and eloquently powerful such endeavor, is something of an unfair advantage. Elevating Mercedes machines with an intoxicating combination of brawn and beauty is a mission they undertake with singular devotion.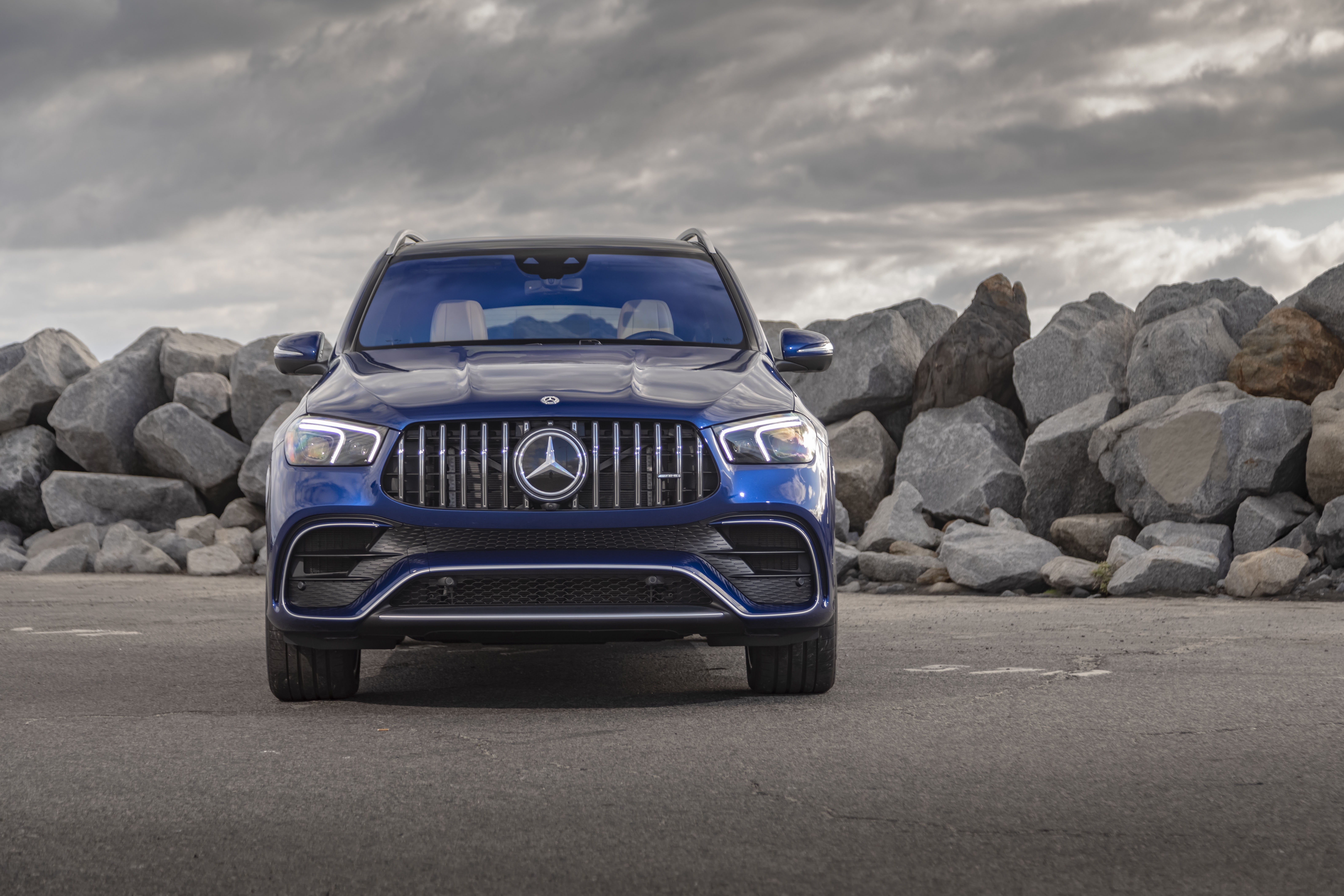 Mercedes-Benz
In Santa Monica and Malibu recently we had the opportunity to test drive both the GLE 63 S and its new big brother, the 2021 Mercedes-AMG GLS 63, aka the "S-Class of SUVs." The three-row GLS 63 is also equipped with the famed AMG 4.0-liter V8 Biturbo engine, mated to a revolutionary EQ Boost starter-generator, giving it 603 hp-plus on tap. Where the GLE's focus is on ultimate agility, the GLS dominates with an even more imposing design and exclusive appointments, along with room for up to seven people.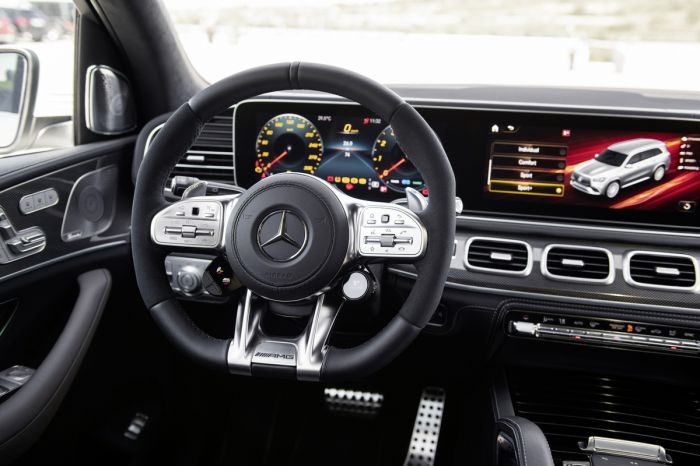 Mercedes-Benz
Seeing a full fleet of the impressive SUVs lined up outside the cool new Santa Monica Proper hotel, a mix of a 1920's-era landmark building and new contemporary architecture with interiors by Kelly Wearstler, was exhilarating in the extreme. Driving them to Malibu for lunch at a no less imposing mansion, also a mix of traditional and modern, overlooking the ocean was an incomparable experience. The locations were obviously chosen with care, and served to reinforce the fact that Mercedes' long traditions of design and engineering excellence have also been translated into the essence of cutting edge.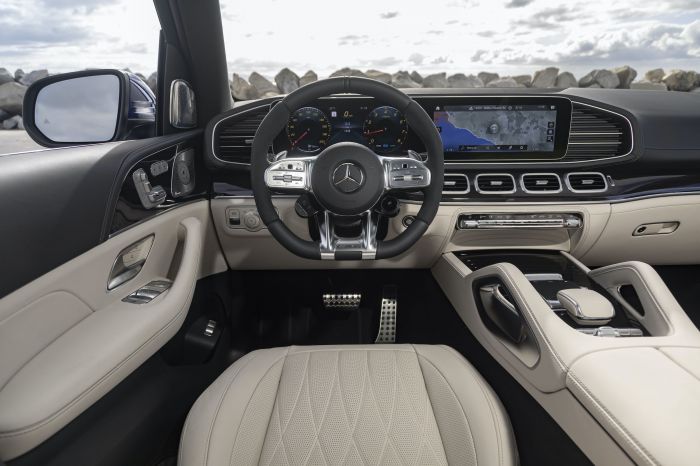 Mercedes-Benz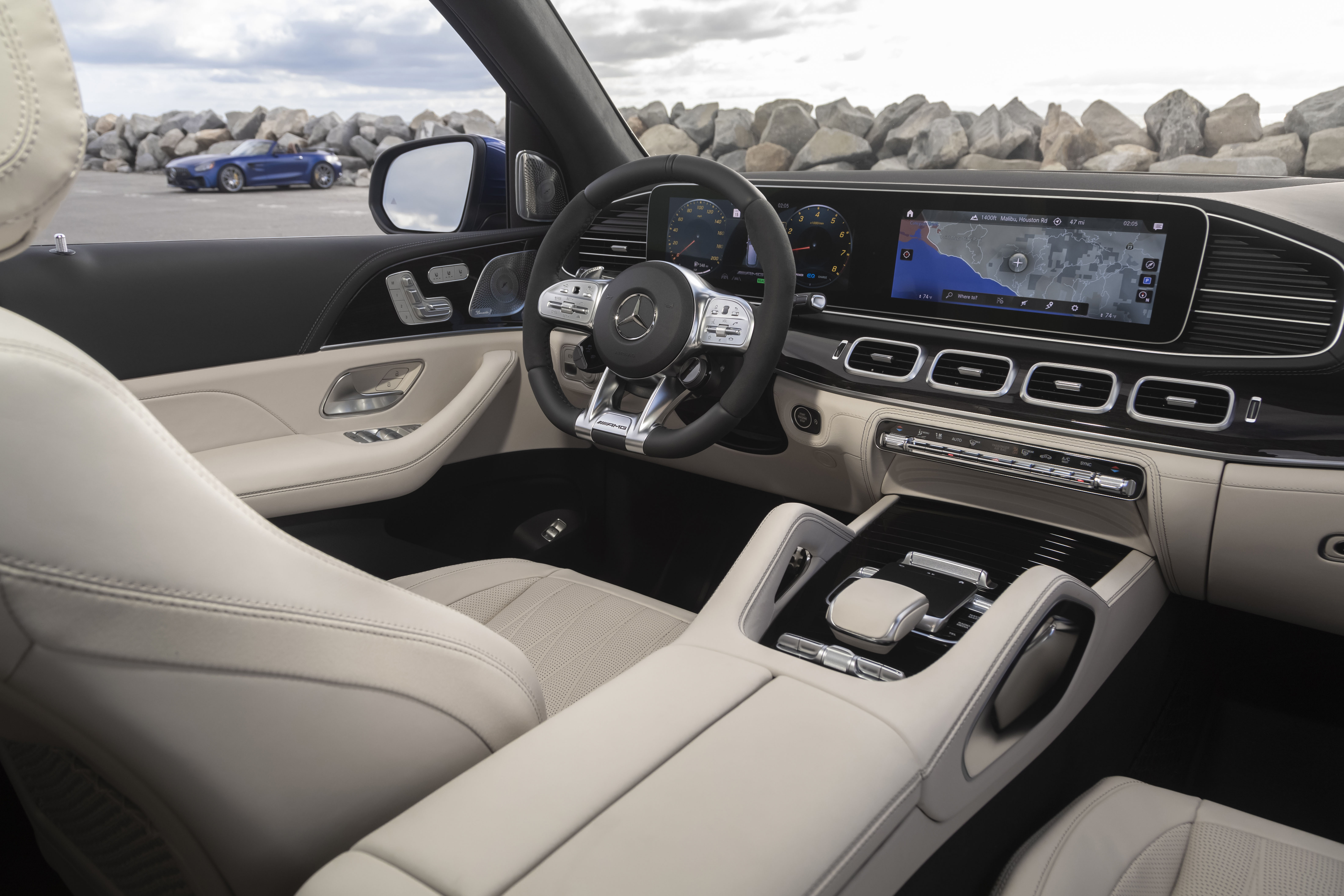 Mercedes-Benz
"With the new GLS 63 we are offering a vehicle to customers who won't accept compromises when it comes to versatility, effortless superiority and spaciousness," Moers announces. "We have further increased the powertrain's efficiency in conjunction with the EQ Boost starter-alternator and 48-volt electrical system, which makes our GLS 63 the ideal companion for long distances, on a par with the S-Class."
The GLS 63 establishes its dominance early on with its AMG-specific radiator grille with vertical slats in high-gloss chrome, larger than grilles found on other AMG models. The pulse-quickening design of the front end, in general, is seen in the hood's heavily contoured powerdomes, a newly-designed AMG front bumper with an integrated "jetwing" design in high-gloss black, a front splitter, a jetwing trim strip in silver chrome, and aggressive side air inlets highlighting 21-inch AMG multi-spoke wheels. Moving to the back, the new AMG rear bumper is set off by a sporty along with an AMG exhaust system with two rectangular corrugated twin tailpipes.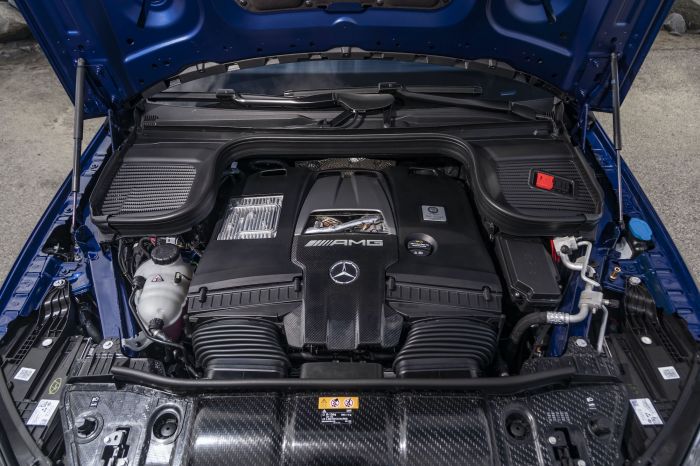 Mercedes-Benz
Mercedes-Benz
Both super-SUVs feature interiors that are as invitingly adrenaline-producing to driver and passengers as they are intimidating to the competition. Highlights include AMG-specific upholstery trimmed in Nappa leather, multi-contour seats with climate controls and massage functions, and the latest generation, three-spoke AMG Performance steering wheel with aluminum shift paddles, as well as the top-tier Mercedes-Benz User Experience (MBUX) multimedia system. Options like a Burmester surround sound system help make the most of it. The pitch-perfect blend of performance and luxury once again puts Mercedes in pole position.
The 2021 GLE 63 S carries a base price of $114,945, while the GLS 63 clocks in at $134,090. While those are not inconsiderable sums, both have not only drawn very favorable advance reviews from the automotive press, but also comparisons to much pricier rides such as the Bentley Bentayga. It was back in 1999 that Mercedes invented the high-performance luxury SUV with the introduction of the ML55 AMG. Twenty-one years later they are still running at the head of the pack.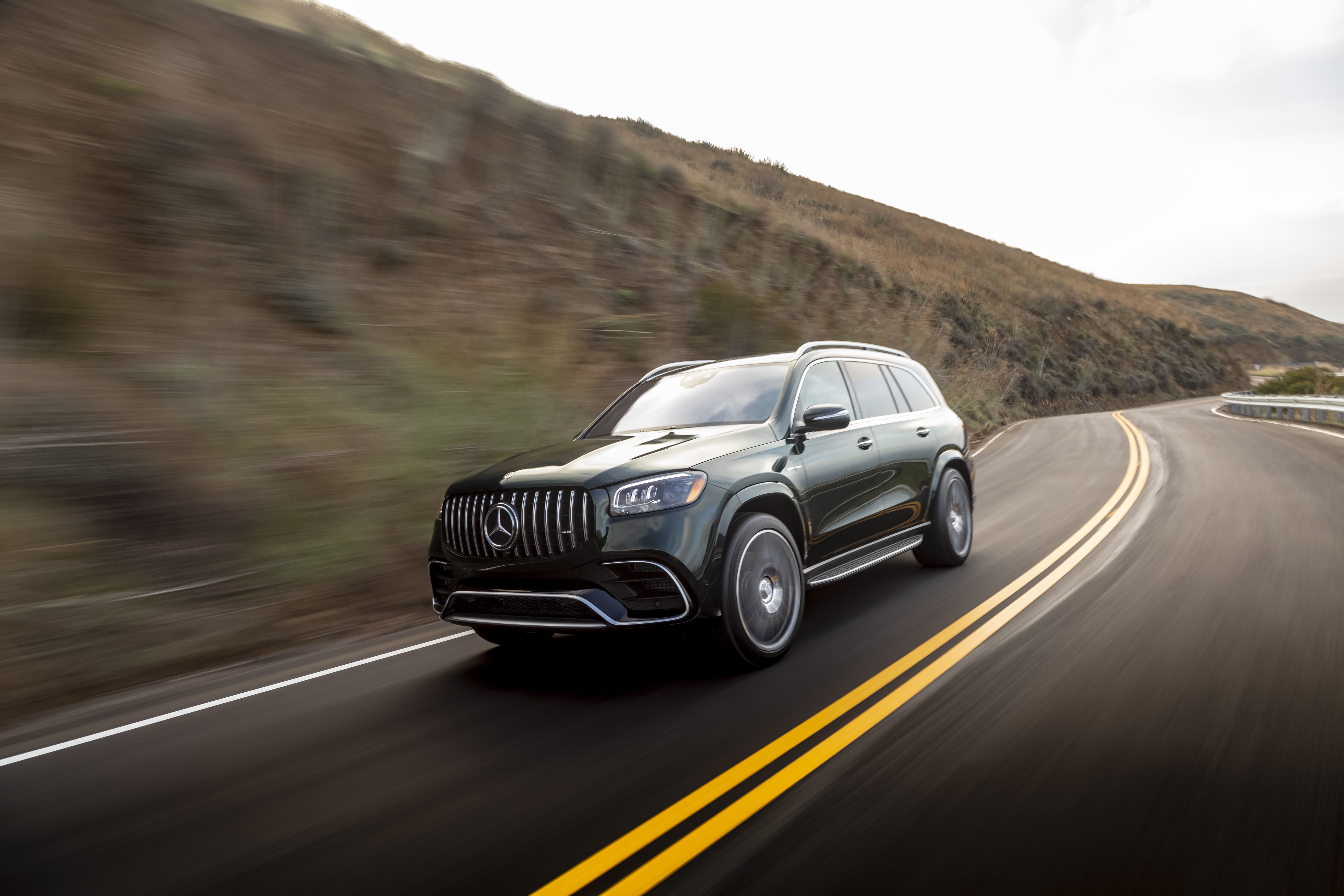 Mercedes-Benz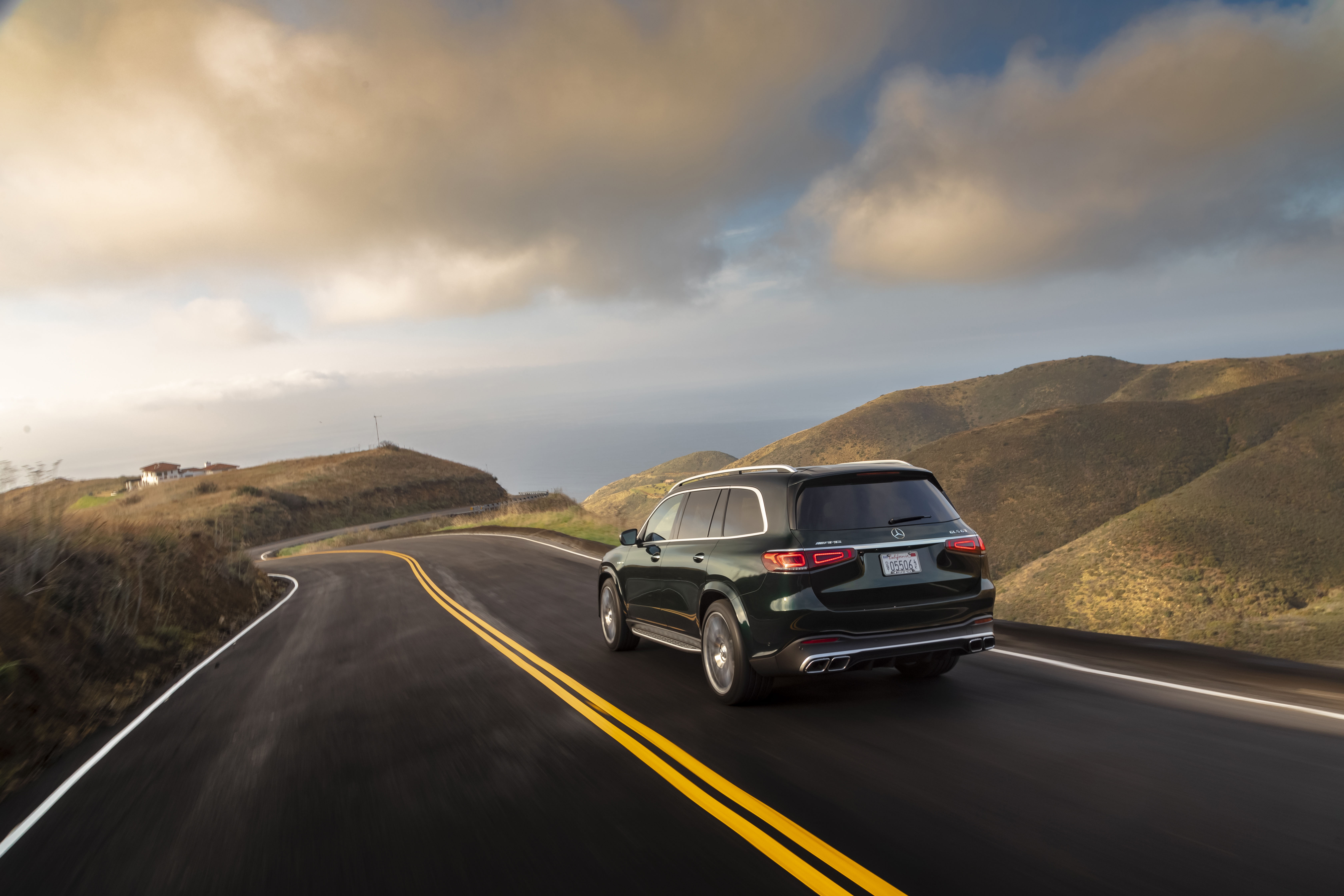 Mercedes-Benz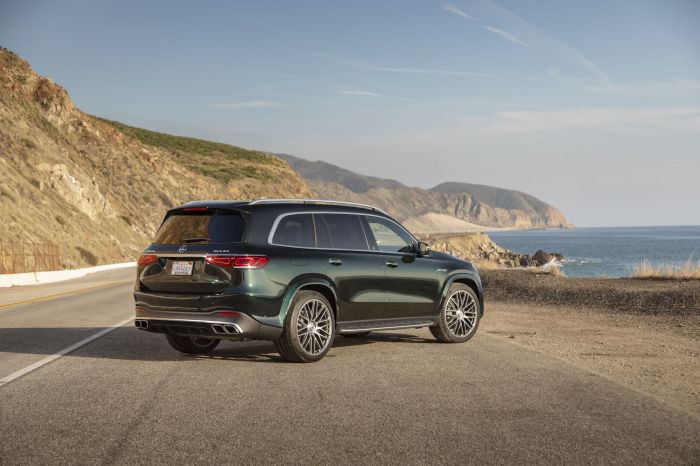 Mercedes-Benz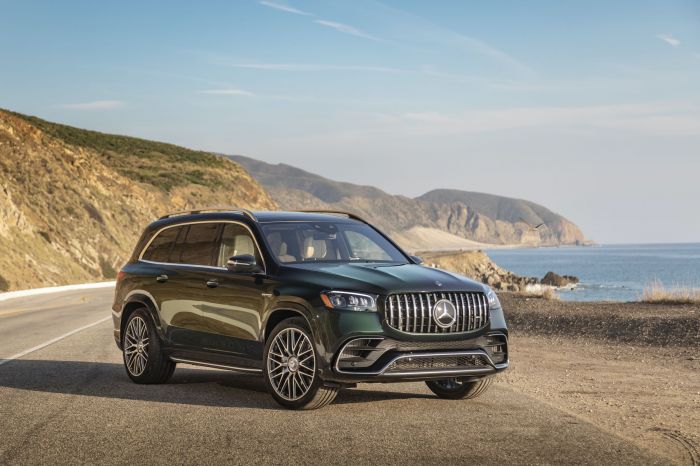 Mercedes-Benz