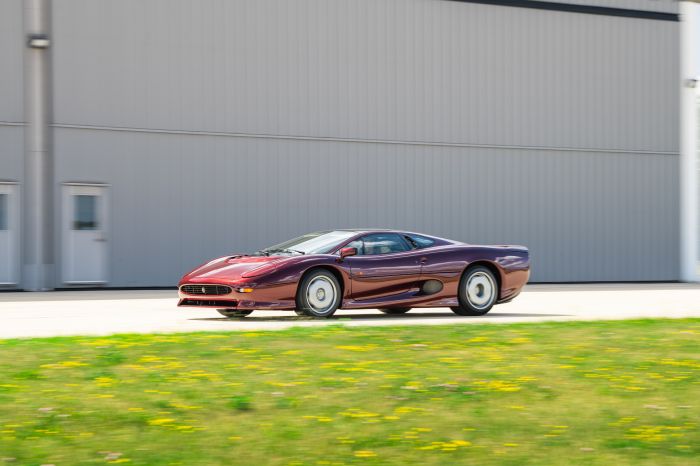 Stratas Auctions online auction platform officially launches this month. It is an online-only portal, set to soon unveil five unique examples of automotive history that will immediately become available for interested bidders and collectors.
This new digital portal from Stratas Auctions is set to offer a premium digital auction experience.
"Stratas Auctions was created to improve the traditional automotive auction experience by offering a convenient platform for collectors to acquire their dream cars," comments Stratas Auctions Founder Lance Butler.
The five vehicles available on the Stratas Auctions portal are: 1981 Porsche 924 GTR, 1993 Jaguar XJ220, 1981 Renault R5 Turbo, 1963 Ford Thunderbird, and a 1977 Volkswagen Beetle -- all available for interested bidders. Some of the automobiles' provenance are revealed below.
1981 Porsche 924 GTR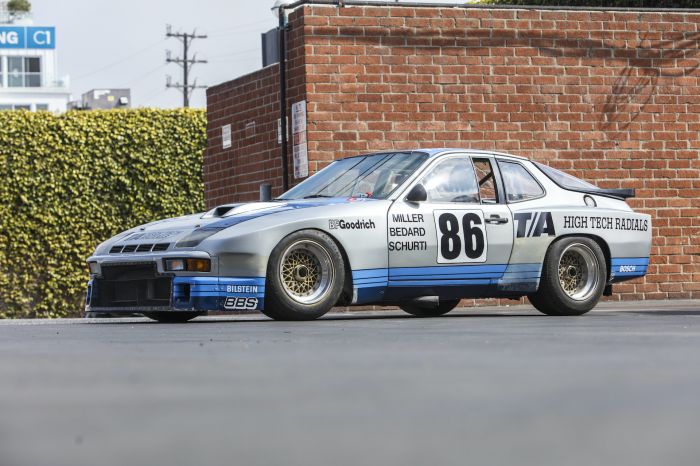 Stratas Auctions
The headliner during this Stratas Auctions launch is a 1981 Porsche Carrera GTR that raced at Le Mans in 1982. It held the lead until a wheel fell off in the 19th hour to end the vehicle's chance at claiming a victory at the iconic track. The Porsche remains one of only seven GTRs to have taken part at Le Mans, and it is believed that the drivetrain and driveline are original as are much of the unique Weissach components.
A car designed and built for Le Mans, this GTR was refined with a type 935 based gearbox mated to the engine. Weighing approximately 2,000 pounds, Porsche rated the car's 0-60 time around 4.5 seconds with a top speed of 180 mph. This legendary machine competed at Le Mans, Daytona and Sebring during its competitive racing career.
1993 Jaguar XJ220
The Jaguar XJ220 was a technological tour-de-force that emerged as the world's fastest production car ever. The XJ220 utilized the 3.5-liter, twin-turbo, 24-valve DOHC V-6 engine to produce 542 bhp at 7,000 rpm. Its race-inspired, four-wheel independent suspension with unequal wishbones, as well as inboard concentric coil springs and Bilstein shocks, insured high-speed road handling without sacrificing ride comfort.
Typical Jaguar appointments include extensive leather throughout the cabin, with black-and-white analog gauge faces. This automobile is one of just 281 ever built and remains in exceptional original condition, showing only 2921 kilometers (1815 miles) since new, and including original accessories.
1981 Renault R5 Turbo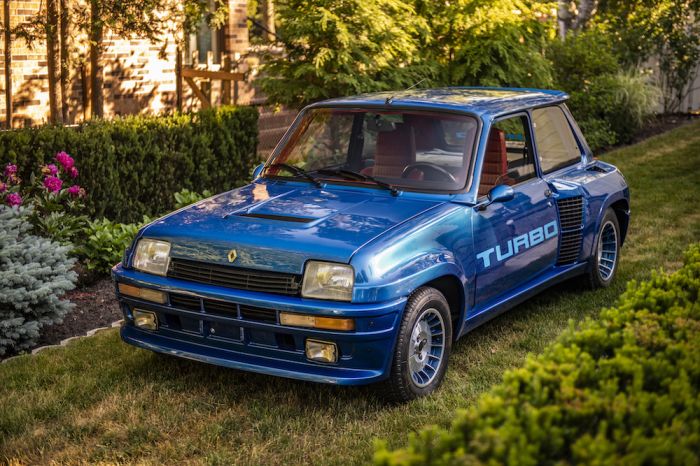 Stratas Auctions
This 1981 Renault R5 Turbo chassis #636 wears the striking Olympe Blue Metallic paint scheme of the early series, and features the aluminum roof, doors and rear hatchback shared with the competition cars. While in the U.K., #636 received a 2014 mechanical refurbishment from R5 Turbo expert John Price Rallying, who upgraded to 210bhp Tour de Corse specifications, including a correct Renault Sport camshaft and intercooler.
1963 Ford Thunderbird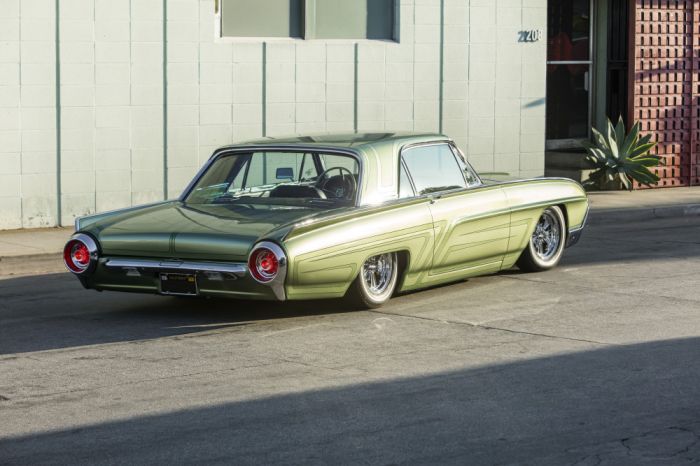 Stratas Auctions
Unlike many vintage automobiles, this 1963 Ford Thunderbird Kustom "D-Bird" was not built for the purposes of display. Having been driven to car events all over the US as well as having the honor of displaying at the Mooneyes Hot Rod Custom show in Japan, this T-Bird built by Starlite Rod and Kustom, has a storied history.
The body was given a complete repaint using Kiwi Green paint paired with dark green Freeway Scallops with Malex Pinstriping to finish the exterior with fine brush lines. A custom interior was designed and installed with retro dark green seats and carpeting to compliment the exterior. To give this T-Bird a smooth ride while also being able to lay low while cruising, Universal Air air ride suspension was installed for adjustability in ride-height options.
1977 Volkswagen Beetle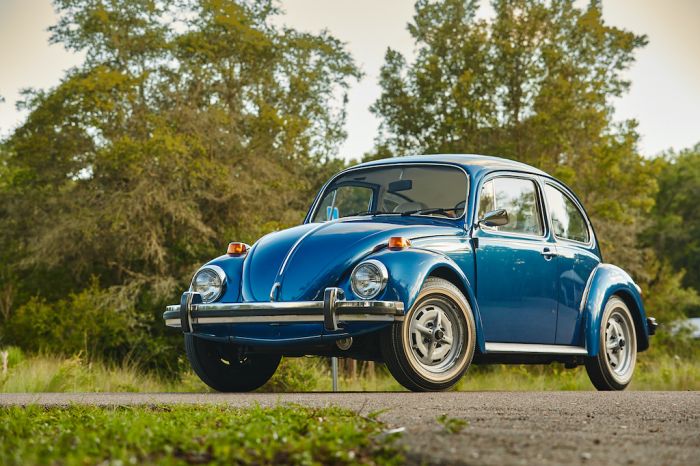 Stratas Auctions
Specially ordered for the wife of the original purchaser in 1977, this Beetle was finished in Bahama Blue Metallic with Slate leatherette interior and fitted with a sunroof, air conditioning, and an AM/FM radio. Records describe the Beetle as being driven twice, covering just 108 miles before being placed into storage where it would remain under the same ownership for nearly 32 years.
The most recent mechanical work completed was a fuel system cleaning and service done under current ownership in 2019. Offered now with just 124 miles logged on the odometer, this is a unique opportunity to purchase a well-preserved example of one of the world's most iconic automobiles.