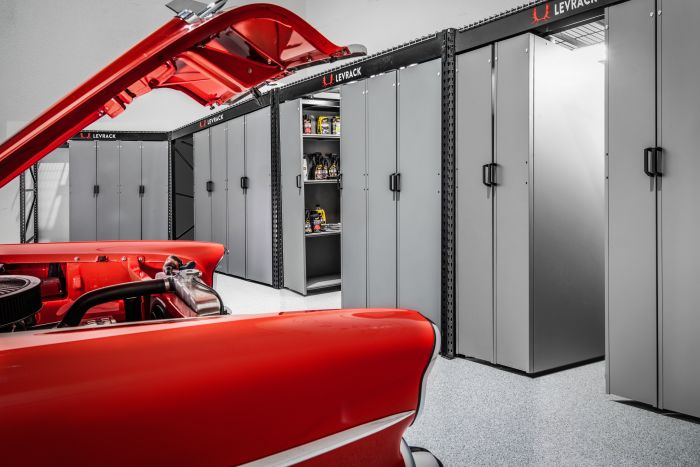 Levrack
In the 90's, exterior garage space associated with the care and maintenance of high-end race cars or any classic car coveted by a collector, was part of what was defined as a man cave. This term described an exterior space where one or more interested family members or mechanics or both, often male but not always, were able to re-build or re-purpose automobile projects; places where car enthusiasts could express mechanical creativity, often through solving complex automobile challenges.
But now in 2020-2021, the general architectural, aesthetic, and design trend is to enhance and expand these spaces -- moving from the man cave idea into a new one: the contemporary garage sanctuary. This idea lies in the creation of a place where high-end, classic and contemporary automobiles and motorcycles are worked on and studied to make them faster and stronger.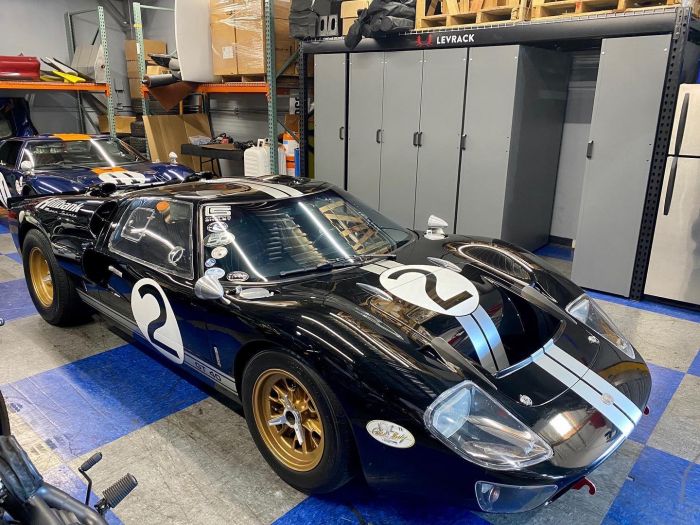 Levrack
In order to do these tasks, organized space is essential, and many racing and classic car enthusiasts have installed a high-end storage design product -- one that allows the better organization of usable garage storage space-- called the Levrack system.
We recently communicated with Levrack co-founder Ryan Stauffer, and discussed the importance of Levrack organized spaces in the creation of a luxury garage sanctuary.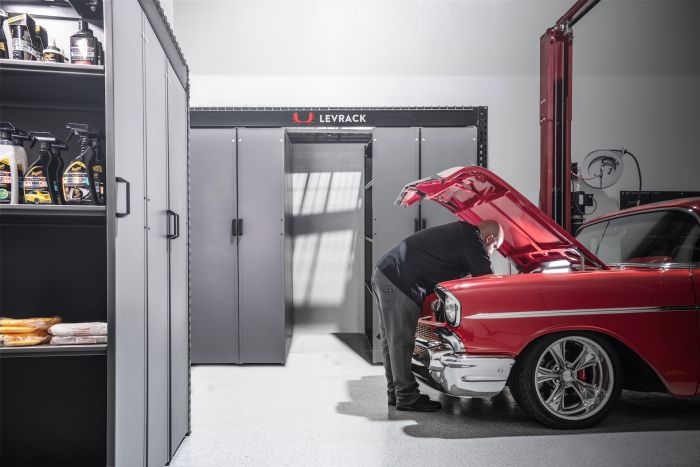 Levrack
JustLuxe: The organization of space is a crucial aspect to the creation of a personal sanctuary. The garage is no different, especially during the pandemic. How can your Levrack cabinets enhance spaces?
Mr. Stauffer: Levrack has always been about bringing innovation and a good feeling to shelving. Being organized tends to make people feel good, so in creating a luxury sanctuary-like space -- cleanliness with no clutter is key, especially when we spend more time at home, with greater time in a luxury garage sanctuary. Levrack's design and functionality provides the ability to maximize the garage space the person already has, while making it look better -- cleaner and more organized -- at the same time.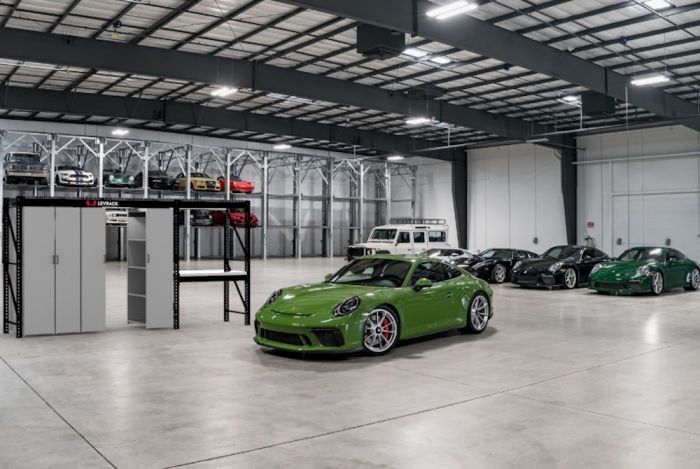 LEVRACK
JustLuxe: How is Levrack's cabinetry new and innovative? Why should these cabinets belong in a sanctuary garage?
Mr. Stauffer: Levrack's design is based around a patented top down track system that allows the shelving units within the Levrack to appear like they are floating. There is no track on the floor, allowing you to easily move the system if needed, as well as making it easy to clean underneath, by sliding the shelves side to side. Levrack has the ability to double and even triple storage capacity within its footprint, when using the overhead storage above the rack. The garage is a place that's often easily taken over by objects and things that have nowhere else to go, so we wanted to provide a solution that allows the taking back of space in an efficient, yet attractive way.
Levrack
JustLuxe: Why would a car collector want Levrack floating cabinets in their workspace?
Mr. Stauffer: Most collectors and enthusiasts have a couple of things in common. They are meticulous about keeping things neat and tidy, and they have a keen attention to detail when it comes to quality and craftsmanship. With the ability to maximize garage space, as well as maintain an organized placement of a few tons of equipment, possessions, and automobile gear, we believe we've designed a garage sanctuary storage product that checks every box for the potentially better organized automotive enthusiasts and classic car collectors.
JustLuxe: Who are your typical clients? Can you describe what type of person would enjoy Levrack cabinets? is Levrack just for auto enthusiasts, or do you find your clients also interested in other hobbies?
Mr. Stauffer: The Levrack system is for outdoor enthusiasts to craftsman to the automotive collector you mentioned before. The fact is, most people have more things than they have room and are looking for a remedy. When there is an excess of clutter, our brains get distracted. This leaves less bandwidth for the task at hand. Our shelving provides a unique type of organization, that helps reduce stress. It has been proven helpful in the most demanding environments and is refined enough to create the zen-like garage experience that creates a true garage sanctuary.
The Levrack system helps with personal organized clarity, so the automobile, and motorcycle challenges our clients work with usually seem less complex, and hopefully, more enjoyable.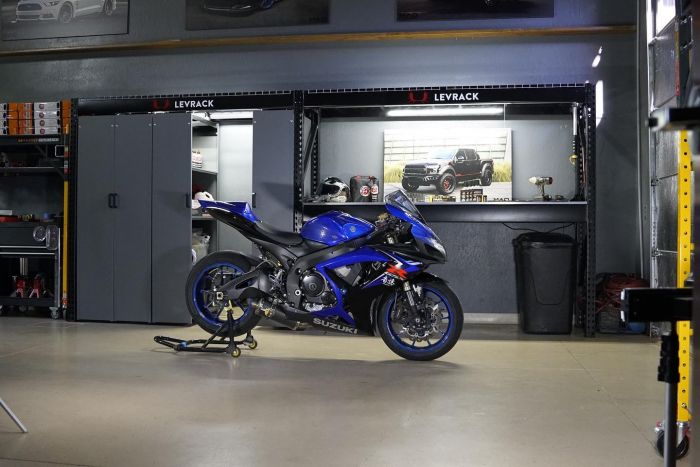 Levrack
Suzuki Motorcycle with Levrack system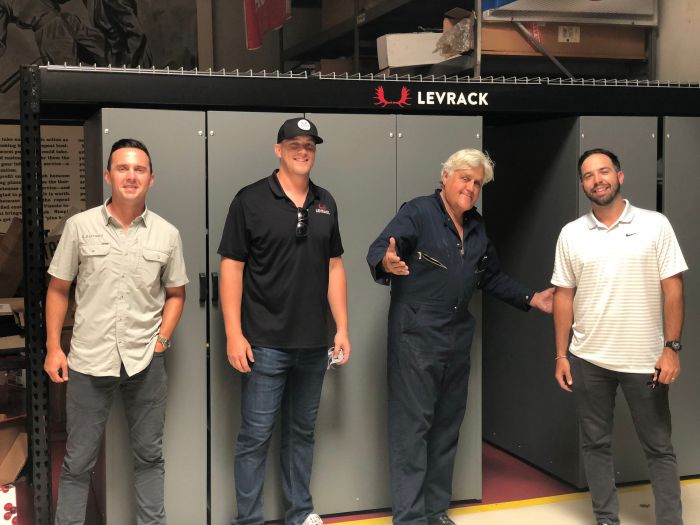 Levrack
Sastified client -- Jay Leno -- with founders of Levrack.