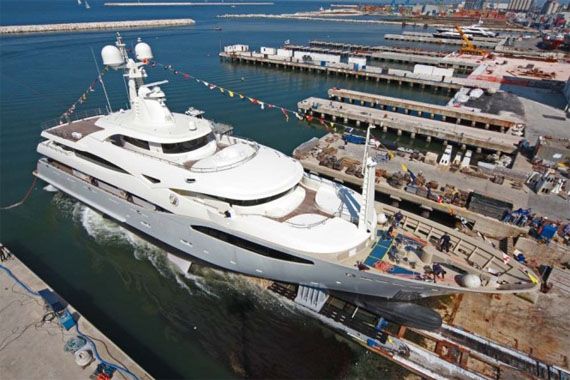 Photo Courtesy of CRN Yachts
While the launching of one
mega yacht
is a splashy event, it is an extraordinary day in the leisure boat industry when two are launched in the same week and from the same shipyard.
CRN launched two motor yachts in April, the CRN Navetta 43 and the 60-meter CRN 130 (pictured above), from its shipyard in Ancowa, Italy. The company, a division of the Ferretti Group, apparently is quite busy these days, as it also announced that eight more ships currently are under construction.
The CRN Navetta 43, or the now-named Lady Trudy, is the sixth ship of the Navetta 43 line. The mega yacht has five guest cabins and quarters for a nine-staff crew. Powered by two Caterpillar C32-C engines, the elegant Lady has a maximum speed of 15.5 knots and a cruising speed of 13 knots. Marine architects Zuccon International Project designed the interior and the exterior of Lady Trudy.
The sundeck is elongated at the stern to make room for a helicopter-landing pad. The bulbous hull has four decks. The décor of the interior leans toward American Colonial, according to the luxury shipbuilder.
The new CRN 130 is another masterpiece inside and out by Zuccon International Project. It has five guest cabins and a master cabin, as well as quarters for a 14-man crew. With the ship's two Caterpillar 3512B engines, it has a maximum speed of 15 knots and a cruising speed of 14 knots. By partnering with technology firms Videoworks and Intel, CRN has developed better, user-friendly technology for all its boats.
The eight
CRN mega yachts
in progress include five steel and aluminum ships and three composite yachts. The five steel and aluminum CRN yacht models being launched this spring are the 125, the 128, the 129, the 130 and the 133.
See our
Best Luxury Yachts