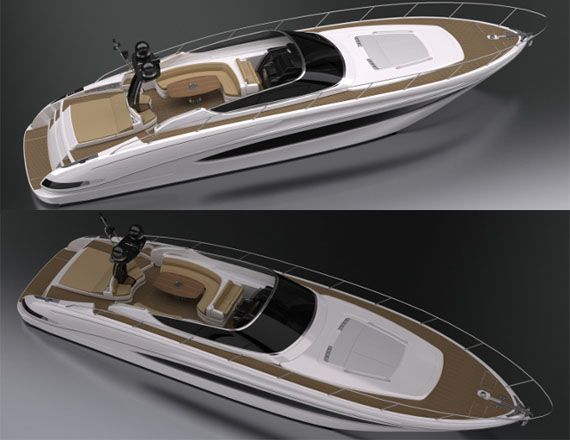 Photo Courtesy of Ferretti Group
The Ferretti Group recently announced the launching of the Riva 63-foot Virtus. The yacht is the largest open yacht produced by the shipyard to date. The new offering is a team effort that puts Italiana Design and Advanced Yacht Technology in collaboration with the architects and designers at Centrol Stile
Ferretti Group
.
While the styling of the Riva 63-foot Virtus is reminiscent of the 63-foot Vertigo and the Rivale, the Mediterranean-styled vessel has larger open areas than its predecessor. There are two large sundecks that provide plenty of space for entertaining and lounging. The cockpit has three sofas, a refrigerator, a sink, and a hideaway grill.
It also is covered with a large, hydraulically operated covering, which can remain open while cruising. The helm is protected by a large windshield, which keeps the performance of the Virtus from dampening its aesthetics most effectively.
The interior layout optimizes the ship's available space very efficiently. The salon is equipped with a wooden table that comfortably accommodates six. The master and guest cabin set at bow. The master cabin is positioned lower than the other cabins. The positioning of it makes it roomier, as it provides more usable space throughout. Large, arrow-shaped side windows enhance the symmetry of the yacht tenfold.
The new Riva 63-foot Virtus' ease of handling is attributable its hull design's built-in tunnel propulsion. It has twin 1360mhp MAN 12V engines, which produce 1,000 kW at 2,300 rpm/minute, while delivering a top speed at 40 knots. The average cruise speed is around 35 knots.
"Riva is an extraordinary brand, and always manages to innovate, creating unique, cutting edge models, whilst still maintaining the charm and magic which have characterized it for over 160 years," said Norberto Ferretti, Chairman of the Ferretti Group. "The 63-foot Virtus, with her strong, decisive character combined with the elegance and refined features, which are typical to this brand, is the perfect addition to the Riva range." For more information, visit
Riva-Yacht.com
.