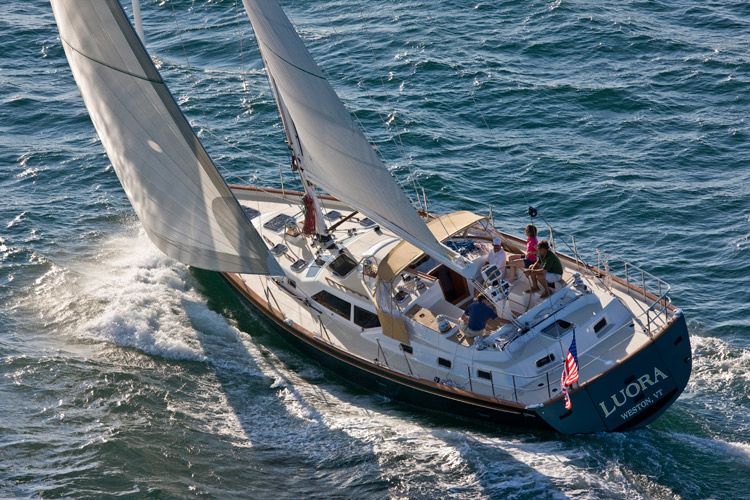 Photo Courtesy of Tartan
Inside and out, the Tartan 5300 is a jewel among
luxury yachts
, showcasing improvements in the brands performance and handling. Designed for cruising, The Tartan 5300 boasts 46.5 feet of waterline and a displacement to length ratio of 165 feet. In this latest edition, the ship's salon has been raised while the positioning of the cockpit allows for superior deck visibility.
In addition to its excellent craftsmanship, the luxury yacht is outfitted with a carbon fiber, Novis Cruise Control Rig, enabling its sailors to handle the ship with the greatest amount of ease. Tartan engineers built the 5300 in partnership with High Modulus Engineering, using the highest quality, lightest materials on the market. As a result, the hull and deck were built to ensure the best possible displacement ratios.
The superior handling of the Tartan 5300 is also credited to the ship's rigging, utilizing a combination that can tackle upwind sailing and the management of larger offwind sails. The Tartan 5300 is powered by a high performance 105% roller furling jib when sailing upwind, while her offwind presentation is maximized using a masthead, roller furling reacher. The Tartan's rod rigging helps to reduce excess weight and cuts down on both stretch and windage.
The interior of the Tartan 5300 is just as impressive as its exterior. Customers can choose from a variety of layouts, including both three and four cabins. All of the arrangements feature two, large head compartments, full shower stalls, a navigation station, galley, and a master suite cabin, tucked inside the raised salon. The main living, which is comprised within the salon area, offers easy inside and outside access while 12 opening house side portlights, two cockpit opening portlights, four dorades and 10 hatches provide ample ventilation for the craft.
To learn more about Tartan and its line of yachts visit
TartanYachts.com