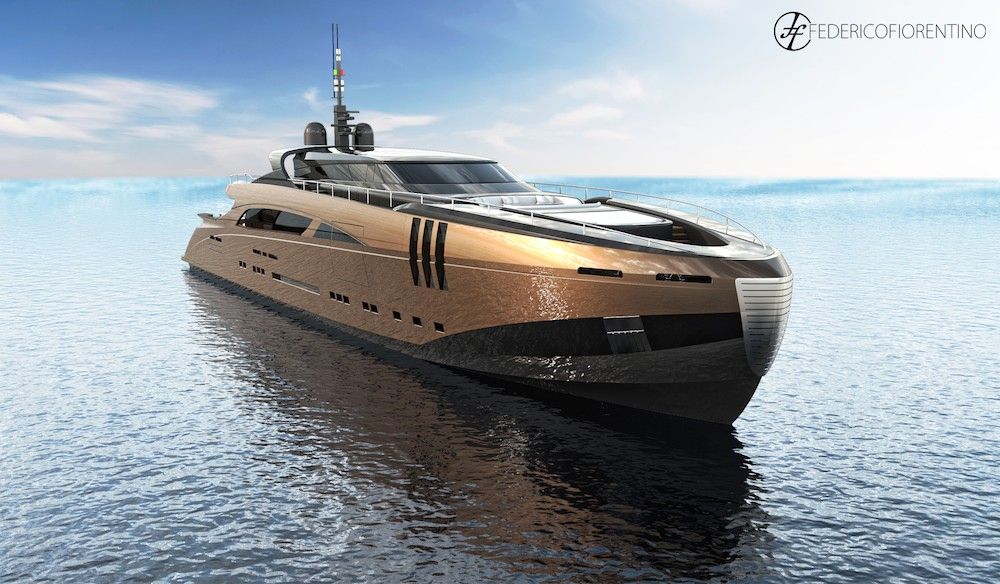 Photos Courtesy of Federico Fiorentino
Superyacht designer Federico Fiorentino just revealed a brand new 50-meter concept called The Belafonte (which bears very little—if any—resemblance to Steve Zissou's research vessel). The aluminum design features a sweeping exterior that is interrupted briefly for three decks that offer various living spaces and a retro bronze coloring that will definitely stand out from other vessels.
With five cabins—including a VIP suite, two twin cabins, and a double—The Belafonte can accommodate up to 10 guests. The owner's suite is unsurprisingly the most impressive, with 84 square meters (around 904 square feet) of space. Found forward on the main deck, it even has a separate studio, balcony, two walk-in closets, and two bathrooms. Also found on the main deck is the formal saloon, dining space, pool, and sky lounge (with its own al fresco dining table and shaded bar).
Though the luxury yacht, which will have a top speed between 18 and 24 knots (around 20 to 27mph), was designed without a client in mind, the company reports that it has already garnered some interest from a potential buyer.