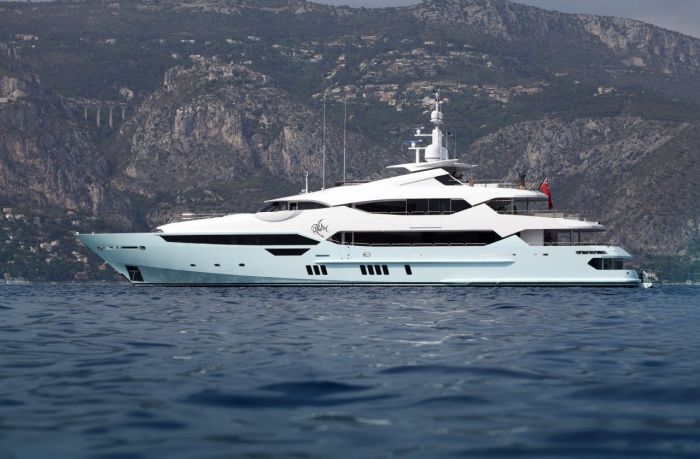 Photo Credit: Sunseeker
Building a custom-designed, handmade yacht comes with an impressive set of challenges for yachtmakers: standing out in a crowded market, offering exceptional customer service, providing one-of-a-kind specifications, executing to the highest of safety standards, and, of course, making sure the craft is functional. All of the yachts below are executed with painstaking attention to detail and have the most discerning client in mind. Whether you need a small craft to zip around harbors on the Mediterranean or a trans-oceanic behemoth with its own defense system, we've got you covered.
Photo Credit: Perini Navi
Perini Navi
This Italian boat maker out of Viareggio, Italy is actually made up of four separate companies that operate in five distinct markets. They include a line of racing sailing yachts, a fast cruising sailing yacht line, large sailing yachts from 131-197 feet, large sailing yachts longer than 197 feet, and Picchiotti motor yachts. Both the Perini Navi sailing yachts and Picchiotti motor yachts are customizable, with Perini Navi boats being constructed in Viareggio and Picchiotti in La Spezia. Customers in the United States are also able to purchase through the umbrella company's brokerage service in Newport, Rhode Island. The sailing yachts are unique in that the company invented technology that allows just one person to handle the sails. Founder Fabio Perini also invented the captive reel winch, which is an automatic reel system that allows for safe and steady handling of the huge sails required for large yacht operation. Perini Navi also operates charters for those who may not be in the market to purchase just yet.
Photo Credit: Burger Boat Company
Burger Boat Company
Manitowoc, Wisconsin has a few notable residents. Firstly, anyone who's watched Netflix's smash hit Making a Murderer will surely recognize the name. However, the town's name also resonates with yacht enthusiasts, as it's where Burger Boat Company builds its handmade yachts. Using design consultations and client visits to the shipyard, Burger is committed to customizing every step of the building process from exterior to engine. As a client, you'll help decide hull designs, exterior styling and interior floor plans, interior elevation specifications, engines and generation equipment selection, navigation electronics and entertainment system selection, and any other special requirements you might have, including recreation and tender options. They're currently working on a 103-foot 6-inch vessel for a client, working with award winning Miami designer Luiz de Basto to develop both the exterior and interior design features.
Photo Credit: Sunseeker
Sunseeker
Sunseeker is a British yacht building company that was founded in 1969 by Robert Braithwaite. The company's founding intended to create one-of-a-kind yachts using new technology and materials for private customers. Shortly after Sunseeker's founding, the company acquired Owens Cruisers' United Kingdom business and used the Owens molds to produce smaller leisure craft. After expanding their market throughout the seventies and eighties into the Mediterranean, a need for bigger boats emerged in the 1990s. Incorporating sleek automotive design concepts they developed the Renegade 60, which had twin jet drives and became the prototype for all yachts to follow. Since then, the boats have only gotten larger, more luxurious, and more customized. In September 2015, Sunseeker delivered their 100th performance motoryacht in the 100+ foot category. Their flagship yacht clocks in at 155 feet but should you want a sportier, smaller performance boat, they're still producing those as well.
Photo Credit: Christensen
Christensen
Christensen's fiberglass yachts are built with large-scale vacuum infusion combined with proprietary in-house techniques to create a stronger-than-steel and solid laminate boat. Its hulls are fully insulated, ensuring that when the yachts are cruising in warmer waters the "double boiler" effect doesn't cause the interior hull to slowly heat up, eliminating the risk of condensation-causing corrosion, interior finish damage, and mold infestation. The Vancouver company was started in 1982 by Dave Christensen, whose original goal was just to build his own yacht, as he couldn't source a builder that met his high standards. After that experience, he incorporated with the intention of building luxury yachts and now has capability to build crafts up to 213 feet in length.
Photo Credit: Trinity Yachts
Trinity Yachts
Trinity Yachts, located in Gulfport, Mississippi and New Orleans, Louisiana, has garnered special attention apart from its reputation as one of the world's most premier steel and aluminum yacht builders. According to Professional Mariner, their New Orleans shipyard was destroyed by Hurricane Katrina in 2010, which brought a 15-foot wall of water into the yard, ruined most of their manufacturing equipment, and scattered their hundreds of employees in the aftermath. Miraculously, two almost-completed yachts and the founder's own yacht prevailed, as did a handful of hulls that were hiding out in the fabricating sheds. This stroke of luck inspired founder John Dane III to rebuild as quickly as possible, acquiring the Gulfport shipyard in the process. With a lot of work and capital, the rest is history, and they continue to meet the market's high demand with expertly crafted yachts. Currently under construction is a 168-foot tri-deck motoryacht with two Caterpilar 2,250 horsepower engines.
Photo Credit: Luerssen
Luerssen
Luerssen is family business that has been in operation since 1875. This German yachtmaker has since manufactured more than 13,000 boats, and ships at their yard in Bremen or at other North German shipyards are included under the Luerssen umbrella. In 2013, the shipbuilder became famous for delivering Azzam, is the biggest private motor yacht in the world at 590 feet long. Commissioned by the president of the United Arab Emirates, Khalifa bin Zayed Al Nahyan, it houses one mini-submarine and a missile defense system. In addition to working with clients at every step in the design process, the relationship doesn't end upon delivery as Luerssen offers yacht management services, refit and repair options, and logistics support.