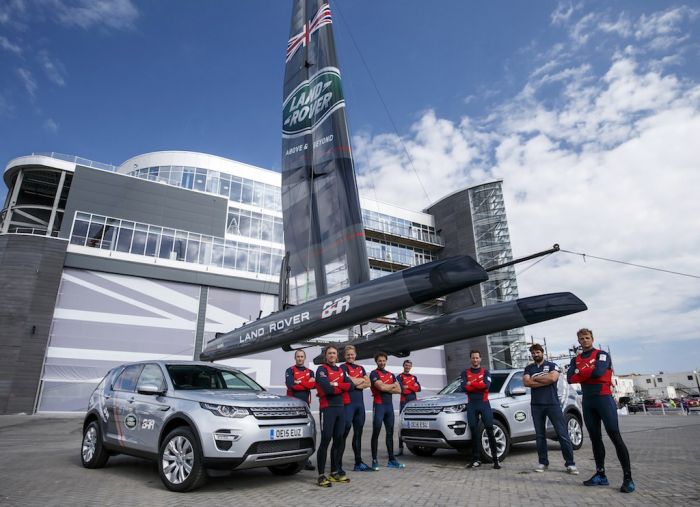 Photos Credit: Land Rover BAR
It's counterintuitive, but the extraordinary sailboats used to race in this year's 35th America's Cup competition in Bermuda, don't actually float in the water for most of the thrilling race course. They fly.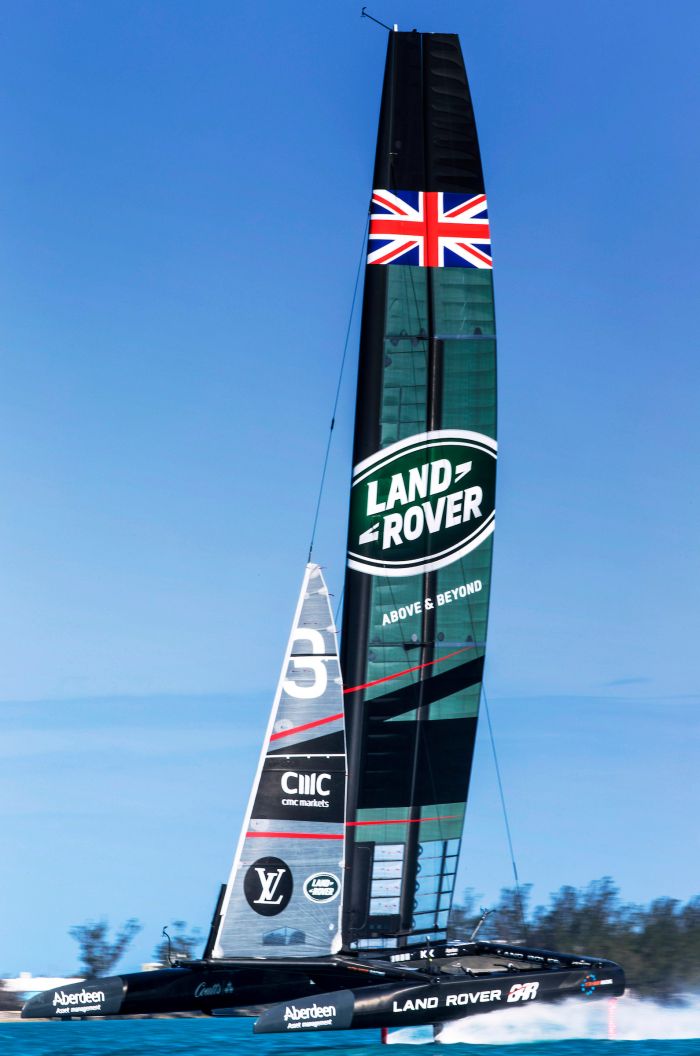 It's a new phenomenon in the competition for the oldest sporting trophy in the world. And the British racing team in particular is determined to take sailing technology above and beyond the norm with the help of the Land Rover engineering team. Two years ago, Sir Ben Ainsley—considered the world's best sailing skipper—formed Ben Ainsley Racing to propel the British sailing team to international victories by forming an alliance with Land Rover engineers. Their goal was to develop the fastest, most advanced sailboat ever built. In 2015, Land Rover BAR was created and headquartered at Portsmouth, England, and the quest to become the best began.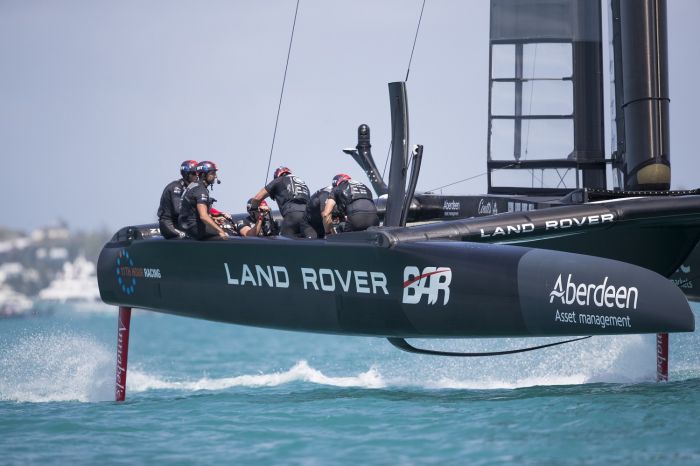 "We are determined to achieve our goal to bring the America's Cup home to Britain," said 2013 America's Cup champion Ainslie, who won with Oracle Team USA and notes that in the 166-year history of the sport, his British homeland has never succeeded. His current team is talent rich with five Olympic gold medalists. "This team has really taken on the challenge. We are working with the best technology leaders Land Rover can offer. They are a great British brand and a fantastic engineering and technology company who work hand-in-hand with our design and engineering team."
It took two years, $10 million, 35,000 man-hours, and 60,000 megabytes of data to design and build four test boats leading up to the final R1 race model for the 2017 America's Cup competition. Astonishingly, the R1's top speed is three-and-one-half-times the speed of wind. This is achieved by aerodynamics that raise the 2.5-ton boat above the waterline on wing-like hydrofoils the size of ironing boards. Ainslie controls the turns with a custom steering wheel based on the one for Land Rover's new Discovery, complete with gear-shift paddles that control the boat's height above the water. A 78.6-foot-tall Boeing 707 carbon-fiber sail acts as a wing providing the R1's "engine" thrust.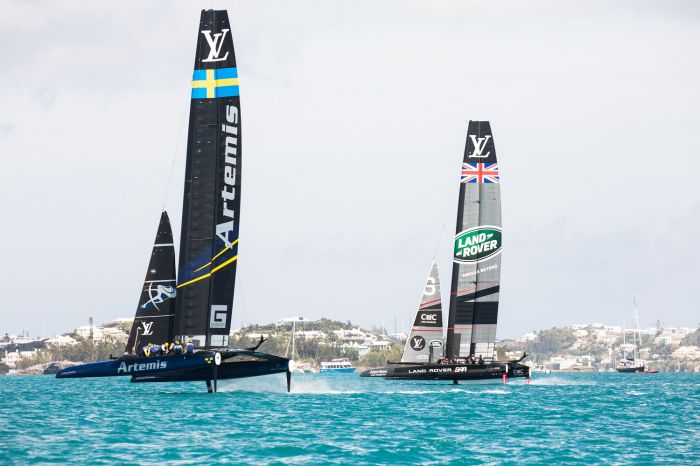 "These boats literally do fly," says Martin Whitmarsh, CEO of Land Rover BAR, and the former head of McLaren Racing and the Formula One Teams Association. "It's something that started happening quite recently in the 2016 America's Cup. Incredibly, these boats will maneuver around the course and cross the finish line without touching down in the water. It's a whole new field of sailing, breaking speed records day-by-day."
To achieve this feat, Land Rover BAR's engineering team focused their efforts in three areas: aerodynamics of the "powerhouse" wing sail, machine learning and artificial intelligence data analysis, and human machine interface, which is essentially the way Sir Ben and the sailors interact and control the boat. And it's lessons learned in these three areas that are leading to real-life innovations in Land Rover automobiles, such as the all-new Land Rover Discovery, introduced at a 2016 global reveal by the Land Rover BAR team.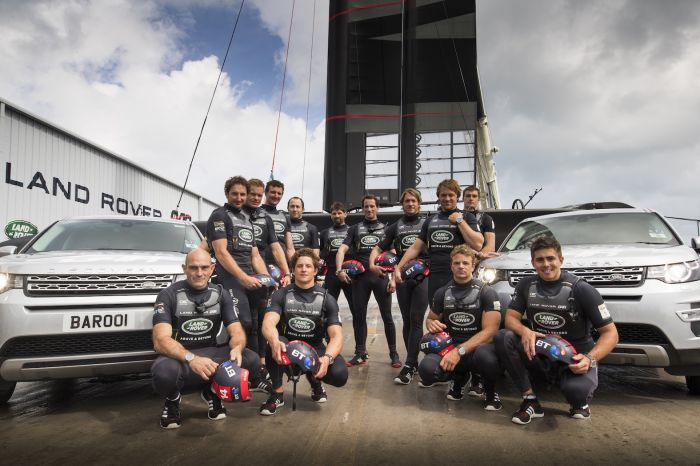 For example, one tangible application is being made to car touchscreens. Thanks to experience and data collected on the water, the Land Rover BAR team has learned how to improve software and coding to prevent screen reflection at faster speeds. Aerodynamic lessons taught at sea are also finding practical use in virtual design innovations thanks to Fluid Structure Interaction which allows engineers to view the effects of motion and wind on the surfaces of a car much more realistically. This advanced aerodynamic simulation will allow designers to improve auto performance by taking weight out of the car, and stiffness out of body panels, fenders, and sunroofs where it's not needed. Jump years ahead, and the same concepts – and perhaps a carbon-fiber Boeing wing -- could lead to practical designs for real-life flying cars.
The future is now with Jaguar Land Rover's Self Learning Car, a pioneer effort in the use of big data in the automotive industry. The company is throwing its considerable weight behind the ultimate intelligent driving experience by using the artificial-intelligence framework to allow cars to understand the driver's personal preferences. It's a safe bet that the Land Rover BAR team will be accelerating its use of artificial-intelligence for their next generation of racing rigs. "The technology is still in its infancy," says Whitmarsh, who's already planning bold improvements for next year's Land Rover BAR competition vessel. "We're talking high performance car acceleration on a boat. The sky's the limit to where this could take autos."