Photo Courtesy of Vom Creations
The Most Extreme Yacht Concepts Soon to Be Reality
When it comes to yacht designs, the sky's the limit. While there are hundreds of wild and crazy concepts out there, like floating cities and vessels that look more like UFOs than boats, we decided to focus on designs that have a pretty good chance of being built. Whether they take what's expected and push it just a little farther or they completely redefine what the future of yachting is, these concepts will probably be available to purchase soon, so you better get ready.
Photo Courtesy of Vom Creations
Oxo
Vom Creations definitely knows how to utilize space in their recently announced Oxo, a 55-meter motor catamaran yacht concept that boasts a pretty unusual perk. This luxury yacht is not only gorgeous, it also has a fresh-or-salt water swimming pool that can be converted into a helipad with just one button. Plus, it has a platform large enough to host 10 of your closest friends and family. Designed with the love for the sea in mind, Oxo "features a classic yet innovative exterior, a down-to-earth interior and a super-efficient performance due to its electric and diesel propulsion." The luxury vessel, with naval architecture done by Justin Yacht Design, also has an aluminum-built deck and a steel hull meant to withstand the roughest of conditions.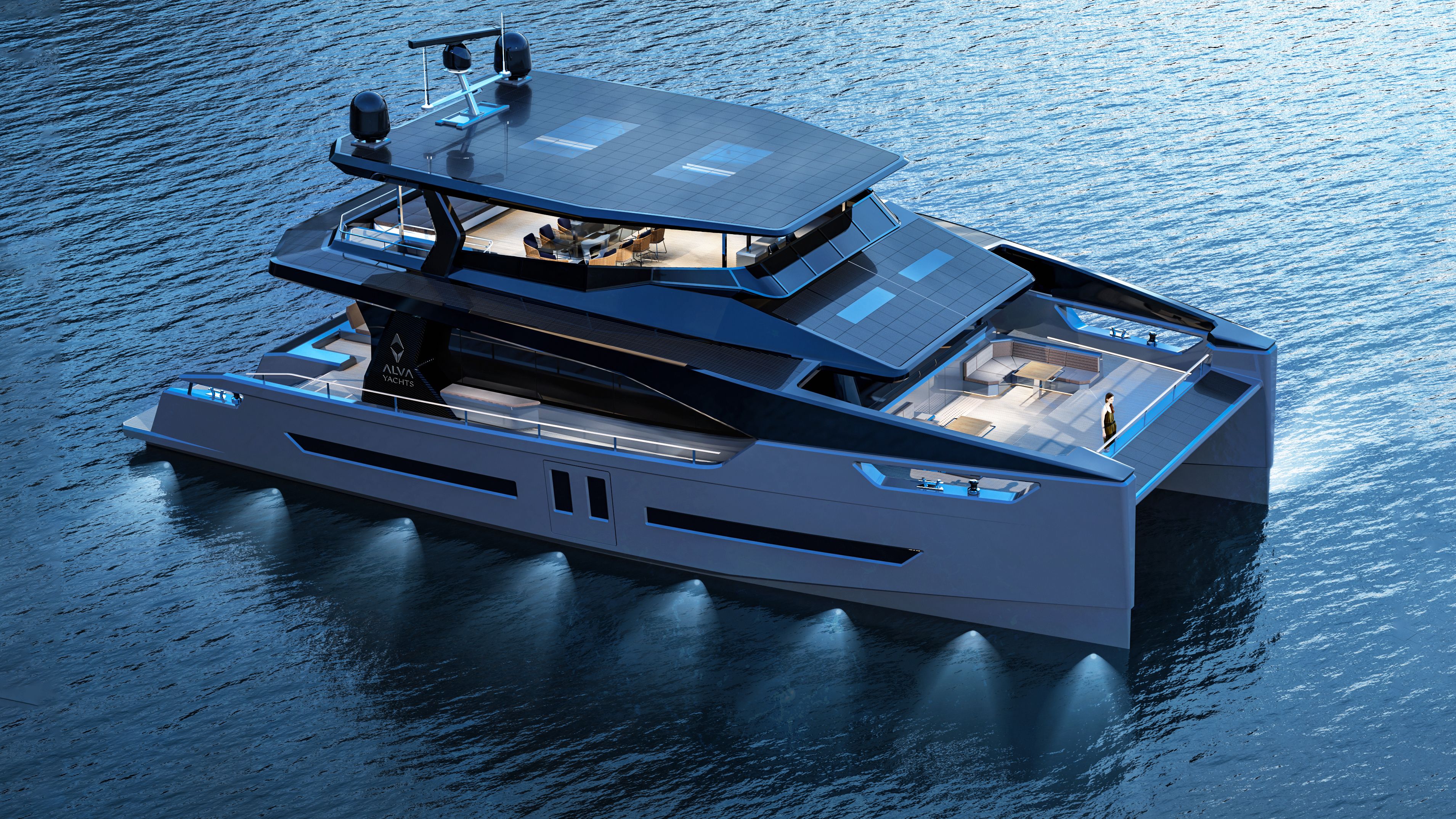 Photo Courtesy of Alva Yachts
Ocean Eco 90
The Ocean Eco 90 from Alva Yachts breaks new ground in yacht design and cruising efficiency by doing away with old yachting tropes and designing a fresh look for the new generation of E-Yachting. "Modern shapes, a clear and futuristic feel but classic colours and materials create a well-rounded exterior design for forward thinking clients." Some of the stand out features include a large open flybridge, a well-lit saloon, and a sky lounge with a cocktail bar and a jacuzzi. The design by HENNDESIGN is "shaped around a new solar and electric approach towards catamaran yachting" that is different from other catamarans, since the technology isn't just added on at the end, it's a main design feature. The most obvious design element that demonstrates this is the aggressive roof line that comes down to the hull to create a large roof surface for solar panels.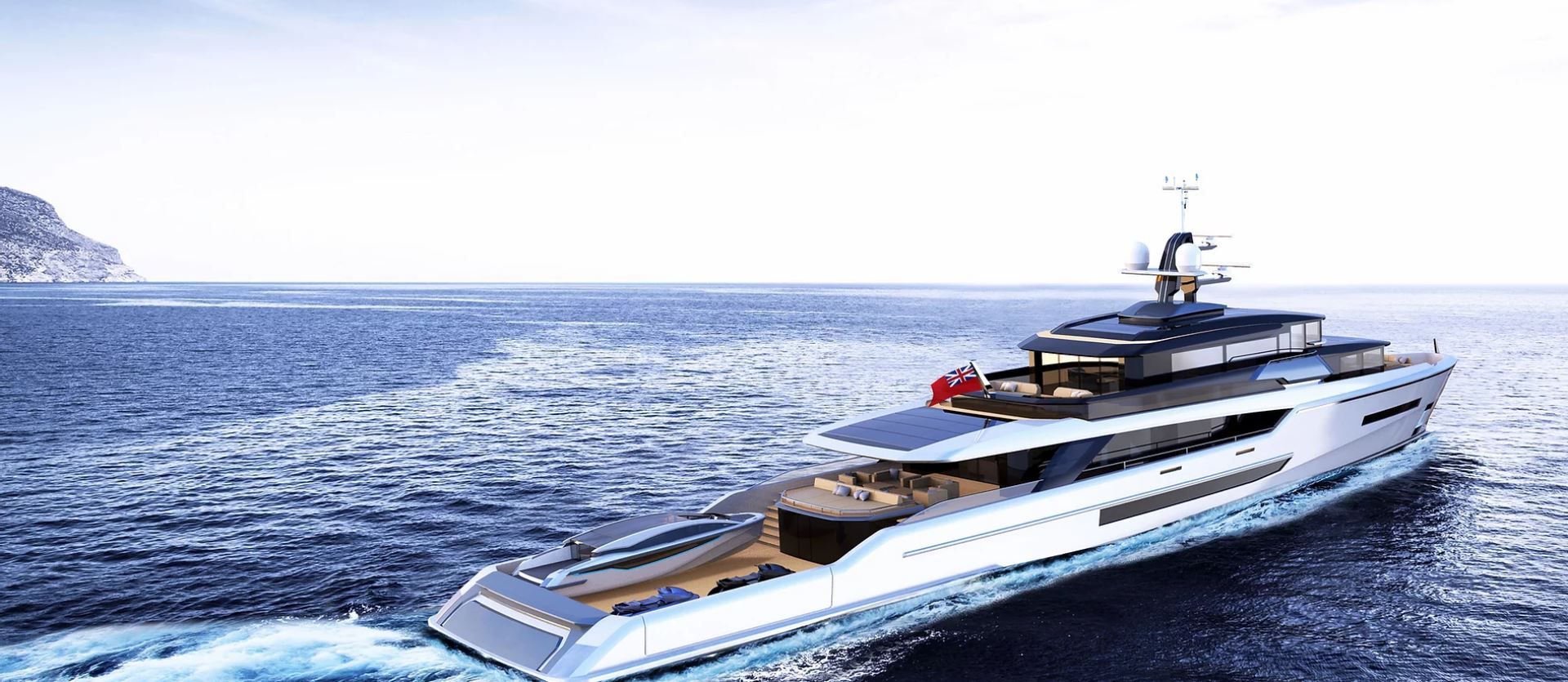 Photo Courtesy of Vom Creations
Green Explorer GX
This concept from Vom Creations and J&J Design was the 2020 winner of the Rossinavi Design challenge for its forward-thinking approach to global warming. Since the "boating industry must begin to engage in the issue before being forced into legislation," the company designed the GX concept to "operate with zero emissions in port and at anchor, full electric today is a must." The boat's hull lines minimize the resistance around the vessel's field of interest and the propulsion system is made up of two Schottel azimuth pods, boasting high efficiency even at low speeds. "The engines are powered by a 1MWh Corvus Orca battery pack, recharged by a set of 10 65kW Capstone diesel microturbines," and the micro turbines are silent, with absolutely zero vibrations. When comparing the exhausts to a traditional engine, the GX's feature "5 times less NOx, 150 times less CO, 35 times less microparticulate, [and] 10 times less VOCs." Lastly, a "trigeneration system is flanked by the turbines, producing 100kW of hot water or 188000BTu of cold air for each generator. Thanks to solar panels, an average of 20kW more are produced," and a Siemens control unit makes sure that emissions are reduced by up to 40%.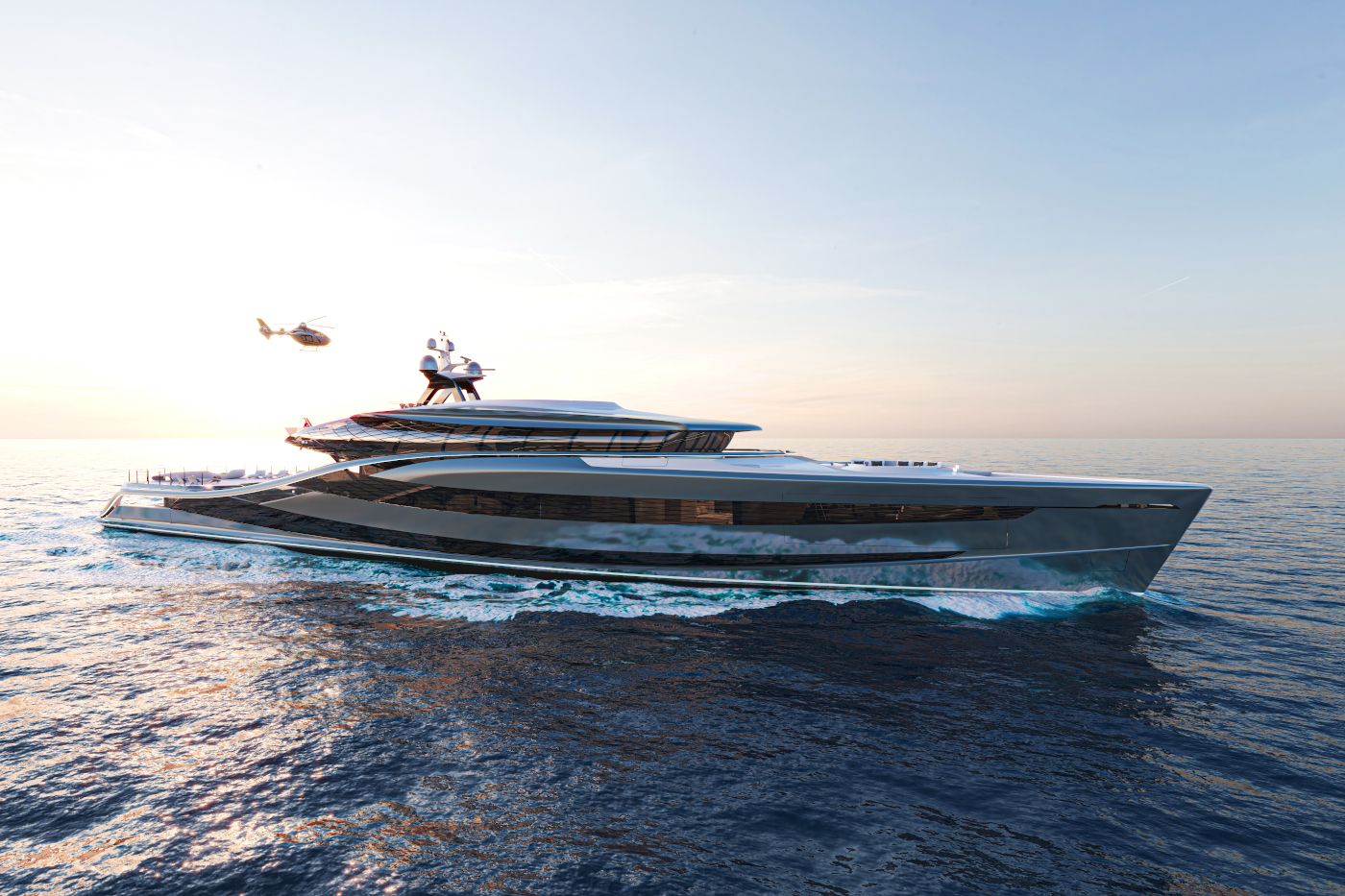 Photo Courtesy of Vripack
Futura
When looking for inspiration for their 66-meter, fossil-free yacht concept, Dutch studio Vripack used creatures like birds and sharks as their source. More specifically, they studied how they're able to propel themselves through the air and water with seemingly no effort at all. "That's the beauty of naval architecture," said Vripack co-creative director Marnix Hoekstra. "First and foremost, you should mimic nature in the sense that you use as little energy as possible when crossing through the waves. We were driven by that goal from the outset." The resulting design is slender, efficient, and a third of the height of a comparable 66m yacht. With long flowing lines, a cocoon-like superstructure, and a streamlined bow and rounded middle, Futura is meant to share its shape with the whale. Plus, made out of glass, it's also super light in weight thanks to Vripack's engineering team that uses "rhombus-shaped framing" in the design, which ends up offering a cross-hatched effect, just like fish scales.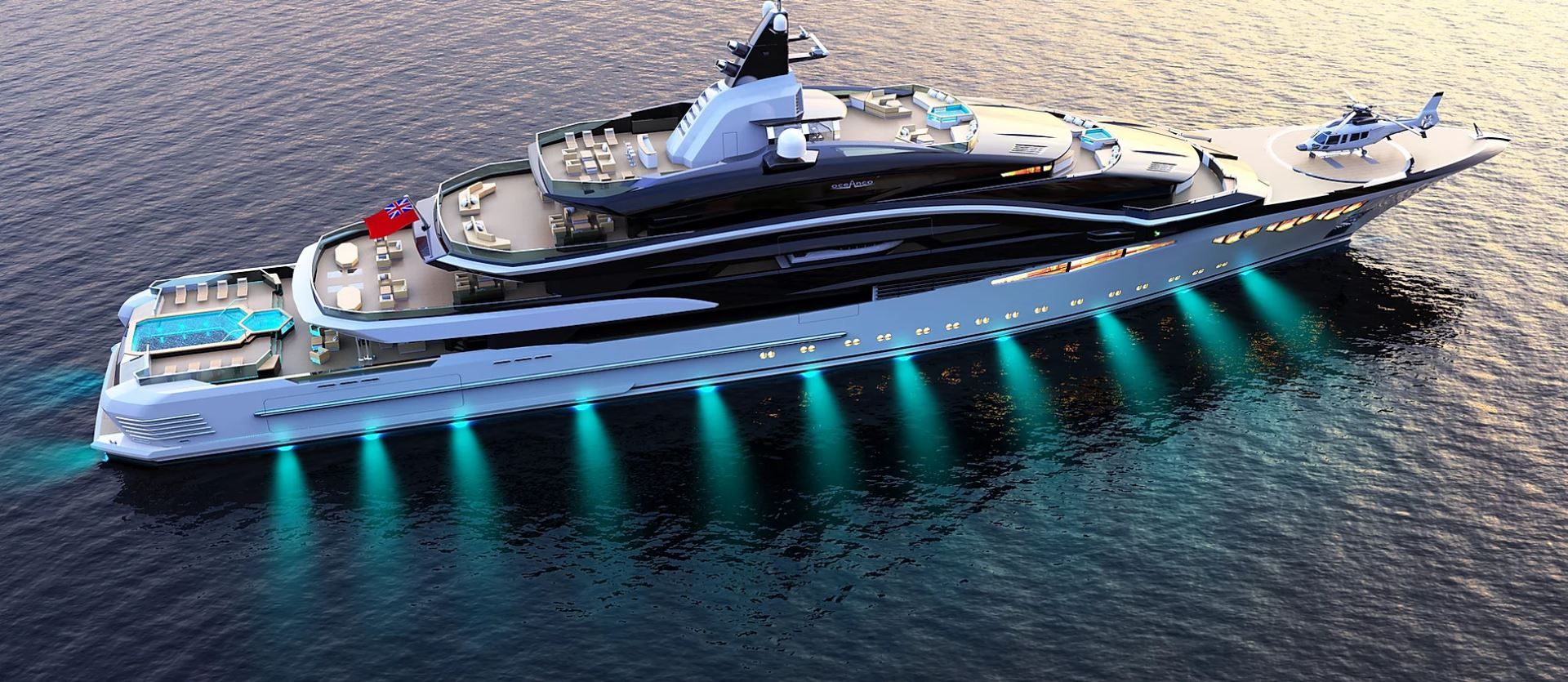 Photo Courtesy of Vom Creations
Wallet
Last, but certainly not least, is Wallet, a 110-meter mega yacht designed by Vom Creations. Though not much is known just yet regarding her specifications, what we do know is already pretty impressive in more ways than one. Aside from it being visually stunning, Wallet boasts a panoramic gym on the sun deck, a massive infinity pool with a glass bottom on the main deck, and a helipad on the bridge deck. Able to accommodate 20 guests and 37 crew, the vessel also features a spa, cinema, and two 8.5 limo/life boats.