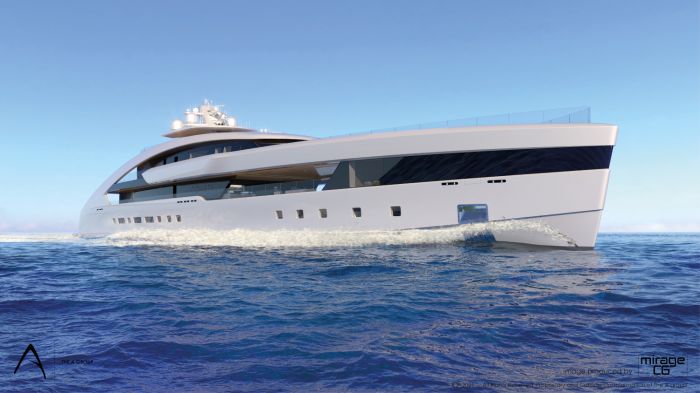 (credit: The A Group and Mirage CG)
With over 35 years of experience in yachting, interiors, design and construction, The A Group has been synonymous with superyacht design and world-class craftsmanship. Measuring at 272-feet, the newest superyacht concept by the revolutionary company has been dubbed, Comète. The project is a collaboration between The A Group's designer Thibaud Le Merdy and yachting director Matt Pegrum who brought Thibaud's vision (he first drew his dream machine Comète in 2017) to fruition.
Featuring dynamic and elegant lines and an expansive 1,800GT interior with living quarters (with seven cabins), Comète is set to become a true marvel on the water. Providing accommodation for 12 guests, along with 22 crew, along with its very modern design and unique elements, the magnum opus of the yacht is its forward exterior entertaining space crowned with a striking glass-bottom pool.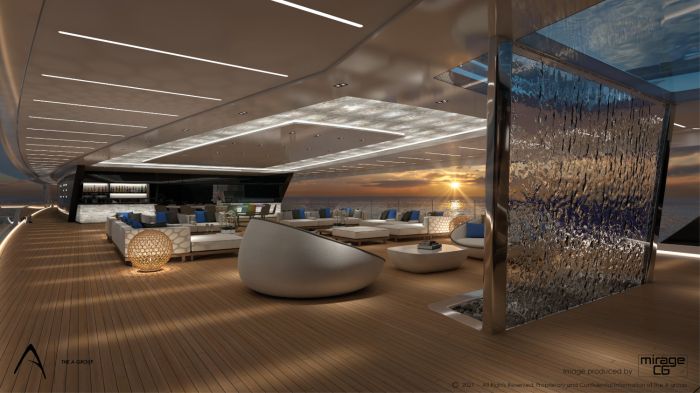 (credit: The A Group and Mirage CG)
The spaces were created to be the closest to the sea as possible and for the yachters to be immersed in what surrounds them, in a safe, protected and luxurious manner. The exterior portrays a refined overall shape, portraying a beautiful silhouette without any compromise. "We were keen to challenge the status quo of the traditional layout," said Matt. The sleek design of the hull is made of lightweight materials as to reduce propulsion power requirements and present an effective way of controlling the environmental footprint of the yacht.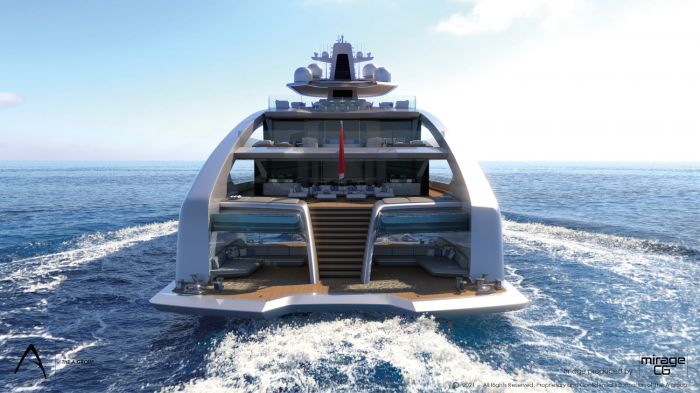 (credit: The A Group and Mirage CG)
With a beam just over 49-feet and a draft of just over 11-feet, its cruising speed is 12 knots with its top-speed at 16 knots. Its design reflects its surroundings and the perfect balance between spaces open to the surrounding nature and refined.
"Comete is for an owner that is willing to breathe fresh air and being close to the sea at every moment. It is what makes this yacht unique. You just have to look at the exterior main deck saloon to understand that everything is nicer when you are closer to nature," said Thibaud.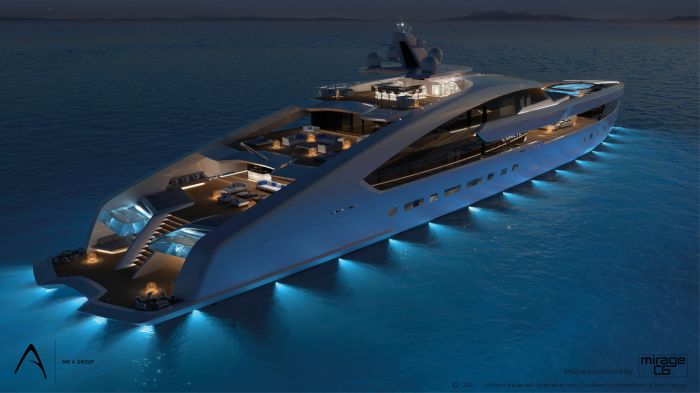 (credit: The A Group and Mirage CG)
Other features of the yacht include:
• Oversized garage: 2x10m tenders, 8 jet skis, 7m crew tender
• Theatral welcoming stairs surrounding by two Jacuzzis
• Forward Exterior salon 220m2
• Front-facing Spa with bow view
• Spacious 120m2owner private terrace
• Upper deck bottom glass swimming pool 8x4m
• Open sun deck with exterior cooking area for secluded diners
Matt and Thibaud are also proud of the R&D put into hydrogen fuel cells like this, "has the potential to radically change environmental performance by allowing zero-emission power generation," says Matt. With this technology, not only will the yacht have an all-around efficient energy production and storage system, it also will feature batteries for peak shaving and waste heat recovery systems (for heating swimming pool and domestic hot water).
YOU MIGHT ALSO LIKE:
PROJECT CENTURY X - 2024 360' 11" CUSTOM
MEGA LUXURY YACHT SALES