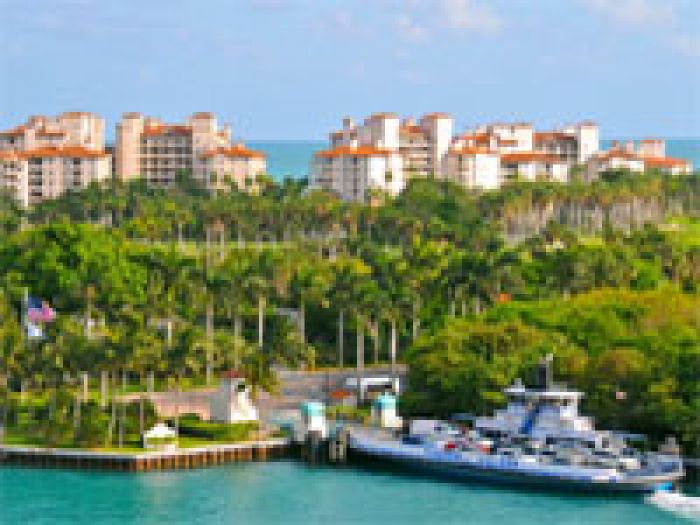 Top ZIPs for VIPs:
Recently, Forbes.com presented a list of the 10 U.S. ZIP codes with the most expensive houses in the nation. Being that we are all about presenting the finest of the best to our esteemed JustLuxe readership, it only seemed fitting to take a closer look at one of the top ZIP codes with the highest priced residences in the USA. Regardless of the overall ranking, the one that intrigued us the most is Fisher Island, Fla., 33109.
Southern Florida's Fisher Island is among the ZIPs with the most VIPs in the country. Fisher Island is an artificial island located three miles offshore of Miami Beach. The 4-1-1 on the "33109" substantially quantifies its lofty status, as the median price of a single-family residence on the island is $3.85 million. Additionally, according to figures provided by the U.S. Census Bureau, the upscale community with a population of less than 500 citizens also happens to have the highest per capita income of the nation as well.
How did this intriguing fantastical island become known as Fisher Island? A prominent real estate developer, Dana A. Dorsey, owned the property in the early 1900s. Dorsey, who was the first known millionaire of African-American descent of Southern Florida, sold the island in 1905 to another millionaire, auto-parts mogul Carl G. Fisher. While the name remained in place, Fisher moved on, selling the property to William Kissam Vanderbilt II in 1925. For years the property was the private island of the Vanderbilt family. It subsequently changed hands among various millionaires several times, until the island was developed into the remote, exclusive luxury community it is today. There are no roads or causeways leading into Fisher Island. It can be accessed only by ferry or helicopter.


Have a look-see at one of the properties for sale on Fisher Island. It should go without saying: Serious inquires only, please.

6919 Valencia Drive
This is one of a dozen single-family estate houses in this Fisher Island community. It is a fully furnished 5,500-square-foot Spanish-style residence. There are four bedrooms, five full baths, two half baths, a living room, a dining room, a library, a den, and a family room. A private garden and an outdoor pool complete this dream house magnificently. There also is a golf course, tennis courts, deep marinas, fine restaurants, and upscale shopping venues nearby. The breathtaking vantage point from this magnificent property includes the beautifully maintained onsite golf course, South Beach and the Atlantic Ocean. Seaside Properties Group is presenting this property at $6.25 million. See this listing at SeasidePropertiesGroup.com.

For JustLuxe James Rothaar