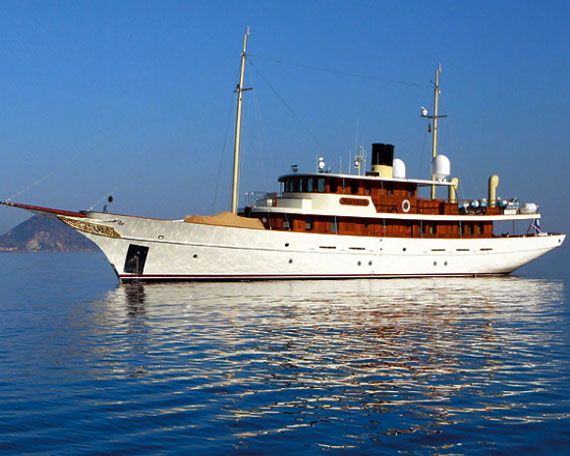 Luxury Yacht Charter:
For $130,000 per week you can cruise the Mediterranean this summer like a bona fide movie star in Johnny Depp's classic yacht the Vajoliroja. Don't try to pronounce the name – it's an amalgam of those of his partner, singer/actress Vanessa Paradis, himself, and their children, Lily Rose and Jack. The stylish 156-ft
yacht
, which Depp bought in 2007 and had completely refitted in 2008, boasts the attractive, vintage lines of a 1930s tycoon's steam yacht but was in fact constructed by Turkey's Turquoise Yachts in 2001.
The Vajoliroja, according to Vanity Fair, is Depp's "floating salon, garret, and getaway." With accommodations for 10 guests and a crew of 8, it features a formal dining room, outdoor seating areas, a master suite, four guest cabins, built in walnut cabinets housing the actor's considerable floating library, and paneling of Honduran mahogany. The décor, which Depp himself had a strong hand in along with designer L.M. Pagano, is an emphatically vintage cross between an Art Deco-era Parisian bordello and the Orient Express. Of course it also features state-of-the-art entertainment and communications systems so you can keep in touch with your agent while at sea.