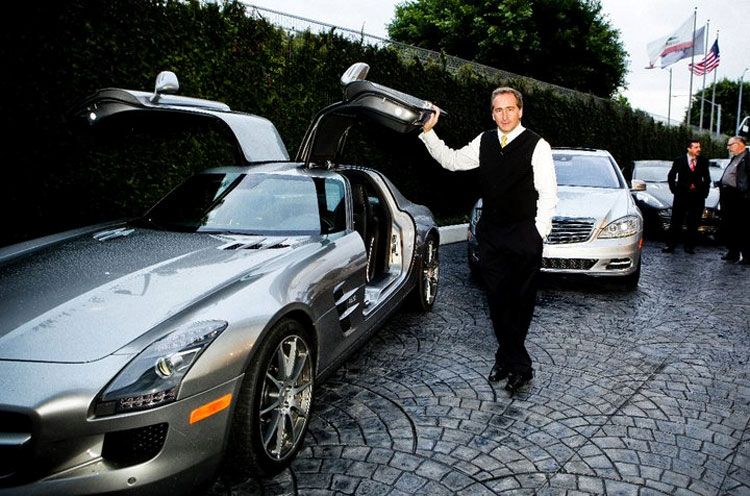 Photo Courtesy of RAND Luxury
RAND Luxury is an international event-production company that caters to the
world's finest luxury brands
. Based in Manhattan, the RAND team produces
The Luxury Review,
a series of press/media showcases that feature the latest in high-end products and services. At these invitation-only affairs, hundreds of news media along with exclusive guests are invited to preview the latest for the affluent lifestyle.
RAND also produces
Evening of Luxury
events where it has launched the newest models from Lamborghini, Bugatti, Rolls-Royce, Aston Martin, Bentley, Lexus and Fisker. RAND sponsors these unveilings with complementary brands in a variety of categories including timepieces, jewelry, champagne, yachting and private aviation.
Resorts West
The latest Rand Luxury event will be January 20-21, 2013, the
Resorts West House of Luxury
at the Sundance Film Festival. Showcasing Resorts West's Ski Dream House, the two-day experience will feature an invitation-only luxury exhibition of some of the world's most influential brands, including Rolls-Royce Motor Cars, Hasselblad, and Sony, among others.
Resorts West House of Luxury will also host screenings and receptions for Sundance films including
He's Way More Famous Than You
starring Ben Stiller,
Linsanity
,
Toy's House, The Crash Reel,
and
Running from Crazy
starring Mariel Hemingway. Selected Sundance casts and producers associated with the films are among those anticipated to attend.
Rand Luxury
The venue for Resorts West House of Luxury, the Ski Dream Home, is one of Park City's most luxurious mansions. Owner Resorts West recently placed on the market for $21.9 million. The two-day event will put an experiential twist on the traditional real estate open house, allowing attendees to visualize the lifestyle that comes with owning a slope-side chalet. The 14,000-square-foot home sits directly on Deer Valley's Mountaineer run with ski-in/ski-out access.
Bradford Rand is the President/CEO of RAND Luxury, Inc. Bradford and his team have produced over 850 shows and special events over the last 18 years spanning a multitude of industries. In 2006, he began producing
Evening Of Luxury
launch events across the United States previewing some of the world's most significant motorcars from Aston Martin, Lamborghini, Bugatti and Rolls-Royce. These events have also featured luxury products and services of world's most elite jewelry, timepiece, airplane, hospitality, wine and cigar brands.
Rand Luxury
Bradford also co-founded New York's largest fine motor auction and luxury lifestyle expo in 2005, Rand/Workman. The show was one of the region's most publicized events of its kind, with over $35 million dollars in automotive bids, over $2 million in sales from the wine auction, over 100 luxury sponsors and exhibitors and a showcasing of some of the rarest automobiles in the world. I recently interviewed Bradford, as his events define the consistency of interest and relevant taste of the ultra high net worth consumer.
JustLuxe: When did you first conceptualize the Luxury Review? How did the idea come about?
Bradford Rand:
The Luxury Review was a natural extension of previous events we produced in partnership with esteemed automotive brands such as Aston Martin, Lamborghini, Rolls-Royce, and Bentley. After successfully creating more than a thousand trade shows, job fairs, and charity events, we were ready to expand in new directions. After our work with the high-end automakers, we realized that there was a need for special events allowing the affluent a private forum to explore the newest offerings in the world of luxury.
As an entrepreneur, it made sense to produce The Luxury Review, but as a connoisseur of luxury myself, even more so. Our goal with The Luxury Review is to introduce the right people to an array of fine products and services they will undoubtedly love. A mix of venerable nameplates in luxury, along with new offerings our guests might not have had the opportunity to explore yet.
JL: When was the first Luxury Review held, and where? How successful was it in the beginning?
BR:
The first Luxury Review event was held September 2009 in Manhattan at Rouge Tomate on 5th Avenue. It was a smashing success, a sold out event. In addition to the restaurant space, we used an entire city block out in front to display some of the world's finest automobiles. It was quite a sight for New Yorkers. The crowd outside the restaurant was almost as large as the one inside.
JL: What is your educational background?
BR:
I studied at the University at Albany in upstate New York and then finished my education abroad at the University of North London. My focus was always business on the entrepreneurial side. Event production has been a passion of mine forever. I was one of those kids that knew exactly what I wanted to do growing up. Events are my passion followed by music. In addition to producing events, I also sing in a rock band, but that is another entirely different story.
JL: How do you select the brands that participate in The Luxury Review?
BR:
The vetting process is what makes each event successful. Each year, our team researches a wide variety of possibilities taking into account both established brands and identifying emerging ones. We also allow companies to submit for a chance to participate. We are inclusive in that we really do strive for showcases in the spectacular that include both classic and new elements.
JL: Once the brands are selected, what must the brands actually do in order to participate?
BR:
Once an exhibitor is formally selected to participate in The Luxury Review, our production team works closely with them to showcase a specific product or service that we feel will strongly appeal to our attendees. The Luxury Review is an event designed to help put brands together not only with people interested in them, but that can realistically benefit by incorporating them in their lives. The beauty of our events is that while these productions are showcases, these events really are an ultimate shopping experience. We create a commune for the exceptional, and allow guests a one of a kind chance to experience the newest trappings in luxury in a relaxing setting.
JL: What is the philosophical idea or ideas that motivate the success of The Luxury Review? In other words, what are some of the most potent take-aways for the attendees?
BR:
Ultimately, The Luxury Review events are produced with the audience in mind. An event isn't a success without the right people in attendance. We take great pains to make sure every attendee present does indeed belong there. Whether attendees are VIP guests or arbiters of luxury, they are all tastemakers.
Most of our exhibitors are showcasing products and services that very few people have seen or experienced yet. What makes The Luxury Review special is that for one evening, all these phenomenal brands are housed under one roof. Whether guests are treated to the finest audio sound system, the newest motorcar, or a rare first taste of a new champagne, there is always something of interest for guests at The Luxury Review.
JL: Let me know the schedule of The Luxury Review for next year. Will there be anything different or unusual?
BR:
The Luxury Review will be held in New York City April 18 and October 3 at The Metropolitan Pavilion. We will be on Southern California in Beverly Hills on October 16 at the Petersen Automotive Museum. Each event is a special experience in that no two productions are ever the same. We always have an all-new show for our guests and visitors.