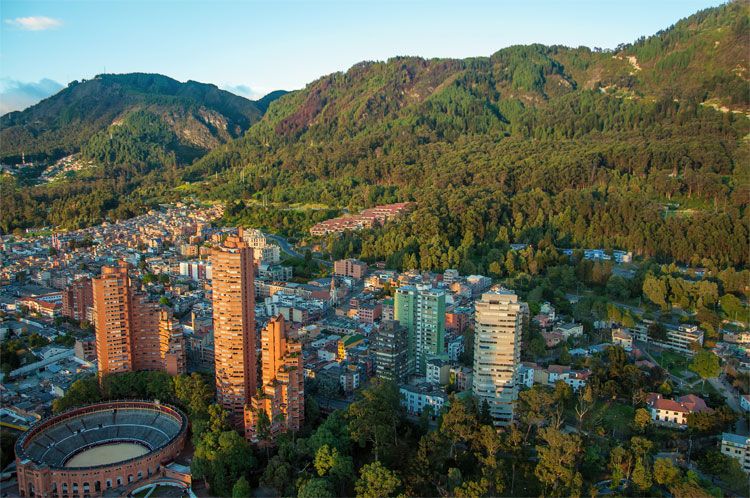 Photo Courtesy of Jess Kraft/Shutterstock
As two international business media channels and the Organization for Economic Cooperation and Development noted recently, Colombia offers advantages over other South American countries for foreign investment.
 The most recent assessment of the Organization for Economic Cooperation and Development highlighted Colombia as the fourth largest economy in Latin America that continues to have short-term solid growth prospects compared with other OECD countries within the region.


In addition,
Forbes'
article entitled "Colombia as a potential new free trade haven", indicated "the investment environment in Colombia is much more attractive than other nations of South America because of the opportunities generated with the signed trade agreements and the buoyancy of the economy." 
Photo Courtesy of Proexport Colombia
At the same time,
Bloomberg Market Magazine
2013 defined the Top 20 Emerging Markets segments where Colombia was ranked at number 11 in the world and the third in Latin America, surpassing Brazil and Mexico.

 It particularly highlighted Colombia's advantages to the business environment, information technology and environmental sustainability, and tourism advantages.
We interviewed Luis German Restrepo, the U.S. Executive Director of
Proexport Colombia
, and asked him about the motivating economic influences that have allowed Colombia to move ahead of many other emerging markets in South America.
Photo Courtesy of Proexport Colombia
JustLuxe: Recently, Colombia has become a much more seductive, interesting destination than other countries in South America right now. How has this evolved, and why now?
Luis German Restrepo:
We at Proexport Colombia have been working for years to enhance the relevance of Colombia and our hard work is paying off, as our free trade agreements between the U.S. and Colombia are making Colombia better recognized for trade, for exports from Colombia and for tourism. In addition, travelers are seeing what a beautiful, accessible country Colombia is, and how easily they can get to and from Colombia.
Photo Courtesy of Proexport Colombia
JL: We know that Colombia was named one of the '25 Must See Destinations for 2013' by over 350 Virtuoso Luxury Travel Advisors. What is so special about Colombia at this time?
LGR:
The arrival of foreign travelers to Colombia has reached about 1.7 million visitors in 2012, a 7% growth when compared to 2011. We expect to have 2 million tourists by the end of 2013. The U.S. is our main source market with 350,000 tourists last year. One of the many reasons for this is how accessible Colombia is to the U.S. It is approximately a three-hour flight from Miami to Bogota, 2.5 hours from Miami to Cartagena, and 5.5 hours from New York to Bogota. And there are 197 flights weekly to Colombia from Miami, Atlanta, New York, Houston, and other major cities. Now, there are close to 800 flights in and out of Colombia around the world. Also, and this seems so important, Colombia is in the Eastern Standard Time Zone, so the time in New York is the same as the time in Colombia.
Photo Courtesy of Proexport Colombia
JL: What are some of the advantages—cultural, educational, historical, or just fun—about traveling to Colombia?
LGR:
Colombia is the second most bio-diverse country in the world, and as such, it has a multiplicity to activities for everyone. The great thing about many of our historic cities is that their history, as seen in their architecture, will not be torn down or renovated. There may be restoration, but our history is sacred to us. As an example, the old city of Cartagena de Indies was founded in the 1500s and is a UNESCO World Heritage Site. Some boutique hotels have been built in the old city so that travelers can stay in the old city, feel and sense the history, while staying in luxurious surroundings. Then, Bogota the capital, 8,600 feet above sea level, is a fascinating, historically diverse city. Though founded in the 1500s also, native people have been living there since times of pre-history. But then, there are the Andes Mountains, the ocean, and all levels of scenery in between. Different cultures, accents, histories and even weather are those differences that accentuate this country's enormous cultural diversity.
Photo Courtesy of Proexport Colombia
JL: What are some of the most unique luxury travel trends that are emerging in Colombia?
LGR:
Colombia has many five star hotels and high end boutique hotels with great accommodations, service and food. Then, you have the Colombia ecotourism, and adventure travel, both of which have been important for travelers for many years. Colombia has 1,800 miles of coastline, has 10% of all the flora and fauna on earth, and has the third largest coral reef in the world, on San Andres Island. It is also a UNESCO Biosphere reserve.
Photo Courtesy of Proexport Colombia
...[Regarding] trends, golf is an important one. Colombia visitors who wish to play golf have more than 50 courses that are considered among the best in Latin America. The courses were created by Robert Trent Jones, Gary Player and Jack Nicklaus. In addition, the coffee landscape, with coffee plantations and haciendas also provide a fascinating high end travel experience. Finally, it seems to me that the best travel experience combine the best of nature and culture, and it is in Colombia where these attributes are best joined.